You need a way to explain how position one or two may not be delivering the same amount of traffic or impact to your bottom line. Highlighting the changing SERP (search engine result page) environment can be tough when most have forgotten what things looked like before universal search elements like knowledge panel, local pack, and shopping results.
We hear you, and DemandSphere is showing you what the SERP has looked like for your target keywords over time.
Introducing: SERP Rewind – marketers way to see the impact of SERP changes on their bottom line
Search engines, specifically Google, have continually updated their page layouts and the elements on them to deliver on the intent behind a searcher's query. Whether that means providing options "near me" or explainer videos, to shopping results or suggested similar searches – the content landscape is never the same for long.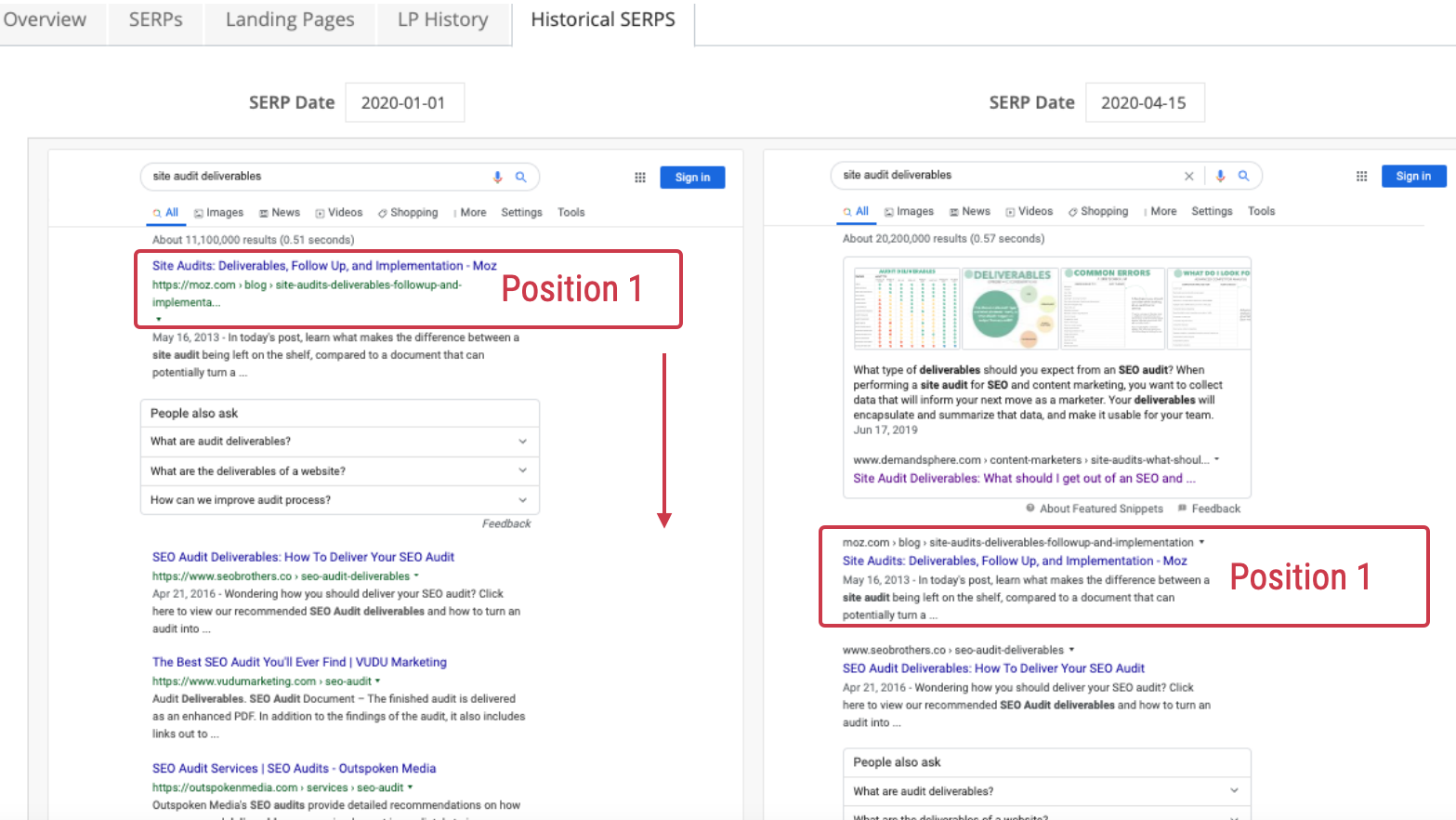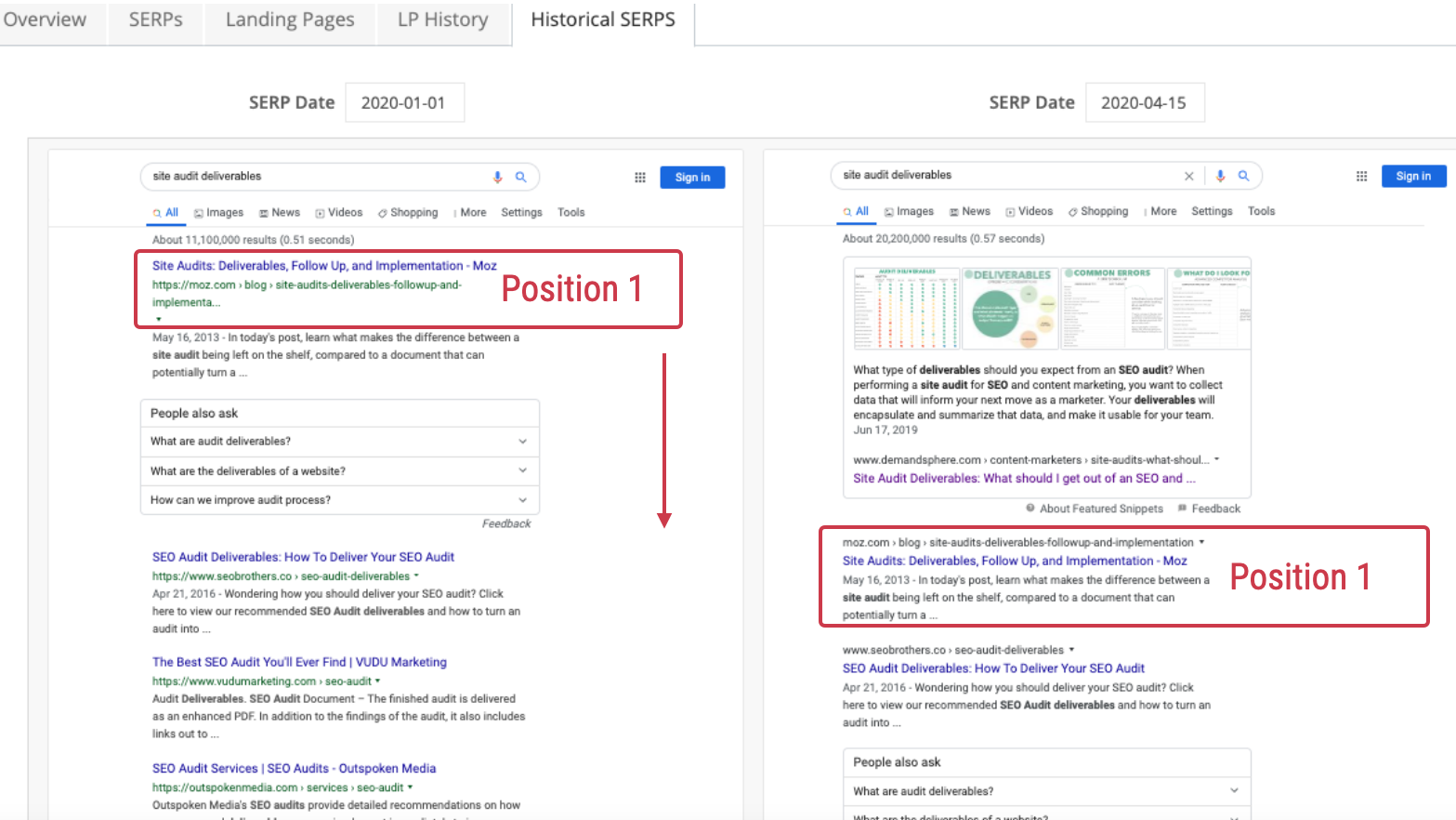 Why is SERP Rewind so important right now?
There are questions that are getting more complicated for marketers, content strategists, and SEOs to address, not just in their reporting but in their entire strategy and tactical set.
If my rank didn't change, why did my traffic and conversions?

This is a pervasive problem in the content marketing and SEO space. Here's what happens. Bob has a report he's been doing for the past two years where he's got a list of target keywords and the marketing team originally created and optimized content around those terms. The content performs relatively well, with continued ranking in positions 3-10. However, Bob sees declining traffic, and therefore declining conversions and revenue. Rank is steady – so what gives?

Bob hasn't taken into account that while position 3 used to be above the fold in a SERP of only traditional organic rankings, it's now below the fold and nowhere near as eye-catching as the Answer Box at the top of the page and the People Also Ask drop downs available.
SERP Rewind helps Bob see how this has changed AND illustrate that point to his executives and team. 

How hard should I try to be in a "universal search element?"

Of course, now that we see all of these fun search features – we get the next request, "Bob, get our content into those features!" Of course this is no easy feat and we wouldn't want Bob to promise something he can't deliver or spend time accomplishing something that doesn't pay off. So how do you know when it's worth your time to try to be in a universal search element? SERP Rewind can help you see the stability and trends of the SERP. It would be a real bummer for Bob to spend all that time getting into that featured element only to have it gone from the SERP shortly after!
SERP Rewind is also only one part of a larger suite of enterprise search tools in the DemandMetrics platform, and the research and strategy into targeting is part of DemandSphere's solutions offering. 

Which keywords should I target and what kind of content should I create?

Using SERP Rewind, marketers can see what kind of content has been historically rewarded in various elements and plan their strategy accordingly. SERP Rewind also works with the rest of the DemandMetrics platform to paint a picture of how difficult it will be to rank for a target keyword and what kind of results you can expect from the effort.
Who should use SERP Rewind for better marketing and SEO
Content marketers, marketing analysts, SEOs, and agencies all benefit from SERP Rewind. If you need to understand the impact of organic traffic and the changes it has on revenue, CTRs, and audience engagement – this is the feature that helps you tell that data story.
The use cases extend beyond that to product development, sales, paid advertising, and digital strategy teams as well. Knowing what your audience is seeing when they're looking for information, answers, and products is the best way to make sure your marketing ecosystem uses the best messaging and creates the best content. 
How can sales teams use SEO and SERP Rewind?
By the time you speak to a qualified lead or prospect on the phone or via email, chances are they have already done some research themselves. That means search engines that serve up content from review sites, publications, and possibly social media. If you know what they're reading then you can prepare a better call script, combat common questions, and stay on top of trends. Your SEO team can provide you a list of commonly searched for terms – which can highlight better product choices and impact your email strategy.
DemandSphere helps sales teams, product marketers, social media managers, and more integrate SEO data across their organization. Creating a continuous customer experience is key. That means marketing, product, and sales have to work together on messaging.
What do content creators gain from SERP Rewind?
If it's your job to product killer custom content, the best product pages, or editorial pieces – you need to know where it could end up. Whether we're talking about changes to Google Shopping, the addition of People Also Ask and Answer Box, or something we haven't even seen yet – information is key.
When we're looking at how our content performance changes over time we need to remember where we started. We also need to know where to go to stay ahead of competitors. Using SERP Rewind, you can see how creating blog posts worked in 2018 versus videos in 2019. Deciding what content is going to work best for your audience starts with a great keyword strategy – and includes research into what they'll find when they search.
Getting access to SERP Rewind
DemandSphere is excited to offer this feature to our clients. Coupled with our SEO and content services, provide a complete solution to creating organic traffic, optimizing it, and measuring its impact. If you're interested in using SERP Rewind, either as part of our DemandMetrics platform or as a full SEO service, start with a discovery call. The team will let you know if we have an offering that's right for you and what a realistic timeline and KPIs look like.