Overwhelmed with SEO and content tools?
Keeping up with never-ending algorithm changes, updates, and new practices is a core part of an SEO's job. Wrangling multiple tools and trying to find an enterprise platform that fulfills all of the functions you need is a another full time job. How do you choose the right tool for your needs now, that will also work with the organization's needs as it grows?
We walk through a set of considerations for choosing the right SEO tool(s), and how to navigate feature and functionality options.
Considerations for choosing a SEO tool
Choosing the right search and content platform helps you gain valuable insights and stay on top of market, algorithm, and competitor changes. Perhaps you've already looked into tools or are using some already. With so many options available on the market, and new tools available constantly – there are many factors to consider in making the best choice.
Let's look at what most SEO tools offer, and why it matters to you.
Keyword insights
Keyword tools may be stand-alone offerings or part of a larger platform. If you're looking for keyword insights, there are core elements tools typically offer. For example, our DemandRankings tool is a rank monitoring tool that also fits into the larger DemandSphere platform. When you're considering a platform, it is important to consider the flexibility and scale of the platform over the long term.
Rank tracking
Keyword rank tracking often provides the first sign of changes impacting your site, traffic, and conversions. Whether you're seeing a drastic dip, a meteoric rise, or a steady climb can divulge details into your content's performance and opportunities for improvement.
Rank tracking tools may provide daily, weekly, or monthly updates on your content's SERP performance. Our recommendation is daily rank tracking, or at least thrice weekly tracking, regardless of the volume you're tracking. Daily rank tracking gives you 30 data points per month instead of four or just one. A few other things we really like about daily rank tracking:
It alerts you to the impact of algorithm changes or tests quickly
You can see if a ranking boost or decline is the result of a short term test and back to "normal" within a day or two – as opposed to waiting another week or month for an update
You can track the rank of competitor content daily, seeing how their newly created content and optimizations have changed your position and traffic
Track the progress that optimizations are making to your content's traffic and conversions more effectively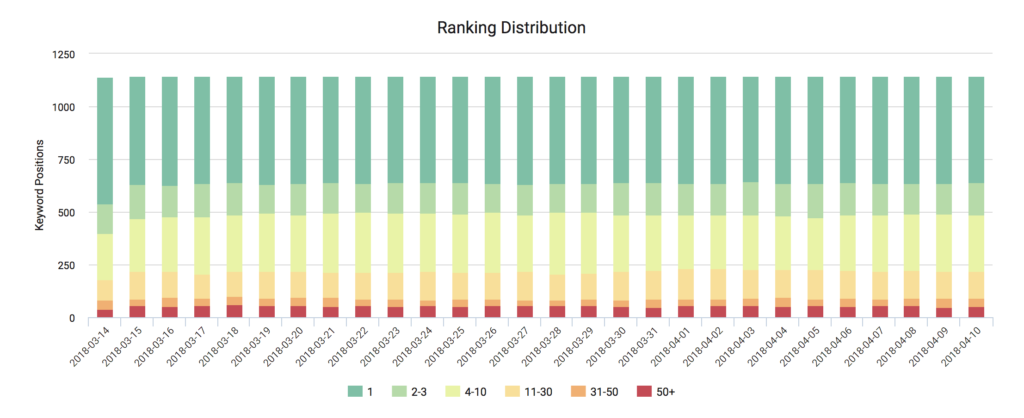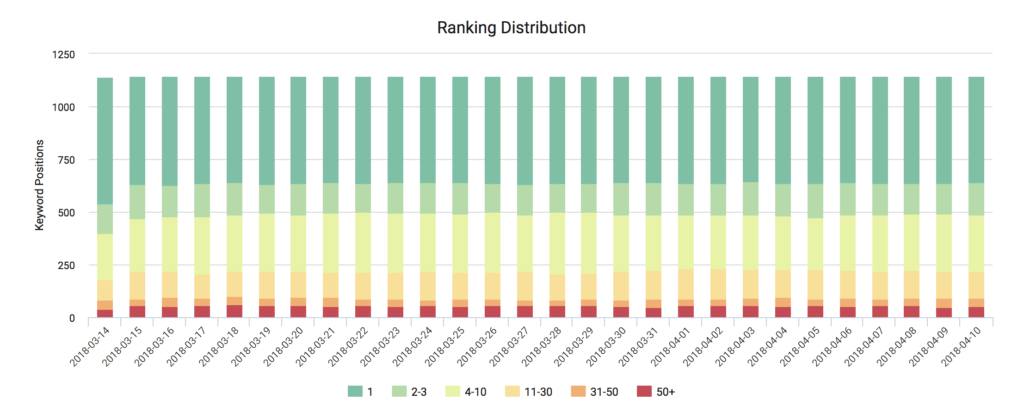 When choosing a tool, be sure to consider not only how frequently they're tracking SERPs but also whether they're tracking your competitors. (More on that below.) Y0u also want to ensure you're getting the most search engines and devices tracked for your budget. Let's dive into that in more detail…
Search engines, devices, and locations
You're tracking keywords, but across which search engines? How many devices? In specific locations? If you're in the market for a tool, or already using more than one, are you getting the most for you money?
Search engine specification for companies operating locally are often specifically targeting Google, however larger organizations and e-commerce may need more. These organizations may need Google and various local instances of Google, such as Google UK. There is also often a need to track entirely different search engines, such as Baidu, Sogou, Qihoo 360, Yandex, Daum, or Naver.
Another consideration is a more hyper-local approach. For example, you may be targeting the Atlanta area differently from Nashville and need to understand how the two locations need specific content. You may also be targeting the Atlanta area and want to see how Buckhead, Marietta, and Alpharetta perform as suburbs of the greater metro area.
Don't forget about device-level monitoring as well. Within each search engine and location, you should be able to segment mobile, desktop and tablet performance. Tools like DemandRankings will let you target iPhone, iPad, and Android devices to understand consumer behavior at a more granular level.
New types of search engines: Amazon, YouTube, and Pinterest
Search engines aren't just search engines anymore… As social media and e-commerce platforms expand to create their own relevance matrix, they become their own search engines. Amazon's A9 algorithm ranks sellers product relevance differently than Google, although there is connective tissue between them. There are also valuable learnings to be gained by implementing a cross-optimization strategy for Amazon and Google.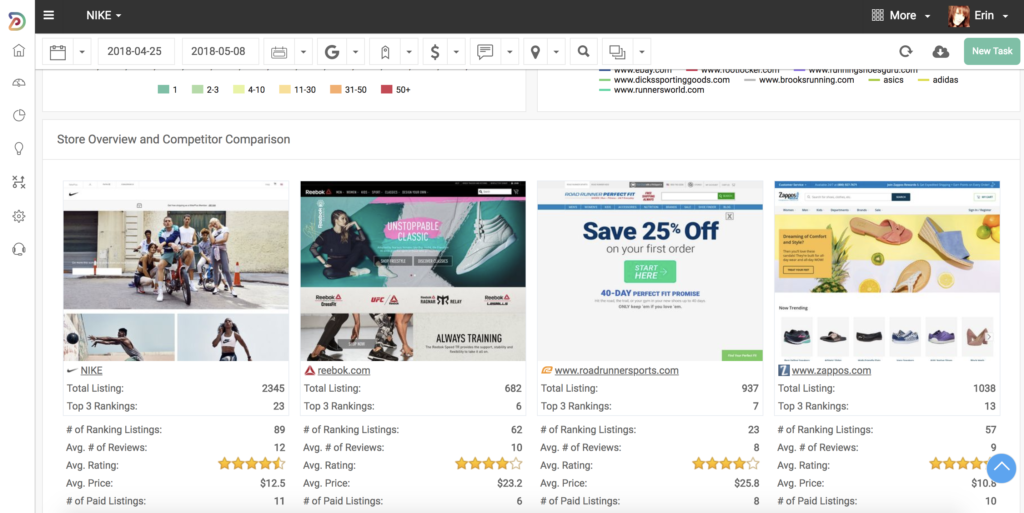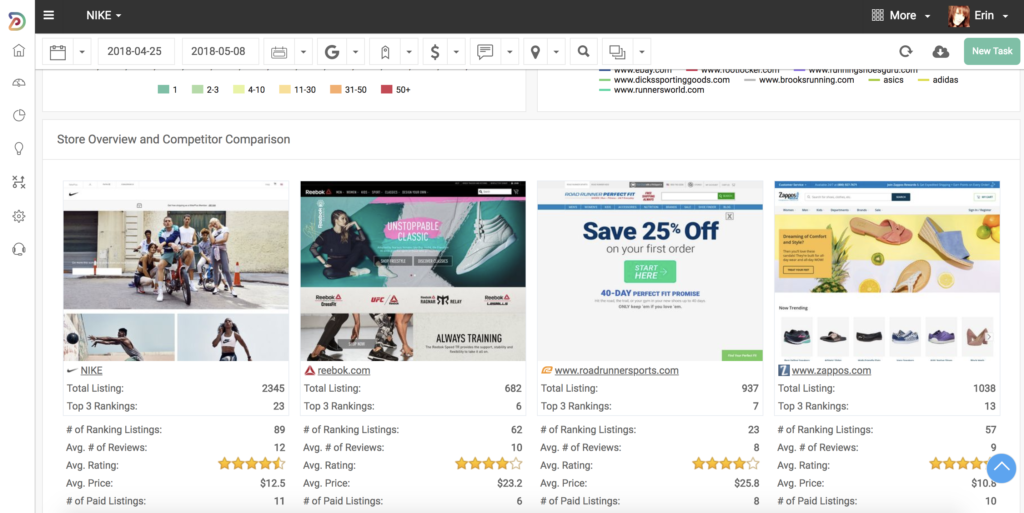 YouTube and Pinterest are also working to showcase content based on individuals past search history, likes, and sharing strategies. Serving up image and video content that matches interests and steers consumers toward new products and ideas.
If you're present on Amazon, YouTube, or Pinterest, make sure you're looking at your content's performance as part of your marketing strategy. You'll gain powerful competitive advantage by understanding how each of these platforms positions your content differently – and what you can do to appear on top.
Keyword groups and segments
Being able to organize your keywords into groups is also a very helpful feature. Creating segments for your keywords (and content) allows you to create detailed views of individual aspects of your marketing, target audiences, etc.. You can also combine segments to understand the impact of things like messaging strategies on product lines, new campaigns on locations, and more.
Depending on the nature of your site, you may want to group keywords by:
Products
Features
Solutions
Benefits
Audiences
Personas
Locations
Campaigns
Messages
Brands
Content type
Other ways relevant to your business
Having the groups you create remain persistent throughout the platform is also important. You should be able to filter your data by these segments in many ways, and use the segments in reporting. Once your keywords are grouped, you are able to focus on key areas or prioritize work. This is not only a huge time saver, but can also be instrumental in revealing insights.
Keyword research
One of the most frequently requested features of an SEO and content marketing tool is keyword research. While I don't personally agree with beginning your marketing with keyword research, it is a critical step in creating the best content for your target audience. (Want to know why I don't think it's a staring point? Ask about our Get Found Workflow.)
Maybe you're looking for new topic ideas, broadening your segment base, or researching ways to expand your content opportunities. Maybe you want to know where to focus your attention based on search volume, competition rating, opportunity score, or where you've got low-hanging fruit.
Conducting keyword research can address these things, and more, if you choose a tool that matches your needs. Be sure to know what you need to research and why before committing to a tool for research. Why is that important? Keyword research should ideally by tied to your rank tracking, competitor monitoring, and optimization opportunities. So choose a tool that does solely keyword research or rank tracking when you're going to need both, may end up in lots of resource use.
Universal search
Universal search elements are something we have to consider as SEOs and marketers. Changes to how content is served on desktop and mobile are increasing rapidly, leaving organizations with dwindling traffic.
Why does it matter if your SERP has universal search elements – and why should you choose a tool that tracks it? For starters, as Google (and other search engines) starts providing more information to consumers directly within the SERP, clicks are reducing in certain areas. Regardless of rank. Knowledge panel, answer box, people also ask, featured snippet, and more, are giving searchers a satisfying nugget of what they need, click-free.
You need to know:
How this trend impacts you and your content
When and how to be included in the universal search elements
Alternative keyword targeting strategies
Competitor insights
A good SEO tool will show you what universal search elements appear on the SERP for all your tracked keywords. Having this information accessible throughout the tool wherever relevant means you don't have to spend extra time clicking around or cobbling things together. Well thought out keyword features will save you time and provide you insight you don't currently have.
Competitor intelligence
Another part of your SEO and content arsenal is monitoring, discovering, and getting ahead of the competition. In addition to keyword insight and ranking data, a powerful SEO tool will show you how you compare to competitors and stack up in the market.
Today's marketing funnel isn't really a funnel at all for most products and services. Research shows that many consumers begin with a more narrow consideration set today than previous decades. The research also illustrates that it then expands based on our ability to research. Or as we know in SEO – search. Whether it's directly from a SERP, the result of reviews, word of mouth, or social media, consumers end up considering more options in the second phase than ever before.
That means the competitor landscape, and how we manage it, looks different now. The previous years approach of marketing focus on awareness and closing content is being replaced by a more segment specific outlook. The new focus is on consideration phases and post-sale relations. Due in large part to real-time reviews and third party review sites and social media, competitors have more opportunity to dominate. But that means we do as well.
Competitor Discovery
Finding a tool that discovers new competing content and brands daily gives you a head start. Diving into the details of why their content works and how their segments stack up to yours is a powerful data set.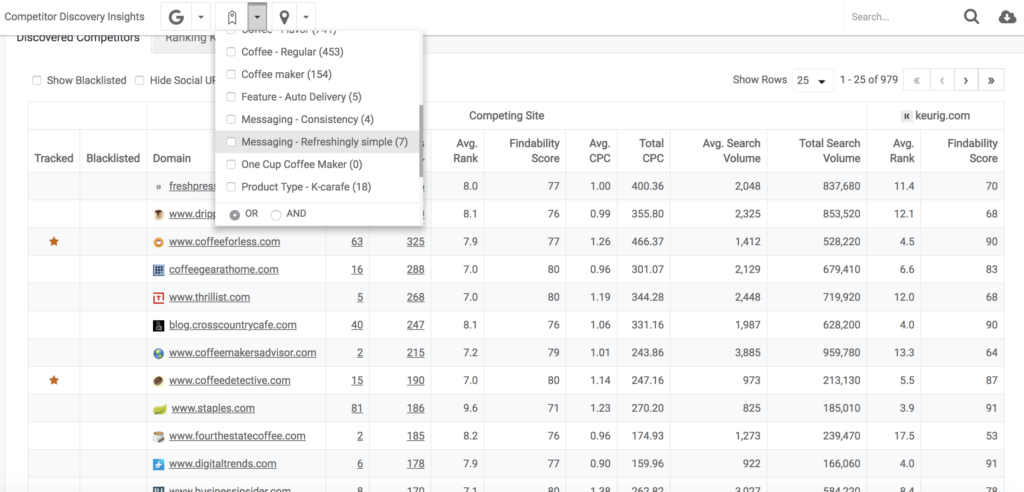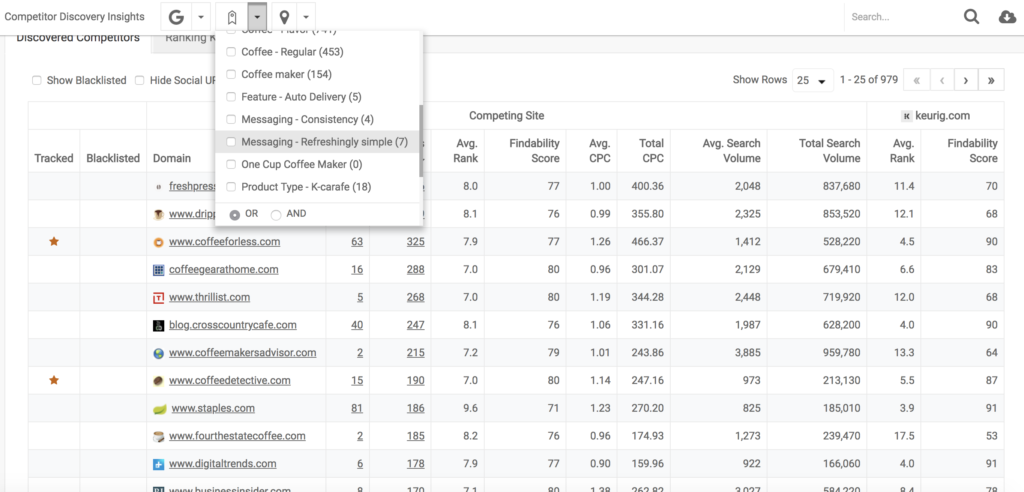 Competitor discovery isn't a once a year endeavor. You need to know when new brands, products, and services pop up in your market and how they're being positioned. Without this information, you are relegated to monitoring the same couple of competitors across your entire market, regardless of relevance. Imagine if you could discover competitors by ever segment, including campaigns, locations, features, benefits, target audience, etc.!
Finding a tool that promotes this type of discovery and then the deeper associated insights will enhance your organization.
Competitor monitoring
Once you've discovered your competitors, you'll need to keep an eye on them and the moves they're making. Choosing a tool that simply discovers them means you'll need another to track them – or choose a tool that does both from the start. If you're using separate tools, look for one that has an API or other connection that allows you to easily add the newly discovered competitors to a monitoring system.
The monitoring tool should provide you the room to add multiple competitors per segment, and to validate their importance to your market. Being able to update these daily or weekly gives you flexibility to judge competitor criteria on the fly.
Site Health, optimizations, and opportunities
Taking all of the data that your tool is collecting and turning into actionable next steps is where the magic happens. Whether it's you, a team, or an outside group that handles the technical optimization, content updates, and overall health of your on and offsite content – this part is key.
Site health and audits
Your site is comprised of technical details and "soft content" aspects that impact ranking. On the technical side, things like page speed impact whether or not someone ever gets to the content you've carefully created. Your site's technical health is an ongoing aspect of your marketing, and that means audits can't be done once a year or worse.
Choosing a tool that keeps you apprised of issues impacting search engine's ability to crawl your content or users ability to interact with it is the foundation of findability.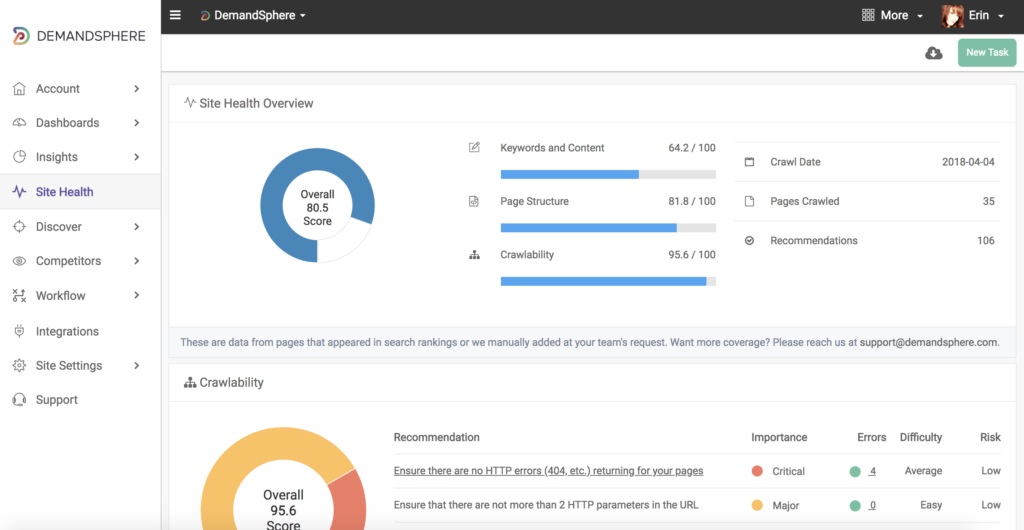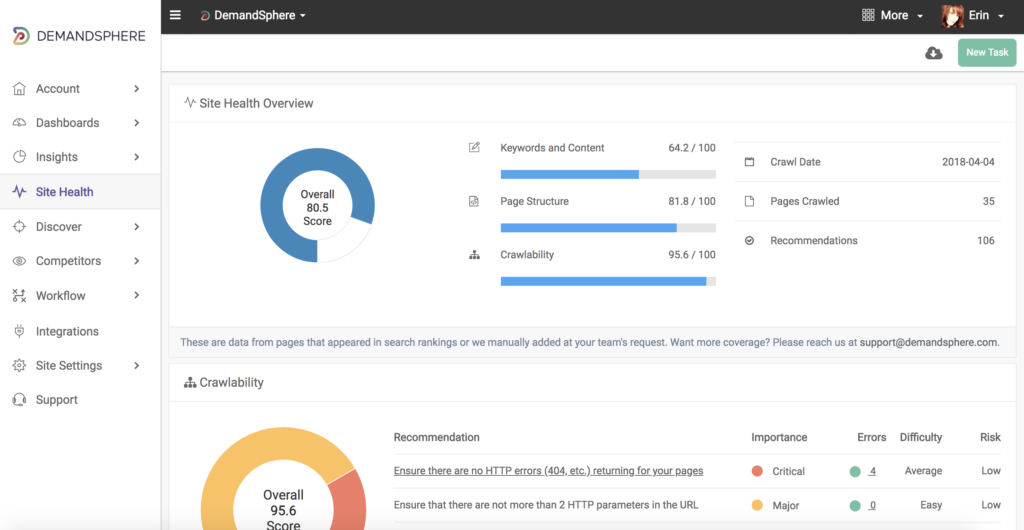 Check with any tool that you're considering for how often they're crawling your site and making site health recommendations. Also be sure to ask if those cost extra or require a manual request of the tool – you will want to factor in these details in how you manage a platform you bring in.
Optimizations to existing content
Where can you make the most improvements for your organic traffic and what's the best bang for your buck? We all have resources that we need to allocate to tasks, even if it's just our own time. That means prioritization. You'll likely want to look for a tool that not only presents optimizations for your site content but also helps you prioritize them.
Many tools will give you a list of errors on your site, which can be a great place to start. What can help propel you to the next level is also looking for optimizations that aren't necessarily "errors" but ways to better your content to match its segment.
When you're looking for a tool that spots optimization opportunities, be sure to ask if /how they categorize the optimizations. This can be helpful in routing optimizations to the right team member or deciding when / if to tackle them.
Opportunity identification
Taking it a step further than the technical health of your site and optimizing your current content are opportunities for new content. Spotting gaps in market segments or places where competition is lacking is a valuable tool for getting ahead.
A good SEO and content tool can give you a heads up on these things, and will be able to monitor the content you create to match the opportunity. This will help you know that the efforts you're making are working, and the opportunities surfaced are worth it.
Be sure to ask the company's you're speaking with about how often it surfaces opportunities and how it determines them.
Reporting
A full featured reporting tool is essential and an important consideration when choosing a SEO tool. It will help you see the the insights you need to see at a glance and give you the ability to dig into data deeper when needed. Finding a tool with reporting functions that meet all the needs of your organization can be difficult.
A few things to consider in reporting:
Automation – Can the platform generate, update, and distribute reports automatically or is it a manual process?
Export options – Is PDF the only way? Can you get Excel, CSV, html, or API access to your data? Can you have emails sent on schedules that work for you and your clients?
Frequency – How often can reports be updated? For instance, if you've chosen a tool that does weekly crawls, that means weekly reporting, as opposed to daily rollups.
Customization – Can the reports be customized to meet your needs? Can you rearrange data and create templates that match goals and different teams? Does the report have only a subset of the tool's data available or are all aspects available for reporting?
White labeling – Does it cost extra? Is it even possible? What can be white labeled on the reports and do you have control over it or do you need someone on their team to be involved?
These are just a few of the considerations around reporting that come up frequently when speaking with SEOs and marketers. A fully automated reporting suite will likely save you and your team hours every month – so be sure to dig into capabilities.
Which SEO tool is right for you?
If you still have questions on how the right SEO tool can benefit you, we'd love to talk. Maybe you are already using multiple tools, have one that's eating up tons of budget, or perhaps you feel overwhelmed by all the choices on the market.
Contact us to schedule a call and learn how the right choice can help you save valuable time in your day.