Content Optimization
Keyword Cannibalization: Identify and Fix It
Keyword Cannibalization can occur whenever multiple pages rank for a single keyword. It's not always the case when this happens but it should be investigated. DemandShere makes it easy to flag candidates for review and provides easy tools for teams to track resolution.
Set unique target keywords for all content for SEO success
It works, we swear. How does it work? Here's a quick overview
Create content with a purpose AND a target keyword.
What does that mean? If you do your keyword research, which also includes audience intent and competitor analysis, then you should only be creating content that meets a need and helps them convert.
Let's look at an example. If you're a coffee maker company and you are trying to figure out what you should be doing to attract your audience and you see that Google suggests "one cup coffee makers" to your "best coffee maker" audience a lot, you probably need a landing page, blog post, or product page for that keyword. What you don't need is three separate pages that ALL target that keyword. Why not? You're confusing the search engine, and your audience, about which page they should really look at for a "one cup coffee maker."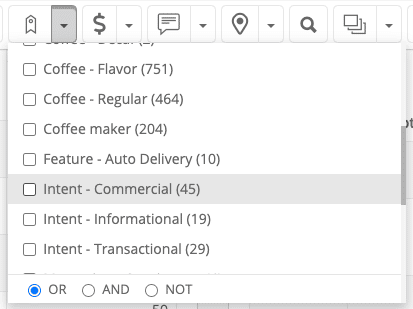 Maybe you're asking yourself what do with the rest of that content? That leads us to the next part!
One keyword doesn't mean one topic, it means one intent.
We'll stick with our coffee maker example and say that just because you've already used "one cup coffee maker" on your product group page, doesn't mean you can't also have a blog post, landing page, and individual landing pages that discuss the same topic. What it does mean is that you need a unique intent or unique value proposition.
Here are some examples:
– For a blog post, you may want your target keyword to be: "How to choose the best one cup coffee maker"
– For your individual product pages you may want target keywords like: "Most affordable one cup coffee maker" or "smallest one cup coffee maker"
Set your pages and choose conversion paths accordingly.
Once you've chosen your target keywords and preferred landing pages, you want to make sure you're leading your audience to next steps that match the intent of each search. Are they looking for more information? Do they need to make a purchase? What other considerations will they have?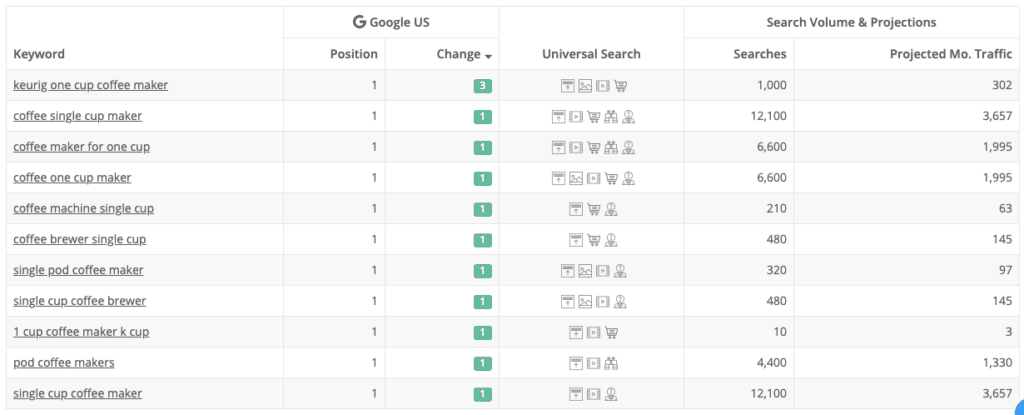 DemandMetrics SEO tools allow you to set preferred landing pages AND target keywords for your content, monitor their performance, and track versus competitors.
Preferred landing pages are the best way to track target keywords for reporting
You'll be able to report on the campaigns, marketing initiatives, and KPIs that matter most easily by setting preferred landing pages in DemandMetrics. Here are a few things you can do:
Set preferred landing pages based on product lifecycle or year. An example would be targeting the "2021 Honda Civic" versus "Honda Civic" for a specific keyword.
Group target keywords and preferred landing pages by product, feature, or solution.
Create groups of keywords and content by audience intent. For example, you may want to see all top of the funnel content that is informational or navigational. Or you may want to hone in on the transactional pages for a specific product or service. Target keywords and preferred landing pages help you find and optimizes those quickly.
Optimize the right content first. If you have target keywords and landing pages coupled, you won't waste time optimizing pages that aren't a priority until top pages are perfect.