Fans of "Mad Men" were abuzz on social media this weekend with the much-heralded show's season six finale. As I watched the hard-working agency folks at Sterling Cooper & Partners for the final time this year, it struck me that AMC's brand of full court press social media outreach is now the norm rather than the exception. With its mix of original content and heavy social media interaction, AMC sets a high standard for digital marketing.
I remember some years back when AMC had so little idea how take advantage of the show's social media popularity, that it sent cease and desist letters to adoring fans for creating fake Twitter accounts based on show characters.
Things have changed alot since then.
AMC has clearly heavily invested in building strong momentum for "Mad Men" online. On the network's site, you are greeted with a bevvy of goodies for fans of the show. You find blogs and interviews with the cast, special pics and videos you can only get at the site, as well as extremely popular message boards.  That's where you find thousands of people yammering at each other over inside jokes and the latest twists and turns in the plot. If you've got a theory about what may happen in the future to one of the characters, this is a great place to discuss it.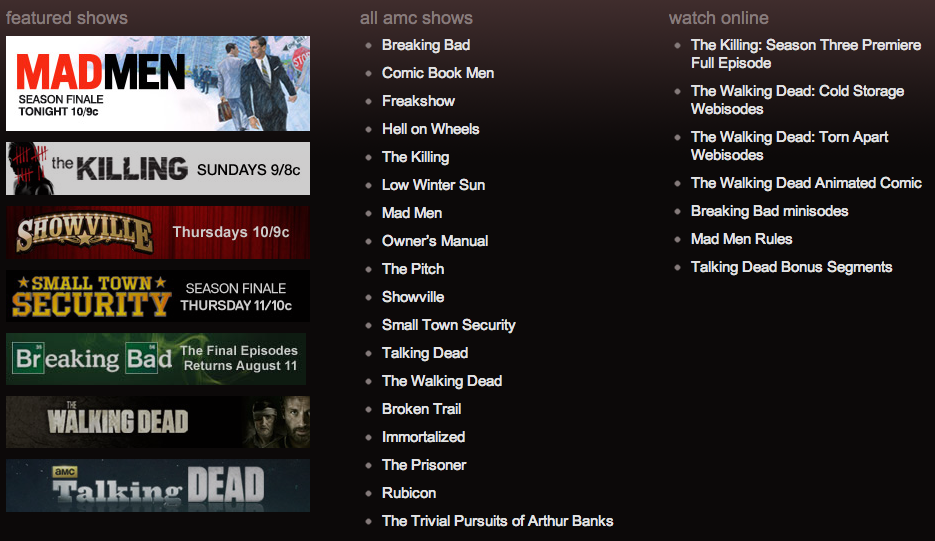 What's truly interesting to me is, nowadays, if a network isn't pulling this kind of "all-hands" effort for a TV show, they are probably dropping the ball. Head to the site and you'll find that the same kind of effort goes into the network's other big shows, including "Breaking Bad" and "Walking Dead."
Social Media Interaction is Key
Leading up to the big finale on Sunday, the Mad Men Facebook page and Twitter account both did several key things that indicate the AMC team has its bases covered properly.
1.) General Engagement: AMC gave people a chance to chime in on what they thought might happen that night. They even framed it as, "Pitch us your finale ideas." Encouraging interaction this way is a requisite for any social media effort, and is especially effective when you have that large audience that can't wait for a big event.
2.) Encouraging Use of Other Services: The folks who run the Mad Men accounts know how valuable it can be when outside communities gather to discuss the show. An example of this is the social networking site for TV fans called GetGlue. Before the show started, AMC encouraged fans to check in there. This is smart because building additional communities around your show spreads the word and helps get more people interested overall.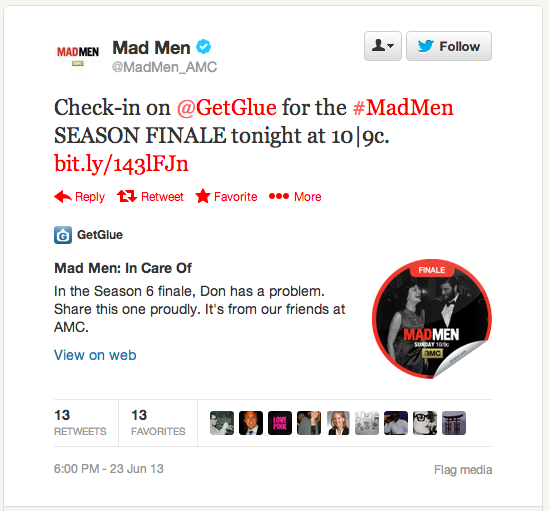 3.) Send People Back Home: The Mad Men social media accounts were very good about moving people back to the AMC site to "go inside" the latest episode or read recaps of prior shows.
Social Media: A Means to an End
In this situation social media is a means to an end. That end is the building of your own brand and your own content. Let's face it, you're never going to "own" Facebook, Twitter or Google+. The goal is to use those outposts to send your message out and bring them back to the stuff you create on your home base.
AMC has, even just with Mad Men, created interactive games that let fans create their own "avatar," in which they can create their own Mad Men character complete with suit and body type. If you want, you can also compete with other fans by taking quizzes, or find out "Which of Don's Women" you might be most similar too.
I have to say I'm impressed overall with how the network is integrating its channels. This type of interconnectedness will only continue to solidify in the future, as brands seek to meld their online content with more traditional channels, in an effort to make them all more successful than they might ever become by themselves.
What brands do you think do a great job with social media and which ones could do better? Leave your comment below.