In a world laden with boring beverage insulators (sorry, koozies), one product stands out. Meet the company that seeks to rid the world of moist handshakes with a whole lot of stretch and personality to boot—Freaker USA.
Founder and CEO Zach Crain launched Freaker in 2011 after learning to knit and making beverage insulators out of old sweaters. Made out of stretchy knit fabric, Freakers can fit on a variety of bottle sizes. It's hard to pinpoint exactly what led to its popularity, but I suspect that it has a lot to do with their quirky and engaging digital marketing efforts.


Team Freaker is doing what seems illusive to many companies and focusing on building and sharing its brand around lifestyle content, which is also reflected in product designs. With names like Gosling, Vanilla-Icing and Fresh Prints, each Freaker design features an image or pattern. This enables them to take what some might consider an unsexy product (a beverage insulator) and make it alluring to their target consumer, building loyalty and fostering engagement.
I sat down with the creative minds at Freaker USA recently in their Wilmington, North Carolina headquarters to learn more about their "secret sauce" and chat about how they get found—both online and in real life.
Getting the word out
To get the products into production with original designs and branding, Zach and a small team launched a Kickstarter campaign in April 2011. The campaign featured several videos and images conveying the independent, creative spirit of the brand. One of the videos encouraged viewers to spread the word about Freaker via social media.

When the Kickstarter campaign ended in June 2011, Freaker surpassed its fundraising goal by nearly 30 percent, enabling them to begin production with all of their colorful yarns at a Troy, North Carolina sewing facility.
Vice President and Art Director Justin Mitchener said that the company's wholesale business still accounts for the overwhelming majority of their business although their own ecommerce website generates 5-10 percent of sales. Wilmington's Edge of Urge, a boutique and ecommerce site, was one of the very first shops to carry the Freaker. Now they can be found in stores across the U.S. and in Canada.
In 2012, ABC's Shark Tank approached Freaker to pitch to a panel of investors on national television. The show receives thousands of applications from individuals and companies hoping to be selected, but it sought out Freaker on its own which speaks to their marketing efforts. An estimated 7 million viewers, the show's biggest rating score ever, tuned in to watch Zach pitch. While the investors did not fund the company, the publicity generated a significant bump in sales and millions of emails. Zach said that each time the episode re-airs they see a spike in website traffic and product sales.

Focusing on authentic voice and consistency
Along with their steady cadence of wins, the company has focused on creating and sharing content, an increasingly hot topic for marketers in 2013. As visible in the video above, Freaker has embraced an array of marketing tools to increase their brand's findability to both direct customers and potential distributors.
Lauren Krakauskas manages social media marketing for Freaker and says that she aims to blog five times a week. The posts typically center on product announcements or lifestyle-oriented content and are written in a consistent tone that aligns with their branding. Don't be surprised if you spot her in the photos either.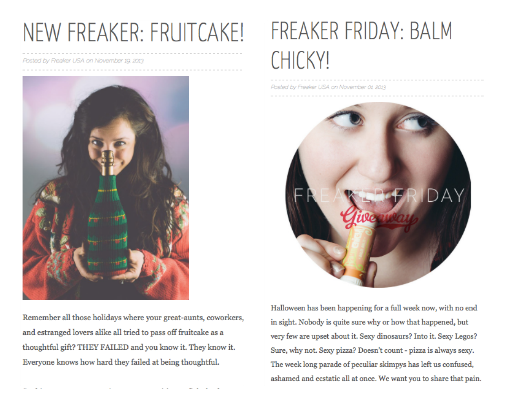 They also have weekly giveaways involving social media. For example, on November 15 they announced a giveaway that would result in 9 winners receiving a Freaker and handmade jewelry. To enter, people went to Facebook, found a specific image and left a comment. Another week, they asked entrants to share their best literary references on Instagram to win tote bags using #ToteWrote. Winners are announced each Tuesday in their weekly newsletter.
Team Freaker doesn't approach content marketing like many companies, but then again, the product calls for something a little different. They purchased a box truck, pimped it out and chronicled it on their blog and YouTube. Zach also explained Freaker's box truck strategy in a video.

The team shared their journeys via their blog and social channels, allowing them to tell their story in an adventurous, authentic way. They travel from city to city, often en route to a tradeshow and host grilled cheese parties to organically spread the word on their product.
The box truck also doubles as their trade show booth. Thousands of companies descend to display their wares to would-be distributors at trade shows, and the box truck helps Freaker stand out. Zach pointed out that there is a deck on top of the truck that makes it highly visible among the throng of traditional booths.
It was at one of these events where they caught the eye of Woot, an Internet retailer owned by Amazon.com. Woot offers different discount products each day. In October, limited edition Freakers were given with every t-shirt ordered during their Shirtoberfest campaign. It didn't take long for Woot to run out of Freakers, but they made more exclusive designs for Woot's popular holiday t-shirts.
Product development & holiday planning
Freakers are currently available in 45 patterns, including three holiday designs—Fruitcake, Cookie Monster and Cracker Jack. Justin said that about 50 percent of their product ideas are based on what's trending and the rest comes from their own ideas. "We try to put our own spin on all of our designs," added Zach.
Like many other retail companies this holiday season, Freaker plans to start their Black Friday sale earlier, starting at noon on Thanksgiving Day. Many retailers are doing this because there are 26 days between Thanksgiving and Christmas this year vs. 32 in 2012. You'll have to check out freakerusa.com for the deals!
Mark your calendar for Small Business Saturday coming up on November 30, 2013 and support local businesses.
Share your digital marketing story with us. Contact marketing@ginzametrics.com.