As search and social data continue to inform SEO and content marketing decisions, being able to understand how the two interact across your marketing campaigns, target keywords, and competitors will make your marketing strategy successful. Currently, the majority of SEO platforms do not integrate social analytics throughout their dashboards, leading to fractured information. Additionally, many content and social platforms that have sought to include search data are only barely scratching the surface of real SEO analytics and recommendations.
After watching the industry change and anticipating additional social data changes on the horizon, we have decided to continue to build and integrate social data into the GinzaMetrics platform.
Social Trends and Social Share of Voice Added to GinzaMetrics Platform
To address the changes in the search, content, and social spaces, GinzaMetrics is adding additional social features into user's dashboards, starting with Social Trends and Social Share of Voice.
These two new graphs will be joining existing social data that is integrated into the GinzaMetrics platform, including:
Marketing Channel Chart

Audience Insights

Content Social Engagement Graph

Content Social Analytics Chart
These new insights are available to users at all plan types this week and can be found in your dashboard navigation in the Insights tab.
We're excited about these additions to the platform and look forward to seeing your feedback. As with any new release, this initial version will be the first step of many in the process of building a deeper tool so look for continued updates soon. Check out the overviews below for more information on the grown social suite of analytics.
Getting to Know Your New Social Charts
Social Trends
The new social trends graph puts your brand's social engagement data into easy to view charts, allowing you to compare your social engagements versus competitors.
Social trends graphs are broken out by channels including:
Twitter

Facebook

Google+

YouTube

Instagram

Pinterest

Slideshare

LinkedIn
Information such as likes, follows, tweets, pins, and more are compared across graphs to give you an at-a-glance view of changes in audience engagement. Toggling between new content releases, the addition of more targeted keywords, and using marketing channel charts and annotations will allow you to see how the ecosystem of search and social affects your audience's ability to find you online.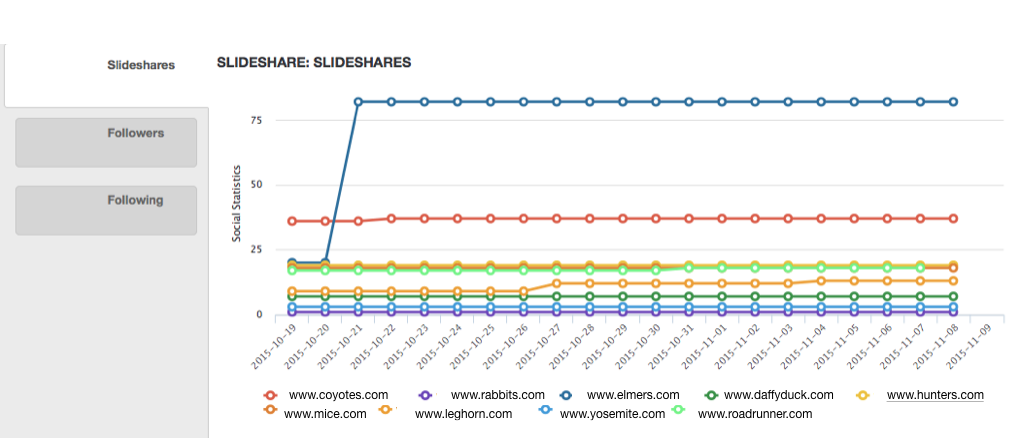 Social Share of Voice
Social share of voice graphs are a great way to see who is dominating social engagement in your market. By analyzing your social efforts alongside your chosen competitors – we'll provide you with pie graph breakdowns across channels including:
Twitter

Facebook

Google+

YouTube

Pinterest

Instagram

Slideshare

LinkedIn
These charts are great for adding context around reporting and future marketing strategy and SEO decisions – as the point to not just totals for follower data but also to the consistency and volume of social engagement of your industry.


Social Audience Overview
Using social audience, you can compare your social engagement to your competitors across social media channels. From within the dashboard you can dive into a competitor's social account to view the content they are creating.
The chart format highlights highest totals in green with check marks for faster reference on social media positioning.
The growing suite of social analytics features allows brands to see the relationship of social efforts, overall inbound traffic, and engagement data. You can also monitor social activity versus competitors – allowing you to see spikes in channel engagement as they happen, and alerting you to changes in market position for you and your competitors.
If you want more information about the new social suite of tools, we're happy to answer your questions via email: erin@ginzametrics.com or watch a demo video here for an overview of the full GinzaMetrics platform.