On February 6, Klout announced that it was adding a new content platform.  The company, established in 2009, measures and assigns a numerical score to express digital influence on social media.
Upon logging in, you are shown your score, and the statement, "The best way to increase your Score is to create and share great content." You are then presented with topics that Klout thinks you might be influential in based on what you've shared. You can also add topics.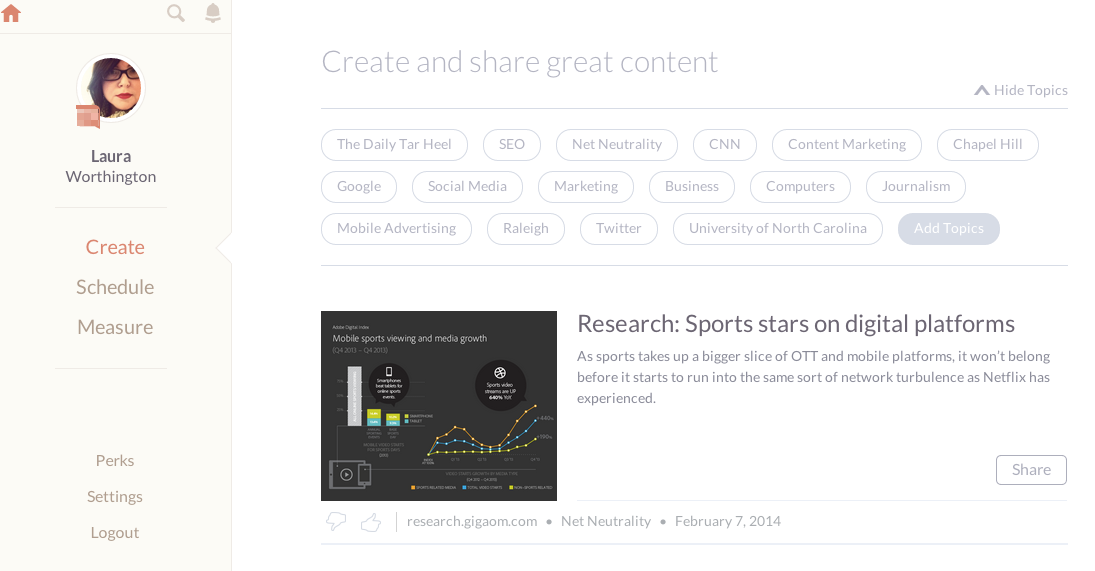 Below the topics, users see related news items that can help them stay in the loop on the latest developments. There is also a feature to schedule the sharing of content to Facebook and Twitter, similar to Tweetdeck or Hootsuite.
This new platform aims to help Klout users that have lower scores to raise their scores and grow their digital influence. This is a good move for the company, as it makes it easier for people to see the link between what they produce and the results.
At GinzaMetrics, we updated our platform in June 2013 to help brands and agencies associate data related to search, social and content marketing efforts. We refer to growing your digital influence as improving findability, and these are similar concepts.
I'm not trying to sell you on the perks of content marketing in this post. You can check out Content Marketing Institute for a bevy of helpful resources specific just to that topic.
Content marketing is not a panacea, just like social media can't operate independently. What is important is that these are pieces, important ones, of the larger story in growing your audience. This is true whether you're a brand, agency or individual.
If you want to grow your digital influence or findability, you must take the time to create good content that is unique, intriguing and in line with what your audience needs. Using data to prioritize the topics that you will create content around only helps you work smarter.
Knowing what your audience is seeking on an ongoing basis can be incredibly insightful and helps you avoid working in a vacuum, thinking you know best. Considering this, I still think Klout is still catering a bit to those with high scores. Those people are already viewed as experts, so they likely have a good idea already as to the secret sauce that works for them. The average user with a score of around 40, is at least sharing content around these areas already, although it may their own original work. The disconnect for me is that these users may be spinning their wheels in trying to be an influencer in one area when their could be more opportunity in another. How will they ever know this if they don't have access to more data points?
What do you think about the Klout update? Is it a step in the right direction?