In 2012, ecommerce sales surpassed a trillon dollars worldwide, and guests on our recent FOUND Friday agreed that ecommerce continue its meteoric rise in 2013 and beyond.
Jacqueline Zenn, a Chicago-based strategic consultant and interactive marketing manager, said that the growth will be fueled by people getting used to the convenience factor of making purchases anytime, anywhere.
"There might be a decline in brick and mortar and an increase in ecommerce," Zenn added.
"We are just getting started," said Ray Grieselhuber, GinzaMetrics Founder & CEO. He said that up until the past few years, most ecommerce transactions have occurred on desktop and sites like Amazon.com, but the proliferation of mobile devices will  drive growth in ecommerce.
"In terms of overall volume, I'd say that what we're seeing now is probably just a small fraction of what we'll see in the next 10 to 15 years," said Grieselhuber.
According to eMarketer, ecommerce holiday sales in the U.S. will rise about 15 percent in 2013 ($61.8 billion), matching last year's increase. It projects that mobile's share will reach 16 percent in 2013.
Research shows that consumers are doing research online before visiting brick-and-mortar stores, so brands can help consumers to gain trust.
"There are many opportunities for brands to do content marketing and create the kind of helpful content that users want to see as they go about their research," said Zenn. For example, electronics retailers could create how-to content or information about their products along with reviews.
How to stand out during the holiday season
With content marketing increasing in popularity, brands should seek out ways to stand out from competitors during the busy holiday season.
"The uniqueness of your brand itself really matters, so if you are an Internet retailer that has built your business on being a very generic price competitor, you'll have to figure out new ways to make that very appealing to people," said Grieselhuber.
While people are looking for bargains when shopping online, Grieselhuber continued, brands that have unique qualities would have an advantage when attempting to stand out against other brands. They will have a core audience that has bought into what makes them unique and should continue to reinforce that by creating content to engage the audience.
Best Made does a good job of reaching a highly targeted audience of nature-loving adults. Their core product is an American-made axe, and they have other high-quality outdoor materials including clothing. The visuals and content on the site exude a simpler time where focus was on strong, long-lasting products.
"They are getting quite popular very quickly, and I think that's because they've managed to struck the right balance between new products but appeal to this kind of nostalgic, Midwestern American values," said Grieselhuber.


Everlane does a great job of telling their story online, which focuses on transparency, encouraging users to know where their products come from and question the true costs of products.
They make their story very clear in the website copy. For example, the site's About section includes the following text, "We know our customers are also rule breakers and questioners, so we hope this philosophy is palpable in the products and choices we make. And by all means, challenge us too."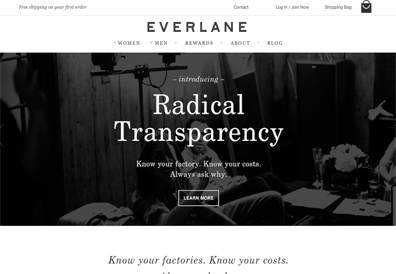 Neiman Marcus' holiday catalog has been around for years and is now online, offering website visitors the chance to view a flipbook full of fantasy gifts, including an Aston Martin, experiences and a $150,000 falconry kit.  These products generate buzz on their own such as segments on the Today Show.
Once you are on the site, they offer you the ability to shop for other gifts by price, recipient and product category. This might feel like a bait and switch for some website visitors, but the content is engaging and surfaced in an interactive layout. This is not a new technique for Neiman Marcus. The company has been producing a holiday catalog since 1926.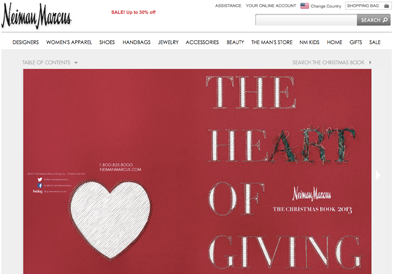 Amazon.com vs. everyone else
Amazon.com is a dominant e-tailer, providing an endless supply of pretty much any product that you can think of, so some retailers may feel that they are fighting an uphill battle to lure people to their own ecommerce site.
Zenn suggested that providing unique and intuitively designed user experiences can help attract users to your ecommerce site.  She said that Amazon.com is viewed more as the WalMart or Costco of the Internet.


Grieselhuber said that Amazon.com gives brands more of the impetus to create unique content that will help make products stand out but for companies that make the products they sell online, Amazon.com can be a helpful channel to get those products to consumers.
Ecommerce sites that compete directly with Amazon.com by offering a range of products from different sites will find it more difficult to be successful over the long run. People will search Amazon.com for better products.
Opportunities for last minute holiday ecommerce efforts
It seems that companies are beginning holiday marketing efforts earlier and earlier, but a couple of ways for ecommerce companies to get on the ball quickly includes posting and sharing deals via social media channels and creating sensational content.
While getting ranked on the first page of search results in a few weeks is likely not possible for your top keywords, ecommerce companies should:
Look at data from last year to see what worked well.
Understand what your core products are and focus on those in your marketing efforts.
Coordinate your search and social campaigns.
Working collaboratively across search, social and content
Those responsible for search, social and content are often spread out in different group within organizations, and the holiday season is often requires an "all hands on deck" approach.
Grieselhuber says that many of the companies that GinzaMetrics is talking to are just in planning stages of getting these different departments to talk to each other and work together. Companies that already have more collaborative teams in place can focus on improving logistics, operations and creating iterative processes.
To ensure that teams work together optimally, delve into the analytics and review what is working from a conversion perspective. Zenn said that when people see what is moving the needle, they are encouraged to work collaboratively more.
Accessing the current environment of complexities
Many ecommerce companies spend significant amounts of money to grab marketshare especially during the holiday season, and this has been done traditionally through paid advertising. With an increasingly complex environment, companies have many more options about where they spend their time and money.
Grieselhuber suggested that ecommerce companies that might be spending less on paid advertising due to more owned media opportunities should invest more in their infrastructure to get in-depth analytics and a cohesive user experience. Users are now putting products in online shopping carts on their desktop computer and expect to see it there when they pick up their iPad or smartphone, too.
Search is also a topic that is becoming increasingly important across marketing roles. For example, he shared that GinzaMetrics was originally built for people with an SEO background but more marketing managers are becoming users because they are expected to also manage search.
From an ecommerce startup perspective, Grieselhuber shared that those businesses going from zero to healthy revenue are using GinzaMetrics in a programmatic fashion. The company's APIs are used to go into their catalogs and make sure that content is optimized before it's even published, and these businesses are tracking performance natively within their own platform.
Looking ahead
Panelists believe that ecommerce companies will have to deal head on with the continual mobility customers, which can be viewed as a threat by some retailers.
It's also critical to figure out your organic search strategy now because search and cost per click prices continue to increase.
Do you have key strategies during the holidays? Share your comments below.