Following fast on the heels of my post from last week, here are some additional things to follow regarding Google's April updates and releases.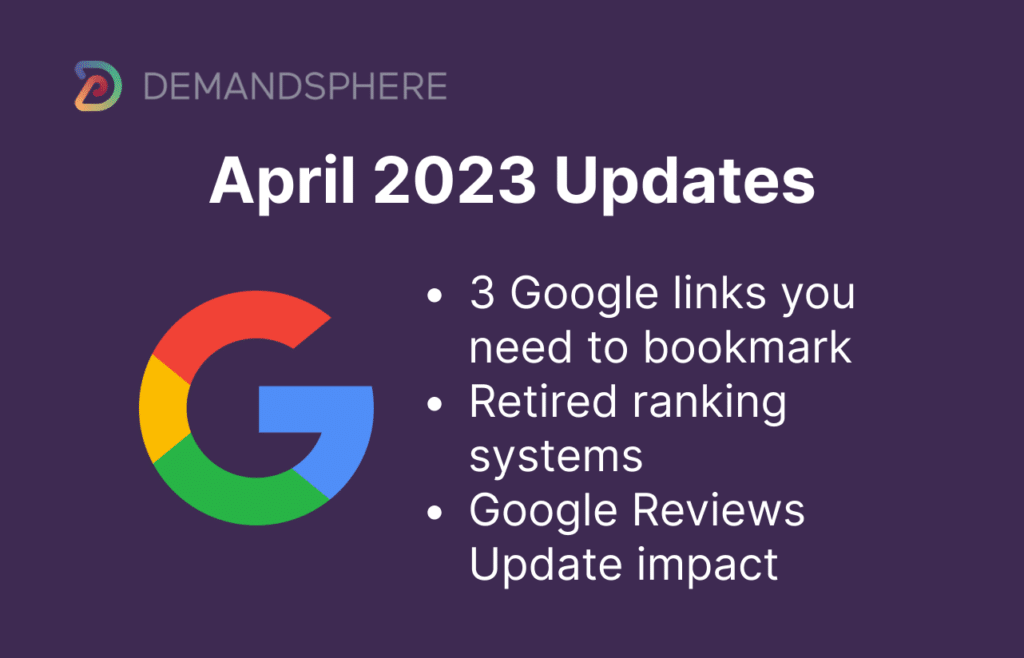 Bookmark this Google documentation for SEOs and developers
First, a page every developer and SEO should bookmark is Google's search ranking systems. The helpful thing about this document is that it lists all of the currently active vs. retired ranking systems. A second document you should bookmark clarifies Google's revised approach to releasing news about ranking updates vs. their ranking systems.
A third link you should bookmark is the Google Search Status Dashboard. This will show any major updates to ranking systems.
Retired ranking systems
As Barry Schwartz pointed out last week, there were four ranking systems quietly dropped from the list of currently active ranking systems:
Page experience system (this doesn't mean that Core Web Vitals don't matter, it's just not a separate system)
Mobile-friendly ranking system
Page speed system
Secure sites system
Some of the updates (such as secure sites and mobile-friendliness) make sense to remove because it has just become the standard way to do things on the web.
Page speed can be seen as deprecated in favor of Core Web Vitals, with the clarification that Core Web Vitals is not a separate ranking system, just a set of signals used in other systems.

Rank Tracking & Competitor Insights Delivered Daily
The impact of Google Reviews
The April Reviews update was released on April 12th and the impact continues to expand.
We're seeing a number of sites experience fluctuations and are preparing an updated report for our customers. Some sites that we monitor had precipitous drops which since recovered (partially in some cases), others weren't so lucky.
Conclusion
At the end of the day, Google continues to demonstrate with their updates that their AI is improving in its capability to score quality vs. spammy content and that they want to see valuable content. These updates can be annoying in competitive markets but that's just how it goes.