The team at GinzaMetrics is excited to announce the launch of a new user interface and website for our enterprise SEO and content marketing platform. The updates are aimed at giving users the data and recommendations necessary to help businesses get found online.
This update will help you take better advantage of our innovative technology, including daily crawls of your site and competitor sites—a feature offered only by GinzaMetrics. Daily crawls ensure that you have the most relevant data, giving you a competitive edge.
In addition to the new UI and availability of competitor analysis for all plans, we're also pleased to offer features including white labeled dashboard views, white labeled exports for reporting, and page indexing. More on our new dashboard and features below!
Dashboard
When you log into your GinzaMetrics account you will see a newly designed dashboard. We have moved the navigation to the top of the page to help you get to the data you need quickly. The clean and intuitive UI makes getting acclimated to and using GinzaMetrics easier for you, your team or clients. Data is displayed graphically or in sorted charts, and you can customize your view by date range, search engine(s), keyword and keyword group. You can also customize your dashboard to match your organization's brand with our new white labeling capabilities.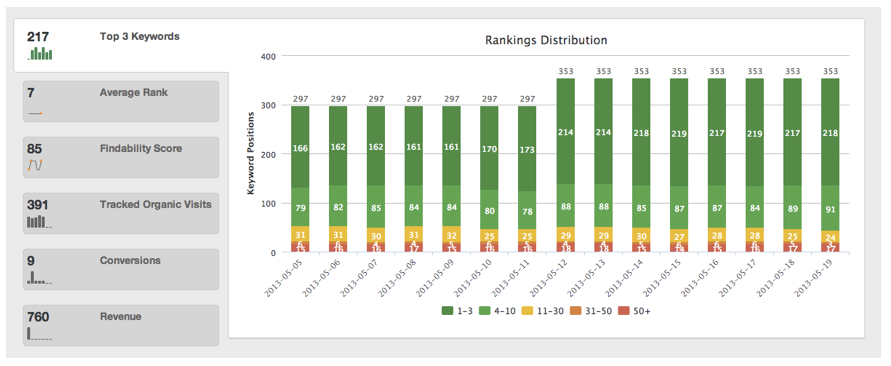 All of our robust data graphs are available via export so you can highlight KPIs, show ROI and share campaign data with ease. These exports are also customizable with your chosen logo to give all of your reporting a consistent look with your brand.
Insights & Recommendations
Selecting "Insights" from the top-level menu bar enables you to navigate to Content, Keywords, Links and Competitors data.
Competitive monitoring allows you to see how your competitors are changing their search and content strategies and analyze that information alongside your own. This invaluable tool can even help you see shifts in strategies before the competitors are aware of it themselves!
"Recommendations" provides access to actionable suggestions for improving your findability. They are sortable by importance, difficulty and risk. You also get a custom findability score assigned based on keywords & content, page structure and crawlability.
Page Indexing & Internal Links Insights
With this release, we are also happy to announce a brand new feature called Page Indexing & Internal Links Insights. The ability to crawl a new site and quickly find duplicate page titles, HTTP errors, redirects and more has long been a missing feature in enterprise level, cloud-based SEO platforms. A surprising number of our customers still found themselves using Screaming Frog. Screaming Frog is a great tool and we love it too, but it has two main limitations: 1) it's desktop software and 2) it can be hard to manage for large sites and site portfolios. With this release, we're able to make use of our web crawling infrastructure to provide recommendations across very large sites, in the context of your main SEO Dashboard.
The other problem this release solves is it helps you visualize and understand your internal link structure. When we crawl your site, we build up a graph of your internal links and provide a number of useful tools to help you see which pages have optimized links and which sections of your site need some work.
This new Page Indexing and Internal Links Insights release should be considered early access as we'll need a little time to tune the new functionality at production scale but we're excited to have you start using it.
Get Started with the New Dashboard Today
Log in today or sign up for a free 14-day trial to take the new UI for a spin to explore the role of organic search elements like keywords, content and pages play in the overall findability of your brand.
We'd love to hear your feedback. Please send your thoughts and recommendations to our COO, Erin Robbins O'Brien (erin@ginzametrics.com).
We've new features and functionality coming soon! We encourage you to reach out to us at support@ginzametrics.com if you need any assistance.