Amazon SEO Guide: How to Get Found On Amazon
Over the past several years, Amazon has firmly established itself as the leader of purchase intent search. Did you know that 42% of all searches with intent to buy now begin on Amazon? This means that Amazon SEO is a critical component of any data-driven ecommerce marketer's strategy.
As we have mentioned, more buyers head straight to Amazon to look for products to buy than Google or any other destination on the internet. The backbone of the Amazon customer journey is the Amazon A9 search algorithm. If you've ever looked for something on Amazon, you've used this  algorithm. Amazon approaches search from both sides of the. It aims to understand searcher intent as best as possible. Then it displays the most relevant products to the searcher. This is important to us marketers, because most amazon searches lead to a purchase, and products that appear on the first page receive a majority of sales. How can you maximize your Amazon search ranking to get your products in front of customers ready to buy on Amazon? Let's take a look.
Amazon's search is much more focused than Google or any other web search engine. It is a pure numbers game by displaying products the searcher is most likely to buy and be satisfied with. Ranking on Amazon is much more straightforward than with web search engines. Knowing the factors that impact your Amazon search rank will enable you to make your product pages more appealing to the A9 algorithm. Just like SEO for traditional search engines such as Google, Amazon SEO is a tool to add to your toolset.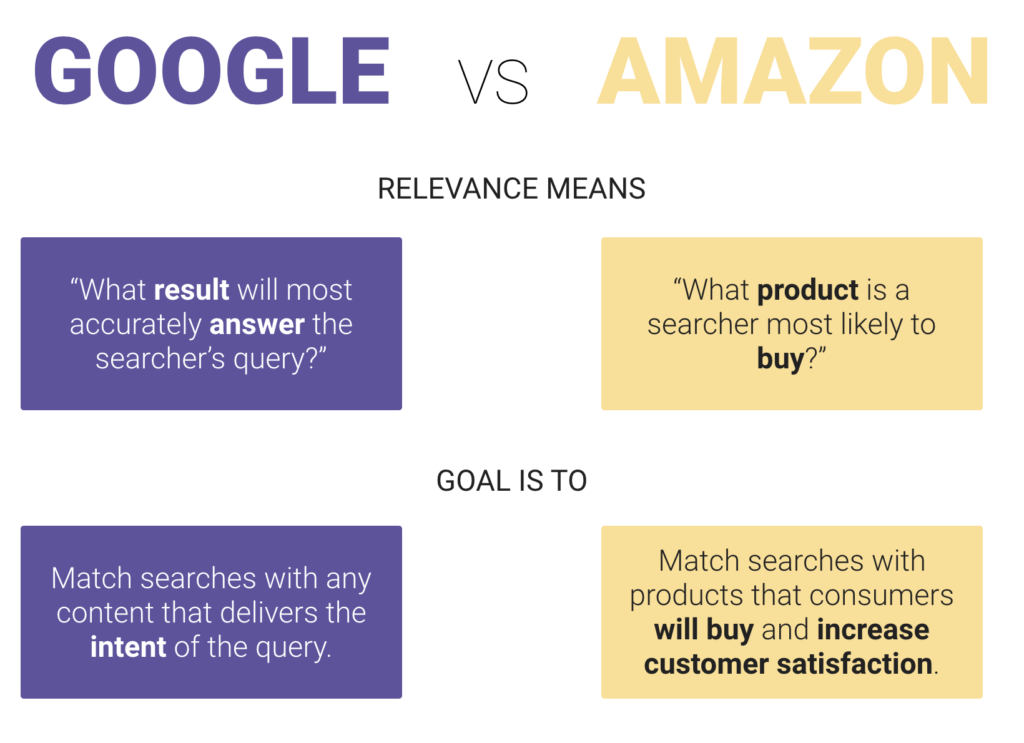 There are many factors the A9 Algorithm considers for raking on Amazon, but they fall into 3 main categories:
Conversion
Relevancy
Retention
Let's take a deeper dive into each of these categories and better understand how each impacts Amazon search ranking.
Conversion
Conversion rate is important to you. The more searchers you are able to convert into buyers, the more revenue you generate. It is also important to Amazon. They want to display products to prospective buyers that meet their expectations and will leave them satisfied after purchase. This starts with the product page.
Factors that impact conversion rate include:
Sales Rank – Also known as Amazon's best sellers rank, is simple. More sales mean higher rankings and higher rankings mean more sales.
Pricing – Having the lowest landed price (product price + shipping) makes you more competitive against other sellers.
Answered Questions – Answered questions appear at the top of the product page and are important for conversions. Make sure your questions are answered.
Customer Reviews – The amount and quality of customer reviews you receive is important for ranking. Make sure to address any negative reviews as soon as possible.
Image Quality and Size – Buyers like to see what they're buying. Be sure to follow Amazon's image guidelines and provide high-quality images for buyers to see your products in detail.
Parent / Child Products – Utilize parent/child product relationships where appropriate. Doing so helps maximize customer reviews.
Time On Page – Amazon correlates the time a customer spends on page to customer interest in your products.
Whether or Not The Product Listing Is Complete – When creating a product page, try to fill out every field. More complete product pages have higher conversion rates.
Relevancy
Amazon's A9 search algorithm considers relevancy when deciding what products to show in a search result. To rank higher in a search, Amazon needs to consider your product highly relevant to the search. Here are some factors Amazon considers to determine relevancy:
Page Title – Optimize your Amazon product title by including keywords, keeping it under 200 characters, and making it easy to read.
Features – Use bullet points and include keywords to display product features.
Product Description – Use the product description to provide details on features. Be sure to use keywords and make the description as informative and easy to read as possible.
Brand and Manufacturer Information – Include brand and manufacturer information in the title where appropriate.
Specifications – Include as much information as possible about technical and physical details of your product here. Completeness is rewarded by the A9 algorithm.
Category and Sub-category – Ensure your category and sub-category selections are as relevant as possible.
Accurate Search Terms – Be sure to do keyword research to ensure you are using the best keywords for your product listing.
Factual Statements – Make sure all the information provided is as factually accurate as possible.
Retention
Amazon wants you to purchase from Amazon sellers. It wants you to have a satisfactory experience with Amazon sellers so buyers continue to return. A negative experience will make a buyer less likely to purchase from that seller and less likely to purchase from Amazon, in general. In the general SEO world, this is analogous to focusing on and improving engagement metrics such as session time, bounce rate, and also conversions. To maintain an environment that fosters positive purchasing experiences, the Amazon A9 algorithm penalizes sellers for these factors:
Customer Ratings and Negative Feedback – Negative customer ratings count against sellers equally in search results. Be sure to address negative ratings in a timely fashion. If negative feedback is removed by the customer, it will no longer count against the seller.
Time in Stock – Amazon penalizes poor inventory management. Be sure to keep a high in-stock rate.
Order Processing Rate – Efficient order processing is important to success on Amazon. Amazon penalizes sellers that do not ship quickly and accurately.
Order Defect Rate – Whenever a customer makes a claim against a product, Amazon considers this an order defect. Sellers are penalized for order defects.
Return Shopper Rate – Amazon wants repeat customers. Sellers that don't provide positive experiences are penalized.
Exit Rate – Exit rate is the rate of customers that view your product listing and then leave Amazon. High exit rates are penalized.
Keywords For Amazon
Where you place your keywords in Amazon is an important decision. It is one of the factors the Amazon A9 algorithm considers for ranking. Below is some guidance on where you should place your keywords.
Product Title
You should place your most relevant product keywords here. Follow basic SEO guidelines here but realize that Amazon-focused SEO can sometimes feel like it's 2001 again. The algorithm is still quite basic compared to Google's and we have seen many products rank well with what people today would call "keyword stuffing." Be careful, take an experimental approach, and track your changes daily.
Bullet Points
Keywords pertaining to top level details about your product should be used in bullet points. These include things like use, benefits, material, and other similar relevant details.
Seller Central Backend Search terms
These keywords are not visible to the customer. You should include keywords here that are not the best fit for bullet points or title, but are still relevant to your product. Amazon restricts this section to 250 characters total, so be sure to stay within that limit.
Product Description
Use clear and descriptive language in your product description with keywords relevant to your product. This is where you should include further details about your product that your customer would be interested in.
Search and SEO Intelligence
According to the Amazon A9 team, "Great search can seem to customers like it is reading their minds. We start the search experience by giving customers suggestions on how to formulate their queries as soon as they start typing. The better we understand the meaning of a query, the better we can help customers find the products they want. So we focus on the words and the intent behind those words"
There are three core components of the Amazon Search Intelligence process:
Segment Mapping

Keyword Discovery

Competitor Insights
Understanding these components will help you implement improvements that will increase search ranking and traffic to your products.
Segment Mapping
Segment maps are an effective way to visualize your product offerings for search and marketing efforts. There are a few ways you can create a segment map. If you have a site map or product navigation on a current website, you can create a segment map based on this structure. In the event that you don't have a website that has parity to our Amazon store, you can use your Amazon storefront navigation if that is structured well. If you have neither of these, you can create one from scratch.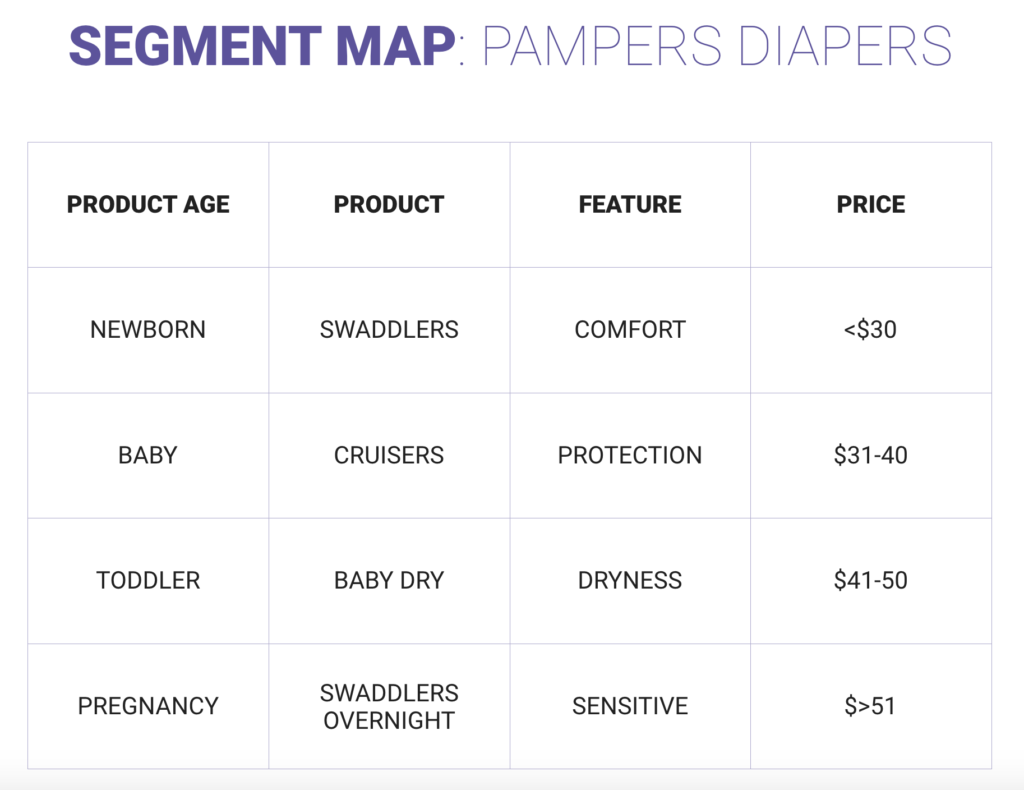 The objective of the segment map is to organize your product offerings in a way that makes sense and enables your customers to easily find your products. The type of products you are selling will largely determine how you segment them. Generally products are categorized by type, use, application, etc. If you don't have a current site map or Amazon storefront navigation to work off of, feel free to reach out to us for some more information.
Keyword Discovery
The Amazon team says, "Customers must be able to find your products before they can buy your products. Search is the primary way customers locate products on Amazon.
Customers search by entering keywords, which are matched against the information (title, description etc.) you provide for a product. Factors such as degree of text match, price, availability, selection, and sales history help determine where your product appears in a customer's search results. By providing relevant and complete information for your product, you can increase your product's visibility and sales."
To start, you need to understand current rank and what keywords and phrases are ranking. If you're not already tracking your keyword ranking, there are several tools available to help you get started. We also offer this tool as part of the DemandSphere platform. If you're not already tracking keywords for Amazon, you may be tracking keywords for your website on a SEO platform. You can start with the keywords and phrases you're targeting there, but you'll want to know where you're ranking in Amazon as well.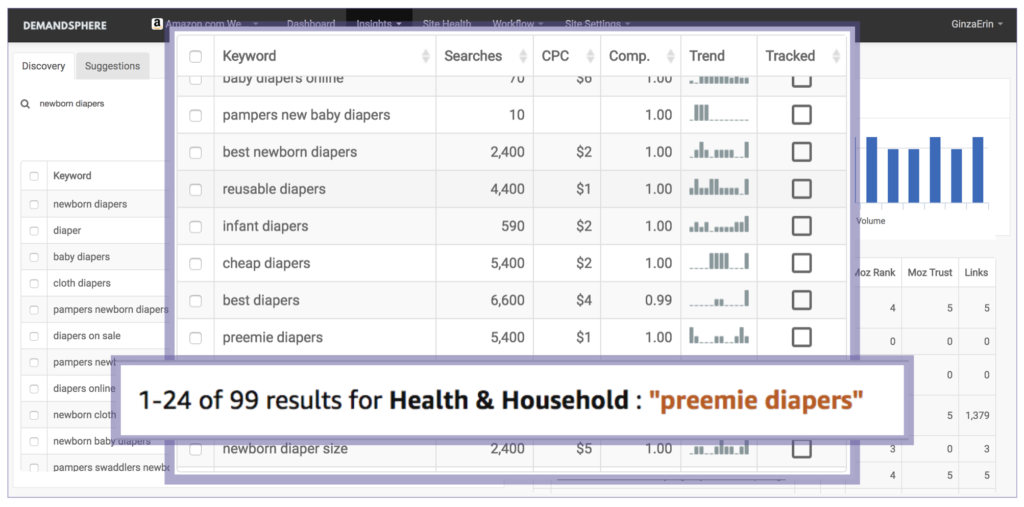 Tracking where you've made rank improvements, where you're losing rank, and where your competitors are gaining and losing traction is important to identifying trends and figuring out where traffic is going. Once you have a firm understanding of where you currently stand with keyword rankings, you can start focusing on areas to make improvements.
What matters with keywords when it comes to Amazon?
Title Inclusion – Make sure to include your keywords in your titles.
Feature Bullet Points – Use bulleted lists that include keywords and are descriptive and easy to read.
Product Description – Should be factual, informative, and keyword rich.
Category and Sub-category – Make sure category and sub-category match keywords and product types.
Search Terms – Specify search terms utilizing your keywords.
Competitor Insights
In addition to understanding how you are performing for keywords you're tracking, it's important to understand how your competitors are ranking as well. Understanding what products are competing against yours and what keywords competitors are already ranking for is also important.
Another thing to consider when looking into competitors is how many products are available in a given product category. The less competition there is for a given product, the easier it is to rank. Understanding your competition's general Amazon standing is also important. Going up against a well established Amazon seller will make it harder for you to rank for a given keyword or phrase.
If your competitors are not yet focusing on SEO for Amazon, it won't be long before they do. Now is the time to build your strategy and start executing.
Get Found On Amazon
Having the right tools is very important for gaining the insight needed to be as competitive as possible with regards to Amazon SEO. The right set of tools will save you time and money and help get you found. With DemandSphere, we offer a full suite of tools that can help you track existing keywords, discover opportunities with new keywords, and keep tabs on your competition. If you're interested in taking the next step, feel free to contact us for more information and to set up a demo of the DemandSphere platform.