How effective are your content marketing efforts? How do you measure content performance? How do you really understand your audience and how they're engaging with your content? If you're tracking each piece of content separately, you're not getting the answers to these questions.
Measuring the success of content marketing efforts is too difficult, time consuming, and ineffective at the individual content level. Instead, track content performance and understand the efficacy of your marketing efforts by creating content groups. Content groups can be created to reflect how you need to understand your audiences, messages, content types, marketing channels, and how your content is actually performing and contributing to your goals.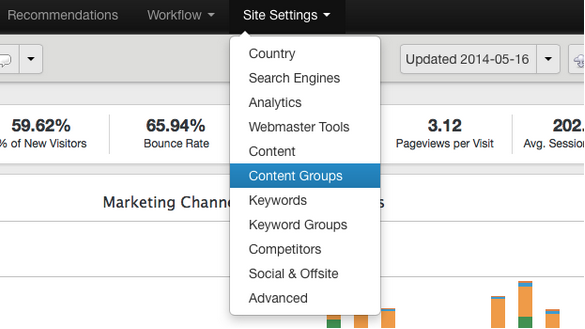 Why Content Groups?
How do you know how well different content for different audiences, in different channels, in different geographies, and on different devices is performing? Content groups allow you to slice and dice your data to understand what's working, what's not working, and what needs to change.
David Kutcher, Co-Founder of Confluent Forms, first used content groups to understand audience behavior, "In the process of creating personas for a client of mine, we wanted to know how well different content for different targets was performing. By putting all the content created for each persona in groups and cross-comparing them, we were able to decide where to create more content and how all their resources were performing across the board."
Creating content groups by audience persona is just one way to look at content performance. The advantage of content groups is in their inherent flexibility. One piece of content can belong to multiple content groups and content groups can be created, modified, or deleted depending on whether or not they're providing the insights you need.
Create content groups to reflect
Products

Services

Campaigns

Locations

Audience types

Messaging styles

Customer journey stages
Once you've created content groups, use those groups to compare and contrast content performance easily. Looking at groups of content will help you to quickly highlight performance differences and similarities between groups and simplifies getting insights from the data you've gathered.
According to Content Marketing Institute, the majority of marketers don't know if their content marketing efforts are effective or not. Prove content marketing effectiveness by tying content performance to bottom line goals. Creating content groups can help you to track conversions and understand how individual pieces of content contribute to conversions as well as to overall traffic. Depending on your marketing goals, conversions can include:
Direct sale

Sign up for a demo

Form fill for other content assets

Subscription to email or blog

Donations for non-profit
According to Erin Robbins, President of GinzaMetrics, "You need to know how your content is contributing to conversions. If you're creating content and you don't know how it helps to generate conversions, one of the quickest ways to get a handle on the situation is to start grouping content so that you can actually begin the measurement process somewhere. You can always adjust your groups to get the insights you need."
Content groups and the purchasing intent
How can tracking content by content groups help marketers to understand where audiences are in terms of their purchasing intent? Depending on how you set up your groups, there are a couple of ways that content groups can help you to understand where your audience is in the purchasing process.
According to David, "It requires you to actually think about your content as a funnel which most people don't do. Most businesses think of their content and their site as a flat thing with the disjointed belief that their homepage is their primary landing page and that traffic is coming through the homepage and going elsewhere from there. Content groups can help you re-think the content funnel and sales funnel and understand where visitors are coming in and how they're transitioning into other content."
Content groups allow you to get an accurate picture of your audience journey by tracking:
Where audiences are entering the website.

Who is engaging with content.

How content performs for specific personas.

How products perform comparatively.
"When we're talking about how to understand where someone is in the buyer intent journey, we acknowledge that the funnel online is hard and it's complicated. One of the ways to un-complicate the buyer journey is to understand that the funnel is not pre-determined. A visitor may come into your website and look at a white paper or a case study early on and that may make it look like they're further down in the funnel. When you look at the rest of the content they consume, you can quickly see where they are in the consideration process," advises Erin.
Although the traditional sales funnel isn't really relevant now, every buyer experiences a journey from gathering general knowledge, to directly comparing products or services. While people don't necessarily move down a series of engagement steps, they do amass knowledge before they purchase. By grouping audiences according to which pieces of content they've engaged with and the depth of their knowledge will help you to understand their progress along whichever path they've chosen.
How to measure content effectiveness
You can measure content effectiveness and learn how to better market to your target audiences using content groups. What you really want to know is how well content assets have contributed to new conversions, upsell, or customer retention. Understand what has engaged your audiences in the past and decide what to create to engage them in the future by grouping content by the medium, method, and message.
Medium is the type of content.

Video

Blog

Image

Podcast

Landing page

Method is the channel.

Twitter

Facebook

LinkedIn

Email

YouTube

Website

Message is the subject or topic of your content.
"Once you have your content grouped, compare your content with your keywords to understand if audiences in different places, in different age groups, in different geographical areas, are looking for different words, or respond differently to different types of products," suggests Erin.
Moving people along the buyer journey requires providing a relevant experience. For your audience, part of that experience is the ability to get content in the form they're most interested in. If your audience prefers longer form PDFs or printable content, there's no benefit to using the latest social media channels to publish images and videos. Knowing your audience and how your audience interacts with your content will improve how well you actually engage your audience and increase conversions, not just traffic.
"By creating content groups associated with specific personas we can track content effectiveness. We can know what content was the origination point and what subsequent content they consumed. Now that we know who our audiences are and what they like, we can decide which email list to put them on and how to better market to them in the future because we know what type of content they're into," notes David.
Content groups make things like demographics reports useful again. Now, instead of saying that your audience is somewhere between the ages of 15 and 45, you can break it down and create groups to provide valuable, targeted information. However you decide to slice and dice, getting measurable and actionable data will depend on how you set up your measurement systems and whether those include content groups.
Getting started with content groups
When you first get started, set up a couple of content groups and watch to see how they perform. You'll want to add and subtract content from groups or evolve how your groups are set up as your content evolves and your data needs change.
"I tell people to jump in with the first one, just create one group. The hardest part is just getting in there and understanding that you need to do this, so don't overthink it, seriously. My main message to most people is to stop being afraid of analytics because if you're afraid of it, you're not going to do anything and you won't get any good intelligence out of it. I tell my clients to start with buyer personas and topics," advises David.
If you're using Google Analytics to create content groups, you're limited to five groups, but within each of those groups you have an unlimited number of sections. In other tools, like GinzaMetrics, you may have more flexibility as to the number of groups and subgroups. Whatever tools you're using, get started by creating at least one or two groups with the idea that you'll be modifying and changing your mind along the way.
According to Erin, too many people let the fear of messing something up keep them from creating content groups. "You're not going to ruin anything because you'll still have all the data that's non-group data, regardless. It's not like creating a group is resulting in data being removed from your normal analytics. You can still get to full-site level analytics, individual content analytics, and keyword analytics. It will still be there regardless of what you do around content and keyword groups."
When you're looking at content analytics, be sure to include off-site channels like YouTube and Email. You'll want to take into account how people are arriving at your content if you're including embedded content links into your email. Knowing how your own promotions are influencing the buyer journey is an important element in understanding why content may be waxing or waning in popularity.
"I think it's just a matter of people doing some forethought and actually strategically thinking about their websites and their content marketing. That's the part that's oftentimes lacking in web marketing. Too many people are just throwing their content at the wall and haven't seen what sticks. Nobody is trying to figure out what actual intelligence can be gained from any of it. It really does take a bit of forethought and asking questions," remarks David. He suggests asking these questions to be more strategic:
How do I differentiate my content?

How do I find out what is effective?

How do I know who is coming to my site?

How can I determine why people are visiting?
"The only way you can get into trouble creating content groups is when you aren't thoughtful about how you're going to create content groups and if you don't get all the content associated with that group included. When you start getting results from your content groups, do a gut check to see if the numbers make sense and if they're way off, do a little checking to see what might have gone wrong. It's a mistake to start reporting on things that aren't accurate or don't make sense," advises Erin.
Using content groups, you can track success at a variety of levels. How those groups are set-up initially will have a big impact on the data you get from them ultimately. Be prepared to make adjustments and changes to content groups. With a little pre-planning and some monitoring of content group data, you'll soon start getting actionable data and insights to inform your future efforts and prove the effectiveness of your content marketing efforts.
David Kutcher joined us on a recent BLAB to talk about strategies for creating content groups. Watch the episode here.