In search and content marketing, having a full featured set of keyword intelligence and management tools is essential to your strategy. Because business is always evolving, you need access to information about your current keywords, which keywords you should focus on in the future, and your competitors keywords. At DemandSphere, we have developed a powerful set of keyword tools to keep you ahead of the curve. The right tools save you time and money and enable you to optimize your organic search footprint to maximize the impact of your content marketing.
Keyword Tracking
Knowing what is already working helps make your search and content marketing as efficient as possible. This capability is a cornerstone of any set of keyword management tools. Being able to track keywords daily allows you to easily spot changes and gain actionable insight. Our Top 3 Keyword Ranking tool identifies your most popular keywords and the content associated with them across a variety of channels. Our Top 3 Keyword Ranking chart displays the top 10, top 30, and top 50 keywords as well. We display this information in a stacked bar graph over a user-specified time period. This enables you to easily see changes over time.
Clicking on any of the colors in the bar graph will display additional information. We show you how many keywords are ranking in that particular group, as well as what the actual keywords are. In addition, you can also see what URL is associated with the ranking keyword and the increase or decrease associated with the keyword over time. When you connect your Google Search Analytics and Search Console account you will see even more data. We will display additional information such as searches, visits, conversions, and revenue created. Having access to all this data in one spot is extremely helpful for a variety of tasks.
Keyword Groups
We also provide you the ability to organize your keywords into groups. With our Keyword Groups feature, you are able to group your keywords by products, features, audiences, personas, locations, campaigns, messages, brands, content type, or any other way you'd like. The groups you create will be persistent throughout the platform. Once created, your groups are automatically updated based on matching rules using boolean logic. When you group keywords, you are able to gain more focused insight on where those keywords are ranking, search volume, conversions, and revenue. This saves valuable time.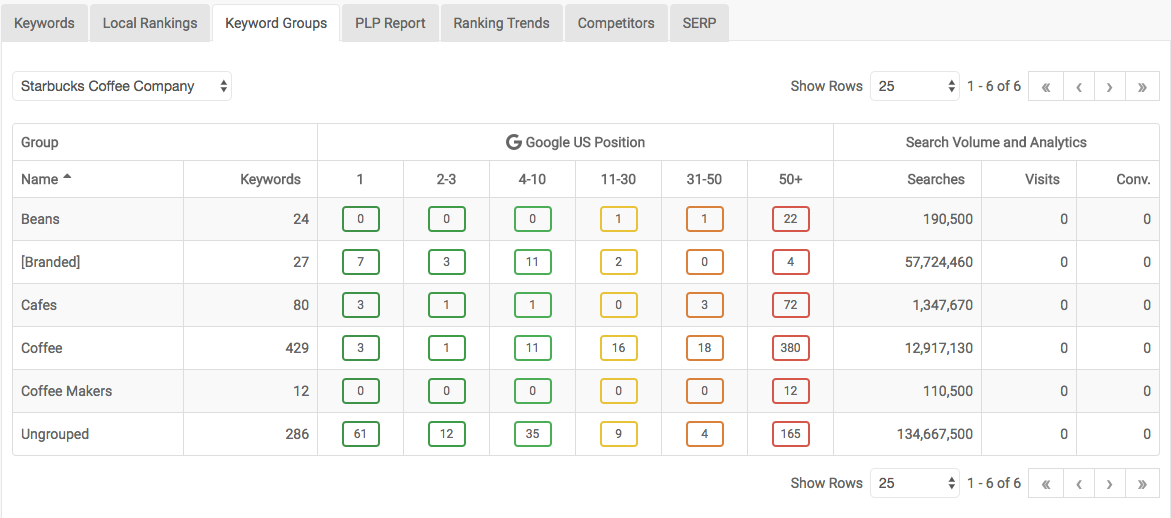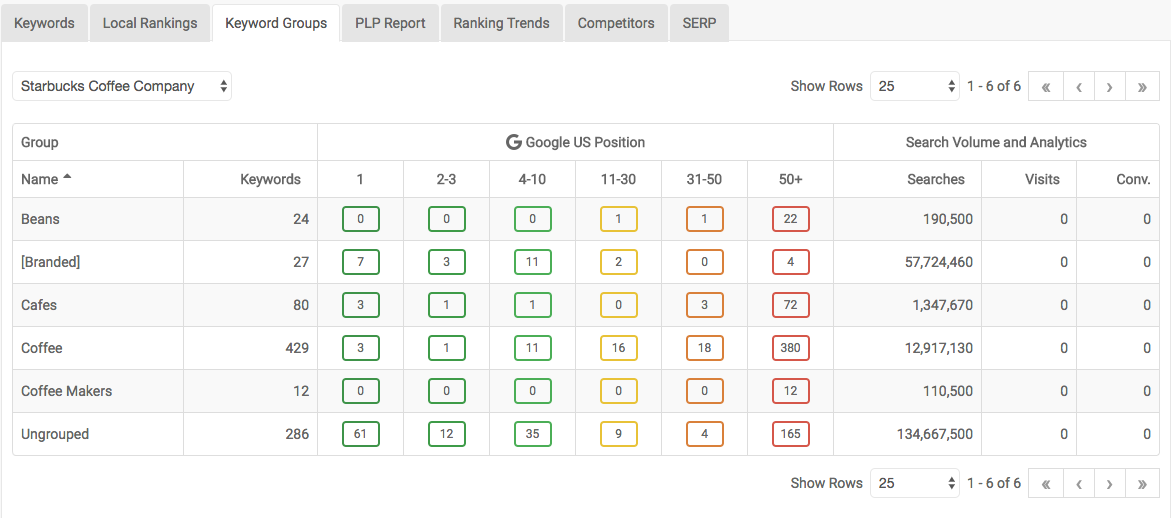 Keyword Description and Translation
With this new feature, we have enabled you to add a description or translation to each individual keyword you are tracking. These descriptions or translations are persistent in the platform. They will appear in the keyword management module as well as in the keyword ranking report table.
This feature assists with collaboration across teams. Teams tracking keywords in multiple languages will find this especially useful. You can couple this feature with our keyword grouping feature to provide your whole team easy reference to relevant information when working in our platform.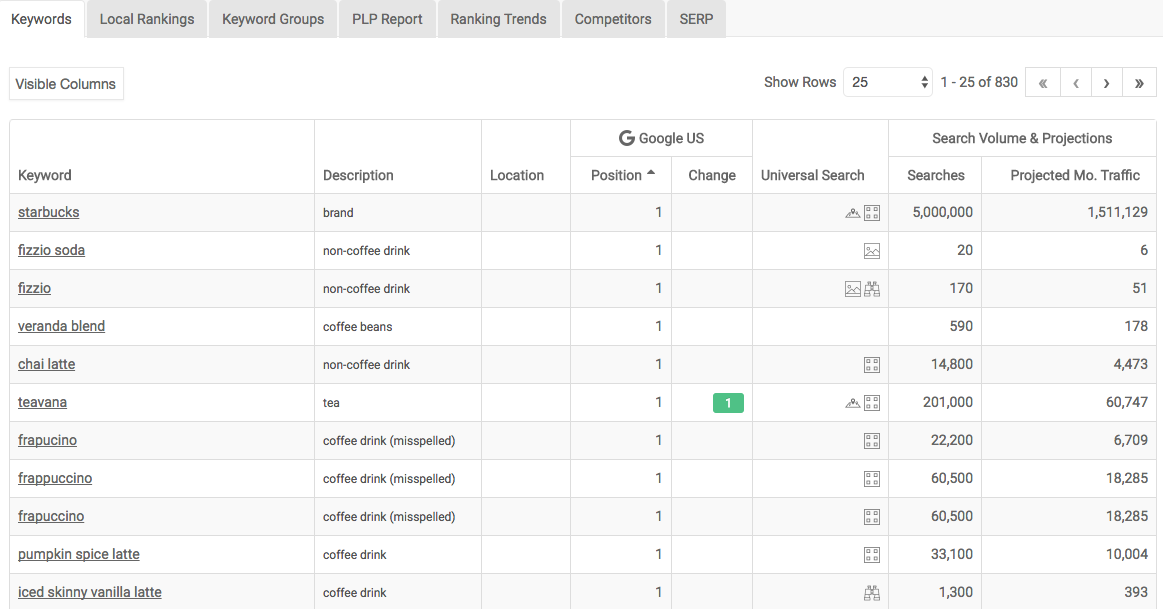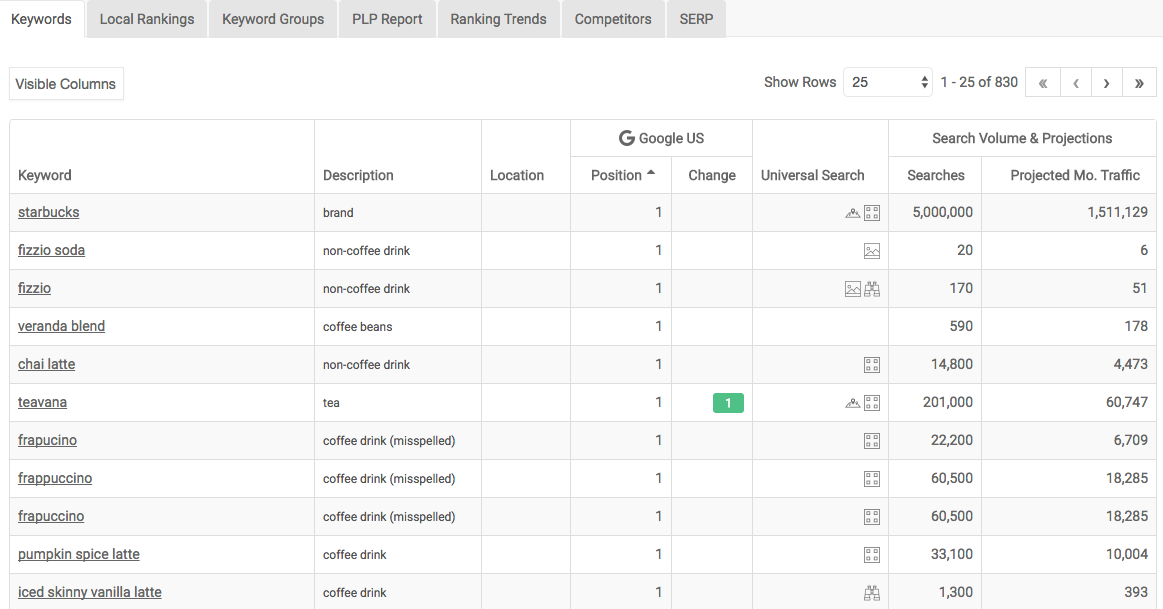 Keyword Discovery with real time SERPs
Having detailed insight into how your tracked keywords are performing is very valuable. However, what about keywords you aren't tracking? There may be big opportunities to capitalize on, the trick is discovering them. Simply brainstorming keywords can easily lead to a situation where you're focusing your efforts on keywords with low search volumes. Ideally, you want to focus on synonyms with much higher search volumes. Our keyword discovery tool enables you to find the keywords your audience is using when they search for you.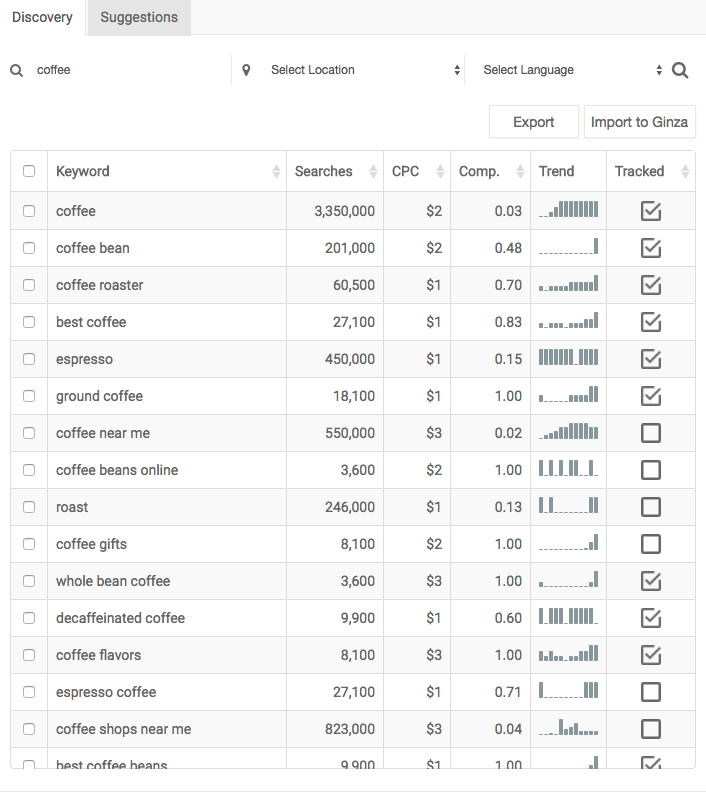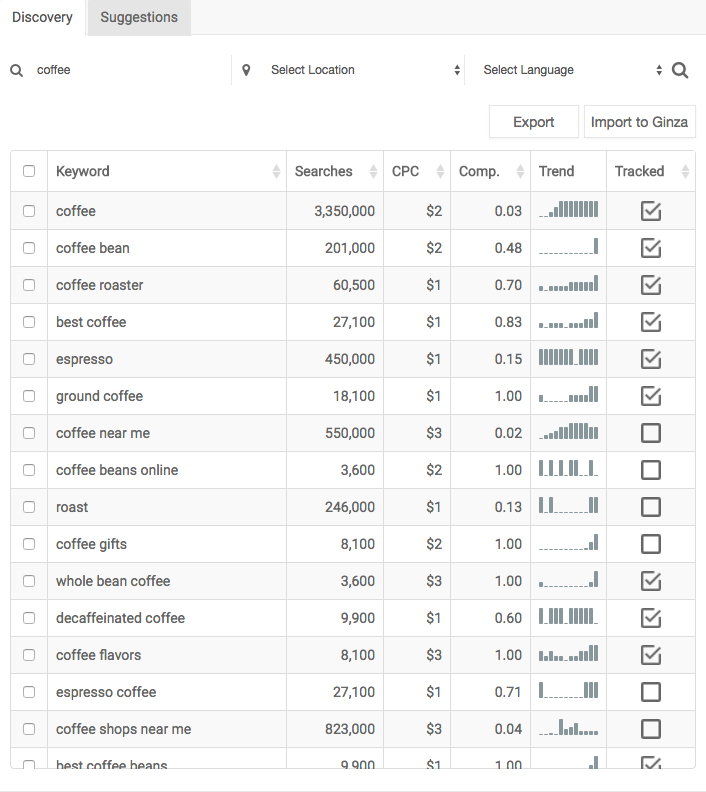 We show you real time data for your keywords in terms of SERPs, trended search volume, and difficulty score. We'll also track your competitors rank and progress for those same keywords so you'll know what content they are creating that's working for your target audience.
After discovering the most impactful keywords, you can start tracking them and creating content around them. You can also modify existing content to perform better. Having easy access to this information is very valuable and will help you drive more relevant traffic to your site.
Keyword Opportunity Score
We understand the keyword discovery process can seem like a huge task. Our Keyword discovery tool is powerful, but how can you further focus your efforts? With our Keyword Opportunity Score feature, we provide you insight into how competitive a given keyword is. After discovering keywords, this tool helps you assess where the most opportunity exists. A high score suggests the keyword is a very competitive keyword. A lower score suggests a less competitive keyword that will be easier to rank for. This information can help you which keywords to focus your content and marketing efforts on, which saves you time and money.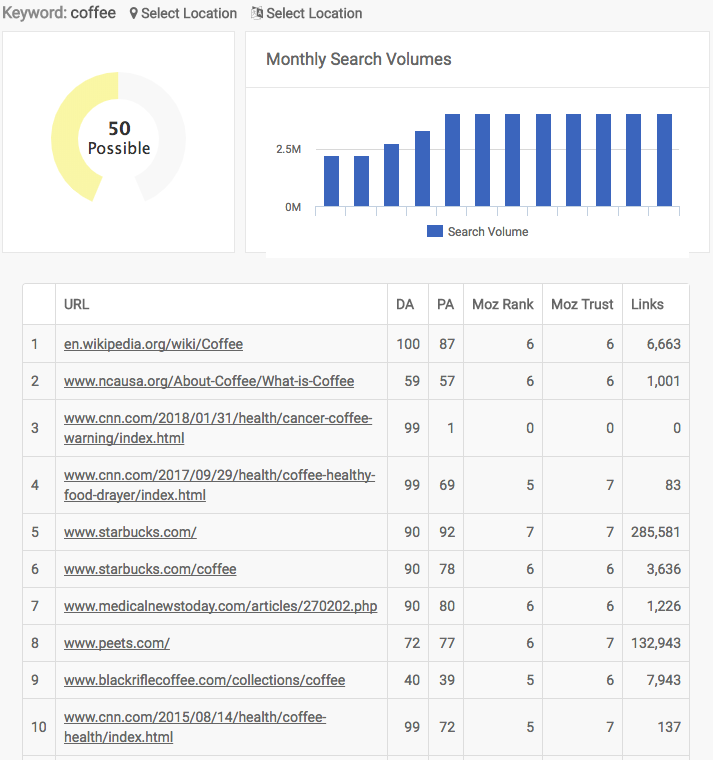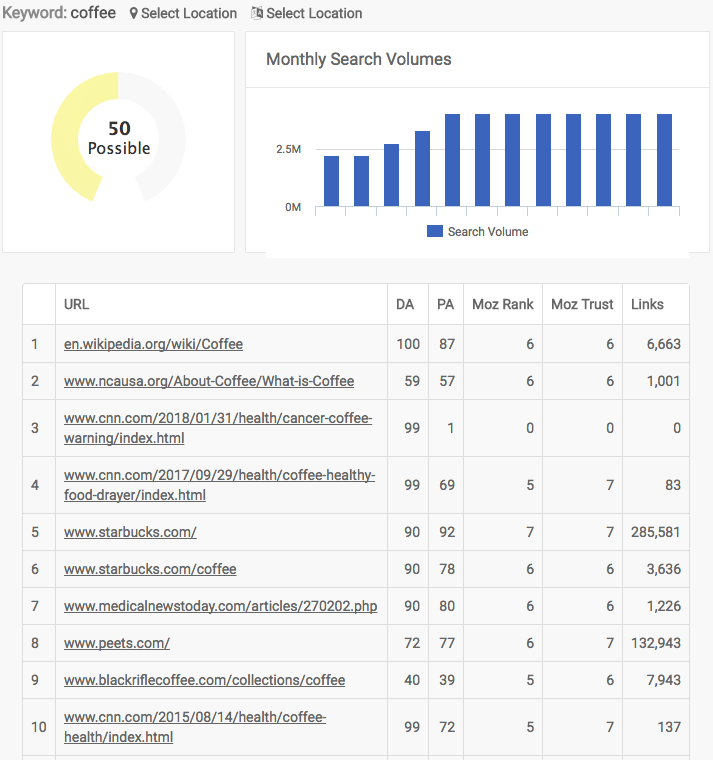 Real time keyword SERPs
Our keyword SERPs provide real-time information from search engines. We provide you current ranking information, alert you if the keyword SERP has a answer box or knowledge panel, and the location for the keyword if applicable. Having this up-to-date information available at a glance makes spotting changes much easier. This allows you to quickly react in a constantly changing environment.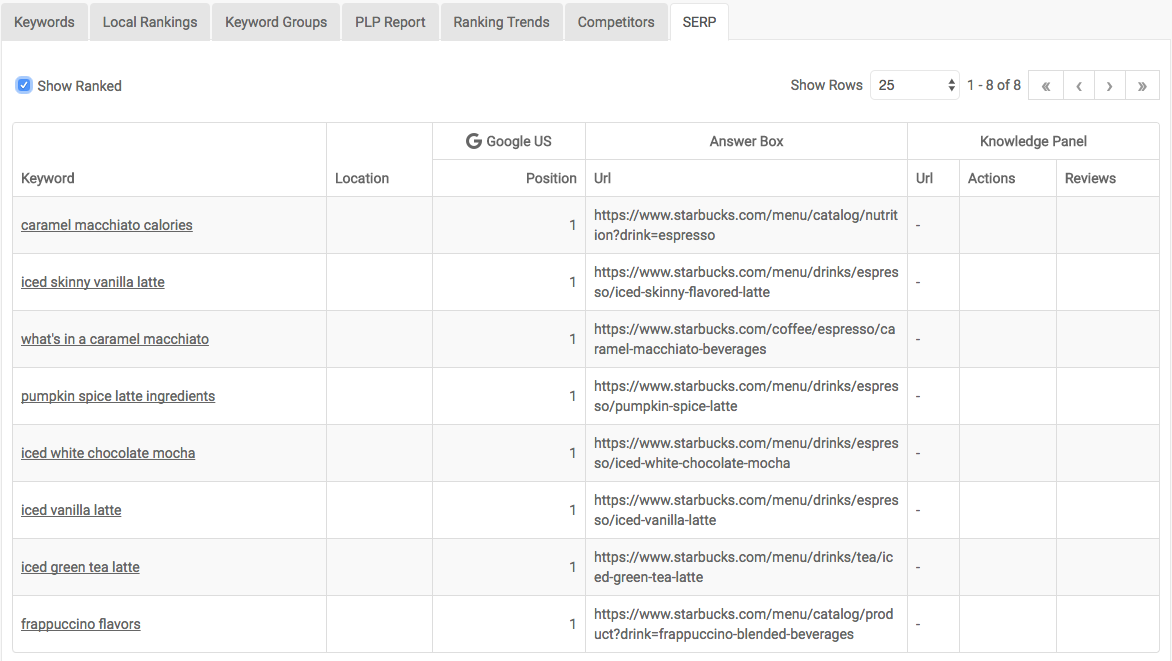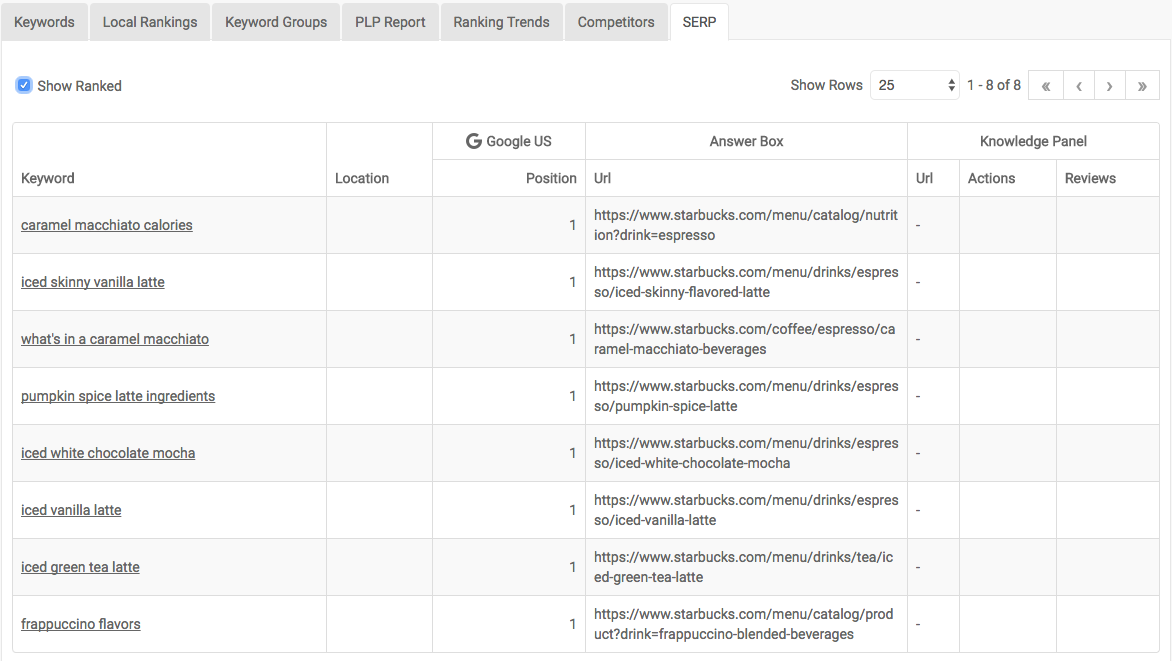 Search Volume Trends
Another valuable tool we provide you is a report for Search Volume which enables you to see trends in your search volume. We utilize Google AdWords data for this report. You are able to configure it for whatever time period you'd like and you'll see data displayed by month. You can also select if you want to see information for all keywords or specific keyword groups. This information can help you gain valuable insight into how things such as seasonality, current events, major Google algorithm changes, and other factors influence search volume trends.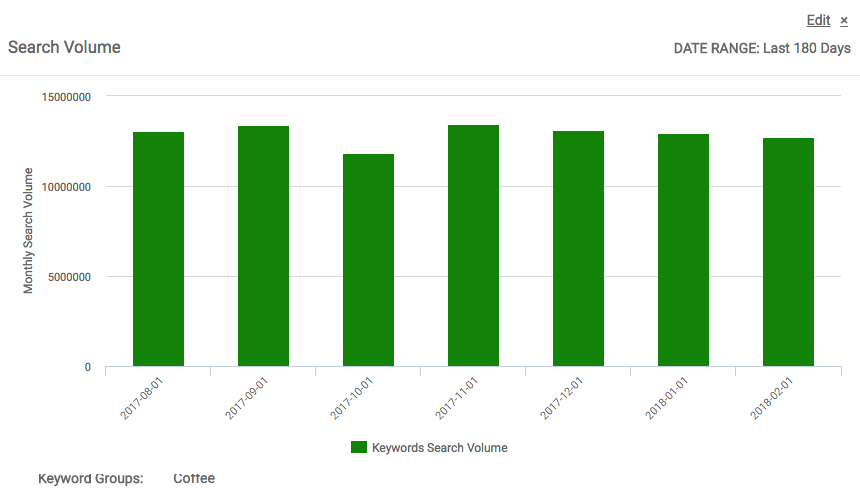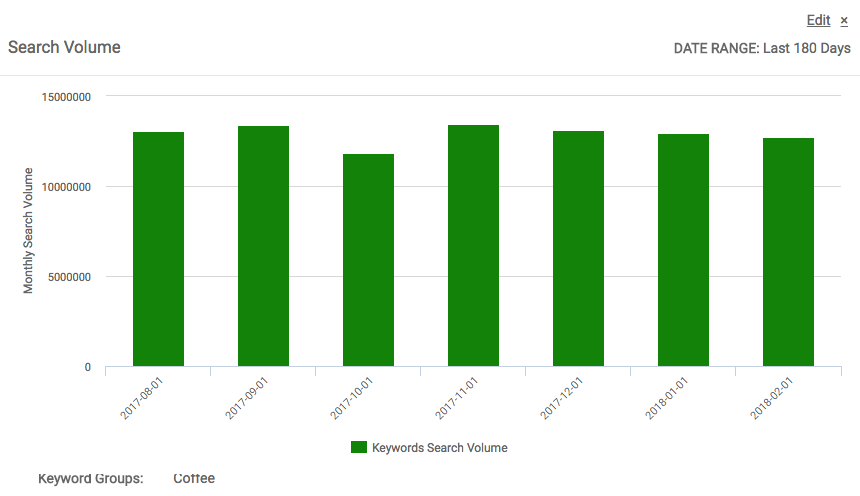 Keywords Catching Fire
Our Keywords Catching Fire module highlights keywords that have improved in ranking significantly. We provide you the landing page that the keyword is ranking for. We show you the amount of increase in ranking as well as the current rank. In addition to this information, we show you current search volume. Having this level of focus into what is currently changing saves you time.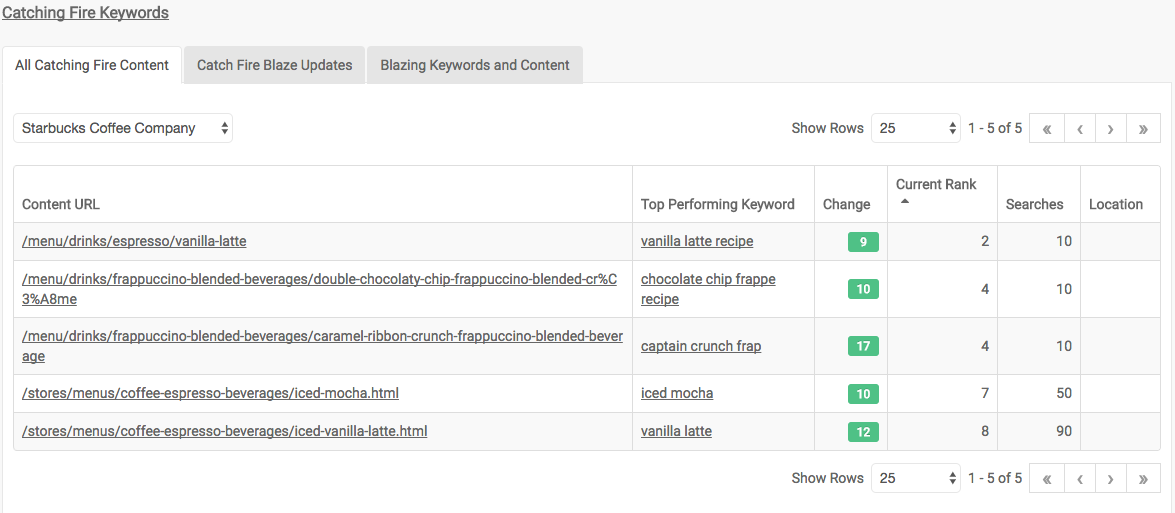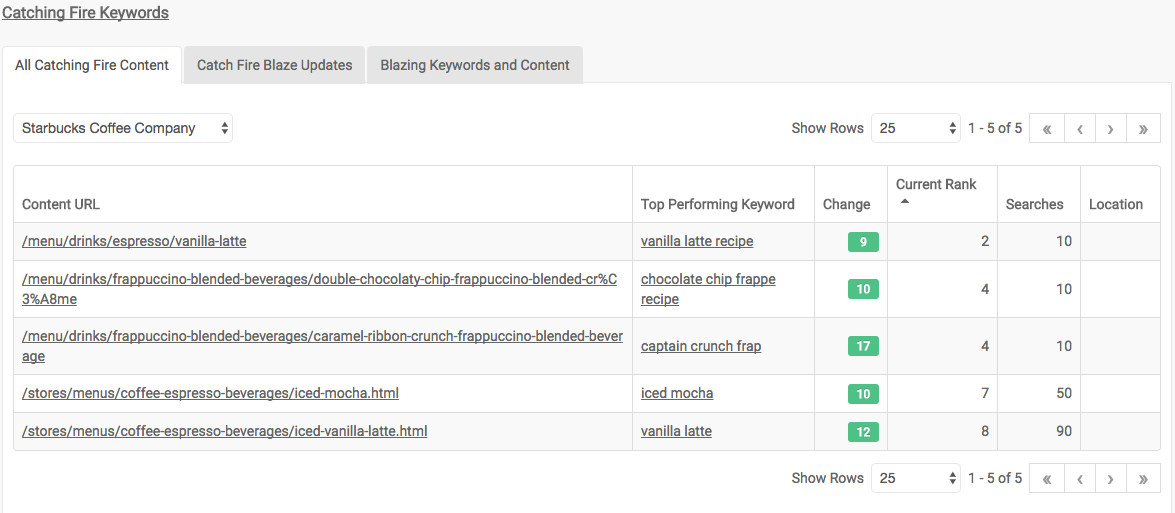 Universal Search Elements For Keywords
Our platform provides you detailed information about universal search elements throughout the platform. We show you what universal search elements appear on the SERP for all your tracked keywords. This information appears in several of our tools alongside the individual keyword and we also have a specific report showing you universal search elements for all your keywords. Having this insight at a glance will help you opportunities to create content that helps get you found.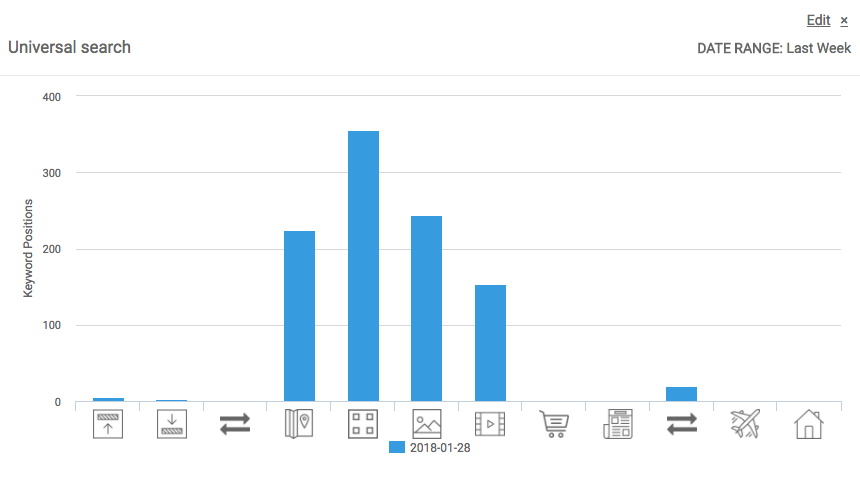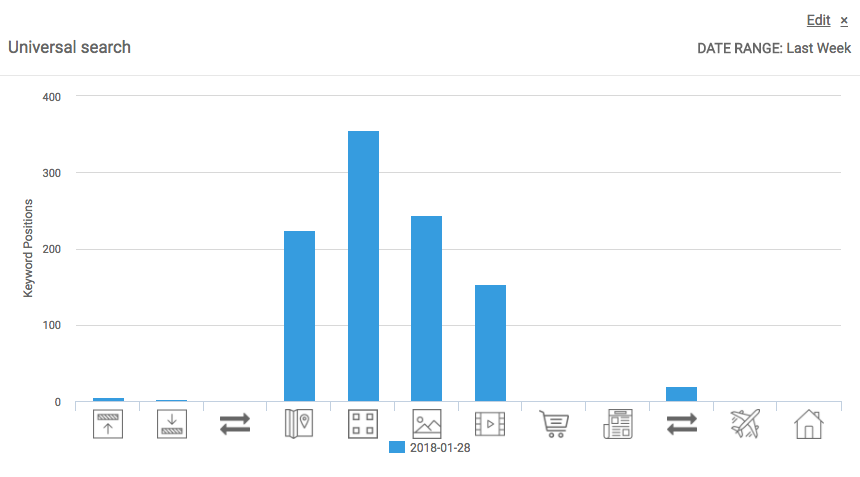 How improvements are impacting site traffic
It's important to know how the work you're doing with keyword strategy and targeting is impacting your overall site traffic. We integrate with Google Analytics, Search Console, and other analytics tools to provide a full view of your site and content traffic all in one dashboard.


If you don't want to flip back and forth from your analytics provider to your keyword monitoring tool – this is the solution for you.
A Full Suite of Keyword Management Tools
As seen above, we provide you comprehensive set of keyword management tools to provide actionable insight important to your business. Having the right set of tools is important for any job. With DemandSphere, you are able to quickly assess current performance and easily identify any changes, which helps you keep pace in a constantly evolving environment.  If you have any questions about the features above, or how DemandSphere can help save you time and money, set up a discovery conversation. We want to help you maximize the impact of your search and content marketing efforts.