Over the weekend, we released a big improvement of two of our most popular features: competitive monitoring and account dashboards.
All customers will see changes to the account dashboard and customers on our Agency and Enterprise plans will see the new Competitive Monitoring Dashboard.
Competitive Monitoring
Our competitive monitoring tools were pretty good before, primarily because it was very easy to monitor how your rivals rank on the keywords you care about, and do so on a daily basis. One of the problems with the old design, however, was that the display of the rankings didn't make it easy to compare you rankings vs. your competitors.
With this release, that problem is now solved.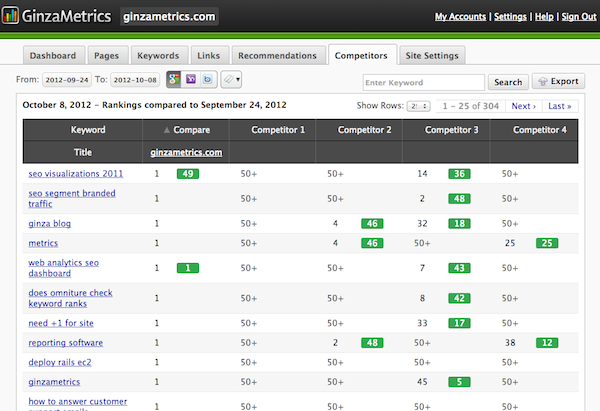 The new layout allows you to easily compare how your site compares with your competitors. It comes with the same date range, filtering and keyword grouping options that our other keyword reporting tools provide. You can also easily export the data to Excel and CSV.
And, coming soon, we'll be adding more improved views of this competitor data to the other charts in Ginzametrics so you will be able to get a complete picture of how your site is trending vs. your competitors.
Account Dashboards
Over the last few months, we've had a large number of customers come to us with a need to manage hundreds or even thousands of websites in a single dashboard. This is one of the use cases we specifically designed Ginzametrics to handle and yet we were still surprised at how big of a problem this is for so many companies.
Based on customer feedback, we've redesigned the Account Dashboard to provide more space to view sites, monitor important metrics about each site, filter the metrics based on date ranges and search engines and easily search to find a site or group of sites for further investigation.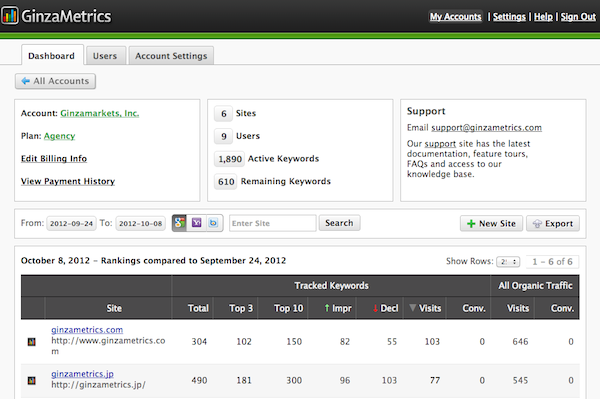 We have even more things planned for the account management part of the app in order to make managing very large site portfolios more powerful, so stay tuned.
Other Improvements
Processing Improvements
With this release, we have finally migrated completely away from our original architecture for collecting data. Our new architecture is much faster, lighter and easier to add new features going forward. It also allows us to provide much more flexibility in the user interface.
Improved Download Manager
We've also built a new download manager for report exports. We haven't rolled this feature out to every screen yet but we will be soon and it dramatically makes downloads of large files easier to manage.
The way it works is when you export a file, you receive a Growl-like notification message on the screen. You can dismiss this message at any time. You'll receive another message when the download is complete.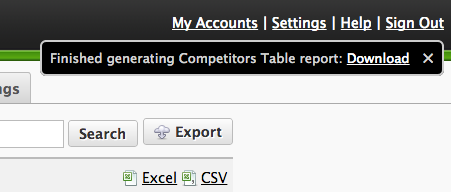 Improved Pages Tab
The Pages tab was a little slow previously and the way we displayed the rankings needed some improvement. We've rewritten this page and it is now much faster. You can also see the top ranking keyword for each page when you hover over the rank value.

Better Drilldown Support
This is a feature we're going to continue to round out but one of the cooler, lesser known features of Ginzametrics is that we support drilling into different parts of your dataset from almost all screens in the UI.
To take an example from the previous improvement (new Pages tab), if you click on the rank of the page, it will take you to a display of the actual SERP entry for that keyword.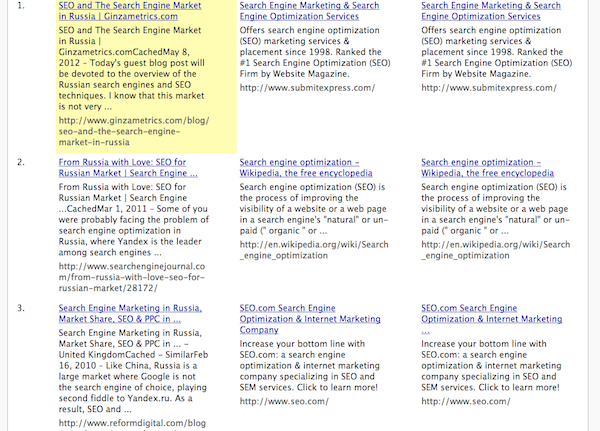 That's it! We have many more great things coming so make sure you check back often.