Content marketing has become the last legitimate way for brands to reach their target audiences. A recent report by CMI states that "B2B marketers have cited web traffic and sales lead quality as their top content marketing metrics for the last 3 years." The most effective marketers are measuring content effectiveness and creating marketing strategies based on the results. For the first time, an enterprise SEO company is providing the tools for marketers to also track their competitor's content marketing efforts.
Audience Insights
In response to the need for marketers to know the effectiveness of their content at a granular level, Ginzametrics has been developing a new breed of tools giving vital data to users that is not available on any other platform. The newest in this series of releases is Audience Insights. The Audience Insights feature gives users the information they need to stay ahead in the marketplace through automatic tracking of site traffic by marketing channels such as email, social, paid, referral, mobile, and more. Users will have critical data not just for their brand, but also for their competitors. For the first time, users can get a full view of all the marketing channels that are driving traffic to their site and a complete breakdwon of specifically what's working.
Audience Insights is an elegant solution to the previous practice of cobbling together Google Analytics, email analytics, and social media tools. Now users have the ability to get the particulars from all the major social channels including:
Instagram

Pinterest

YouTube

Google+

Twitter

Facebook

Slideshare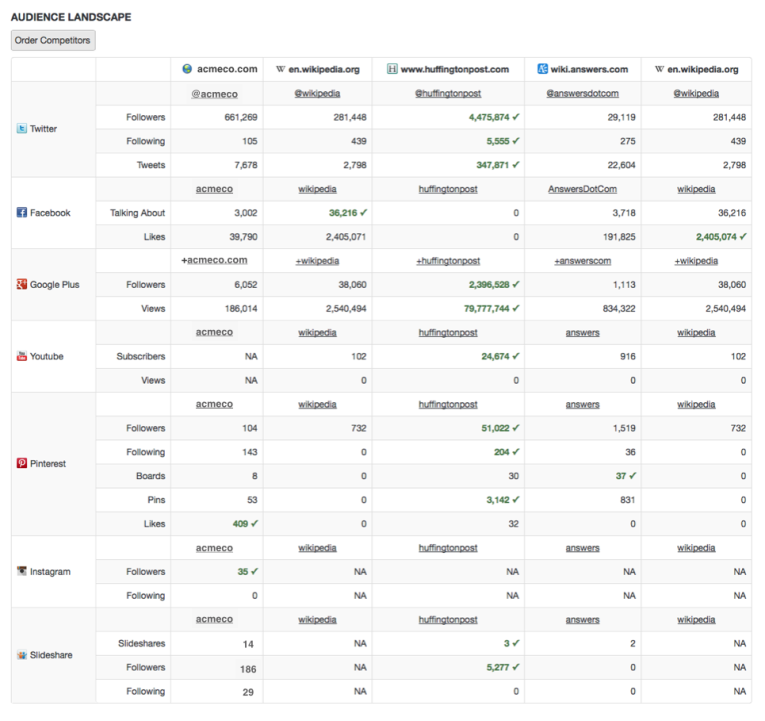 GinzaMetrics has made the information easy to understand by allowing users to  compare their presence on all the social networks on one screen. Marketers can now get daily metrics that show which channels are moving them closer to their KPIs. Along with daily tracking, Audience Insights provides users with recommendations for improvement.  Use our to-do list to optimize your site and content to increase your findability in the marketplace.
Stay Ahead of Your Competitors
To take the lead in their industry, brands need to know how their competitors are ranking compared to themselves. Audience Insights gives companies the information they need to stay ahead of the market by automatically tracking the web presence of competitors. The dashboard automatically discovers new competitors, social networks, offsite content, and audience data for your industry. The feature provides a detailed landscape of who is performing best on social and in findability by your target audience across the web.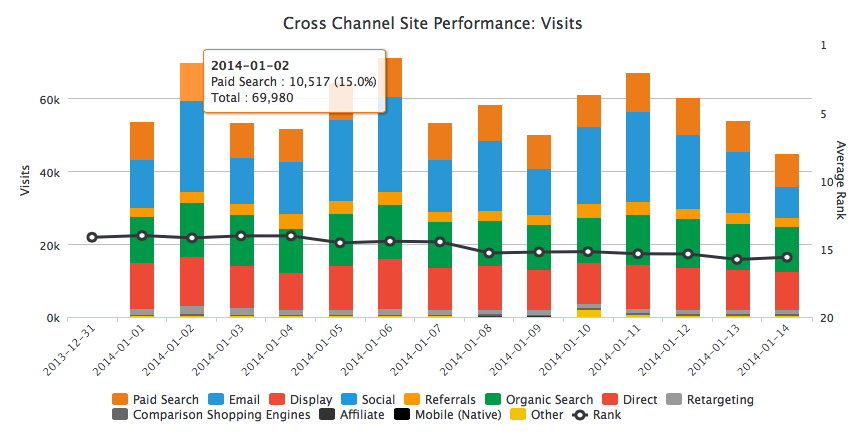 Users are able to choose which competitors to track and to see daily metrics that show what channels their competitors are using successfully and how the brands compare for findability. In addition, the GinzaMetrics platform will find new competitors the instant they become relevant to your market, allowing brands to stay ahead of the curve.
"We recognize our customers' need to stay in front of their competition. We choose to focus our development efforts to support customers who are implementing the fastest growing marketing strategies, and to develop and offer tools that give them the greatest advantage for their brands," – Ray Grieselhuber, CEO GinzaMetrics.
Customizable Solution
As with all GinzaMetrics tools, Audience Insights is completely customizable, allowing the customer to rank competitors according to individual viewing and reporting needs. Fully automated reporting allows users to set KPIs and then use automated, custom reporting to show progress versus the competition and internal benchmarks.
The intuitive dashboard uses a simple green check mark to easily identify the organization with the most traffic. In addition to the networks discovered automatically through the platform, customers can modify each network profile for their own site as well as for their competitors. The Audience Insights section is found easily on the dashboard by clicking on the Insights drop down at the top navigation of the site dashboard and selecting Audience.
Customer Driven Roadmap
GinzaMetrics plans to release future versions of Audience Insights that will incorporate trend tracking and views that include overall content campaigns. As the GinzaMetrics platform evolves, the company will include features driven by client requests and industry needs. This new breed of tools will allow users flexibility and a variety of perspectives to measure their content effectiveness. To give users greater coverage in international markets, Ginzametrics is also expanding their support of search engines outside of the US, including the expanding Asian marketplaces.