We are happy to announce two new reporting features for our SEO and content management platform users. Both of these new features provide a big picture view of your data in simple chart formats, making extracting value from your keyword groups easier.
The first feature is a Group-Level Keyword Report. This gives you a view of performance across all current keyword groups for the search engine selected, including Google, Yahoo!, Bing, or others internationally. You can quickly see the groups, sorted by their ranking, as well as the total number of searches, visits, and rankings. The dashboard also gives you the option to specify date ranges, so you can fully customize your data view.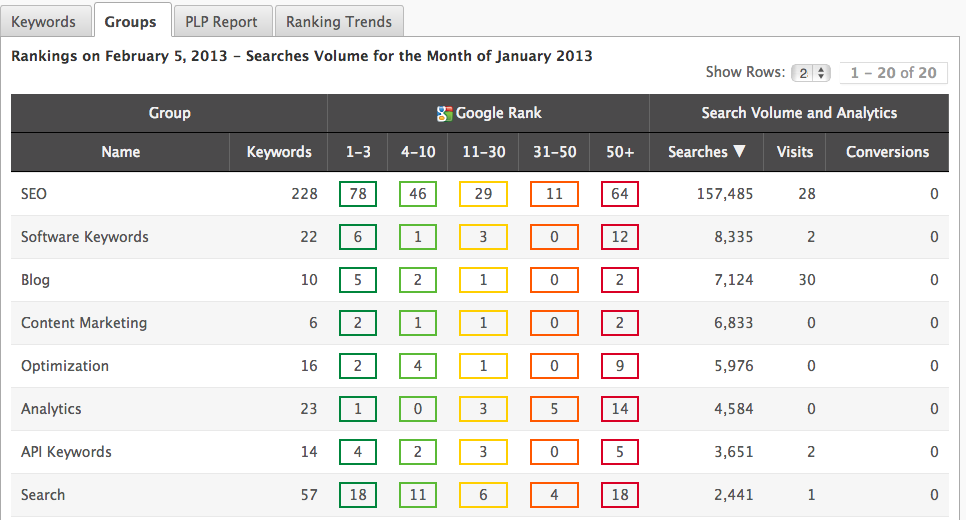 The second feature is a new Ranking Trend Report for your keyword groups. You can view the total number of searches and the ranking trend for all active keyword groups in a chart that easily denotes positive and negative trend changes with green and red numbering. Data can be viewed in daily, weekly and monthly timelines, as well as sorted by individual search engine.



These new reporting give you faster identification of SEO and content improvements, through reduced time looking for opportunities. Being able to graphically display trends at the meta level means you can make more informed decisions with your data and share trends over time more easily with others in your organization.