Joel Acheson, founder of Ferroic, has had a career spanning the digital landscape. Joel started his search career as an SEO, later worked in data science, then moved into in a combination position, where he applied data methods and performance factors to search. He later moved into paid media, taking over a paid media group at his then-agency. The advent of programmatic marketing gave Joel the opportunity to translate data science into bidding and buying programs, leading him to build software that streamlined that bidding and buying process.
Joel says that, as he delves into SEO in his current role at Ferroic, he sees areas where the data, SEO, paid, and software elements of his career intersect — and some areas where the disciplines can learn from each other. So, what can SEO learn from paid media — and vice versa? How can the two channels supplement one another, instead of crossing wires and hitting all the same customers? To help marketers dig into those questions, Joel spoke at Found Conference about the convergence of SEO and paid search. 
Where do SEO and paid media converge?
Before his firm begins developing assets and connecting clients to the marketing tools they need, Joel uses data science to identify the audience. Don't simply decide you're hoping to catch the attention of senior shoppers or suburban voters: think about what subset of your audience is most qualified and most interested. Consider what information users are seeking, and how your content will shift their experience.
Before pulling in software engineers and designers to reach that audience, both SEO and paid media ask the following:
How is your audience finding what they're looking for?
Whose content are they finding currently?
What kind of content are they finding, and
Are they happy with the content that they're finding?
Once those questions are answered, SEO and paid media operate in different ways. SEO relies on magnetic force: you create content that people want, and it pulls them into your site, through search results that match user intent. Paid search is more of a loudspeaker: a way to generate awareness that the stuff exists, broadcasting that information to anyone who may be interested, regardless of certain-match words. But, awareness and attraction aren't mutually exclusive. How can SEO and paid media play off on the same team — and learn from one another?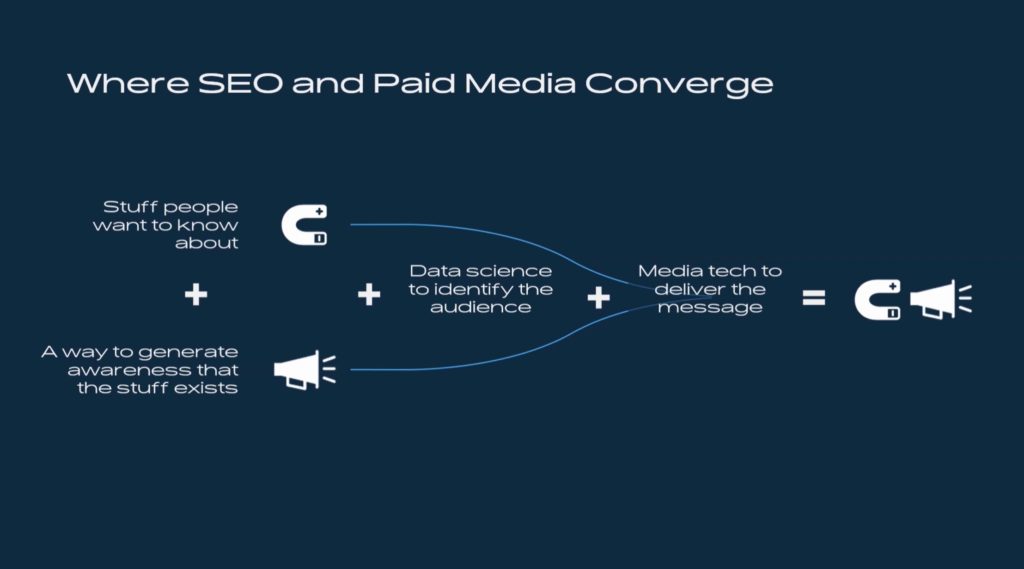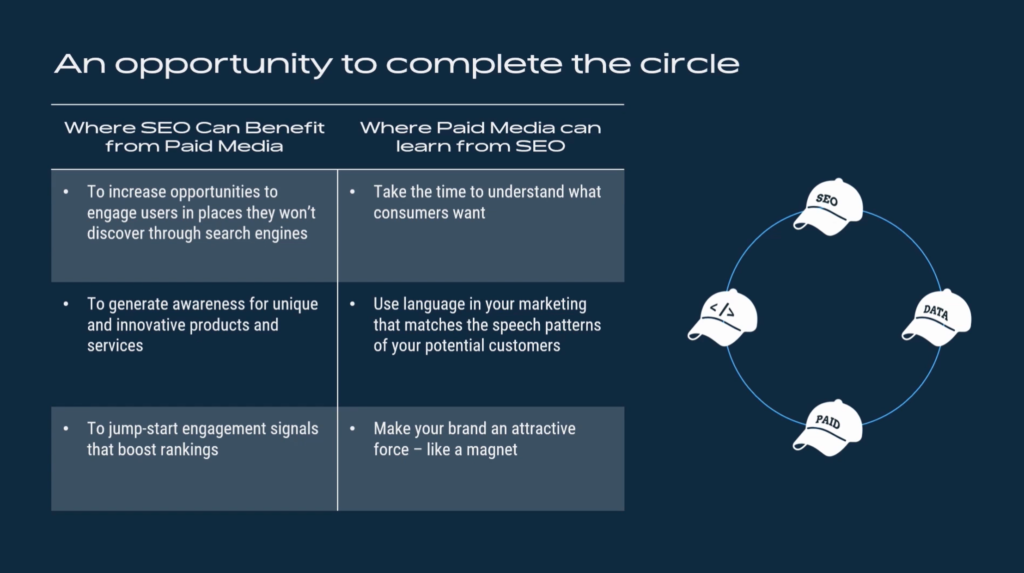 What can SEOs benefit from paid media?
Joel says that SEOs can learn from paid media by taking diversification more seriously, and by recognizing less-qualified users. We know, we know: paid media makes a "ca-CHING" noise in the head of search optimizers. But, while we'd love to say that you can build an e-commerce empire based solely on your awesome organic performance, that may not be the case. Paid media can fill the gap between content supply and user demand. Don't discard the lessons you learn from paid marketing, either — you may find merchandising preferences, engagement data, popular keywords, and other user-intent info through paid search.
Use these lessons from paid marketing — and think of smart ways to make your paid budget work for you: 
View paid search as a tool to generate awareness for unique and innovative products and services. This service is especially valuable if you offer products and services for which users may not be searching. You want to connect users not only to information they need, but to information they don't yet know they need. Users searching for complimentary or competing products make for easy converts.

Consider opportunities to engage users in places they won't discover via search engines. Each one of us only sends a small percentage of our lives in SERPs — where else do users spend their time? Where should you maximize your presence outside of Google — say, on social media or physical advertising? 

Consider the value of offsite organic. Social media, review sites, and shopping sites are vital to connecting branded search terms back to your site. Capitalize on industry-specific publications, customer forums, and commonly-searched apps like Twitter and YouTube.

Use paid search to jump-start the engagement signals that feed SEO performance. Often, you launch a piece of content that isn't getting enough traffic to generate the links, likes, and shares that search engines value as authoritativeness. Paid media gives you a chance to kick-start that process by boosting traffic to that new content. 
Paid search can be a useful tool to bump SEO performance — especially for new products, local listings, and branded search. Use paid to create awareness, then build on that awareness as you build enticing organic entries and landing pages.
What can paid media take from search?
With the right ad spend, you can reach plenty of users — but, you don't want to blow your ROI on visitors who don't want what you're selling. It's not only SEOs who need to pay attention to user intent! Smart segmentation, keyword matching, and user-friendly language can build better ads.
How can you apply the elements of good search engine optimization to paid search?
Learn the value of understanding what consumers want. In your paid campaigns, are you trying to generate demand where demand already exists? If so, how can you shift from awareness to action by demonstrating how your products fit with your users' needs? Instead of blasting users with what you think they want, research the "what and why" of search queries.

Use language in your marketing that matches the speech patterns of potential customers. Term-matching is so important in SEO — and SEOs pay strict attention to language. In paid, companies may be creating a disconnect with users by insisting upon their own language and jargon. Re-inventing the language isn't as important a goal as connecting with your users.
Make your brand an attractive force. As we said previously, SEO works more like a magnet, pulling users in instead of pushing users to buy. Find a way to make your brand memorable and unique — after a few paid touchpoints, you want users seeking you out.
Paid media can learn plenty from the regions of owned and earned media — and save budget in the process. Don't spend money blasting unqualified users with ads; make sure that your content attracts interest by, well, being interesting.
Be interesting — but use the right tools to amplify your message.
Think about some of the ways that paid and organic have formed natural partnerships. Joel cites native advertising platforms like TripleLift, Kargo and Teads — platforms that connect sponsored content with relevant native content — as a near-perfect integration of organic and paid. Similarly, business-minded publishers like Popular Mechanics and InStyle provide product reviews and paid ads side-by-side, and online advertorials can serve as magnets for both paid and organic traffic. You can also combine and compare organic and paid metrics: focusing on user intent can improve both organic traffic and Quality Score.
To strike the right balance between paid media and organic, look for the right balance between amplification and attraction. Use the media and technology tools available to you to place an attractive message on your online properties — and amplify that message to the users most interested in what you have to say.
Want to talk about integrating search and paid? Set up a time to chat here.