Starting a new content channel can feel like hitting the gym on January 1: you're excited to burn through those new goals, you know what you need to do, you've researched every pitfall from previous exercises. But, as you repeat the process…maybe the novelty has worn off a little. By February, you're doing the kind of push-ups that wouldn't have counted in gym class.
If your content strategy feels like you're making content for the sake of content, it's time to reinvent that strategy. How can you reinvigorate your content, and create stuff that doesn't feel like "stuff?" At Found Conference 2020, Elizabeth McCumber, a writer and content strategist at W-Promote, spoke on the importance of building authentic, original content that speaks your brand's truth.
Now sure how to create authenticity? It might be time for a step back.
Elizabeth says the best way to stop making crappy content is to stop making content — at least temporarily. Elizabeth recommends trying a "content cleanse:" a temporary pause in content production to re-evaluate strategy with an eye to the future. A break can be a useful instrument to reinvigorate brands whose content simply isn't performing. You may also want to try a content cleanse during a period of deep change (say, a national lockdown).
Elizabeth says there are plenty of reasons to choose to cut back on content production. A content cleanse may be right for your team if you need:
A chance to stop the cycle.

As marketers, it's easy to focus on quantity. Of course it's awesome to publish a ton of white papers, or refresh your blog content every day. But, some of us  get so busy jumping from one project to the next that we're not always able to rate the quality of our own content. Is what you're publishing good? Or, are you just publishing fresh junk?

Time out for research.

If you haven't done audience discovery since beginning content creation, it's time to get back in touch with your audience knowledge. Maybe a segment has expanded, or a new product or strategy pulled in an audience outside of your typical users. Maybe you're getting more B2B clients versus individual buyers. Take a breath and check the evolution of your audience.

A deep-dive into your data.

Maybe you're doing weekly, monthly, or daily reporting: way to stay on top of it. But, sometimes opportunities arise to go deeper on research. Maybe some specific marketing efforts are falling flat on ROI (looking at you, expensive video production!) or they're geared toward an audience that's no longer your top segment.
Take a break — and re-evaluate your content strategy.
If this type of break in the content-churn sounds appealing, create a plan to make it happen. Before you start your content vacation, get clear on your goals. Elizabeth suggests a pause of one to three months, depending on the needs of your organization and how much you have in the hopper. In order to make the most of your content cleanse, build specific parameters and goals for your process:
Set parameters.

Don't just take a content break and hope for inspiration to strike. What do you want to accomplish with your time off? Are you working toward any of the "why"s above? Or, do you have a specific goal (such as building new audience profiles or focusing on updating your reporting) that you want to hit hard? 

Create a plan. What tools will you use to understand and enhance your customer experience? A content cleanse is the perfect time to firm up your style guide and set a branded voice to be used by all your content creators. Look at the possibility of creating marketing personas or customer journey maps.

Next, identify tools metrics and tools you'll employ to measure the effectiveness of your content cleanse fixes.

Next, get buy-in. Your management might not expect to be asked for time off from content production. Figure out how a pause in production will affect other departments. Even while you're off the content train, you'll likely still be creating

some

content — so figure out what high-priority, main-course stuff you can't skip. Emphasize the end goal and identify the benchmarks you hope to meet. Figure out how you'll determine your results.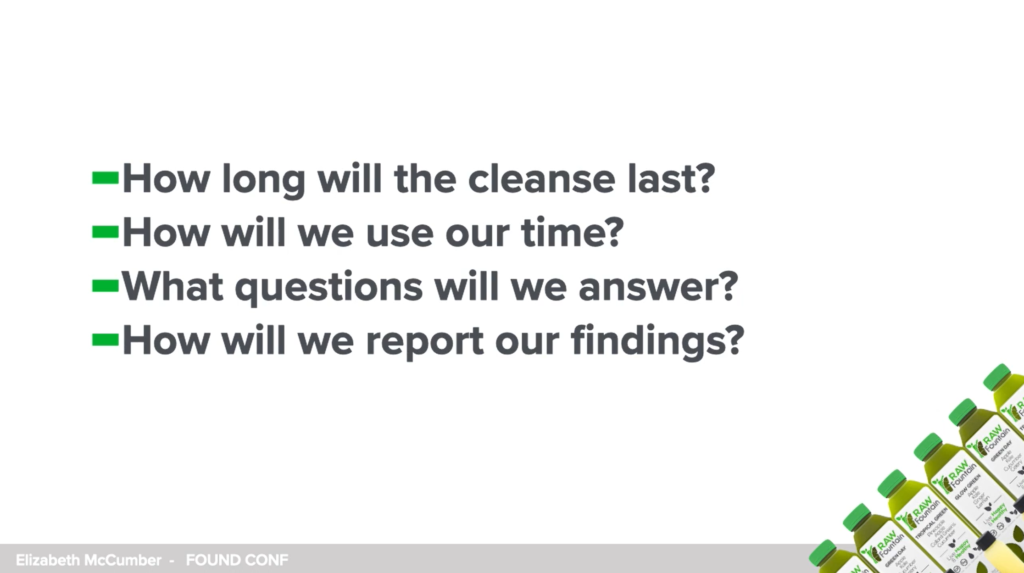 An in-depth content audit should be the centerpiece of your content cleanse. If you decide against a content cleanse, an audit can still be a useful way to review your performance over the past month or year. Before starting your audit, you should ask yourself the following:
What are your true conversion metrics? You may have a piece of content that performs well for lead-gen, but doesn't do anything for sales. What are your priorities?
Who are your audiences? It's likely that your Facebook followers have different needs than your email audience. How can you segment your content strategies to meet multiple needs?
What intangibles may you wish to reflect in your content? Are there pieces of your website, or posts on your blog, that aren't conversion-oriented but serve some other purpose?
Get yogic and set an intention: your content cleanse should focus on examining audience needs and values.
Get a handle on really understanding your audience's values — and your own
In a survey by the Content Marketing Institute, marketers named the "ability to understand and connect with our audience's values, interests and/or pain points" as the factor that contributed the most to the success of their organization's content strategy. So, think back to the questions of values, actions, honesty, and community — and use data to determine whether you are meeting the needs of your audience.
Look at every piece of content from the last week, month, or year, and see how well they performed. Find your top-performing pieces of content and look for common threads between them.  Find your bottom-of-the-barrel losing pieces of content, and, you know, stop making that type of content. Look at the content that falls in the middle, and determine whether you  can make adjustments to push it into the high-performing range.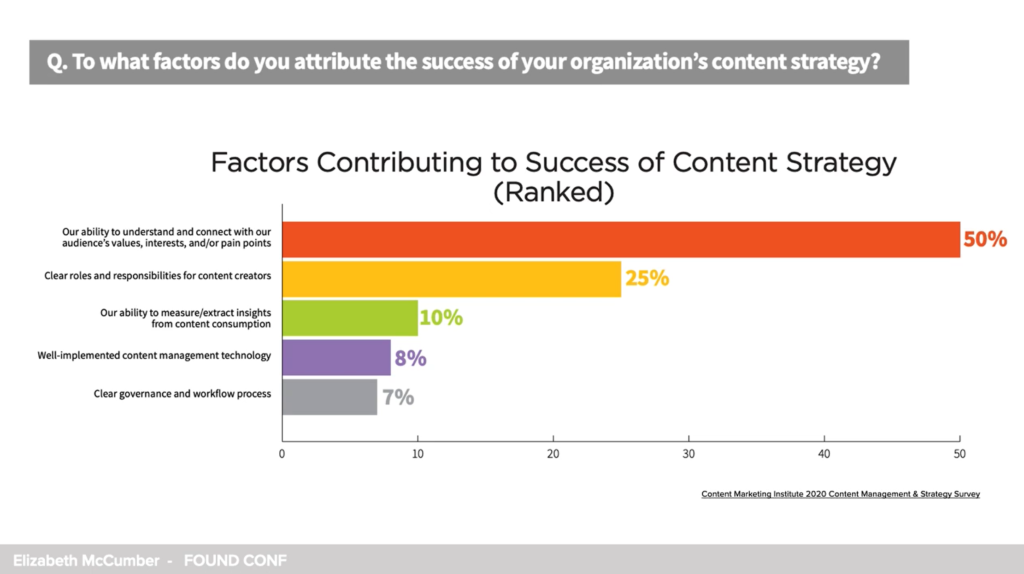 Whether you break from production to do a comprehensive audit, or simply evaluate your content on an ongoing basis, you need to audit your content to check for authenticity and fit. Branding is all about building a narrative that attracts users and provides a truthful look at your products and ideas. Your users don't want content that feels like it was produced by a formula — so start putting the human side into your online presence.