Whether you're a seasoned SEO or a new copywriter, you likely have a set of writing habits that you may not even realize exist. That, and we're all likely to get lazy on social media. How do you optimize your organization's search engine optimization? During Found Conference we had presenters tackle this topic and nine others, sharing thoughts on common SEO pitfalls for writers and social media managers.
What does and SEO content writing process look like?
The traditional content writing process and the SEO process tend to follow the same path. Think about something you've written for non-SEO purposes: a story, an article, your freshman year English Composition essay. You likely selected a topic, then created the content, then refined it in some way after completing a first draft. Many marketing copywriters still create their content in this manner: pick a topic, write the thing, then weasel a few SEO-friendly keywords or terms as a finishing flourish. Boom, we might think: optimized.
Writing for search optimization should actually follow a slightly more complex path. Keywords should be embedded into the writing process, because, much like user intent, writer's intent is key to SEO. There's really no magic way to apply optimization work after publication: you can't sprinkle in SEO after the content is written.. So, let's go through what the SEO writing process should look like, with this outline shared by Senior SEO at Search Discovery, Jacob Stoops, at our Found Conference.
Jacob also hosts a great show, the Page 2 Podcast, on the origin stories of real SEOs in the field!
Want to watch the Found Conference video from Jacob and Taby? Check it out here. 
Discovery
Cast a wide net to discover some insights on your customers, relevant topics, search frequency, and that all-important gap between what a customer wants to find and what they are finding.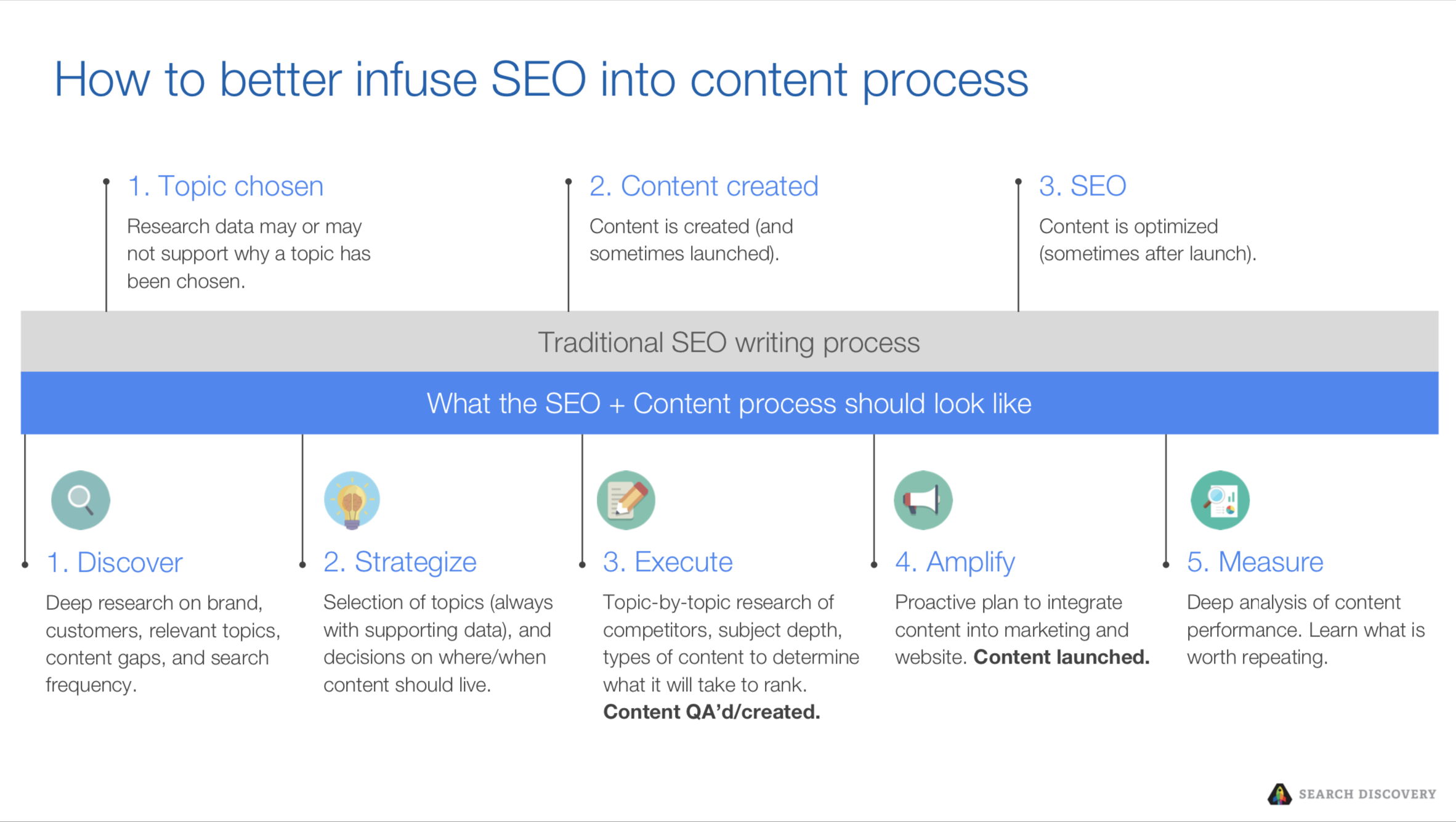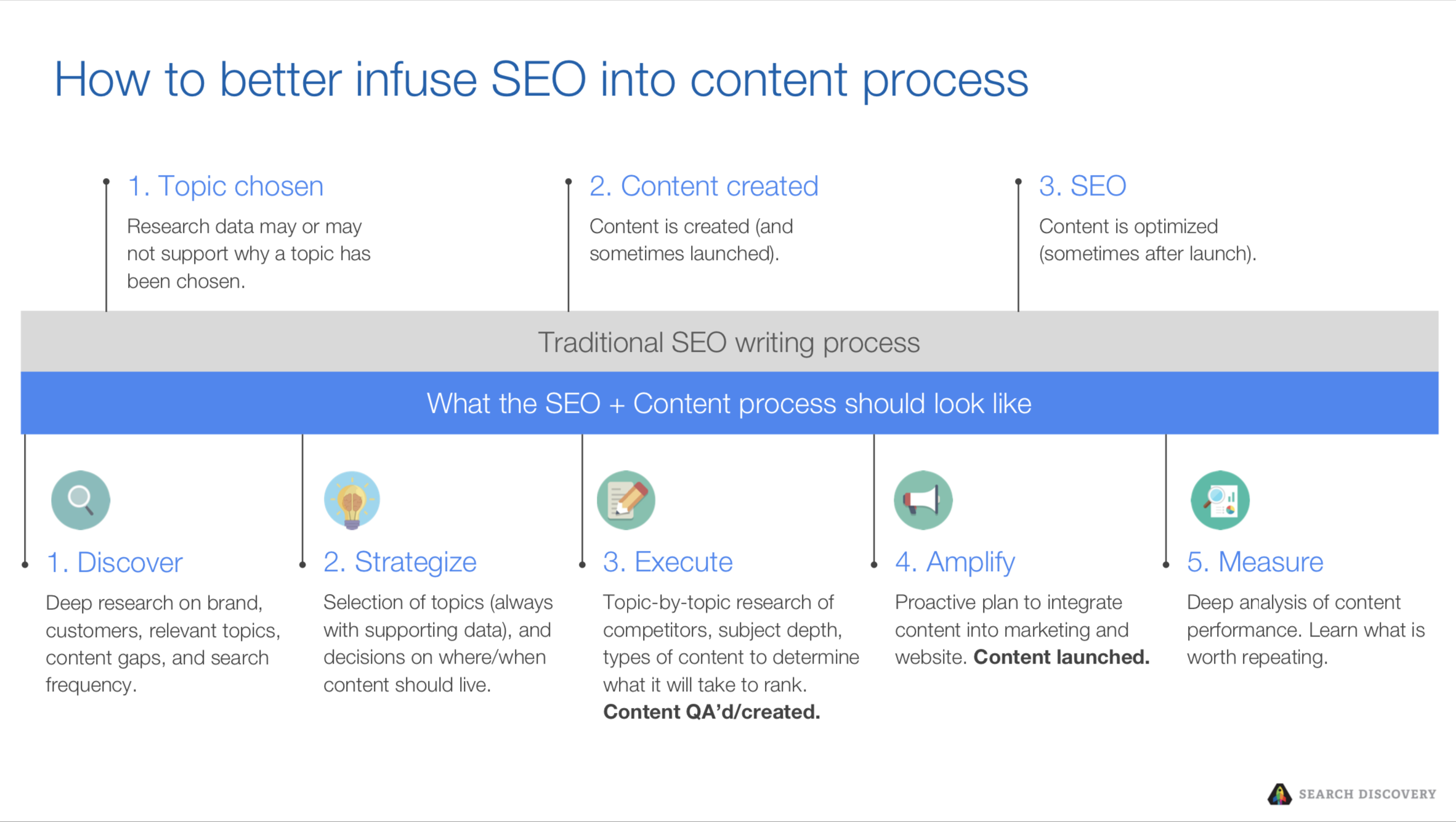 In order to research keywords, look at search engine results pages. Chances are, you're not the first person to talk about your subject, so who else is in your lane? Try a few of your most-desired keywords and see what content — and whose content — ranks well. Look at that content's depth, types,length, and sub-topics.
Do those successful sites use photos, videos, long-form articles? If everyone's using 3,000-word articles, don't come to the party with a 500-word article. If well-ranking content consists of concise, research-heavy how-tos, don't write a flowy ode to your product. This upfront research ensures you have what it takes to create rankable, readable content. You don't want to recreate what everyone else has done: you want to make sure your content is on-par, with your brand's own spin and flavor.
Topic election and keyword strategy
Here, you want to strategically select the topics that make the most sense for your business. Choose a topic for which your organization is an expert. This is the stage where we advise writers to think not only about what you could talk about: think what you should talk about. What are people looking for when coming to your site? If you're a soy candle company, you don't necessarily need to post organic veggie recipes — even if you have some crunchy customers. Figure out your wheelhouse.
One tool that may be useful is topic mapping. Poetry has a place — but that place typically isn't marketing copy. Meandering content isn't useful from a readability standpoint, and you may be shoving too many keywords and key concepts into one article or blog post. Once you've found your keywords, organize them into topic groups. Every piece of content should have a singular focus, so that you're not doing too much with any one piece of content.
Execution
Perform topic-by-topic research of your competitors, and do think about what keywords, perspectives, and takes aren't occupied. You might try writing a content brief before diving into execution. List out the features you think will be needed for this content to rank well! Think about the length, subtopics, and keywords you want to hit with this piece.
Then, get writing. There's a misconception that SEO-friendly content is written for computers — this idea is outdated and, frankly, leads to a lot of useless content. The practice of writing for people and not computers leads to readable, valuable content — stuff that will help you rank better and create a better customer experience.
Amplification
A lot of marketers separate "content" and "SEO content." They're really one and the same. If you've done a good job on the execution of your content, you'll want to integrate it into social media, on-site pages, and other marketing areas. If you're doing the process right, your "SEO content" can, and should, be customer-facing in multiple arenas. Make sure you're amplifying your content through multiple channels, and have an internal-linking plan in place to link this piece to relevant pages around your site.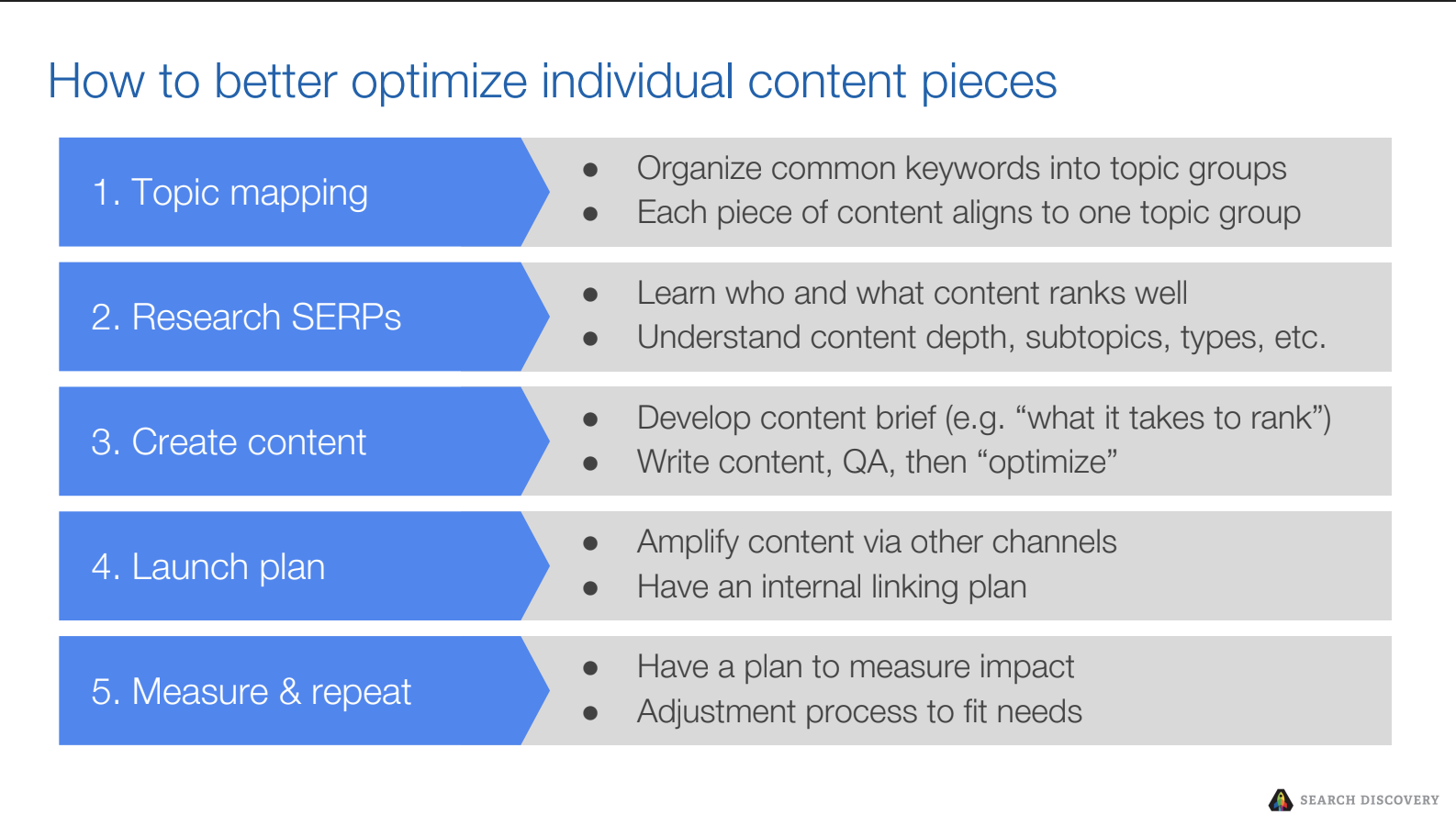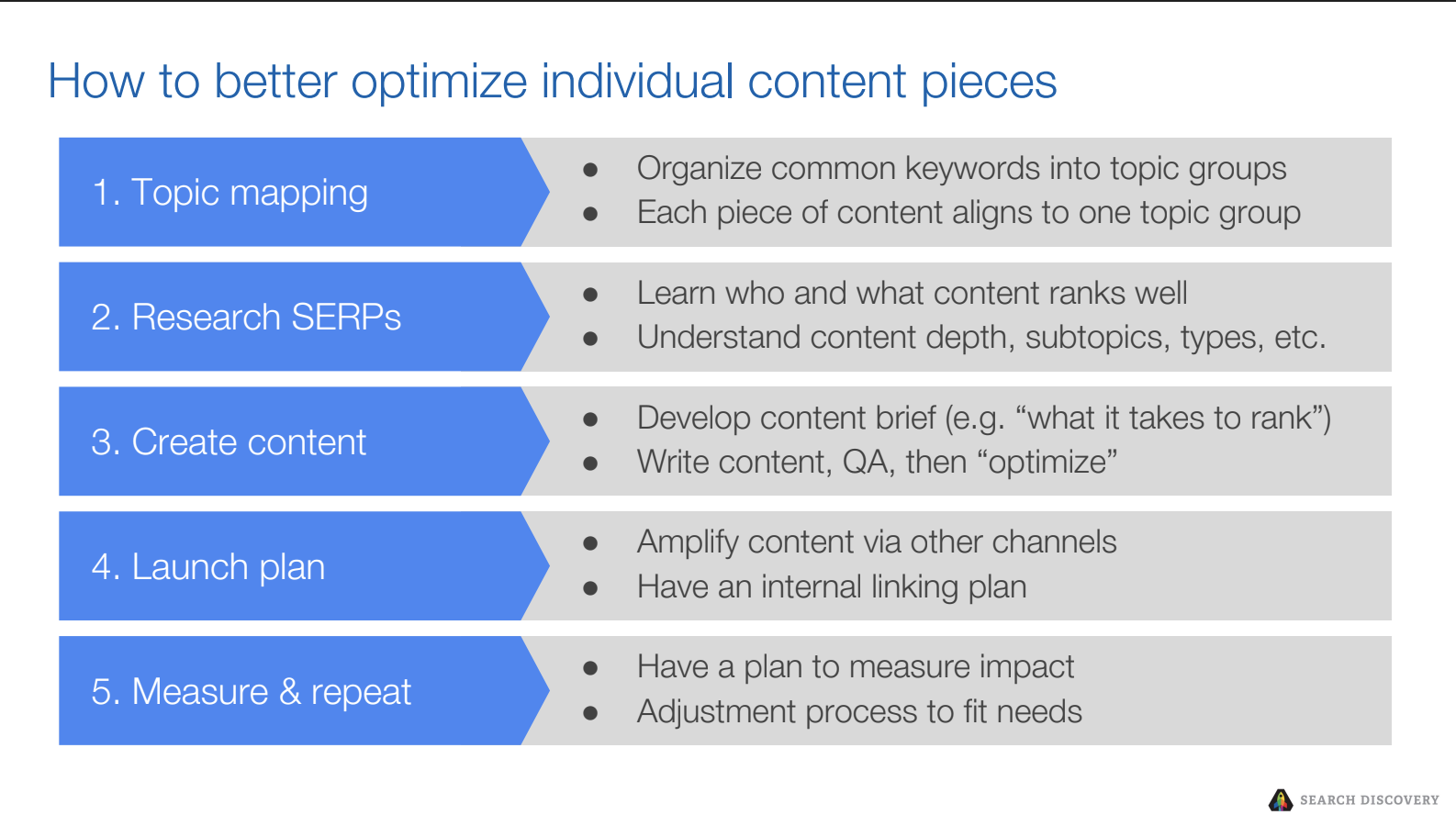 Measurement
Don't set your content free and forget it. Analyze its performance, see whether it worked for your ranking needs, and figure out what's worth repeating. Make sure you have a plan in place to measure your content's impact, and think about how you'll adjust this process next time to fit your needs. Don't just review the week it goes out — go back a few months later and see how your piece of content performs. If it's not where you want it to be, see what's outranking it.
Most of us could give more attention and care to each step of this process — all five steps require research and creativity. Let's look at some ways to mitigate common pitfalls in SEO research, writing, and amplification.
How can SEO get local and social?
So you're cranking out excellent content — how do you link your brand's identity to that content? Taby Arthur, Social Media Producer and Digital Marketing Specialist for Denison University, shares tips on making social media and local sites serve your branded keywords well.
Local review sites and social media sites have good domain authority, and tend to rank highly. You have control over social sites and local review sites — and these give you more results that could fill that first page of the SERPS. Optimize your social account sections!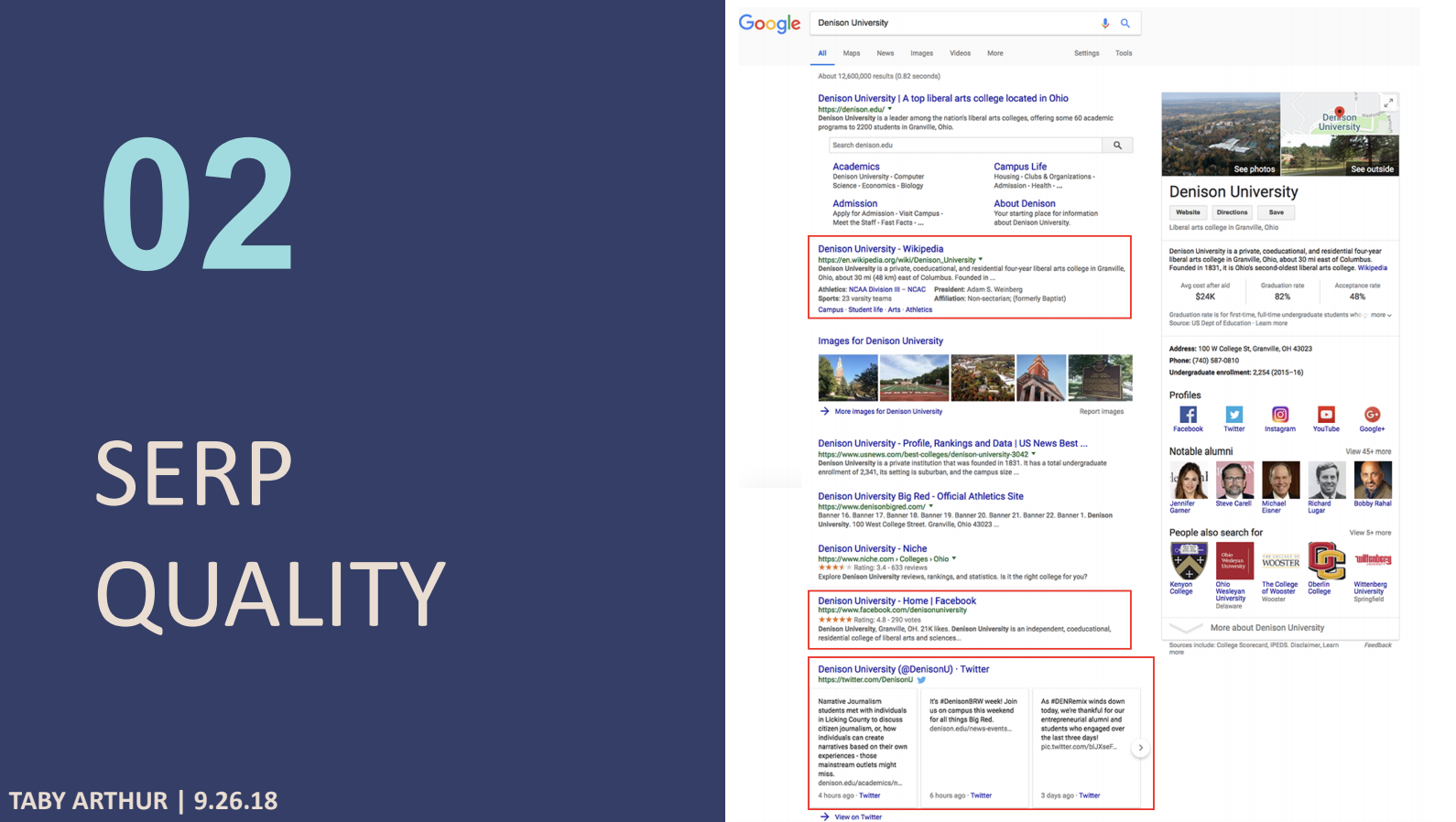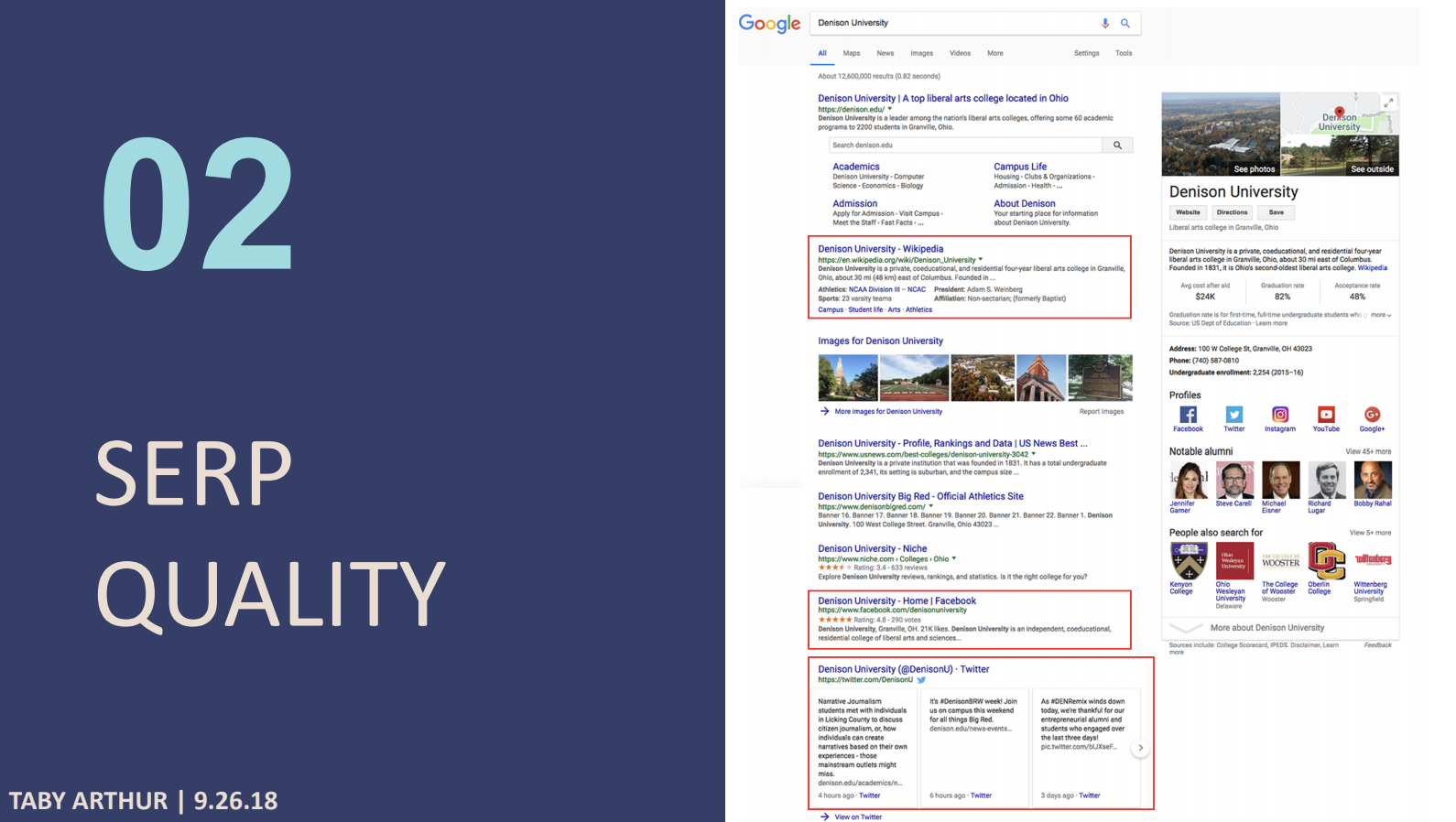 Make sure you're present on your local review sites – if you're not there, your audience can't review you and potential audiences can't find you. The content should mirror what your website discusses in a condensed format. People should find what you do, your hours, contact information, and any other important details.
While social media doesn't directly affect search, having these sites appear in SERPS can drive engagement and traffic, pick up engagement with influencers, and provide a different channel for reaching customers.
Tips for using marketing channels and sites your advantage in the content writing process
Create as many accounts as you can reasonably manage on social and local apps that relate to your products. If you do B2B, set up a LinkedIn account. If you have visual content, don't skip Instagram and consider Pinterest.
Many non-profits find that managing a Wikipedia page is a useful tool in the fight for better ranking of desirable content. Even though you can't totally control your brand's Wikipedia page, you can fill in gaps in the sidebar and provide basic information.
Links to social media sites, top tweets, and other social content are increasingly appearing in Google's "knowledge panel." Keep an eye on what knowledge panel information appears for your brand, and figure out how to optimize the accounts from which that information is pulled.
Google itself provides a great tool for local businesses with Google Posts — these are featured bits of information that you can post directly into the first page of the SERPS for your brand's name. We find that Google Posts are relatively underused — don't sleep on this feature.
Google's "tweet carousel" shows the top three tweets for your brand — but not every brand enjoys this treatment. To increase your chances of Google displaying tweets from your account in your SERPs, do good tweeting. Build your follower list, tweet frequenty, and tweet compelling content! If you are lucky enough to land the tweet carousel, be sure to continue to provide fresh, clickable content in that space.
Staying ahead of the content creation confusion
Overall, social media and local review sites are a great way to get a handle on reputation management, and provide valuable information on your brand for those branded keywords. Even if you think you own the space for your own brand name or brand-specific products, consider appropriate ways to use off-site accounts to highlight specific offerings — it's free real estate.
In both social media and onsite content, remember that optimization isn't achieved through a formula of mechanical prose. Don't take your personality and voice out of the writing: just utilize your research to make sure that people actually see that content. SEO content doesn't have to be lifeless — after all, users want to see, and engage with, fresh and interesting writing.
Content writing and sharing that content are two of the most noted challenges by marketers today, and that trend is only increasing. Considerations for the research of topics, existing content, and what your audience really wants to hear about is important in keeping yours findable.
Need better content writing and help with your organization's SEO? Set up a discovery call with DemandSphere.