If you've set up a new property in Google Analytics since October, you've likely noticed a pretty drastic install experience. You can thank the rollout of Google Analytics 4 for the shock to your system. Since October, GA4 is the default property type for new websites added to GA. 
Since Universal Analytics replaced Google Analytics Classic in 2014, it's been the default view for GA users: until October 14, 2020. Now a Google Analytics 4 property (formerly known as an "App + Web" property) is what you receive, by default, when you create a new property in GA.
GA4 isn't just a new set of views: it's a new tracking framework.
When you install GA4 on your website, you'll immediately see that you're working with a new Google product. Instead of the UA-XXXXXX-X code, Google assigns your site a G-XXXXXXX code. But, is GA4 actually performing different tracking activities than UA?
It's still tracking all of your visits, clicks, and conversions, but the new Analytics is tracking them differently — and, arguably, in a more comprehensive way. UA records users by session — a group of user interactions with your website that take place within a given time frame. By contrast, GA4 bases its metrics on events, such as downloads, link clicks, form submissions, and video plays. Instead of creating a new session when a user returns to a site, GA4 records all events they complete, so that you can view user events over time. 
Despite the simple name, GA4 is actually more all-inclusive than Universal Analytics. While UA properties only support websites, you can use Google Analytics 4 to track a website, an app, or both a website and app together. GA4 allows you to place the same tracking code in different properties, such as a website, iOS app, and Android app. 
This cohesive tracking lets you track all your users through a single property. If you have an app, you may be double-counting some users that visit your properties via both an app and the web; that's no longer an issue under UA. Because a single tracking code works across your site and apps, the same user will be counted once, in both places.
In our mobile-first reality — and as the edges between apps and mobile sites continue to blur — it's a sensible move for most marketers to combine the app- and web-user silos. In many aspects, Google Analytics 4 is a step away from tracking individual hits and traffic numbers, and toward tracking the way that users use your stuff.
The new dashboard reflects the move to events-based tracking.
First, the good news: the new dashboard reflects the move to events-based tracking. 
The bad news? Yeah…this will take some getting used to.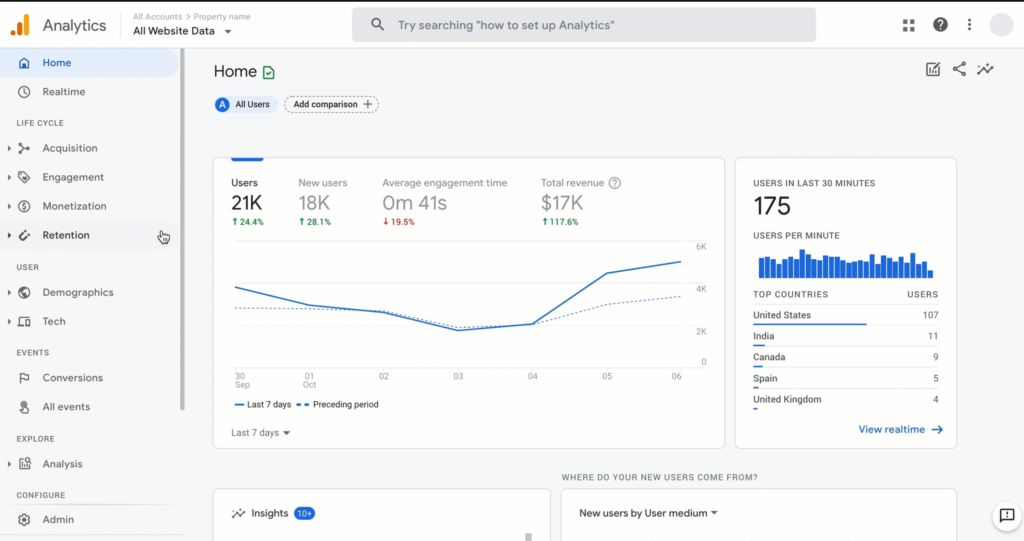 New Reports
In Universal Analytics, you'll see ready-made reports in a few categories: Realtime, Audience, Acquisition, Behavior, and Conversions. In GA4, you have a ton of additional reports. Among these are a nearly-all new lineup of out-of-the-box reports grouped by life-cycle stage (acquisition, engagement, monetization, and retention). 
Each report is composed of multiple "cards," so your days of filling the GA homepage with a single line graph are over. Links to more comprehensive reports are available at the bottom of each card. You still have the search bar up top to search for reports, and even enter naturally-phrased queries like "how many users today?" or "edit audiences."
Events and Conversions
On the left-hand side of the dashboard, you can view events and conversions. "Events" include things like page views and scrolls from apps and onsite. "Conversions" have replaced Google Analytics goals. By default, GA4 will treat your order confirmation page as a conversion. If you want to set another page as a conversion, you'll need to navigate to the "all events" view, create an event or choose an existing event, and mark that as a conversion. 
A new tool to check that your conversion tracking is working is available through Debug View. This tool allows you to monitor the events coming from development devices — in effect, using those devices as prototypical users to catch errors in tracking. In order to use Debug View, you (or your dev team) will need to have debugging enabled on a browser, iOS, or Android device.
Advanced Tools
The new Analysis Hub allows you to create things like path and funnel analyses — some of the features that were previously available only to GA360 users. A few templates are available to get you started; you can also edit these templates by using custom-created segments or events that you've created in the events tab. The Analysis Hub is definitely a more advanced feature: you'll get to learn GA4 inside and out as you build reports.
You can also create custom audiences in GA4, using a brand new feature. You can add members to an audience using metrics like location, actions such as clicks or scrolls, and more. This tool is especially useful for remarketing efforts: you can create a segment of users that have viewed or purchased one product, and look at their subsequent behaviors. You can also set an exit date for members of that remarketing audience, allowing their membership to expire after a few days or weeks.
GA4 signifies a new mindset, not just a new set of tools.
Google has not published any plan to force users away from UA — or even Google Analytics Classic — and onto GA4. However, it's clear that the new analytics is the way of the future. The update to the analytics platform doesn't only represent a switch in available tools, however. It's part of Google's move toward a more unified, cohesive look at measuring site performance. Google's inclusion of apps in Analytics is the natural follow up to its move to mobile-first ranking, unified ad buying, and more.
Some may find the inclusion of apps in GA4 surprising, as more marketers are asking the question: are apps really necessary? After all, many of us are building adaptive sites that allow users our entire experience on mobile browsing. However, some marketers place full trust in the extra layer of security,  personalized features, notification marketing options, offline access, or robust features available through apps. Regardless of your stance on that debate, GA4 represents a move away from "properties" and toward a unified online presence.