"United we stand, divided we fall," the war cry first written by Aesop is now the tenet of all good content creation and SEO. Content and SEO are inextricably tied together as best practices when creating messages to reach the right audience. The challenge for content creators and marketers is to decide where SEO belongs in the writing process. If SEO considerations are emphasized over audience interests, keyword stuffing and nonsensical content are the result. If SEO considerations are not part of the process, a lot of content can be created, but never seen by its intended audience.
When creating content, think of the SEO considerations as bookends that you use at the beginning and the end of the process. In the middle, create your authentic content with your audience in mind, knowing that you've already laid the groundwork for good SEO value.
SEO at the beginning of the content writing process
How do you decide what to write? Is the blog, slide share, EBook, or other content asset telling a story you want to tell or does it address a question or need your audience wants to read about? To make sure your content creation gets off on the right foot, the planning phase of your content creation is the best place to start thinking about SEO value. At this stage, you'll want to consider:
Topic/target keywords

Competitor content and keywords

Page structure

Content quality
Topic/target keywords
Your content topics are already based on something. Maybe it's a gut sense of what's happening in the market, maybe it's a need to tell about a new product or service. The best content, and the content that gets found most often, is content based on search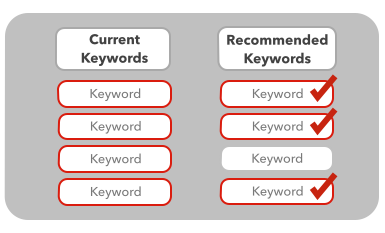 results and keyword data. Follow the results of the keywords you're already using. See if keywords are rising or falling in the search rankings. Once you have a handle on the keywords you already know, search for the keywords your audience is already using when they find you, but you don't have very much content to cover.
The keywords you discover will be the words and phrases you want to start creating content around, because these are the topics your audience is talking about when they find you online. Capitalize on their interests and provide answers to the questions they're already asking. Once you're creating content around existing interests, you'll have taken your first step toward optimized content.
Competitor content and keywords
How do you measure up compared to your competitors? Athough each brand has its own, unique value proposition, that doesn't mean your competitors aren't stealing some of your market share with keywords and topics you could be capitalizing on.
Once you know what ke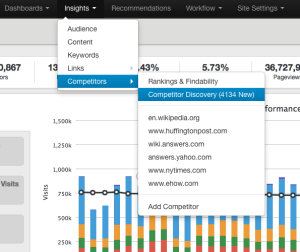 ywords are working for you, discover the topics and keywords your competitors are using successfully. Consider taking a topic and putting a fresh spin on it or offering a solution your competitor hasn't thought of. Keep an updated list of competitors to track and watch for those whose rankings are rising quickly. A sudden change in ranking for a new or exisiting competitor may signal a shift in focus. Find out the keywords that are helping them to improve their findability and use them to close gaps in your content.
Page Structure
Think of your keyword and competitor research as the brainstorming phase of your writing. Get all your topics written down. Now it's time to outline and organize your content. In this phase, you'll want to focus on headlines and titles.
Good SEO in this phase of the writing practice is a reflection of good writing. Determine eye-catching headlines and subheads for your content. This is the point where some content creation can go very wrong. Don't let your creative process overshadow your initial goals. Make sure your interesting title includes your keywords and reflects the actual content you plan to write. The cute and catchy title, "Cats Do The Darndest Things" will not improve the findability of your blog about the basics of HTML coding. Use your headline and subheads to guide your content and stay true to your original purpose.
Content quality
The best SEO practices cannot atone for the sins of bad content. Quality content is its own best SEO practice. Let's face it, not every blog post you write will be nominated for the New York Times Bestseller list. However, writing with your audience in mind is a good way to ensure that you've done your best to create good, authentic content.
I know you've already heard it. The purpose of content is to educate, entertain, and inform. But, between you and me, we marketers want to attract an audience and move them along the buying process. I know. Trust me when I say, content marketing is a long game and your quality content will have the desired effect if you know your audience and you tailor your message to meet their needs. Develop trust and authority and they'll come to you when they're ready to solve their product needs.
Behind every good writer, there's a good editor. Find one that will help you by reading your content before you publish it. A second pair of eyes can catch the grammar and spelling errors that you read over when you proof your own copy. It helps to have a content creation and review process already set up, if not, this might be a good time to start considering getting one organized.
With all your keywords in hand, a topic to write about, and an audience in mind, now's the time to create your content. When you're done, review your keywords against your content and make sure you've stayed on track.
 SEO at the end of the content writing process
Unlike the traditional writing process where your efforts are completed at publishing, publishing is not the end of your opportunities to optimize your content for findability. Ideally, you will take the time to do a few last things before you publish. But, sometimes you just need to get the content out there.  In that case, publish it, but go back as soon as you can to include the following:
Title tag

Meta description

Image description
Title tags and meta descriptions
The title tag is not your headline. The headline is typically in the H1 position and subheads are H2, H3, H4, etc… The title tag is the line that people searching for a topic or answer to a question may first see in search results, so it's important to include your target keywords in the title tag. Write your title tag in natural language and make sure it reflects the content it leads traffic to.
Include a compelling and interesting description of your content. This will help the search engines to identify your content as the content being sought by the searcher.
Image descriptions
Including concise and informative descriptions of your images helps search engines to find your content. Be sure to include descriptions for any artwork, screen shots, photographs, or videos included in your content.
After all this effort, hopefully you'll create evergreen content that can exist on and off your website and will bring in new visitors looking for your solution. Don't just publish and forget, keep track of your content and continue to optimize it to get the best SEO value over the long term.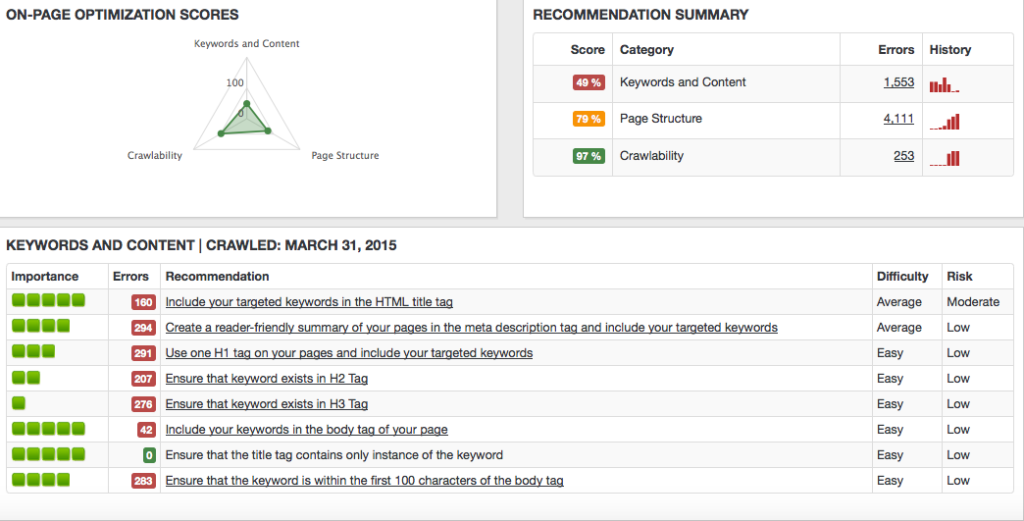 Having a marketing intelligence analytics tool, like GinzaMetrics, that provides content and keyword insights and recommendations to improve your content's SEO value over time is the easiest way to make sure your evergreen content doesn't wither and die.
If you'd like us to help you get started on your journey toward truly epic content, give us a shout and we'll show you how our platform can improve your findability today.