Content marketers are either spending too much time worrying about their competitor's every move or not enough time tracking and analyzing their activities. Perfecting the art of marketing spycraft means executing the right mix of competitor mindfulness and brand awareness. Doing this will enable you to understand the industry landscape and your current position in it so you can better target your audience.
On a recent episode of Found Friday, GinzaMetrics' Ray Grieselhuber and Erin O'Brien discussed competitive marketing intelligence and its core elements.
Competitive Situational Awareness
The day to day activities necessary for marketing make it easy to get bogged down promoting your own brand. The result is tunnel vision that puts brands at risk of being overtaken in their market before they realize there is a threat.
"Paying attention to your environment, identifying threats, understanding what your mission is, and having backup plans is critical to staying alive," advises Ray, "Start with paying attention to what is most important. From there, enable your brand with the right tools to respond to competitive threats."
Good competitor intelligence begins with knowing what to pay attention to in all of the noise. The core elements that inform your product marketing, PR, advertising, and other efforts can be easily tracked and responded to if you have the right tools.
The core elements of competitive intelligence identified by Erin are:
The players in the market

The messages they are talking about

Who they are talking to

What they're doing that's working
Having a keen situational awareness requires updating competitor information often and getting data at a granular level to help inform your future decisions. The competitor comparison that your department compiled last year is not good enough. Watch for competitor movements frequently and update your analysis every few months.
Competitor Intelligence – The Players
Knowing the competition and tracking them is part of every marketing ecosystem. But, what about the competitors that you don't know about? You can't fight what you can't see.
"Your competitor landscape is constantly shifting," warns Erin, "A competitor doesn't have to have the exact same target market as you to be a viable brand to track. In many cases, there are edge competitors who can still make a significant impact on your revenue."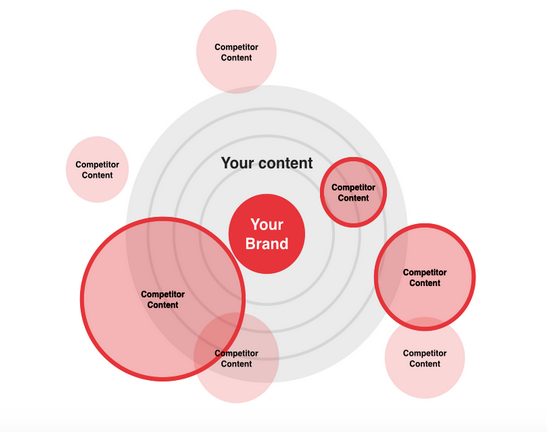 Competitors of various sizes surround your marketplace and may move in and out of your content and brand sphere. Sometimes a large competitor with less audience overlap is more important than a small competitor with complete audience overlap due to the larger organization's ability to spend more time and money to command audience share.
Understanding the players, and their impact on your brand, requires identifying competitors based on similar messages, not just similar products.
"One of the reasons we recently introduced our Competitor Discovery tool is that we saw a need for technology that enables you to discover not just your competitors, but more importantly, the competing content that is being found for your topics and keywords," stated Ray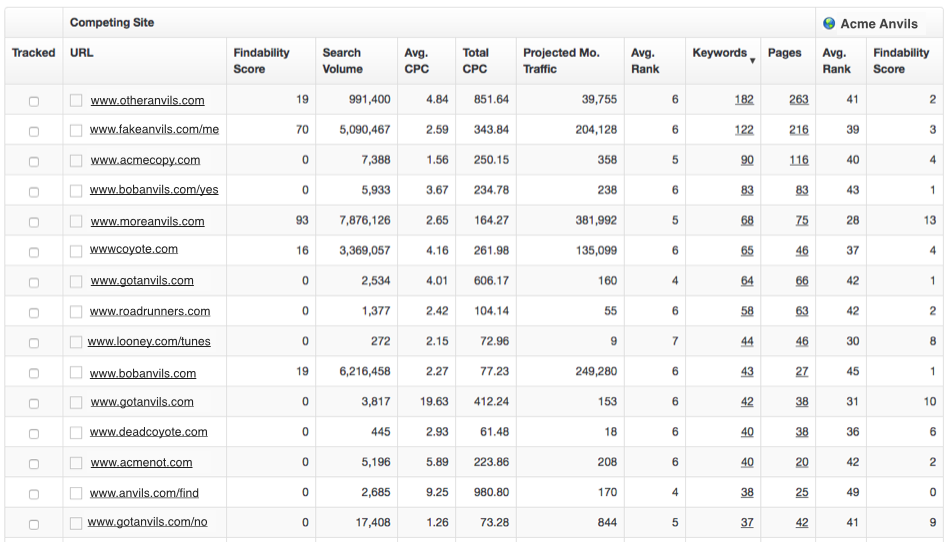 Keyword and Topic Performance – The Messages
The keywords and topics you've developed for the content your brand is creating is what you're using to attract your audience and hopefully create conversions. When someone else enters your space and starts taking share of voice using those same keywords and topics, you'll want to know so you can act immediately.
"This is literally the exact content that they are competing with you for in terms of target audience. It's important to track content and topics across both search and social because it directly points to the marketing content that your competitors are creating that is resonating with your audience," explains Erin. "You know it's resonating because if it's being ranked on search engines and shared on social – those are organic affirmations, not purchased ones, from the very people you're trying to get to become your customers."
Your competitor intelligence big picture includes so much more than just the brands you've identified as your competition, it includes all the content that is being found ahead of yours. It's critical that content marketers have access to the intelligence that will help them to understand the wider range of competitive threats and identify competing content sooner.
Making competitor discovery a part of the workflow and effectively responding to it will become a critical ability as the digital space fills up with content from all directions.
When you're discovering what your competition is talking about, ask these core questions:
What is their brand focus in your market? (What specific product or service are they offering)

What features are similar to yours?

What are their messages? (How are they describing their offering, what language do they use to talk about their product or service and its features?)
"Keep a matrix of these items for each of your competitors and revisit it at least quarterly," recommends Erin.
The Audience – Who are they talking to?
A critical element of competitor analysis is knowing where your audience is going to get their information. How successful are you at capturing the attention of potential customers versus your competitors?
While tools can help to discover competing content and alert you to competitive threats, there is still a human element that is required, analysis. However, if you're spending all your time gathering data, you probably don't have much time for sitting down and really analyzing the data that you have. Once you have a list of potentially competing content, take the time to review it on a regular basis and decide if it's similar to your own and if it's relevant.
"The market can change quickly and it's important to have both mindsets — one that's a tracking mindset and the other that's more like the discovery mindset where you're looking at things and analyzing them," notes Ray.
Besides the benefit of analyzing other content for possible competitive threats, the content that pops up on your radar can be content that inspires you to create better, more relevant content for your brand. Although you don't want to copy content from another brand, good ideas often come up when reading what someone else has said, or looking at another way to present the material.
Keywords – What's working and what's not?
What is working for your competitors and others? There are a lot of ways to know if what someone else is doing is working or not.
According to Erin, "There's a whole practice of competitor intelligence gathering that goes beyond tracking. It's really about best practices and learning about what kinds of messaging, outreach, channels, and marketing tactics are really resonating with your target audience."
The best way to measure the effectiveness of your performance versus the performance of your competitor is to measure their top performing keywords and watch the declining keywords on your own site. Looking at this from an organic search perspective eliminates the influence of the amount of ad spend on the results.
If your competitor is gaining traction with the topics and keywords you care most about, you'll want to respond swiftly with content of your own. Inaction could mean that the topics you have spent time and money gaining influence with are being used in another brand's content, ad copy, or social messaging and the audience you have worked so hard to build is listening to and resonating with another brand.
Some metrics for competitor comparison include:
Findability Score – the likelihood you or your competitors will be found for the topics and keywords you're tracking
Ranking trends

 

– daily ranking puts search algorithm updates in perspective
Social Audience Landscapes – compare your traffic on social channels with your competitors
Competitor Discovery – find new competitors and discover new content based on your keywords and topics
Projected Monthly Traffic – the potential audience traffic to your content and competitor content for your topics and keywords
"Search data is the only way to accurately measure the predictive performance of your content and that of your competitors. We're focused on helping marketers understand why it's relevant and how they can start using it," concluded Ray.
Let us know how we can help you start using search data and competitor discovery and insights to get your brand found, and to stay found online.