Over the last year, the marketing industry has seen a definitive shift away from keyword-centric SEO towards a content-centric approach. Search engine updates such as Hummingbird, Secure Search, Panda and Penguin have all pointed to this movement – organic marketers have seen the writing on the wall for a while.
With content playing an increasingly important role in brand findability, marketers both in-house and at agencies need a way to understand what's working, why, and how it changes over time.
At GinzaMetrics, we have continue to update our platform to address not only the technological updates made by search engines, but also the transforming role of earned media marketing.
Enter Page Groups
Today, we're happy to announce the availability of Page Groups in the GinzaMetrics platform. This release allows users to group content into logical categories such as campaigns, product lines, geographies, etc. Users can then monitor, manage and compare page group performance against each other, view the group versus site-wide performance and more.
For existing users, groups can be set up via Site Settings and "Page Groups."

The update lets users easily define their page groups using matching logic on both the title and URL fields, allowing instant categorization of hundreds or thousands of pages in real time.

Page List Editor
The new Page List Editor, also available via Site Settings, is a dynamic, Excel-like grid that enables users to rapidly add new pages, with specific keywords, to their site for data collection. Using this editor is a quick and easy way to ensure new content begins collecting data as soon as possible, as opposed to waiting to show up on SERPs.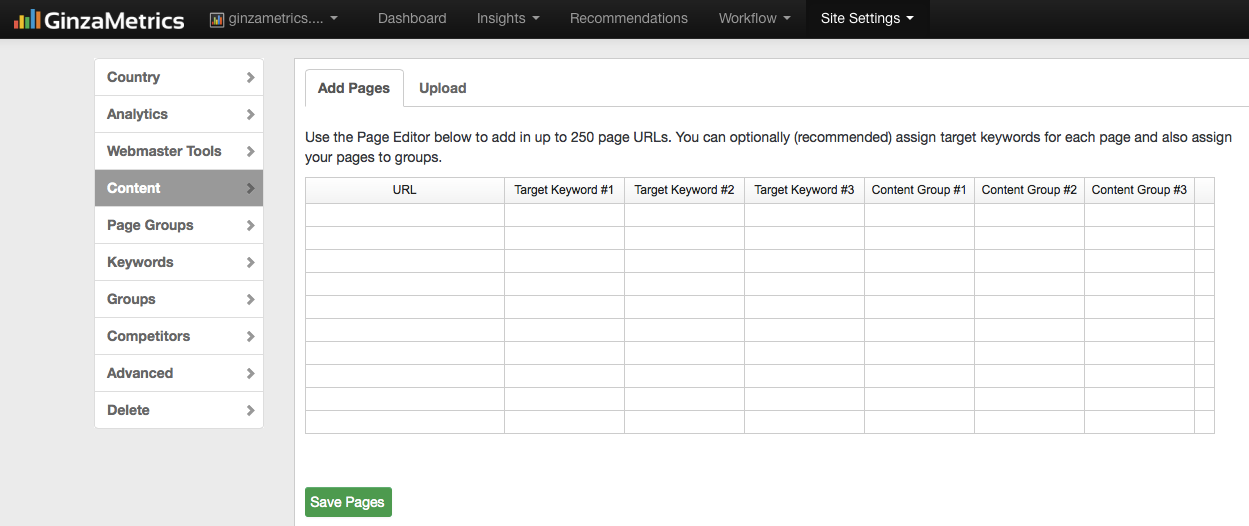 We are excited to share this update with our users to assist in their content marketing strategies this year and beyond. We welcome any feedback or questions, so feel free to comment below or contact us.