2015 was a busy year for GinzaMetrics and we're sure it was for you as well. We spent a lot of time listening to our customers, watching trends in SEO and content marketing, and ensuring our platform continues to include the latest search engine algorithm changes. As the needs of marketers and SEOs evolve, GinzaMetrics is focused on providing you with deeper insights and greater flexibility to get the data you need, the way you need it.
Over the last 12 months, we've released several new features and offered some unique ways for users to get the insights they need to improve brand findability and match their efforts to overall corporate goals. To wrap up the year, we wanted to recap some of our new features and how they are changing the way brands are found.
Competitor Discovery Feature
You can't stay ahead of competitors that you don't know exist, or create content to attract an audience you don't know you're losing. Staying ahead of the competition is difficult for most brands as new competitors pop up, existing competitors adjust their content to steal audience attention and revenue, and industries shift to include new markets.
In response to the need for more competitor intelligence to ensure strategic marketing success, GinzaMetrics released "Competitor Discovery," part of the Competitor Intelligence Suite, which includes features aimed at discovering, monitoring, analyzing, and reporting on your industry and its players.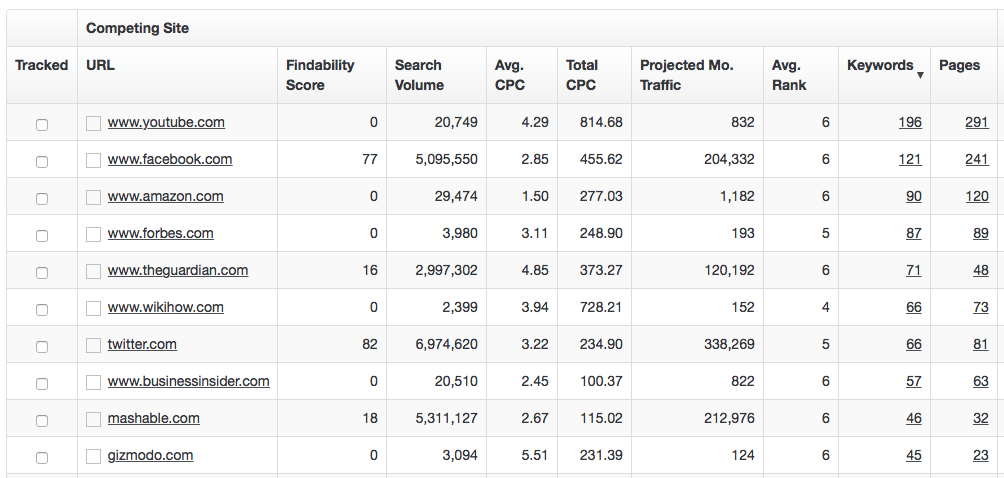 The first feature of its kind, Competitor Discovery uses a proprietary algorithm that identifies new competitors based on a brand's own content, targeted keywords, and identified competitors. Using our competitor discovery feature, brands get competitive intelligence and know who the newest players are in their space without manually adding them or searching for new content or sites online. Users then get valuable insights into the content, keywords, and topics that could be driving traffic from their site. The feature also provides predictive analytics in the form of GinzaMetrics' proprietary Findability Score and Projected Traffic measurement tools.
Competitor Discovery also plays a hand in helping discover new content ideas as well. Clicking into a competitor you can see what type of content they're creating and what keywords they're ranking for – giving you additional insight into what content might resonate well with your audience for specific topics of interest.
Social Intelligence Tools
Marketers, regardless of department, need to understand the impact their efforts have on revenue and conversion. Historically, social media has been one of the most difficult to quantify across the funnel. Moving beyond likes and shares, marketers have to create strategies based on results at the exact channel, content, keyword, and campaign level as compared to other marketing efforts and those of their competitors.
To help marketing and SEO departments determine the overall impact of social media, the success of individual social channels, and to track conversions from social media, GinzaMetrics launched Social Intelligence Suite. The suite of tools gives marketers at brands and agencies insight into how social channels are contributing to corporate goals and revenue, and providing data to create better content and campaigns for their target audiences.
The Social Intelligence Suite includes:
Marketing Channel Performance

Competitor Social Landscape

Content Insights

Social Engagement Analytics

Social Trends

Social Share of Voice
Using these tools, marketers can track conversions and contributions to revenue from social media by channel and at the campaign, content, and keyword level.



Keep an eye on our social features in 2016, as additional features and updates are planned!
New Custom Reporting Options
In 2015 only 21% of B2B marketers felt they were successful at tracking ROI for their efforts, according to CMI. One reason for this disconnect might be that getting deep insights into digital marketing efforts has been reserved for brands with deep pockets.
We recognized that some organizations don't have the personnel, budget, or bandwidth to sign up for a full marketing platform, but that they still need deeper data to improve their findability. In response to frequent requests for insights at the keyword, competitor, social, and content levels, we began offering one-time and custom data reports for marketing and SEO departments beginning at just $200. We now provide agencies and in-house teams the deep data they need to make strategic decisions and successfully show ROI.
Compared to similar offerings by competitors, which begin in the thousands of dollars for insights, these reports provide custom data to users at low one-time costs. For added functionality, all data reports can be formatted by the customer to fit their individual needs using GinzaMetrics' customizable marketing intelligence dashboard and reporting feature.
In addition to one-time reports, we have continued to build on our custom reporting center, which includes modular versions of all charts and graphs in the full dashboard. Each module can be adjusted to show date ranges, keyword and content groups, competitor data, sorting options, conversion metrics, etc. so that you can build a view that works for you. Using our white label option at no additional charge – not only can you customize the contents of your reports, but the look and feel as well.
Customized Dashboards
As we built custom reports, we recognized the need for additional interactive views of the platform itself to suit the needs of different size and types of teams. This meant taking our custom reports and allowing users to save them as custom dashboards that are accessible from their account.
Using our modular dashboards, users can create interactive dashboards based on workflow, task type, team member, or client for free within their GinzaMetrics platform. The simple drag-and-drop dashboard modules can be can be added and edited easily by users with no additional assistance or cost, allowing multiple teams to leverage website and competitor data.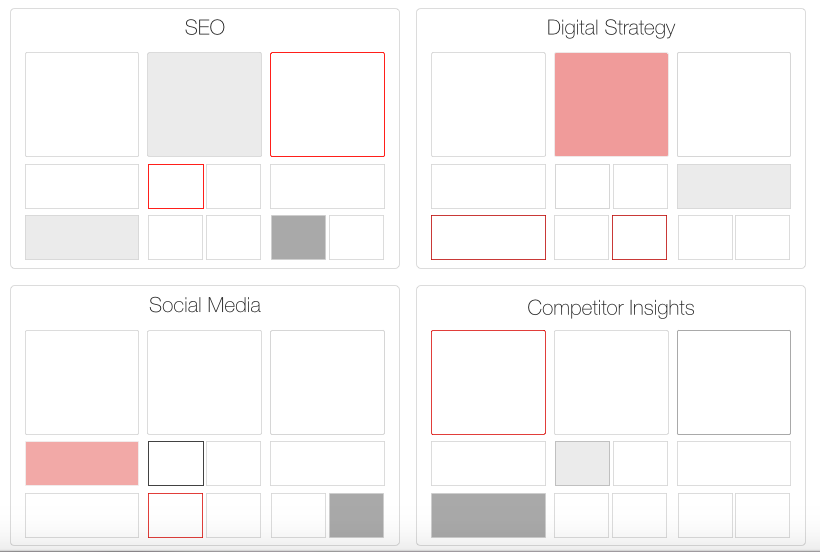 Adding to this offering in 2016, GinzaMetrics will be providing some popular templates for marketers to use. If you have ideas on custom dashboard templates you'd like to see – let us know!
Local Search Rankings
The need for local search rankings has prompted brands to purchase local-specific tools or pay a premium to existing analytics providers to get the detailed ranking data they need. The integrated local search rankings feature allows users to view local search performance across unlimited keywords and locations without the data volume restrictions of other solutions.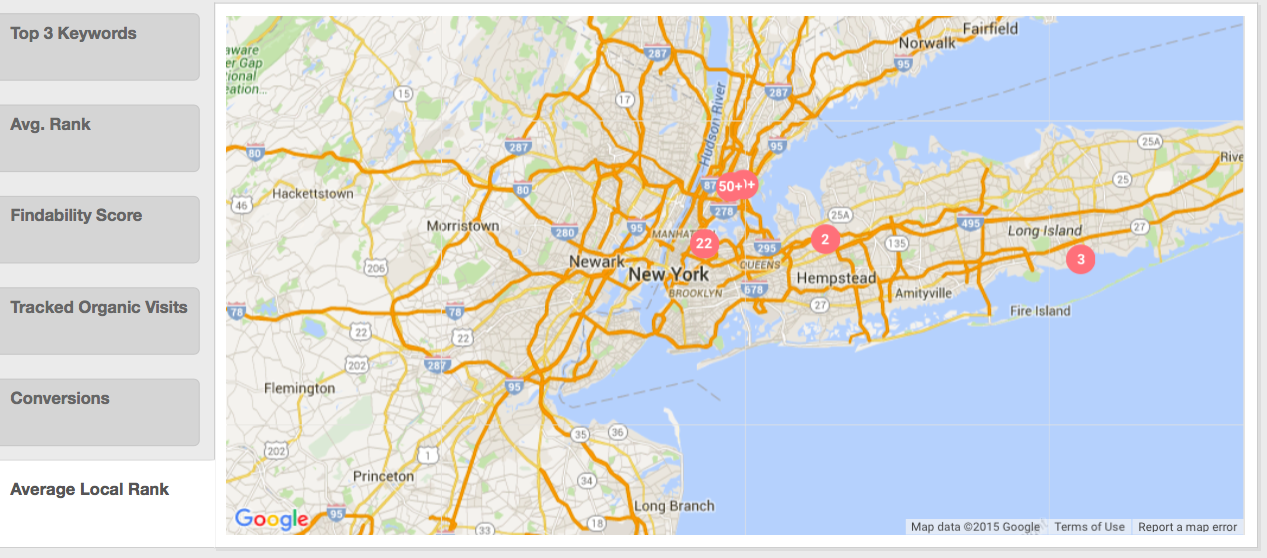 Using local search, you can now compare local results versus your competitors. With this latest feature release, local search became part of GinzaMetrics' comprehensive suite of competitor analysis tools which include Competitor Discovery, Audience Insights, Competitor Ranking, and Competitor Insights.
With GinzaMetrics Local Search feature, users can specify multiple instances of a keyword by location using the same root keyword and a list of set locations for any size platform and for up to millions of keywords. GinzaMetrics users are not limited by the data volume restrictions of other solutions. For example, GinzaMetrics users are able to gain insight into local search performance across hundreds of thousands or millions of keywords.
Deeper Crawl
Get ranking results for all website content whether or not it's currently ranking on search engines or for targeted keywords using our new Deeper Crawl feature. With Deeper Crawl, users can now gain deep insights into on-site and page optimization factors, even for large sites with hundreds of millions of pages.


Deeper Crawl features granular recommendations for users who want complex indexing for large page volumes and need to filter through data quickly. The feature is scalable and customizable based on the user's current plan, needs, and individual budget.
Embeddable Reports
Using the embeddable reports feature, our users can embed any module, or combination of modules, in the dashboard into email as a regular or one time report as an HTML graphic. Coupled with GinzaMetrics free white label capabilities, agencies can have a completely custom dashboard and reporting system for each client using their own branding and layout.
Embeddable reports are also a perfect solution for users who want to see data from their dashboard in at-a-glance emails without needing to log in or open PDFs. Schedule daily or weekly embeddable reports to keep you updated on the most important aspects of your marketing on-demand.
Sortable Recommendations
Sortable recommendations allows users to focus their attention on the content recommendations that will make the most difference right now. Whether that means viewing recommendations by keyword or content groups, marketing campaigns, features, etc., sortable recommendations give marketers the option to determine their own priorities and create a hit list of tasks and targeted content to assign team members and create their own prioritized workflow.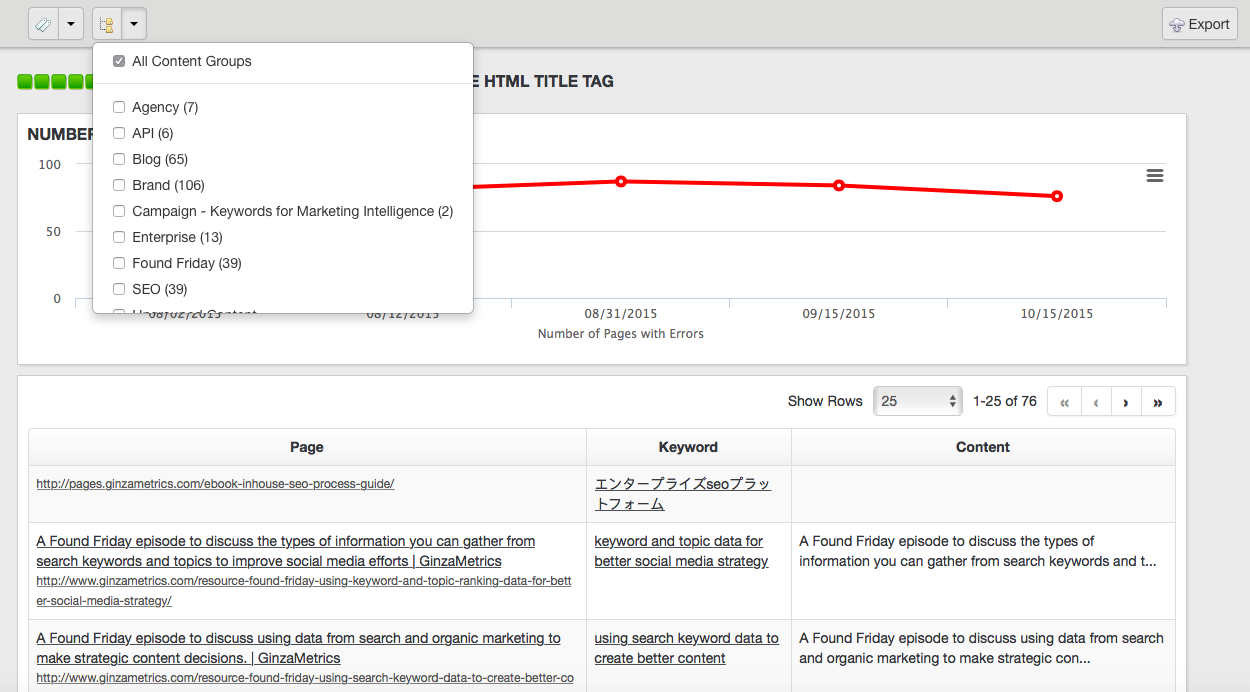 While these are only a few of the features we're excited about adding in 2015 – we're even more excited about what's in store for 2016. If you've got feature requests or ideas, let us know, and if you're looking for an SEO and marketing platform and want to take a look at GinzaMetrics, check out our video and then set up a call.
Looking forward to a great 2016!