How do you improve audience engagement with your content? You start by knowing who your audience is and how they're already finding you. Then, you look for ways they're searching for your solution and finding someone else. You'll also want to know when your audiences are bouncing before they can engage. Finally, you use the data you've collected to determine what you can change, add, or simply avoid to make your audience's experience with your content and your website better.
Here are nine ways you can use an enterprise SEO and content marketing platform to get the insights you need to make better decisions and improve audience engagement.
Insight #1: Marketing channel engagement
Where is your traffic originating? Start by getting a comprehensive list of all the channels your audiences are using to find you online. If you notice a sudden uptick in results from a particular channel, you'll want to take a deeper dive to discover exactly what content is driving the traffic. You can also observe which email sends are driving the most traffic to help determine which subject lines and topics are of the most interest to your audiences.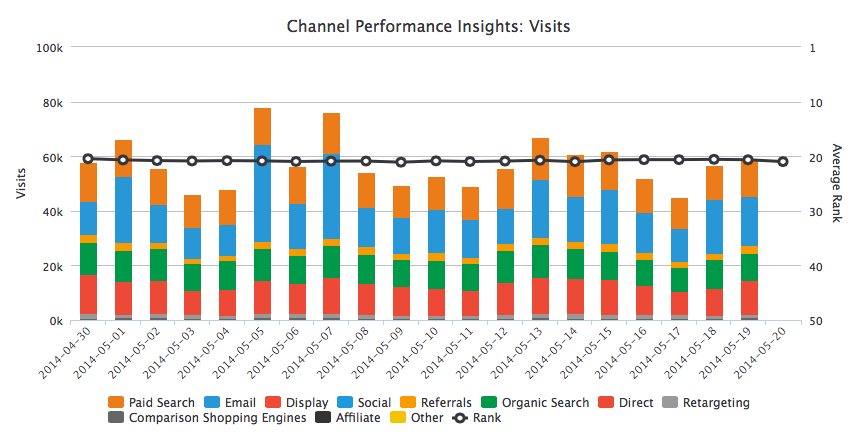 Understanding exactly which marketing channels are working best for you and what content is working on each marketing channel will help you to decide where to put your efforts in the future. Track traffic, conversions, and revenue from all your channels, including:
Social media

Email

Organic search

Referral

Display

Paid search

Direct

Mobile

Affiliate

Comparison shopping engines (for e-commerce)
Insight #2: Search engine preferences
When we talk about search engines, algorithm changes, and SERP layouts, we often talk about Google. But, Google isn't the only search engine. No matter your industry, you should at least be watching Yahoo and Bing. Beyond that, some brands need to have insight into international search engines such as Baidu, Sogou, Qihoo 360 (So.com), Daum, Naver, Yandex, and local instances of Google (such as Google.jp).
Knowing where your audiences are searching and which search engines they prefer, gives you insight into how to structure your content to optimize for the requirements of the preferred search engine.
Insight #3: Device usage
At this point, no one can afford to ignore mobile. As search ratios continue to move toward mobile as the dominate platform, every website should be optimized for mobile – or at least mobile friendly. Beyond that, if your audiences are using mobile to find you and your solutions, you'll want to start creating the types of content mobile users are seeking.
According to a recent trends study, by 2020 video will account for 75% of mobile traffic. If you don't know what devices your audiences are using, you could be missing out on opportunities to reach them with the types of content they're most likely to engage with.
Insight #4: Competitor analysis and discovery
If you don't know everyone who is competing with you for a place on the search engine results pages, you can't do anything to win your audiences back. Besides the competitors you know, be sure you have insight into all the brands, blogs, and publications that are ranking for the keywords you care about.
When it comes to beating the competition, there are a few things you'll want to know about daily. First, you'll want to compare your findability to that of your competitors. In other words, when your audience is looking for your solution, who are they most likely to find – you or someone else? You'll also want to know ranking trends for you and your competitors as you monitor your top gains and losses in rank for content and associated keywords.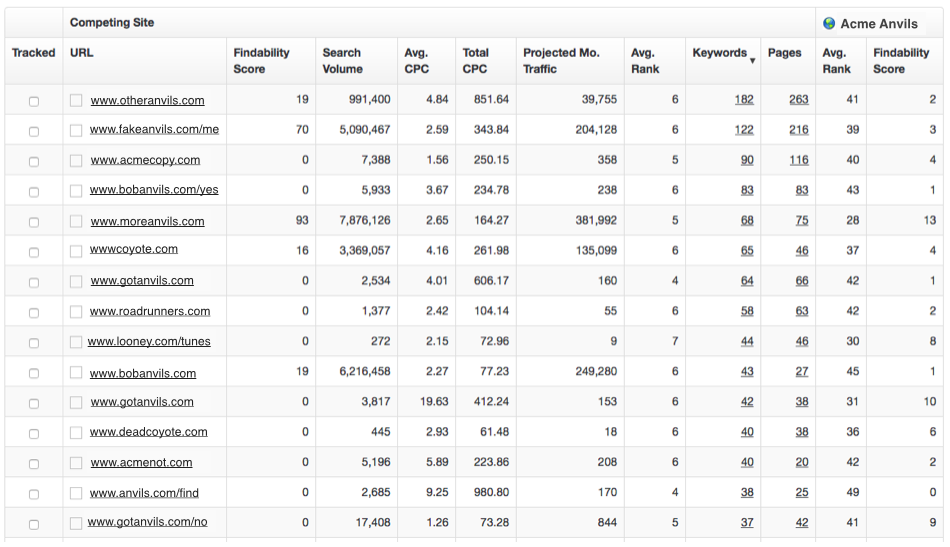 You'll need insights into competitors and potential competitors at the granular level, including:
Competitor name & URL

Findability score

Search volume

Projected monthly traffic

Average rank

Keywords common to you both

Competing content

Site-level comparisons to your site
Insight #5: Keyword rank and discovery
What keywords are in the top ranking spot this month, this week, today? Knowing what's trending and what's taking the top spot today and over time will help you identify potential topics for new content. It'll also give you some idea about which of your older content you'll want to freshen up by adding updated information and including higher-ranking keywords.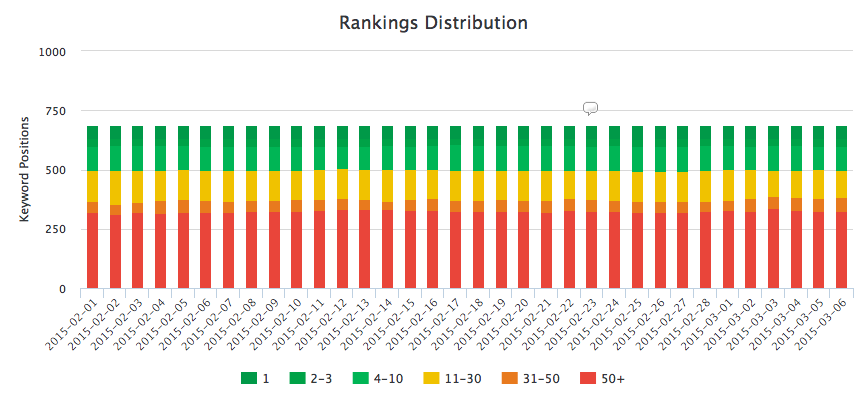 In addition to the keywords you're tracking, you'll want to know what keywords your audiences are using to search for content you don't currently have. Knowing the most popular keywords in use by your audience with give you topic and message ideas across all your marketing channels and include:
Social media messages

Blog topics

Landing page content

Email subject lines

Video content

Other content based on your audience's preferences
Insight #6: Content engagement
For content marketers, it often comes down to making decisions at the individual content asset level. Get the granular data you need to make the content decisions that will ensure better audience engagement. At the marketing channel level, find out what content works on which channel. You may find that your mobile users prefer video, your organic search audiences prefer content with lots of visuals, and your email subscribers prefer to have something to read. Whatever you discover, you can use the data to make sure you're reaching your audiences with the right content on the right channel.
Take it one step further and create groups of content based on campaigns, products, geography, personas, or any other categorization where you want to track overall engagement. However you decide to slice and dice it, you'll want content insights that include:
Content title and URL

Visits

Pageviews

% new visits

Bounce rate

Conversions

Revenue
Insight #7: Audience Geography
Do you know where your audience is located? Local search data is not just for mom and pop stores any longer. Now, every brand needs to know where their audiences are and how local customs, norms, and language variations effect messaging.
Having insight into audience geography can mean a lot of things to a lot of different people. Whether your audience is international and is finding you on foreign search engines; or your audience is looking for you from on of a states, a city, or a neighborhood in the U.S.- knowing where they are and what their challenges are can make you more responsive to their needs. Using the vernacular of local audiences in your content keeps you ahead of the competition as audiences find your solution when they search using local terms.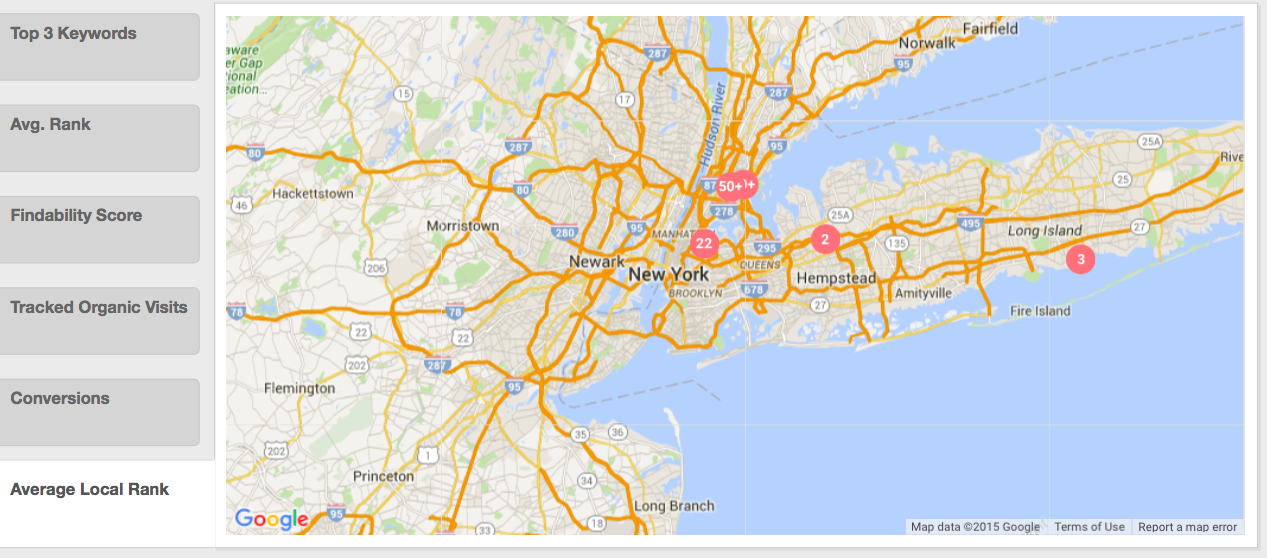 If you're a brand with presences in various locations, you'll want to view your data alongside mobile data. You'll also want to have the ability to sort for mobile, tablet, and desktop options and to view individual device types such as iPhone, iPad, Android phone, and Android tablet.
Insight #8: Social media audience
How is your social media presence contributing to your positive results? You need to know how all the pieces of your communication strategy fit together to engage audiences and lead to bottom line improvements. Your audience engagement in social media is becoming more important to the overall health of your content marketing efforts all the time.
To effectively measure your social media engagement you'll want to start with an overview of the increase or decline in the number of engagements by social channel and a detailed view of exactly what content was shared on which channel.
You also need to know who has the greatest share of voice on individual social media channels, you or your competitors? Which channels do they own and which channels are more popular amongst your current audience? Using share of voice data, you can create a strategy to take back your audiences and improve engagements on channels where your voice is not as strong as your competitors.



Watch how your social engagement changes over time and in relation to your competitors on all the major social media channels, including:
Twitter

Facebook

Google+

YouTube

Pinterest

Instagram

Slideshare
Insight #9 Date range flexibility and daily crawl data
Waiting a week for new search, content, social, and competitor data is too long. You'll want the real time insights only daily crawl data can provide.
Among other things, getting daily crawl data can help you to:
Make content decisions faster and with more complete information.

Remain agile in a quickly changing ecosystem.

Discover competitor content and changes faster.

Tie marketing efforts to conversions sooner and more accurately.

Build and maintain a better workflow and respond to issues in real time.
When you're looking at your data, you'll want the flexibility to change the date ranges to coincide with product releases, campaigns, quarters, or other reporting time periods.
Armed with insights about your content, channels, keywords, and competitors you can start to make a plan to improve audience engagement and optimize content based on the best recommendations available. If you want a platform that does all this and more, let us know – we're happy to show you around.