The search engine results pages have changed and the new layout has content marketers concerned. Although pages have reduced the number of ads from eleven to seven per page, more ads are showing up at the top of the page along with shopping results, knowledge graphs, videos, and images. In some cases, top ranking organic results are showing up at the bottom of the page or even on page two.
What do content marketers need to do to adjust to the new layout and improve or at least sustain content ranking? The answer is three-fold. First, you need to understand the changes to the SERPs and how the layout is continuing to evolve. Second, you need to know what else is on the page with your content and how that impacts your efforts and third, you need a strategy to respond.
The state of the SERPs
There have been a lot of changes in the look of the Search Engine Results Pages (SERPs) in the last few months. Most notably, Google has changed it's advertising layout for desktop devices in several ways:
Removed ads in the right hand column

Reduced number of total ads on the page from 11 to 7

Increased ads on top from 4 to 3

Still includes 3 ads at the bottom
The new changes in the SERP layout for desktop is another indication of Google's commitment and focus on the mobile market and mirrors the desktop experience for search results to the layout for mobile devices. In addition to the changes in paid advertising layout, Google has continued to work on providing the best user experience possible by including other helpful results at the top of the page.
Other search query results may include:
Knowledge graph

Rich snippets or answer box

Video results

Images

Shopping results

Local pack

News
The impact that these other types of results have on your brand depends on where your audience is coming from by device and how many of these other types of results are showing up for your targeted keywords and with your organic content.
Just when we were getting used to the new layout, it looks like things may be changing again. Keep your eye out for some changes that seem to be taking advantage of the new room at the right hand side. Because there's more room, marketers may have an opportunity to further optimize content to include more detailed titles and descriptions.
Some changes that have been noted include:
Length of titles have been lengthened from 50-60 characters to 70-71 characters.

Meta descriptions have increased by 100 characters per line.
A word of caution: don't start making changes to your SEO just yet, we'll keep an eye on the changes and let you know when it looks like they're permanent (or as permanent as anything in the world of search engines can be).
The impact of the new SERP layout on organic content
I'll start with the not-so-good news. For some pages, the new SERP layout has resulted in organic results only showing up below the fold. In the past, ranking in the top five or six was good enough for most content and resulted in decent click through rates. If your content is on a page with four ads and some other results, you could see a drop in click throughs if your rank is below the top two or three organic results.
On the brighter side, the removal of the ads from the right hand rails means there is less distraction from ads sitting next to organic results. In addition, the extra ad and other content doesn't show for all queries and, in some cases, organic content is still being delivered on pages free of any other content.
Given the variety of results being delivered for search queries, marketers must know which keywords and which content are still ranking at the top of the page and which are being pushed further down due to other types of results.
In addition, since most brands employ a mix of paid and organic efforts – marketers will want to know if their ad content is working in concert with their content to bring in audiences or if the two are  in competition with each other.
To understand your true rank you'll want to know:
Organic click-throughs by position.

How many ads are on the page ahead of organic content.

What other results are served up ahead of organic content.

Most and least competitive keywords.

How your content ranks among competing content.

Where your top ranking content appears –  above the fold, below the fold, or on the second page.
To know your true rank, you'll either have to perform a search for every keyword you're tracking, or you'll need a feature like Universal Search on your marketing and SEO platform. Universal Search features quickly show marketers and SEOs the true rank for content and keywords. Universal Search displays the "other results" as icons to show everything that's appearing on a search results page besides the organic content. Once you know everything that's competing with you for a place on the page, you can start making strategic decisions.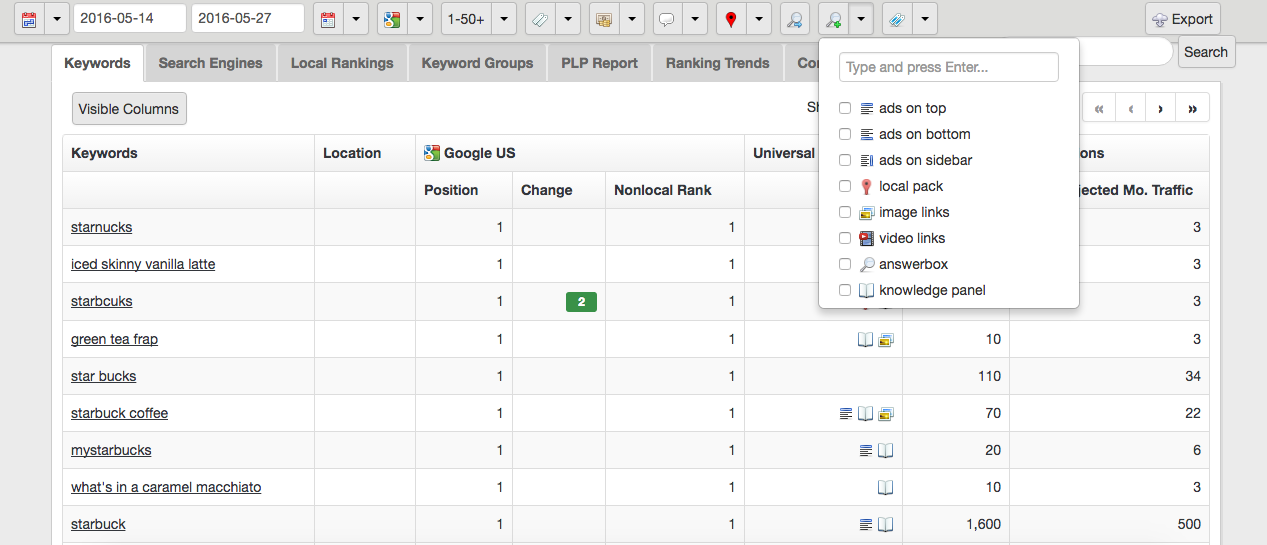 In some cases, you may decide to put more effort into paid placements or you may decide to amp up your content marketing efforts around a specific keyword to make sure it places on the first page of the results. Whatever choice you make, make the choice knowing what's already working, what's not working, and what else is competing for your audience's attention.
Optimize content to improve rank
Once you know what's competing with you on the SERPs, you may decide to place higher priority on keywords with fewer ads and focus on creating content for those keywords.
To get started, you'll want to have a list of the keywords you intend to focus on and the content you already have that's associated with those keywords. Besides your own content, discover competitor content associated with your target keywords and understand how you're currently ranking against competitors in organic results for those keywords. Once you know what content you already have and what content competitors are using to steal your audiences, you can make strategic decisions about which topics and keywords to create new content around.
In addition to creating new content, you may want to take some time to optimize the content you already have and place more emphasis on meta titles, meta descriptions, and schema mark-up. Of course, you'll need a way to get recommendations for specific content assets listed by risk, difficulty, and priority. You may also consider the number of impressions that a particular piece of content is getting currently and it's projected monthly traffic to decide if you want to spend resources to optimize it.
Armed with all the data you need, you'll have the best chance of spending your time creating the right content at the right time with the right keywords targeted at the right audience. Getting daily search data will allow you to monitor keywords and content regularly to see how the SERPs are changing and how your ranking and conversions are changing in response to the adjustments you're making.
Keep in mind that long-tail keyword phrases tend to be listed in the SERPs free of ads and other types of content. Identify the exact questions your audiences are asking and the keyword strings they're employing in their searches. Use the long-tail in content headers, title tags, and meta descriptions to make sure your audiences are getting your answers to their questions.
Improve visibility with other types of content
If you decide not to put your efforts into optimizing organic content to compete on pages with too many other results, you may decide to go head-to-head with some of the other content. That may mean that you'll increase your budgets for ad campaigns or you may decide to compete with the videos or images already on the page. If you do decide to compete, make sure you include captions and video transcripts with the keywords you're hoping to rank for.
Brands with a local presence or local brick and mortar entities will want to optimize their local listings for inclusion in the local 3-pack to stay above the fold. For those brands, getting local search results and tracking keywords and content at the local level will take on even greater importance. Using location-specific keywords, you can build content strategies and optimize content to address the specific needs of your local audience using the same terms they're using to describe their challenges and ask their questions.
Given your Universal Search data, you may decide to optimize content for inclusion in the knowledge graph results or Google's answer box. Although there's no way to guarantee inclusion in the answer box, it's a great way to improve your visibility and increase search traffic and conversions. Keep in mind that Google chooses from first page results – not just #1 rank. If your content is chosen, audiences will perceive your brand as trustworthy and as an authority.
Here are some things to do to increase your chances of inclusion in the answer box:
Use longer keyword phrases.

Use question keywords – how, why, what.

Improve linking strategies.

Optimize titles.

Use target keywords.

Optimize for mobile.

Use schema markup.

Answer relevant questions.

Provide quality content.
And, of course, as with all content that you want to optimize to improve rank, the content must be engaging and relevant and meet the needs of your audience. If you've decided to concentrate on paid opportunities for keywords that have more ads associated with search results, you'll want to optimize your landing pages. As ads look more native, more people may click accidentally. You'll want to decrease bounce rates on accidental clicks by including content on the page to engage visitors at various stages in the buyer's journey.
As with all search engine changes, you'll want to keep an eye on how the SERP layouts are changing and understand what that means for your efforts. If you're looking for better insights and Universal Search data, talk to us and we'll show you how we can help.