Google's recent change to the 3-pack for local search results has created a shift in how local businesses and enterprise businesses with local interests approach local marketing. In the past, even businesses with low SEO value were likely to show up in the 7-pack of local business results. Now, local businesses are tightening up their onsite and offsite presence and turning to content creation and SEO best practices as a way to grab audience share. Those who aren't, may be getting lost in the page rank shuffle.
The Impact of the Google 3-Pack
On August 6, 2016, Google changed how it listed local businesses in search results, eliminating the traditional 7-pack and creating the new local 3-pack view. The Google 3-pack is perfectly designed for the mobile user, filling the mobile screen with three search results based on keyword and the user's location. Appearing in those listings has become increasingly competitive, but a little elusive as the search results change as the user moves from location to location.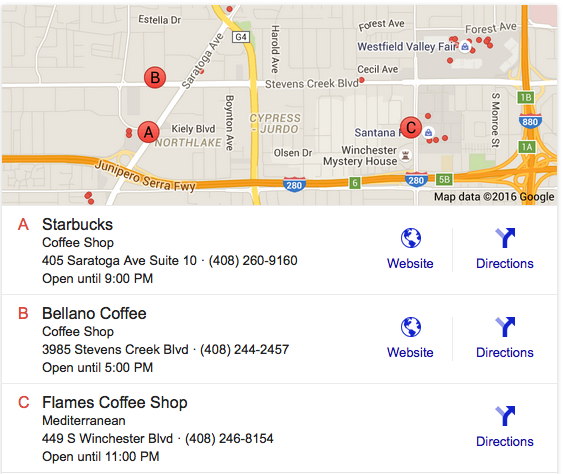 Now that the 3-pack has taken on more of a commercial look and feel, searchers may be looking past those listings and moving on to the organic results which they perceive to be more trustworthy. In either case, applying some good old-fashioned white hat SEO and a few content marketing initiatives will help your local business sites improve ranking and beat the competition.
In fact, the introduction of the 3-pack may have created an opportunity for local storefront businesses and national businesses with regional audiences to build visibility and improve brand awareness among community audiences. Taking advantage of the local listing and organic search opportunities begins with getting the right data at the right time.
Local Onsite Content Opportunities
If you have access to location-specific keywords, you can build a local content marketing initiative around the ways that target audiences in defined geographies are looking for information in your industry. Knowing how people are searching for products and services differently in different places gives you the opportunity to customize website and offsite content to engage and convert local audiences.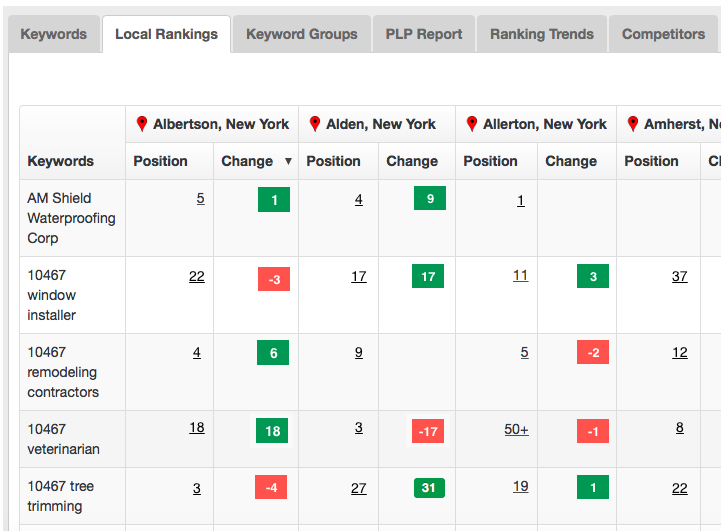 Add geo-modifiers to the keywords you use in content to help the search engines identify your content as relevant to that geographical area. You can target audiences in as narrow a category as a neighborhood, or reach a more regional audience with city or state level geo-modifiers.
When you're trying to reach a local audience, the types of content you create may differ from the content created for a parent company or national business. Focus on local issues and content of interest based on locally-based searches and local search trends. Local website content might include:
Blog posts tied to local news

A calendar of events, including:

Local events

Brand promotional events

Case studies focused on local customers

Daily page for special offers or other timely information

Company updates

Local employee stories

How-to guides

Local newsletter

Neighborhood trends
Local Off Site SEO Opportunities
Creating partnerships and offsite linking opportunities may be a lot easier at the local level than at the national level and can have a huge impact on your visibility both within the community and within the search engines looking for relevant search matches.
Use competitor discovery at the local level to identify what content is competing with you in the search results and taking audience share. Once you've identified the exact content that audiences are engaging with, consider creating some of your own content around those topics.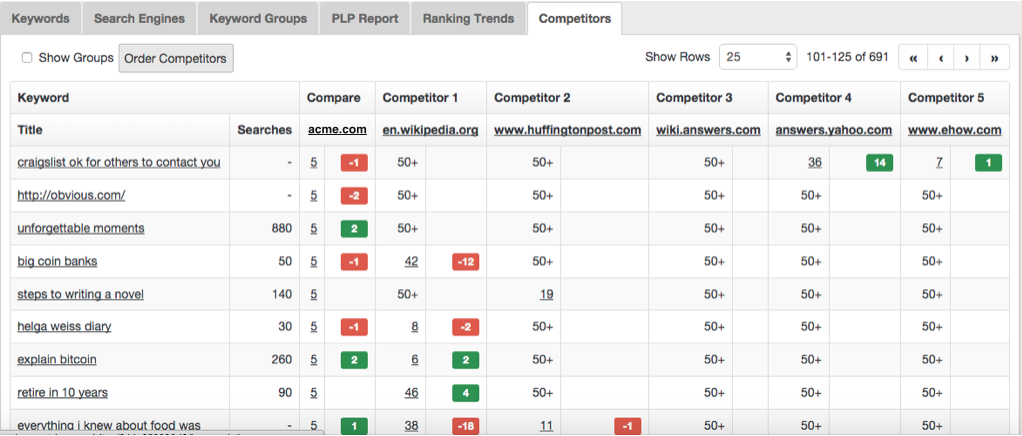 You may find that the competing content is coming from a local news source. In that case, let yourself be known to the author of that publication and offer to contribute content or to publish their content on your website as a guest blogger. At the very least, offer to provide them with industry information to help them with future content creation. Either way, you'll get the SEO value from the content and improve your thought leadership in the local community.
Forming partnerships with local organizations or similar businesses that complement your own are ways to form networks, but also places to garner backlinks to your site. You might offer special discounts or other incentives to members of a local organization in exchange for a link to your website. Guest blogging or sponsoring a local event are other ways to earn links to your site.
Fundamental SEO Matters in Local
How do you rank well for local search in Google? You employ some very specific, but very traditional SEO best practices. For local businesses, there are a few things you should not overlook (because Google doesn't overlook them, either):
Local search directories

NAP consistency

Mobile-friendly design

Optimize individual landing pages

Google My Business profile

Google My Place listings

Local industry forums
One of the elements of the 3-pack listing is a customer rating (star rating system). Google considers your ranking among your customers when they include you in their local search results. Encourage your customers to review your products or services by including a Yelp sticker or link to your Yelp page on your company profile page. Monitor review sites and respond quickly to any negative reviews.
Get listed in as many business directories as possible. Many are free and some charge a fee when a customer finds you via their aggregated lists. Directories are a big opportunity for local businesses. Be sure to create a compelling snippet to describe your business in all listings.
Eliminate any NAP (Name, Address, Phone) inconsistencies. Make sure your NAP information is the same throughout your website, business listings, social media profiles, and search directories. A slight difference in spelling or an occasional abbreviation (Avenue vs. Ave.) will negatively affect your search ranking results.
Industry forums are good places to find out what questions people are asking and how they're asking them. Get your topics and keywords from local forums and include local semantic differences in your content and meta descriptions.
Optimize your individual landing pages with a NAP footer on every page. Use your discovered keywords from search data and from industry forums to inform how you talk about yourself, your products, and your industry on your website.
Accessible Local Search Data
For large brands with local footprints, or agencies with clients in various locations, it's important to get local search data as an integrated part of your existing SEO and marketing platform, and not as a stand-alone tool or an expensive add-on.
Local data should inform marketers and SEOs about where key audiences are finding their content and how specific locations are ranking. You might also want to:
View sortable ranking data by selected locations for keywords

Toggle locations off and on throughout the platform

Sort keyword and location data by keywords, content groups, and campaigns

View average rank by location in a map view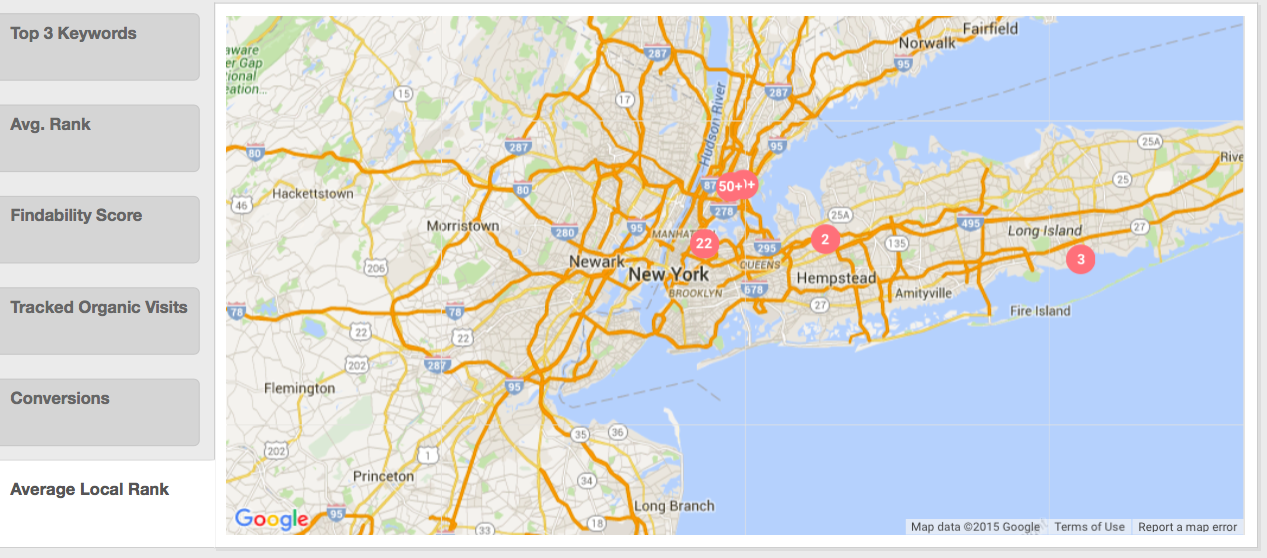 If you want local traffic, you'll have to learn the language of the locals and find out what's important to them. Get to know the locals with geo-modified keywords and local search ranking data. Remembering some basic SEO best practices and creating content relevant to local audiences will help you as Google continues to emphasize local results in response to increased dependence on mobile devices.