Competitor intelligence that leads to actionable insights is more than just knowing what the enemy is up to. Valuable competitor intelligence takes into account the big picture, the entire competitive arena. Re-think your approach to gathering and acting on competitor analytics to include information from search, social, and content marketing.

Competitor Data is Not Just More Data
SEOs and marketers may feel they have more data then they can handle because a lot of the data they're collecting isn't really helping them to make decisions about what they're doing. Using competitor data effectively means integrating it into the layers of data you're already collecting. Instead of looking at your search, social, and email analytics separate from competitor data, look at how your competitors are performing on each of those channels as compared to your efforts.



Use competitor data as part of the data you're already collecting and reporting on, not as a separate effort with it's own set of rules. The challenge for many teams is that they have separate sets of tools to collect data on search, something else for social, and something else for email, and maybe a different tool to manage their content creation and tracking. While it's important to be able to collect and analyze some data separately and get deeper analysis where we need it, it's also important to be able to get a big picture view.
"Because there is such a growing connection between search, social, and content, being able to look at a cross section of this information in a single tool can be really helpful. Your goal is to see how keywords and organic terms that are driving traffic to your content are affecting content and how the types of content you create and share on social are being found on native search," notes Erin O'Brien, COO GinzaMetrics.
To make use of data, SEOs and marketers need a place to collect all the data from all the channels in one place and then be able to analyze it. Once you've identified how audiences are using search terms and the ways people are discussing your brand, you can use those same terms when you share your content or engage your audience on social. The challenge for many individuals working in organizations where SEO and marketing departments are divided by specialization, is gathering all the data in one place to see all the search and marketing efforts as one big ecosystem instead of lots of separate islands each with their own goals.
Data Sharing for Search, Social, and Marketing
The proliferation of SEO and marketing tools and the departmentalization of SEO and marketing functions has led to an environment that makes data sharing difficult. Creating a culture of data sharing in your organization may require you to take the first step and reach out to one other person in the organization with data you've gathered.
If you're monitoring your social media channels and you notice questions or conversations trending around a specific topic, share that information with your content creation team, or with your SEO department to make sure they're tracking keywords associated with those topics. The data that's significant in one area has influence in another area, so data sharing should be a natural part of the organizational workflow.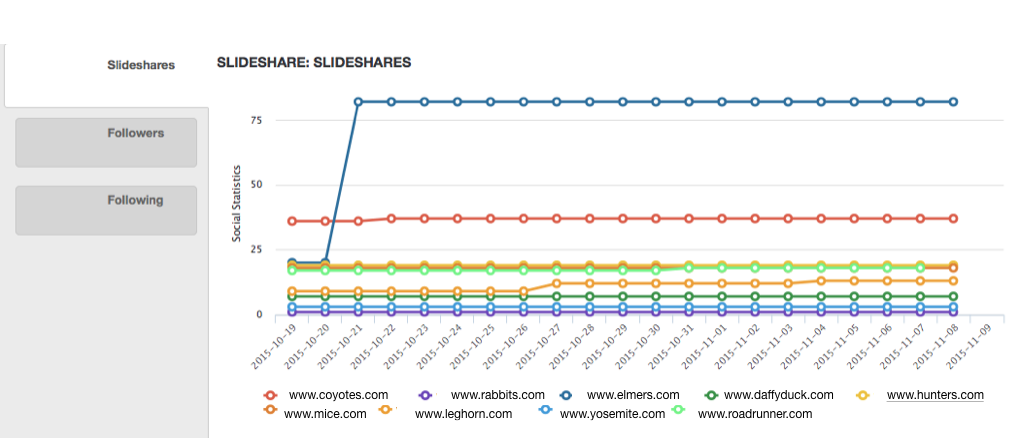 "One of the things we're working on here is tying social trends and share of voice into our SEO platform. This is really useful if you're setting up keyword groups and content groups, which we always advocate and we try to make it easy using our keyword and content group wizard," states Erin.
Setting up keyword and content groups gives you data that can be shared for a variety of functions. Watching the entire ecosystem and how messages are performing for specific product features, product lines, campaigns, geographies, or any other group can be used to inform organic search, social conversations, and content creation strategies in the future.
When you start tracking specific keywords and groups of content across search, social, and content insights, you'll be able to see how people are finding your content, reacting to it, and how that influences activity on your website and conversions. When people talk about showing ROI for efforts, this is the kind of information that allows SEOs and marketers to make those kind of conclusions about efforts.
When the data from social is kept separate from other departments, content may be created in a vacuum, shared on social and sent to subscribers via email. Content creation becomes a one and done activity with no way to track how people are discussing topics in the natural, social setting. Without some insight into social trends, SEOs and content creators miss out on identifying new keywords to track and insights into what new content to create based on audience reaction. The need for information sharing runs both ways as audience engagement on the website or to specific pieces of content can be leveraged as natural areas for conversations on social.
Competitor Analysis Re-Imagined
There are times when a complete, in depth competitor analysis is required – especially when you're considering changing product direction, or adding features or products into your mix that create a new base of competitors. At other times, keeping a finger on the pulse of your competitor base is enough to get the insights you need to make ongoing strategic decisions.
For most SEOs and marketers, most of the time, there are a few things you can watch daily to keep abreast of competitor share of voice and market position.
Google Alerts – set these up for your competition to track where they are being mentioned and how.

Top keyword activity – watch for spikes in keyword activity for topics you're trying to rank for.

Social share of voice – watch for increases/decreases in your audience versus your competitors
"Social share of voice is not the end all, be all of metrics, but it can be used as the signifier that you need to start paying attention and diving deeper into competitor data," notes Erin. "The social media analytics suite we recently released is meant to alert you to changes  in social media engagement that you need to pay attention to by giving you information about what keywords and content are working well for your audience and alert you to when your competitors are experiencing big gains or big losses."
Automated Reporting Keeps Competitors in Your Sights
Most marketers don't have time to log into multiple platforms every day to monitor the rises and falls on all the channels and with competitors. Keeping track of a couple basic metrics and using custom dashboards or a reporting tool to get and send daily emails to all the stakeholders makes it easier to stay current on trends that deserve your immediate attention.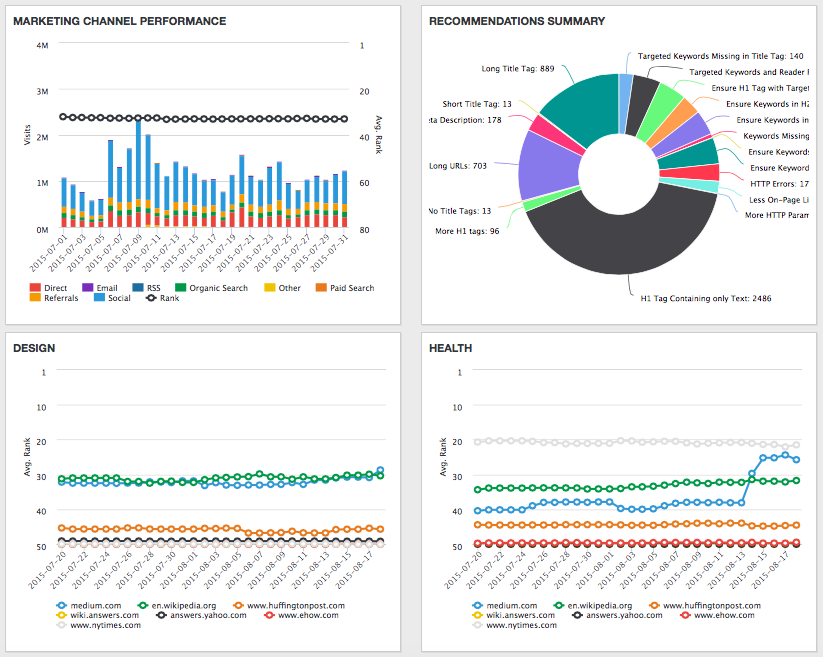 "One of my tricks is to set up a daily reporting module so I can get a quick glance every morning to see top keyword activity, conversions and goal completions, and the summary bar," notes Erin. "In the morning the data is in my inbox and I just take a quick look before the day gets crazy and to check if there is something that takes priority over my regular schedule."
Using modular and customizable dashboard and reporting features, every person on every team can decide which data they want to view and which trends they want to track. Using a single platform for all the teams also makes sharing data easier across the organization and means that everyone is seeing engagement measured in the same way.
If your organization has marketing divided into social media, content, paid, and public relations, and other functions separately, each of those functions will want to first see that data that pertains directly to their function. If you're part of a smaller team, you might want to see a combination of data to inform your decisions. Having a way to customize views and reports makes data sharing easier.
Re-thinking competitor analysis means re-thinking how data is collected and shared in your organization. Gather information from a variety of channels to create an holistic picture of your competitors in comparison to you across the entire ecosystem.
Keywords – understand what competitors are talking about and how it changes over time.

Content – understand how competitors are attracting your target audience and what's working best for them.

Social media analytics – make better marketing decisions based on social trends and share of voice.

Modular dashboards – allow different functions within the same organization see and share similar data.

Customized reporting – get daily or weekly reports that reflect key activity on the channels most important to your function.

Data sharing – share data between functions from one platform to reduce data deluge and create data consistency.