Getting found online is the common goal of two functions, SEO and marketing. The increasing popularity of content marketing and the resulting competition for audience share has created an atmosphere where collaboration has become more important than ever to marketing and SEO success. But collaboration without a shared view into the data that informs strategic decisions is like meeting at the tower of babble, everyone won't be speaking the same language and there is no foundation for collaboration.
Whether you're using tools specialized for either SEO or marketing, or you have a tool that can be used by multiple disciplines, it's important to be able to share data from different departments to understand how various efforts contribute to the findability of your brand as a whole.
Putting the SEO and marketing pieces together
Increasing brand findability by improving overall ranking through strategic content marketing and better SEO practices is the holy grail for brands. Knowing where to get the information that will inform decisions and drive efforts to help improve rank, draw the right people in, and convert visitors is a major challenge in the quest for findability.


"There are lots of places and ways to gather information to improve brand findability. Beyond the traditional SEO and marketing intelligence, customer success teams and sales teams have insights into customer questions and audience pain points," notes Erin O'Brien, COO. "But when we're talking about a tool to inform strategic decisions and allow for improved collaboration, that tool has to include data from SEO, content marketing, social media, local search, and mobile search. There's currently no way to offer an SEO solution without including data from the entire ecosystem and comparing how various efforts are having an effect."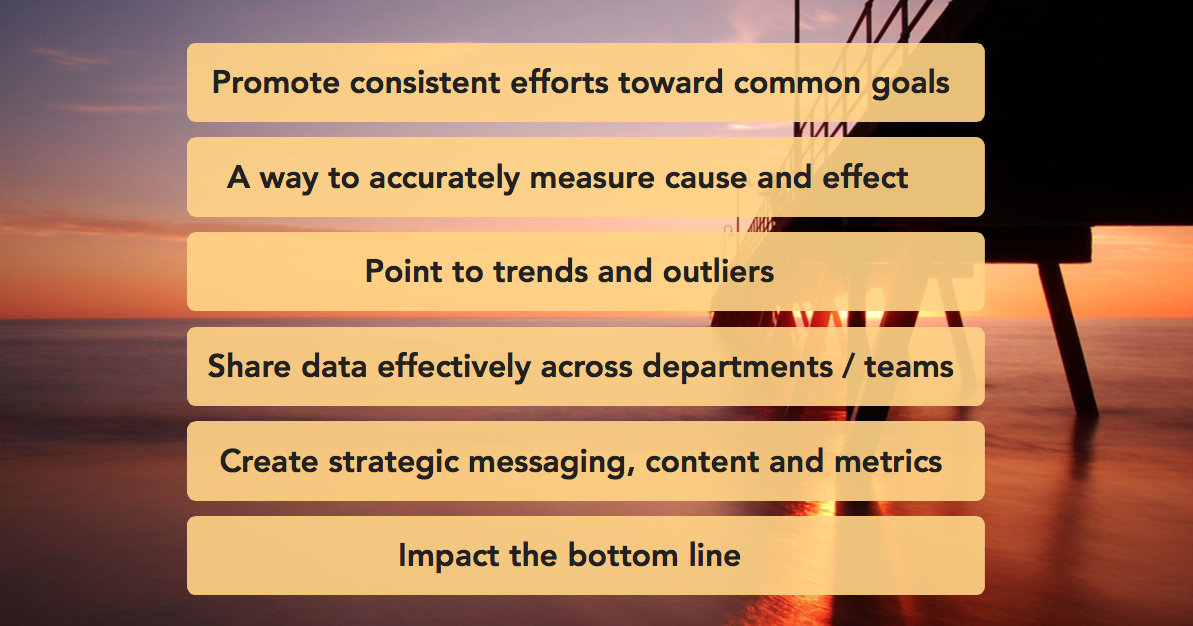 As the SEO and content marketing industries continue to evolve, the data each function needs will become more linked to the data needed by the other function and lead to more data sharing. Whether organizations start to migrate toward tools designed with multiple disciplines in mind, or stay with specialized tools, will not be as important as their ability to share information easily between functions.
"I think part of the reason for building an SEO tool to include multiple disciplines is to be able to share data with those other disciplines in a way that is usable for them," states Erin. "For instance, GinzaMetrics was originally designed to be an SEO tool, but our focus has been to include information for all the functions that affect SEO including content marketing and social media. Finding ways to make that data usable and shareable is a focus of ours moving into 2106."
How much do content and social media drive SEO?
When we consider the idea of overall brand findability and realize that it's the real reason behind all the different marketing and SEO disciplines, then we see how important it is to have connectivity and input from content and social channels to achieve a solid SEO output.
By moving the focus from what each function produces to understanding the effect of each function on brand awareness, SERP ranking, and audience conversion, it becomes immediately clear how critical it is to have a 360 degree view that includes all the elements that contribute to findability.



"Because search, social, and content are becoming more and more interwoven and their effects on each other are more widespread, SEOs need an overview of information that allows them to compare how efforts from social media are having an effect on the other elements of search and content, and visa versa," states Erin.
If your SEO platform doesn't have a content and social layer to it, you may not be getting data with enough depth to make better decisions. On the other hand, if you're using an SEO platform that is starting to shift all the way towards social and content data, you may be making some sacrifices in terms of SEO recommendations and data.
The best SEO platforms need to include social media information like social trends, brand share of voice, and audience engagement overviews without being a social media platform. Similarly SEOs need information about how all the marketing channels used to distribute content are performing in relationship to specific keywords and keyword groups.
Content insights for SEOs and marketers
According to Content Marketing Institute, 88% of organization are now employing content marketing in 2016 (up slightly from 2015). With everyone getting into the content creation and distribution game, it's going to get harder and harder to break through the clutter to get noticed. Moving forward, there are a few key content insights that both SEO and marketing departments will want to keep an eye on to decide where to spend their efforts – either optimizing content or creating new content.


There are a few key factors to consider when diving into content data:
The performance of currently released content

The performance of evergreen content

Other sources of website traffic

Topic and keyword trends
"I know that SEOs know this and I know that most marketers know this, but keywords are not individual words most of the time, they're phrases, topics of interest," notes Erin. "To help with this, we provide a top keyword activity area that shows all the topics that are rising and falling in rank for you and your competitors."
Getting content insights for you and your competitors will help you to determine:
Who is gaining audience share and who is losing.

The kinds of content target audiences are consuming for a particular topic.

Who has better content engagement – you or your competition.

Which mediums are most popular amongst your audience.
Using these content insights, SEO departments can help marketing departments save time and resources and avoid cannibalizing content. For instance, you might discover an older piece of content that addresses a popular topic or question that can be made current by simply updating the information and restating the original ideas using trending keywords and phrases.
The mounting pressure to constantly create new content has created an atmosphere where brands are creating content that starts to compete with their own existing, high ranking content on the same topic. When considering creating new content or optimizing old content, SEOs can help marketers decide where to create complementary sets of content, instead of competing content,  and which keywords and topics to pursue.
"We talk about complementary content when we discuss the medium, method, and message formula for measuring content. If you find something that's working out really well as a topic and you already have a post on it, consider producing a video, a slideshare, an ebook, or feature page. Don't just create more posts about it. Consider creating content in another medium around that topic," recommends Erin.
Collaborate to beat the competition
Beating the competition is a goal marketers and SEOs can agree on. The obvious solution is using tools like competitor and keyword discovery to keep an eye on which topics and content your competitors are using to gain audience share. What isn't obvious, at first glance, is how a competitor is defined. Of course you want to monitor those brands directly competing with you for product or services, but in the search ecosystem, brands that lie on the periphery are just as important to monitor. You'll want to know who is competing with you at the content level and who is competing with you for attention and audience share. Those brands are your competitors as much as the people who are taking sales because they're taking your audience and potential customers away from you.
"Adjacent competitors are those people who may not be creating a product or service that competes with you, but they're creating content that takes traffic away from you. Having competitor discovery as part of your SEO solution means that you have a way of automatically discovering the exact list of keywords and the exact content that is engaging your audience," notes Erin.


Keeping track of competing content may help you avoid creating duplicate content by showing you which content has the domain authority for a particular topic or subject line. Instead of creating a blog post that goes head to head with existing content, create a video or an infographic, or some other type of content that addresses the same topic. This is an area where the SEO department can be instrumental in advising the marketing departments.
Using a keyword discovery tool, you can find additional topics and keywords that are likely to drive traffic to your site. Provide your marketing department with a list of keywords and topics to create content around that will automatically resonate with target audiences to establish yourself as a resource for thought leadership.
The SEO tool mix
The market of SEO platforms has typically had a few large enterprise players, a handful of smaller solutions, and then a number of free tools. The reality is that many organizations are using a combination of tools to get the data they need. There are trade-offs no matter which solution you've chosen. If you're working with a collection of free tools, you are having to do a lot of cobbling together reports and data and there's a lot of manual labor and time involved in order to save money on buying a tool.
The question is, which option is actually more cost effective? If you decided to try a few free tools, but you have to pay an employee or two to manage the tools and create multiple spreadsheets and handmade reports, is the tool really free? On the other hand, the enterprise-level tools can be cumbersome in terms of monthly price and the amount of output that users need to wade through to get the specific information to inform decisions.
Inaccurate, inconsistent, or incomplete data are issues organizations who use multiple platform struggle with every day. Because tools run differently, or they may be gathering data differently, users end up with data that doesn't match up. For smaller organizations, that's a headache they don't really need and having to cross compare information all the time is sometimes what leads brands to move to the next step and the decision to try a single tool solution.
"One thing we're focused on this year is offering a mid-ranged tool at a mid-ranged price that has options for scalable, customizable output to provide the specific data requirements of the organization that doesn't want have 10 million pages and 500,000 keywords, but wants the all the insights from all the marketing channels and competitors," notes Erin.
If you're looking for marketing intelligence to get your brand found, check out this 5 minute video or get a personalized demo.