If you've ever been told by a client to "be more proactive", you're probably working for an SEO or digital marketing agency. How do you respond when a client asks for more initiative? Often, it's not a matter of actually being more proactive, but communicating your efforts and results more effectively.
If you're not using your regularly scheduled SEO performance reports as an opportunity to teach your clients and build stronger relationships, you're missing out on a strategic business opportunity.
Start strong with goals and recommendations
At the beginning of the relationship, set client expectations by setting KPIs based on initial client research and then, as soon as the ink is dry on the contract, dive a little deeper to improve insights and adjust KPIs. From the very start, you want to prove that you can provide data, analytics, and insights beyond what the client can get for themselves using Google Analytics and other free tools on the market.
Initial client reports should include research and recommendations for:
Keyword and content viability

Beating the competition

Website optimization

Keyword and content viability
Beyond making recommendations on the list of keywords your client is already using; you'll want to make recommendations for the keywords they aren't using, but should. Find keywords that are already driving traffic to client content and make recommendations to add the most relevant to the list of tracked keywords and create content to satisfy user needs. Using a keyword discovery tool to keep an updated list of relevant keywords will help you stay ahead of client requests for more proactive recommendations.
Include keyword-ranking results in your reports and compare your client's current keyword and content rankings and findability versus their competitors. Make recommendations for new content, or optimizing older content based on how well your client is performing in organic search for the keywords they're tracking and where their competition is taking audience attention.
Your keyword and content recommendations should also take into account which of the keywords have higher search volume and which may have a lower search volume, but are more specific to your client's industry and target audiences. Use this information to educate your clients about the importance of not just increasing search volume, but attracting the right audience to the right content at the right time.
Get your client's attention by including projected increases in the number of visitors, improved bounce rates, and increases in desired outcomes based on making the changes you've recommended.
Beating the competition
There are lots of ways your clients can get beaten in organic search. Of course, you'll want to monitor and analyze what their direct product and service competitors are doing, but you'll also want to provide insights about who else is beating them in organic search.
Monitor competitors on a daily basis to know which sites are taking traffic from your client. Report on those competitors that are taking the most traffic for the keywords your client is tracking and include examples of the specific content that is engaging their audiences.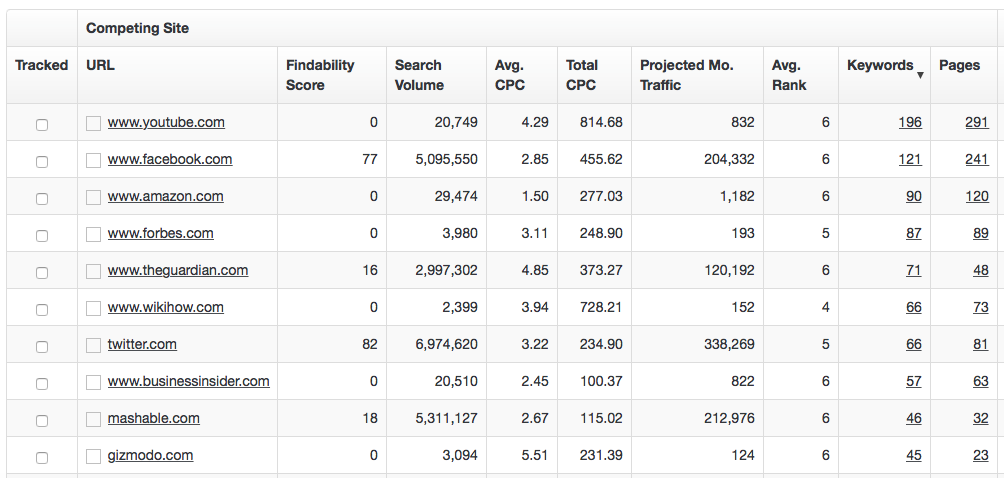 Get a complete picture of how target audiences are responding to content by monitoring competitor activity across various search engines and marketing channels, including social media.
Beyond reporting how your client is ranking versus the competition, include forecasts that predict how your client will fare versus the competition based on recommended updates, and content.
Website optimization
When you first start working with a client, chances are you'll discover a fairly long laundry list of SEO optimizations that need to be implemented. In the beginning, getting all the recommendations lumped together may be too overwhelming. Instead, present recommendations sorted by type:
Keyword and content

Title tags

Meta descriptions

Header tags

Page structure

URL structure

Tag length

Title length

Crawlability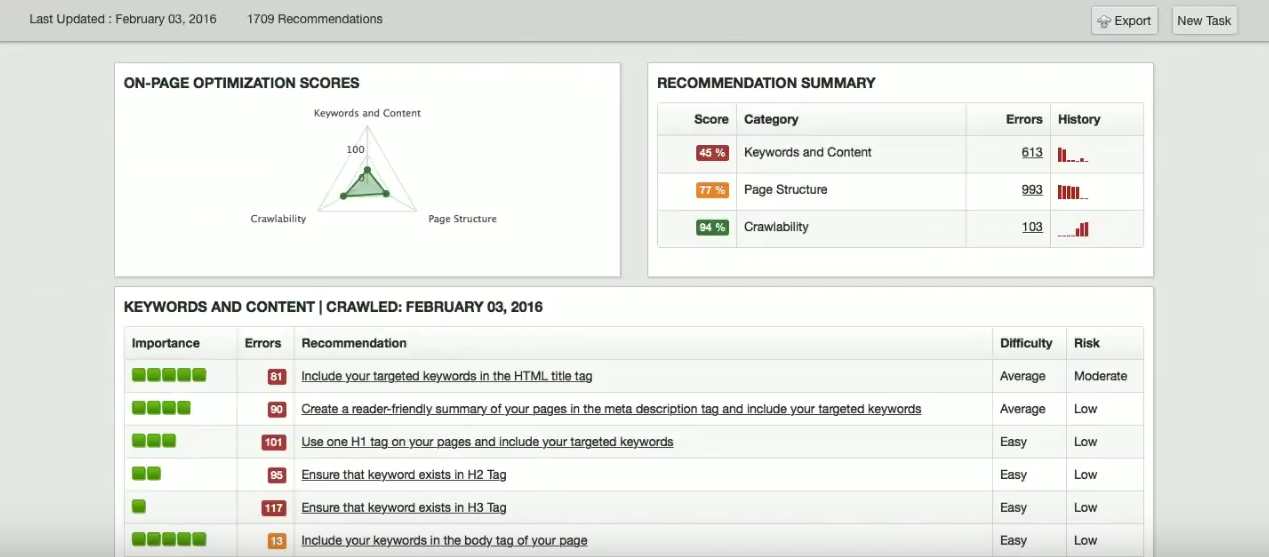 You may also want to indicate the level of difficulty and risk associated with each recommendation. As you continue to work with the client, you can start sorting recommendations based on the keyword groups or content associated with current marketing campaigns, or product focus. However you decide to sort them, providing a prioritized SEO to-do list will help you and your client focus on what's most important now.
Track SEO data daily, report insights weekly
How do you keep your clients informed about your progress and theirs? While monthly or quarterly reports can sometimes show larger picture results, you'll improve your client relationships and keep your agency top of mind by providing weekly progress reports.
If you're getting daily crawl data, you'll be able to reflect on the volatility of the daily fluctuations and how they affect overall traffic to the site. Annotate when new content is published and when Google updates algorithms to show short-term dips or spikes in traffic. Provide insight into the impact of social media; identify trends in traffic, conversions, and revenue; and make short-term and long-term recommendations.
On-going, weekly reports should include:
Revenue generated by organic search traffic

Keyword and content ranking

Competitor ranking and discovery

Website optimization

Insights and recommendations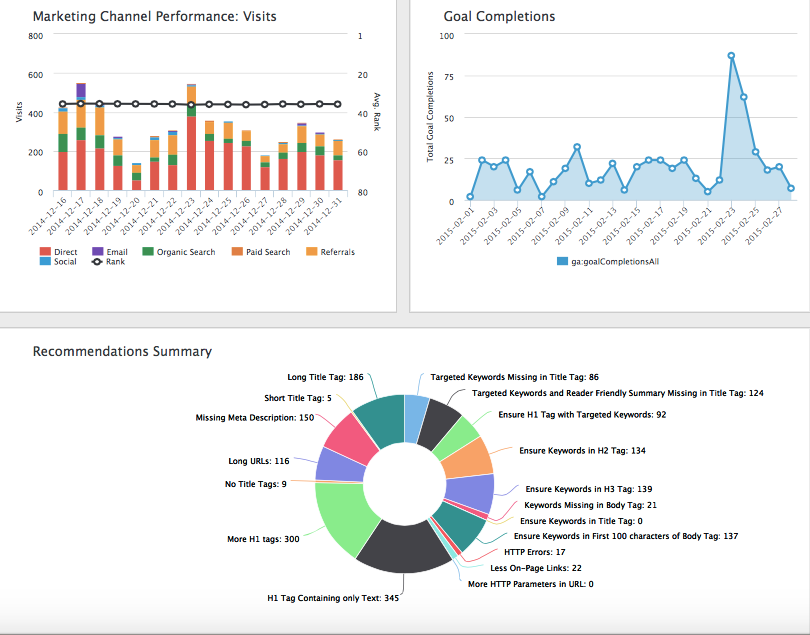 Create a template for each client, based on the data you want to include, and then schedule reports to be delivered at the same time every week.
Tell a story with SEO insights
The most important elements of your SEO performance reports are your insights and recommendations. Use your best story-telling skills to paint a picture for your client and include visually appealing reports your clients will stop to read.
Using a tool that allows you to send reports as colorful graphs will help you to show complicated data in a simple and attractive way, avoiding the dull sterility of Excel spreadsheets. There's nothing more frustrating than spending time gathering data and making recommendations that are skimmed over and filed. Putting important information into visually stimulating charts and graphs guarantees that even the busiest manager will take a moment to look at the data and spend a little time reading the reports you spend so much time creating.

White labeling options allow you to create reports that reflect your own corporate look and feel. Design your reports with your own logo and organize the reporting modules based on your needs and your client's.
As hard as it is to get new clients, it's harder to keep them satisfied over time. Retain clients with weekly SEO progress reports that provide the information they need to make better business decisions and to reach their bottom line goals. Be sure to highlight your contribution by setting KPIs based on your client's goals and then reporting on your progress toward those goals. Get your reports noticed and read by delivering interesting, visually appealing reports customized to your client's needs.
Having a tool that does the heavy lifting will allow you to spend more of your time making recommendations and creating insights. Talk to us today about how we can help.