Short video clips captured on mobile devices and shared via social media have quickly emerged as a popular form of communication. If you are an agency, you are undoubtedly asking how to leverage this phenomenon to help your clients expand their customer base. You aren't alone. Since the Vine mobile app was released in January 2013, companies and individuals have sought the best ways to use the popular app to expose a new, mobile audience to their brand. The real question is, will creating video content really help? The simple answer is yes.
Be Unique – Create Short Videos
Right now, not all companies are focused on providing value through social media or know how to use it well. So many executives think that by throwing information onto their social media channels, some sort of magical voodoo occurs and they will gain immediate traction for their product. This is simply just not true.
As an agency, one key to helping your clients stand out is creating unique content for followers. This is where Vine and Instagram Video can come in. When you allow a short video clip of just 6 or 15 seconds to be shared through your social media channels, it opens up new avenues of creativity that many people haven't thought of yet.
With the release of these services, and their ongoing massive growth, agencies and firms have a new ability to help brands reach their target markets with not only a picture, but through video and sound. This is a game changer.
Showcase the value of your client's product in a creative way using video, and your content has a new ability to go viral or keep a large community interested. This one video may tell you all you need to know about why Vine has become incredibly relevant.
Create, Create, Create = Money, Money, Money
Let's be honest, it can be hard sometimes to judge the ROI of social media, especially with so much content floating out there these days and the breakneck pace that you have to keep in order to create it and consume it. The real goal of social media for companies, from my perspective, is to be able to communicate with their current customers, understand their needs and build campaigns around these.
Imagine this: your client is hosting a major event, and you have helped them build a significant following through sharing pictures of their events through Instagram. These pictures showcased the high quality of the events, but only give a two-dimensional perspective to followers. Now, with these video services, you can share videos of their event as well as have customers provide video reviews during the event. These new capabilities allow you to engage more of your clients followers, don't take up much of their time and forge a stronger bond with them. As we all know, building a strong relationship with your customer (and potential customers) is a key factor in sales success.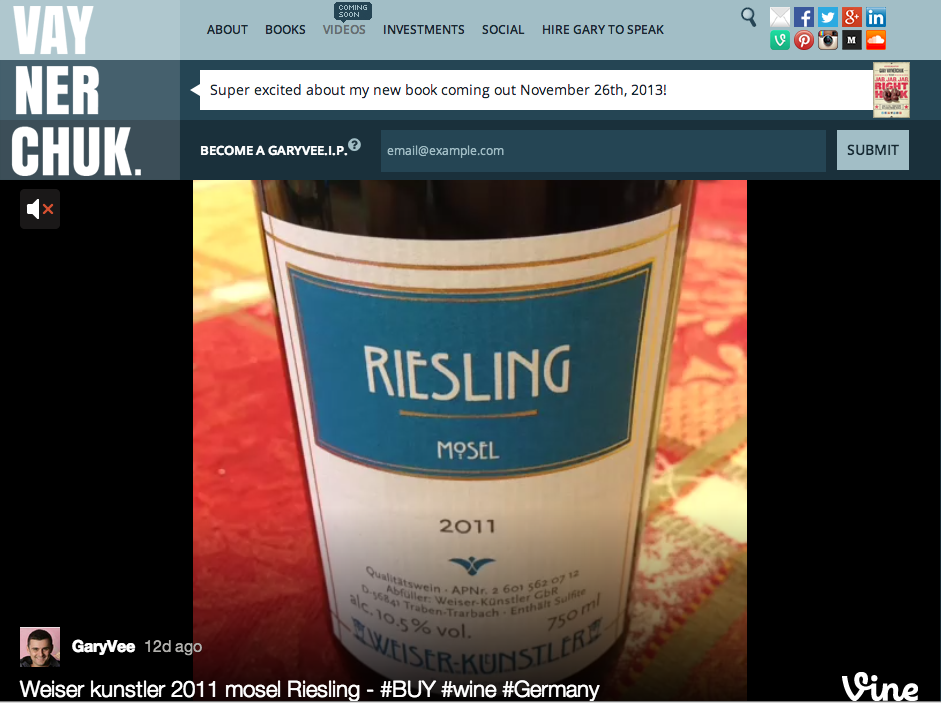 A perfect example of the proper use of Vine, which incidentally was only released 6 months ago by Twitter, would be this 6 second wine review by Gary Vaynerchuk. Gary, creator of WineLibrary, is an expert on wine and he has been using Vine as a unique way to share his passion and knowledge about his favorite vintages.
In this particular video he shares a little information about why he appreciates that specific wine and the qualities that set it apart. While doing this, Gary is not only promoting the specific bottle of wine, but also his own brand, WineLibrary. Because he is able to deliver his message in a unique way using video, it allows for better brand exposure and in return, a higher return on investment.
It takes commitment to make Vine content happen. Just as with a blog, you have to plan your ongoing efforts using creativity and thought. Look at what the San Francisco 49ers did with their Vine account to see creativity in action. These videos aren't easy to get right!
The fact is that agencies that are able to help clients properly utilize these new video services on social media have opened up a new way to build brands and create traction. These new video features may truly revolutionize the way brands share content and build relationships online.
Are your clients using Vine or other video-sharing applications to grow their brand? Share any of your key learnings or ideas in the comments below.
Michael Austin Jacobs (@MrJacobs21) is recent University of Arizona graduate, entrepreneur, and author. He has a strong passion for helping other individuals realize their potential and pushing them beyond their own personal limits.
Michael's current venture, SociaLink App (www.SociaLinkApp.com), is a free mobile app that simplifies the way people network and connect on social media. Also, Michael is about to set out on a challenge to positively influence 1 million people in 18 months through weekly videos, motivational interviews, and other forms of free content. Follow Michael's journey and be inspired through his message at www.InfluenceAMillion.com!