Until now, marketing teams have had to fit their needs into the functionality of a huge marketing platform or cobble together lots of disparate tools to get each users needs met. This meant sifting through data and metrics that may not have pertained to their role or each department using a different platform – resulting in lost time, reporting inaccuracies, and data integrity issues. To address this issue, GinzaMetrics has created a fully customizable dashboard feature for their marketing intelligence SaaS platform. 
Build Your Own Dashboard
GinzaMetrics announced today the availability of customizable dashboards for their marketing intelligence platform. Now, using a simple drag and drop system, marketers can build their own dashboards to view only the data, insights, recommendations, and reports they want to see. Teams can now use one platform to collect data accurately, with insights tailored to each person's role – resulting in better collaboration and improved reporting accuracy. To make the process easier, GinzaMetrics provides popular templates that marketers can use or change on a module-by-module basis.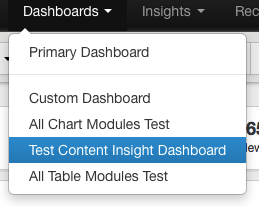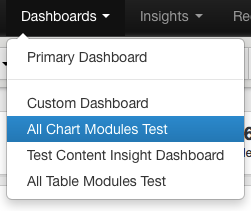 The customizable dashboard feature allows entire teams across multiple functions to share a single platform for data and analytics, but view and gather insights on only the data necessary to execute their individual functions. The build your own dashboard tool allows brands to retain the benefit of sharing data, tasks, workflow, reporting, and overviews while allowing team members to focus on insights and recommendations that are relevant to their role. The single platform as a source for data means users can be assured they're not comparing apples and oranges – reducing time spent double checking whose metrics are correct.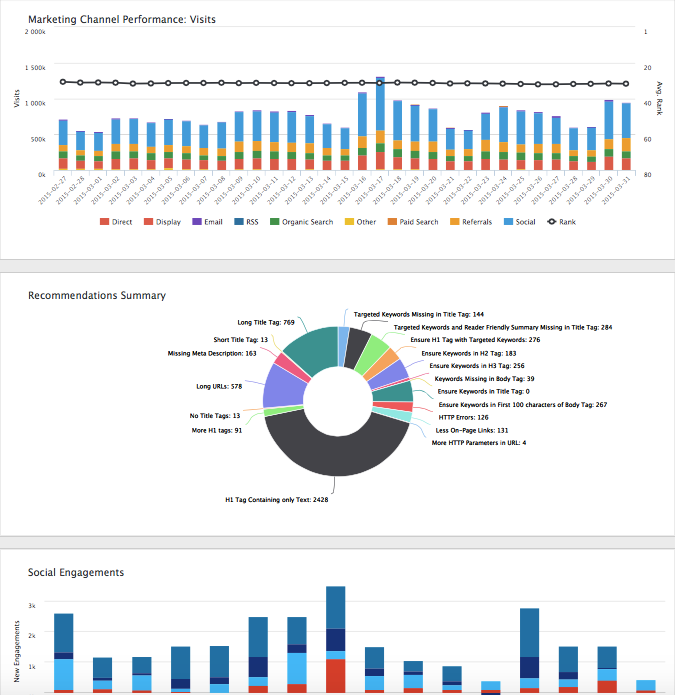 "Up until now, the specific data needs of individuals within an organization has given rise to the adoption of a variety of tools, disparate data, and an awkward workflow," states Ray Grieselhuber, Founder & CEO, "Our customized dashboard tool gives teams the advantage of using the same data source while providing individuals with a custom view of the specific information that relates to their role, thereby eliminating the need for different tools or wasted time spent wading through a lot of extra data."
Drag and Drop Templates
To create a dashboard, users can begin with dashboard templates for
Search

Content

Social Media

Competitor Intelligence

Marketing Performance Overview
Templates have movable modules for every metric GinzaMetrics provides. Users can see as little or as much data as they want on a single dashboard. Individual users are able to create multiple dashboards for different purposes. The new feature is available to all GinzaMetrics customers at no additional cost. Standard plans begin at $1,000 per month.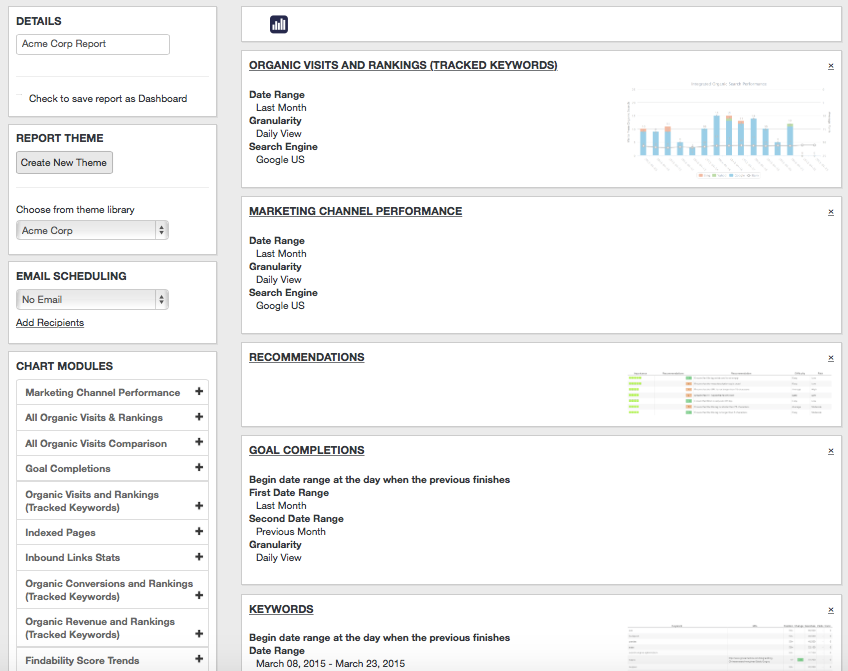 The customizable dashboard feature announcement follows closely behind two other major announcements by GinzaMetrics, Competitor Discovery, and Social Intelligence Tools. GinzaMetrics plans to continue to offer features that meet the needs of marketers, agencies, and large enterprise brands looking to improve findability on the web. A list of available dashboard chart modules follows at the end of this release.
Movable Modules
Available chart modules include:
Marketing channel performance

All organic visits and rankings

All organic visits comparison

Goal completions

Organic visits and rankings (tracked keywords & topics)

Indexed pages

Inbound links stats

Organic conversions and rankings (tracked keywords & topics)

Findability Score trends

Ranking distribution

Recommendations summary

Social engagements
Table modules include:
Traffic summary

Search engine performance summary

Keyword analytics

Keyword group analytics

Content performance – social insights

Content performance – search insights

Competitive intelligence – search rankings

Preferred landing pages – performance

Ranking trends

Search engine comparisons

Page indexing

Inbound links

Linking domains

Anchor text

Annotations

Declined keywords activity

Improved keywords activity

Top keywords competitors
Custom HTML text and images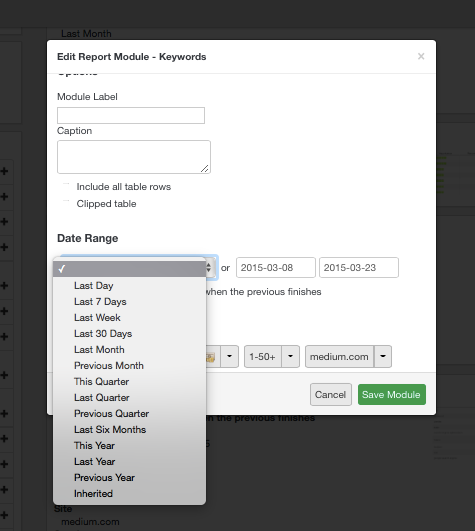 Want to know more about GinzaMetrics' marketing intelligence platform and features? Give us a shout and we'll set you up with a personalized demo to get you started.