Erin Robbins, GinzaMetrics' President & COO, joined Search Talk Live for the last episode of the year to discuss search and content marketing strategies that will help marketers move efforts in the right direction this year. Read the highlights of her interview with hosts Robert O'Haver and Caleb McElveen below, including tips for rising above the competition and avoiding common SEO mistakes.
As the show kicked off, the initial inquiry was around the high number of shares and reads for her articles in Search Engine Journal. In response to a question about her "secret sauce" for getting so many likes and shares for her content, Robbins explains that it all comes down to knowing what your target audiences want to read more about — and delivering. If you create quality content that your audiences want to consume and will ultimately find useful, you will get the most findability for your work.
Priority number one for content marketing strategy – knowing what your audience is looking for now
You need to know what your target audiences care about and what they are looking for now. At the core of a content strategy is delivering something that your audience actually wants to read.  Without putting this concept to work, you can end up posting quality content that boosts traffic and social engagements but doesn't actually convert customers or boost revenue for your brand. That happens when you create quality content but it doesn't match your audience's expectations or doesn't stay in line with what your brand delivers in terms of products or services.
If you go back and review content that you currently have that is performing well, you're likely to find some areas where you've got a mis-match from overall interest and actual brand delivery. Often, these pieces of content can be updated to maintain their high sharability but improved to align better with what you actually deliver to users / customers.
It's all about serving a purpose for your target audience – create content they're looking for that matches something your brand can do to solve a problem or meet a need. For more on what content to create and what's already working in your target market, keep reading…
Competitor tracking: finding and filling gaps in the current content landscape
You should track keywords and topics for your own content, as well as for direct and indirect competitor content.
What are direct and indirect competitors? Consider the example of Nike making basketball shoes. They have direct competitors that include other basketball shoe manufacturers such as Adidas, Reebok, etc. They also have indirect competitors that I'll say fall into two categories: 1. Other retailers, which would be things like Foot Locker andDick's Sporting Goods, as well as online retailers like Zappos. 2. Publications and information sources for basketball shoes such as blogs, magazines, and other online sports sites.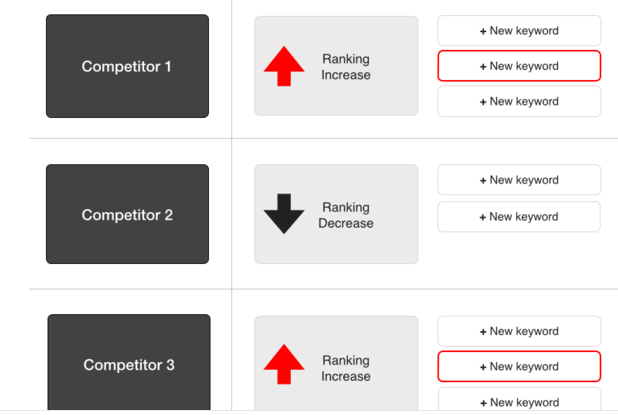 You want to track both direct and indirect competitor content because you can mine for content topic ideas as well as see what types of messaging is working for your audience by keeping an eye on the full market.
When evaluating competitors, look for and consider the following:
Keywords rising and falling in rank and search volume

Check for both you and your competitors
Track across various locations to understand how conversations differ from region to region or in different countries

Content that is successfully meeting people's needs

How is the content performing in terms of rank improvement
What content is included in Google SERP additions such as knowledge panel, answer box, etc.

Can you create content with a different communication method, for example, if a competitor has a great blog, could you make a video around the same topic that would resonate better with your audience?
Keyword discovery: Your tool for identifying keywords to track and finding new content topics
Use keyword discovery to find additional topics and keywords that are related to the type of keywords and content you're already focused on. You can also discover keywords based on your competitors sites and landing pages – which gives you insight into what they're ranking for that you may not being paying attention to right now, but should be. You can leverage these lists as new options for content, looking at creating content in your own words or in different formats than what already exists.
Beyond using direct competitor landing pages, you can plug in an indirect competitor's landing page, such as an article or blog post, and see what emerges – this is often a great way to find new content topics that are new for brands / organizations – because it's coming from an indirect competition source as opposed to another direct brand.
Pick your battles and be strategic where you spend your time and energy. You can't always come out on top of your competitors; the idea is to be able to move beyond and finagle a different way to gain. Use a platform to determine the topical keywords that the competitor is not ranking first for — and aim to take that spot.
Check to see where your competitors' rankings around particular topics are dropping. The combination of their lapsing content and strong search volume is your opportunity to step in.
If you'd like to hear more of the interview with Search Talk Live, listen to the full episode here.
Looking for more information on search, content, and competitor strategy? Check out the Ginza Academy – a free resource for marketers that includes videos, ebooks, white papers, case studies, presentations, and more.