In our recent post on backlink auditing, we learned from Seer Interactive's Zaine Clark that poor backlinks may result in a Manual Actions Report from Google Search Console. Such a report alerts you to onsite issues that have be manually reviewed and manually penalized — a "worst of the worst" of your SEO issues. Google says that, if a site has a manual action, some or all of that site will be excluded from search results.
What are manual actions?
A manual action is a penalty issued by one of Google's human reviewers, after that review has determined that pages on the site aren't within Google's SEO guidelines. Google's algorithms are constant cleaning spam, duplicate pages, et cetera off its SERPS. But, to improve quality more, Google also scans sites for signs that webmasters — or bots — aren't abiding by Google's guidelines. In some cases, the search engine refers sites to a human reviewer. That Google team member takes manual action to remove spam from search results.
I got a manual action notification. What now?
A message from Google can feel like a call from to the principal's office. But, Google's manual action report doesn't only identify actions taken against your site — it offers advice on how to fix them.  Google even offers a means for resolving manual actions: you can submit a reconsideration request from within Search Console. The reconsideration request allows you to ask Google's manual reviewers to take a look at your site again — and remove penalties that may be associated with spam or other issues.
The bad news: it may take a good amount of work to get your site ready for reconsideration, and reconsideration may take a bit of time. Remember, Google maintains its users by providing excellent search results. If users are seeing bad results? Google has all the motivation in the world to remove those results, and fast. Reconsideration requests take a bit longer to process. Your reconsideration request probably won't be processed on the same day — especially if it relates to linking. Manual reconsiderations regarding backlinking may require a few weeks, or even a month, to process.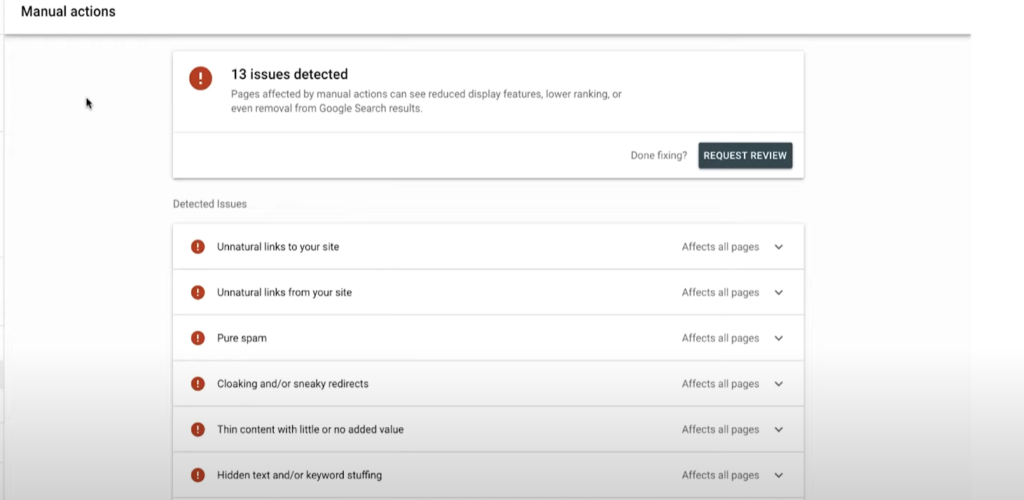 How do I get my manual action reviewed?
First, read through the notification message from Google, and look for obvious errors that could have resulted in your site's penalization. Google itself describes several common manual actions:
User-generated spam:
If Google thinks your site has user-generated spam, it likely means that site visitors are leaving spammy forum posts, creating spammy profiles, or signing a guestbook with spams.  This error usually has a pretty narrow scope: maybe Google only removed your comments pages or a single forum from the SERPs. Search your site, or use the "site:" search query, to check your website for malicious user content (think of terms like "free insurance" or "viagra"). Then, remove any of that inappropriate content, and implement anti-spam to prevent user-generated spam from re-appearing on your site.
Spammy free host:
Using a no-cost hosting service is asking for trouble. Even if your site is clean, Google may penalize you for using a service that mostly relies on spam. If you get this type of manual action, you'll need to check to make sure that you aren't posting spam on your free accounts: then, you'll need to contact your hosting service to let them know about the issue.
You may want to note: Google typically doesn't penalize you for being on the same IP address as a spam site, so there is a  limit to the theory of "don't hang out in bad neighborhoods." Just don't fall for the snake-oil tactics of sites with names like "freegreathosting.net."
Structured data issues:
A structural data manual action means that Google suspects your site's markups aren't following structured data guidelines. For example, if JobPosting structured data appears on a page, but there's no job listed, Google's reviewers may flag that page as spam. You could also be flagged for posting inaccurate details on that job posting — say, you're actually seeking a job and not hiring for one, or you've included incorrect organizational or location data.
If you have a structured data error, run your page through Google's Structured Data Testing tool, and get your schema in order.
Pure spam and other spam issues:
Just what it sounds like, a Pure Spam manual action means you've been caught using aggressive spam techniques. Google may also issue specific manual actions for things like cloaking and keyword stuffing. In general, spam includes all the black-hat SEO you definitely should not be using. These issues might include:
Thin content: The Webmaster Guidelines prohibit automatically generated content, affiliate pages with no added value, or content scraped from other sources. If you're experiencing a manual action on pages that aren't stolen — that are simply low on content — consider using noindex tags or a robot.txt file to tell bots to disregard those pages.
Cloaked images: Showing text to search engines, while showing images or flash content to users, is a no-no. Repent of your sins and use good alt tags.
Cloaked text: Similarly to cloaked images, cloaked text can be shown to users and not to search engines. That's a spam tactic. However, hidden tabbed content is okay. If you need to hide text, just do it the right way.
Doorway pages: Don't use gateway pages or sites used to rank for specific search terms, before dumping users onto content that may rank less well for those terms. Just say no.
Hiding text: Hidden text is an amateur-hour black hat SEO tactic. If an error on your site is covering text with an image or blending it with the background, Google may flag the hidden text as though you purposefully covered it.
Sneaky redirects: Sneaky redirects send users to a page they didn't request. Make sure your link text matches your page.
If you receive an action for your spam activity, check Webmaster Guidelines to make sure you understand your crime. Then, repair your site. When you're certain that you're no longer in violation of the guidelines, request a reconsideration from Google.
Unnatural Outbound Links
If Google detects artificial or manupulative outbound links from your site, you may receive a manual action. If someone's paying you to link to their site — the gravy train is over. Pull those links. If you're participating in excessive link exchanges, stop. For best results, remove these links. Alternatively, change them so that they no longer pass PageRank, for example by adding a rel="nofollow" tag, or by redirecting them through a page blocked by robots.txt.
Unnatural Inbound Links
Unnatural inbound links are one of the more common manual action alerts. Google may flag unnatural links to your site because it believes those links will deliver undeserved PageRank.
If you receive this manual action, download a list of links to your site from Search Console. If another domain is creating tons of spammy links to your site, contact the webmaster of that site. Ask that they either remove the links adding tags like rel="nofollow" to those links. If your request goes unheeded, congrats: you get to use the disavow tool. Disavowing should only be used when low-quality inbound links are definitely hurting your rank; these aren't for everyday messy inbounds. Google notes that, "Blindly adding all backlinks to the disavow file is not considered a good-faith effort [to have those links removed], and will not be enough to make your reconsideration request successful." So, use the disavow tool sparingly.
The bottom line: manual actions are bad, but you can bounce back.
Document your fixes as they happen — you may need to submit your actions as part of your reconsideration request. And, don't apply for reconsideration until you've completely — and permanently! fixed the problem.
Remember, reconsideration requests take time. And you may not bounce back to your original rank even after Google approves your reconsideration request. However, Google's made it clear that they don't hold grudges: an repaired manual review won't hurt your rank. But, your rankings may not bounce back. That's precisely because you've cleaned up the spam tactics that were artificially boosting your rank. In short, Google is doing its job.