For many retail businesses, the holiday shopping season is when the bulk of their profits are made – it is when they go into the black (hence the term "Black Friday"). eMarketer predicts that U.S. web shoppers will spend $61.8 billion in November and December, a 15.1 percent increase over 2012.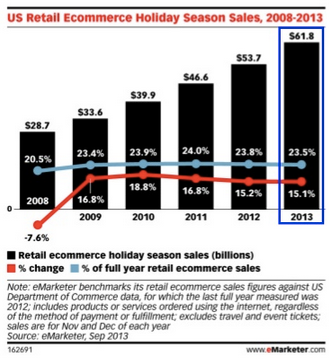 Ensuring that their eCommerce website is optimized for organic search and contains compelling, engaging content is essential – and a process that must start far before the leaves start to turn and the weather cools down.
Usually, early November is when most etailers start posting holiday-related content and sharing news of sales and other seasonal deals; however, the search engine optimization tactical implementation should begin long before then. After all, a single day during the season can make all the difference for any retailer – both online and offline.
There are several key steps that retailers can and should take during the holiday season in order to ensure that their site both ranks highly in the search engine results pages (SERPS) and encourages conversions. After all, a page one ranking alone won't generate sales – the user has to be able to easily navigate through the site and down the sales path.
Here's a checklist of activities that will help ensure success during the holiday season:
1. Identify targeted keywords, both high volume and more specific long tail phrases.
For instance, key phrases such as "Christmas gifts" or "holiday 2013 presents" as well as the exact names and brands of the various products that your store carries.
Also consider including key shopping days such as Black Friday and Cyber Monday, as well as indicators of value such as free shipping, discount codes, buy-one-get-one free deals, and other purchase incentives.
2. Create content.
Focus on content that's not only keyword-rich, but also compelling, humorous, useful and valuable to the end user.
Get GinzaMetrics' tips for content marketing.
3. Look at your site from a customer's point of view.
Visit from different browsers and devices, check the load speed, and ensure that it is simple and intuitive to navigate from a search engine results page to product information to finally making a purchase.
4. Reduce friction.
Minimize the amount of clicks it takes for a user to get from the SERPs page to the checkout.
5. Track abandoned carts.
Consider using software to track abandoned shopping carts and follow up with emails, discounts and/or advertisements reminding your customers of the items they may be interested in but haven't yet purchased.
6. Monitor the competition.
Observe the keywords and tactics your competitors are using, and copy what is working for them – especially in regard to search rankings. Don't forget to review their backlinks!
7. Get a grasp on Google's algorithm updates. 
Understand the changes that occurred as a result of Google's Penguin and Penguin 2.0 updates and analyze your site's backlink profile accordingly.
Disavow or remove anything that could be deemed negative, black hat or otherwise spammy.
Keep in mind that social signals play a major role in these new ranking factors.
8.   Prepare social media channels.
Ensure that your site's social media channels and programming are on-point, and that you have claimed all the relevant profiles – especially Google Plus.
Pinterest and the various shopping search engines are also helpful.
 9.   Submit your feed to Google's shopping engine.
If you haven't already submitted a product feed to Google's shopping engine, what are you waiting for? Get that organized before the holiday shopping season really starts.
Many ecommerce content management systems offer easy solutions for submitting your product, and if not, it is doable within Google Webmaster Tools or using the Google API for Shopping.
10. Optimize for mobile.
If you haven't started optimizing for mobile already, take into account that mobile commerce is expected to gain a larger share of U.S. e-commerce sales in 2013. eMarketer predicts that M-commerce will make up 16 percent ($41.68 billion) of the $262.30 billion that U.S. online shoppers are expected to spend in 2013.
More than 60 percent of mobile purchases will be made on tablets, according to eMarketer. Mcommerce is expected to continue to grow to $113.57 billion by 2017.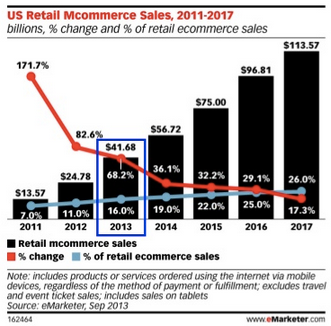 11. Look at historical analytics.
Review last year's analytics and set up benchmarks to track and monitor this year's progress.
12. Anticipate popular products.
Identify key products and packages that will likely be popular for the holiday season, and build promotional (including social and link-building strategies) around those deals.
 13. Make sharing easy.
Build optimized links and landing pages into your marketing emails, including social components to make it easy for your existing email clientele to share deals and post on your various social media platforms, giving your site improved social signals – which will in turn improve your site's SEO.
Ecommerce site owners and managers, how are you planning to prepare for the upcoming 2013/2014 holiday season?