The following blog post is an recap from a webinar with Marc Eberhart, Director of Marketing, Chegg.
Today I had the pleasure of speaking with Marc Eberhart, Director of Ad Services, at Chegg, the leading hub and online education portal for students. Marc has been involved with SEO for over 15 years at companies ranging in size from 25 person startups to global corporations with over 160,000 employees.
Marc has a unique background in that he started his career in sales, picking up programming along the way and now specializes in large-scale growth through SEO, content marketing and advertising. Both him and his team have been among the most valuable of the customer advisors we've had at GinzaMetrics, always giving us helpful feedback and recommendations on how to improve our platform.
Taking a logical path through your organization
During the webinar today, Marc covered one of the most important topics in SEO – how to sell it to your organization. As part of his approach, he talked about the need to simultaneously get C-level buy-in to SEO as well as get the operating teams (design, product, engineering, marketing) to understand the benefits up front.
It was worth doing the webinar just for these two points, but I'll share one of the graphics that Marc used talking about how to approach the operating teams based on the flow of product spec and distribution, starting with  the design team: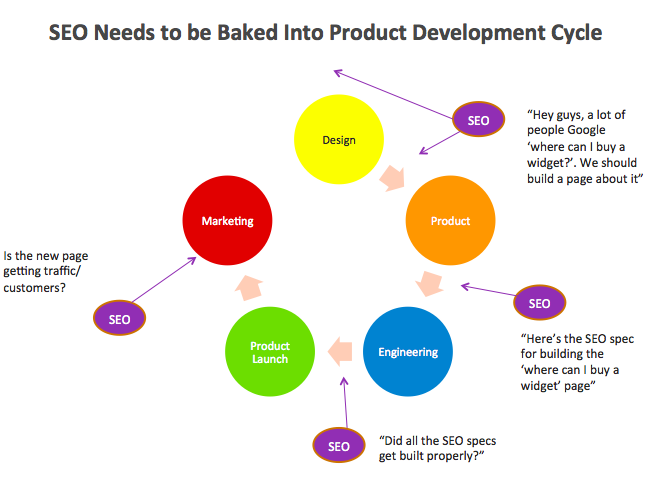 The idea is that by starting with the product spec and design stage and getting people to think about SEO as the product is built, you'll save 10x the amount of work you would have had to do by waiting until the product was launched and the marketing team was involved.
Provide tools to your team to help them be successful
Another tool that Marc built internally was something he calls the SEO Pyramid of Success. If you do a
google search for SEO pyramid of success
,
you'll see that there are many versions of this, but what stuck out for me was the way that way Marc described it.
From what I could gather, it is more concrete than many of the similarly named tools in that it describes exactly the type of URLs that should be created, how javascript should be used, how page titles should be constructed, etc. The lesson here is that, while there is a ton of great info on the web, you still have to have someone internally define what that means for your organization and provide actionable recommendations in that context. All of the companies that we've spoken to that have been successful with SEO have made this a priority.
Takeaways for Successful SEO & Marketing Teams
The above two topics are just a sampling of the great lessons Marc shared with us today. I myself took a few pages of notes on the following topics. Be sure to take a
look at the webinar
and get in touch with us if you have any questions that you'd like us to follow up on.
Approaching topic and keyword discovery on a site like Chegg with a lot of UGC and long tail content

How content creation works at Chegg

Learning to speak multiple languages as an SEO in order to present to the C-suite, marketing teams, engineering teams, IT and more

Starting with a small project, demonstrating impact and getting buy-in for more

Building an internal SEO spec document

How to decide on doing SEO internally or with an agency

Demonstrate how a small SEO team can have a large, cultural impact on a big, publicly traded company

Dealing with marketing mix optimization and the tradeoffs between SEM and SEO

Defining what SEO success looks like
Future Webinars for Marketing & Search Strategy
We do webinars with great speakers regularly. Be sure to
sign up for our newsletter
so you'll know about the next one! Have an idea for a webinar or want to propose a speaker / guest?
Let us know
!