What does it take to earn above-the-fold placement for your content marketing assets? A lot more now that Google has eliminated ads on the right-hand side and increased the number of ads on the top from a maximum of three to a maximum of four. In addition to the increased number of ads, the top of the search page may be filled with Google's local 3-pack, shopping options, and knowledge panel content followed by organic results. While the new ad layout may improve PPC campaigns, marketers and SEOs are still watching to see the impact on their content campaigns and worry that even their best efforts won't result in top of the fold placements or even first page results.
Universal Search Results Feature
The new Google SERP (Search Engine Results Page) layout has changed what it means to rank second or third in organic search and, in some cases, top organic search results may not be visible above the fold for desktop and tablet users.
In the past, content marketers could feel confident that content ranking third in organic search results would be visible on the first page above the fold. Now, ranking first or second may still mean that your content isn't visible above the fold. Marketers need to know what else ranked ahead of their content in search results to understand the true rank of their content and to make decisions about where to spend time and resources.
Erin Robbins, President GinzaMetrics, explains it this way, "Picture this: Your rank tracking tool tells you you're ranking number one for some high search volume keywords and you think you're golden. But you realize you're not actually getting the traffic you once did. While you may be ranking number one in terms of organic results, there may be lots of other things on the page that pull user attention, and ultimately traffic away from you."
Universal Search is a new feature in the GinzaMetrics platform that shows users all the other things that are appearing on the page along with their organic content and keyword ranking results, allowing marketers and SEOs to make decisions based on their "true rank" in the SERPs.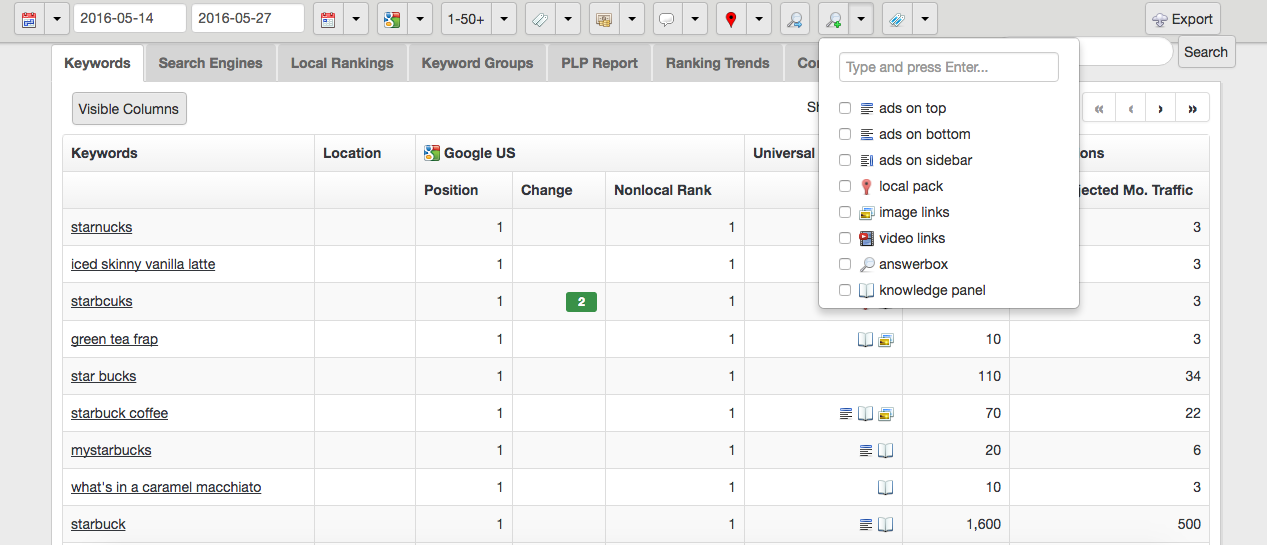 The Universal Search results are displayed as icons to show what combination of ads, local pack, knowledge panel, and other non-organic content is on the page in any position. Users can filter out the results to view only those results that are important to them. Marketers and SEOs can use this information to determine exactly what's appearing in organic search results and decide where to optimize for organic content rankings and where to focus paid efforts.
Creating a balance between PPC and Organic Content
While it may seem like the changes in the SERPs layout have unfairly targeted organic content, paid advertising results and associated costs have been impacted by the reduction of the number of ads shown on a page. Removing the ads from the right-hand side of the page and placing four at top and three at bottom has reduced the total number of ads on a page from eleven to seven and increased the competition for real estate on pages shown for high volume keywords.
Moving forward, marketers are going to have to be wary not to cannibalize their own results, paying or working toward appearing at the top of the same page with both paid and organic efforts. Using a tool, like Universal Search, marketers will now have a clearer picture of what's happening when someone searches for a particular keyword. Given this information, marketers and SEOs can decide where to apply their efforts. Depending on their goals and who is appearing in the local pack and Google ad selection, brands have a few choices to make. They can:
Optimize content to try for the number one position where there aren't a lot of non-organic results.

Optimize local SEO to rank in the local pack.

Place ads instead of content.

Place ads on high search volume keywords (more expensive)

Run ads on lower search volume long-tail keywords (less expensive)

Focus SEO efforts on high search volume keywords.

Focus search on long-tail keywords.
However choices are made, it's clear that we will have to continue to make hard choices based on having the best data available and getting the whole picture in terms of search engine results for all efforts, both paid and owned.
Staying at the top of the SERPs
The slimmed down look of Google results pages is another indication of Google's commitment to providing great experiences for mobile devices. Even if individual businesses haven't embraced the popularity of mobile, Google has been continuing to focus on providing the best possible experience for users of mobile devices and is backing that commitment up with the new search engine results page designs and continuing updates to the mobile-friendly algorithm changes.
Staying relevant to target audiences is still the best way marketers can get their message out and maintain their findability. Marketers who want to continue to show up in search engine results can't ignore the emphasis on local results and mobile usage. In fact, look for more conversations around marketers and SEOs emphasizing and optimizing for local results for both B2B and B2C businesses, even if they don't have a brick and mortar presence in specific locations.
"Google is serving up so many local-related results that all businesses should be tracking keywords at both the national and local level and understanding the regional differences in search queries to make sure they're optimizing content to be more appropriate and relevant to audiences at the local level," states Erin.
Content marketers and SEOs focused on getting found will have to be even more diligent to make sure the content they produce is relevant and optimized for the best possible search results. In addition, marketers will need to look beyond the Google search results page and increase their brand's presence on other channels that the search engines find relevant in order to continue earning rank with Google.
Consider making improvements in the following areas:
Videos

Images

SlideShares

Podcasts

Social media

Earned media
Just as blogging has become a mainstay of content marketing up until now, other forms of communication and message development and distribution may be gaining in popularity as it becomes harder and harder to rank for text only content and as mobile users are demanding more video, audio, and image-based results.
"I don't care who you are, mobile matters," states Erin. "Whether it's phone, tablet, or whatever. Your content needs to be findable at the very least. While not everything on your site needs to be consumable on a smaller screen, the vast majority of your content needs to be findable, at least."
Stay relevant, my friend
There has been some speculation that bounce rates will increase as audiences click on ads accidentally and return to the results page immediately or click on ads and bounce because the content they're led to is too far down the buyer's journey for their needs. Whether you're using paid or owned media to promote your brand, you'll need to create landing pages that stick and content assets that are relevant at the keyword and content level. Relevant content that addresses audience needs and is optimized at the page structure and crawlability levels will continue to be rewarded by audiences and search engines, even as page layouts and algorithms continue to evolve.
"If you're not getting where you think you should be with your search results, I suggest doing a site and content audit to see what you have and what's working and what isn't," suggests Erin.
A site and content audit can also help you determine:
Are you cannibalizing your own content?

Does your content match audience needs?

Are you targeting the right keywords?

What search terms are currently being used for your solution?
Staying relevant means first establishing audience personas and then serving those audiences with content that reflects the conversations they're having on social media and how they're asking questions and searching for information. Using keyword discovery tools can help determine what types of keywords and terms people are looking for and how they talk about topics in your industry without any prompting from you. From there, you can create content that mirrors how people are already natively searching and discussing topics on their own.
Knowing who your audience is and where they're engaging in content will also help to focus your efforts on the types of content your potential customers want and where they're going to be informed or entertained. Blindly creating videos or pursuing the latest social media channel may be a waste of time if your audience wants white papers served via email. Evaluate your content at the medium, method, and message level and determine what's working and what's not for your audiences.
Getting found requires having a variety of results at your fingertips including:
Complete SERP results

Keyword ranking results

 A list of keywords that you should be ranking for, but aren't

Content ranking results

Competitor ranking results

Competitor discovery

Local and mobile search results

SEO recommendations
Watch the Found Friday episode here:
Universal search and what's influencing where you appear in the search engine results
[vc_column_inner width="2/3″][vc_row][vc_column width="2/3″][vc_video link="https://www.youtube.com/watch?v=2DIuWjk_hAw" css=".vc_custom_1438627244022{margin: 10px 10px !important;}"][/vc_column][/vc_row][vc_row][vc_column width="2/3″]