Choosing the best SEO platform, service provider, or both for your business can be a time consuming task. Picking provider options, sitting through demos, and being added to a sales cycle is no one's idea of a good time. In another article on choosing the right SEO and content marketing platform, we discuss the five steps in the process to make sure you choose the right solution for you.
A quick overview of the five steps (but check out the article for more):
Create a list of basic needs — those things that you must have in the tool. We'll dive into that below.
Consider what features are frustrating you about your current content and SEO tools, or lack thereof.
Develop a wish list of features that you'd love to have if there's room in the budget.
Determine a budget guideline and don't be afraid to share it with the companies you're considering.
Consider who will be using the tool in your organization and make sure the above items have been discussed with them.
Here, we're just getting down to the actual features and functionalities of an SEO platform or solution provider so you can check off what you need.
Download the ultimate checklist here.
First up in our SEO platform consideration: How much do you need
Here's a list of quantities you should consider before getting started with an SEO or content marketing solution.
Keyword Monitoring
When we're talking about keywords, there are two options: rank tracking and monitoring. People commonly use these terms interchangeably, but they're not the same thing. Rank tracking is check of a keyword's placement inside of a SERP (search engine result page) while monitoring is done intentionally to drive insights, actions, and reporting. Keyword monitoring should include several of the elements we list below – like universal search features, mobile and desktop insights, and rank versus competitors. If you're looking for a standalone rank tracking tool there are several out there, but usually have fewer considerations from a feature set standpoint.
How many keywords is "enough"?
is a common question. If you're using a platform that makes you feel like you're having to cut corners on your keyword strategy then it's probably not the right platform for you. Regardless of your platform or tool choices, no one is going to give you unlimited keywords without a cost associated, so either have some idea in mind of your keyword tracking needs, or be prepared to discuss a strategy for finding out.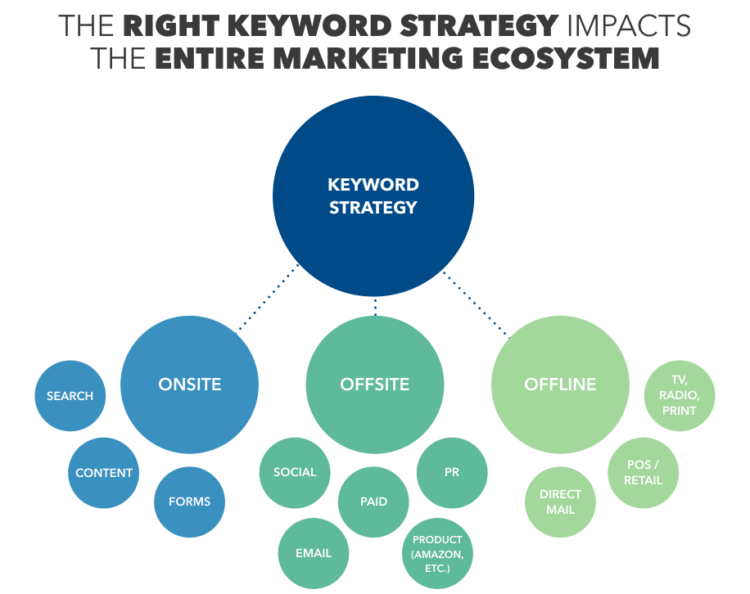 Take a look at a few of our articles on keyword strategy for more if you've got questions.
We touch on the frequency of keyword monitoring (or rank tracking) in our feature descriptions below, but mention it here as it can sometimes be considered a quantity as well. This comes into play if you're using a tool that is "credits" based and will charge you more per time you fetch ranking data. Standard keyword monitoring amounts range from a few hundred to hundreds of thousands, and strategies that fit anything in between. You may be tracking your organization across different locations and languages and set them up as individual sites, or you may choose to track folders and subdomains differently depending on offerings.
Pages / URLs crawled
How big is the site you're analyzing, is there more than one site? Are you looking to track offsite content urls too? Do you want to crawl competitors sites? These are all questions to ask when considering what you need from a crawling standpoint and what budget looks like for your organization.
Desktop and mobile
Do you need to track ranking for desktop and mobile devices separately? Do you need that tracking for all keywords or just certain ones? While many platforms do not charge to track both mobile and desktop rankings, there are some that do – so be sure you know what your needs are first. Consider your location needs when looking at mobile as well – often sites that have regional or international users should consider local + mobile pairs.
You may also want to consider individual device types, such as iPhone or Android devices, to get the most relevant data for your business. If you require or think you'd like that level of data be sure to not only ask about its availability in your SEO solution but also the possible cost. (We don't charge extra for device-level or multiple search engine tracking at DemandSphere.)
Locations
Locations – these can be city, zip code, state, region, or country level locations – depending on your needs. What you're looking for in a content marketing and SEO platform should suite your organization's needs around audience analysis and insights at any local search granularity you choose.
Consider your location and search engine pairs, as we'll mention again below. You may want to track Google for US locations but Yandex in Russia and Naver in Korea. (Take a look at more on monitoring international search engines here.) If you're not sure if you need to consider local search, ask one of our strategists and read more about local SEO practices here.
Search engines tracked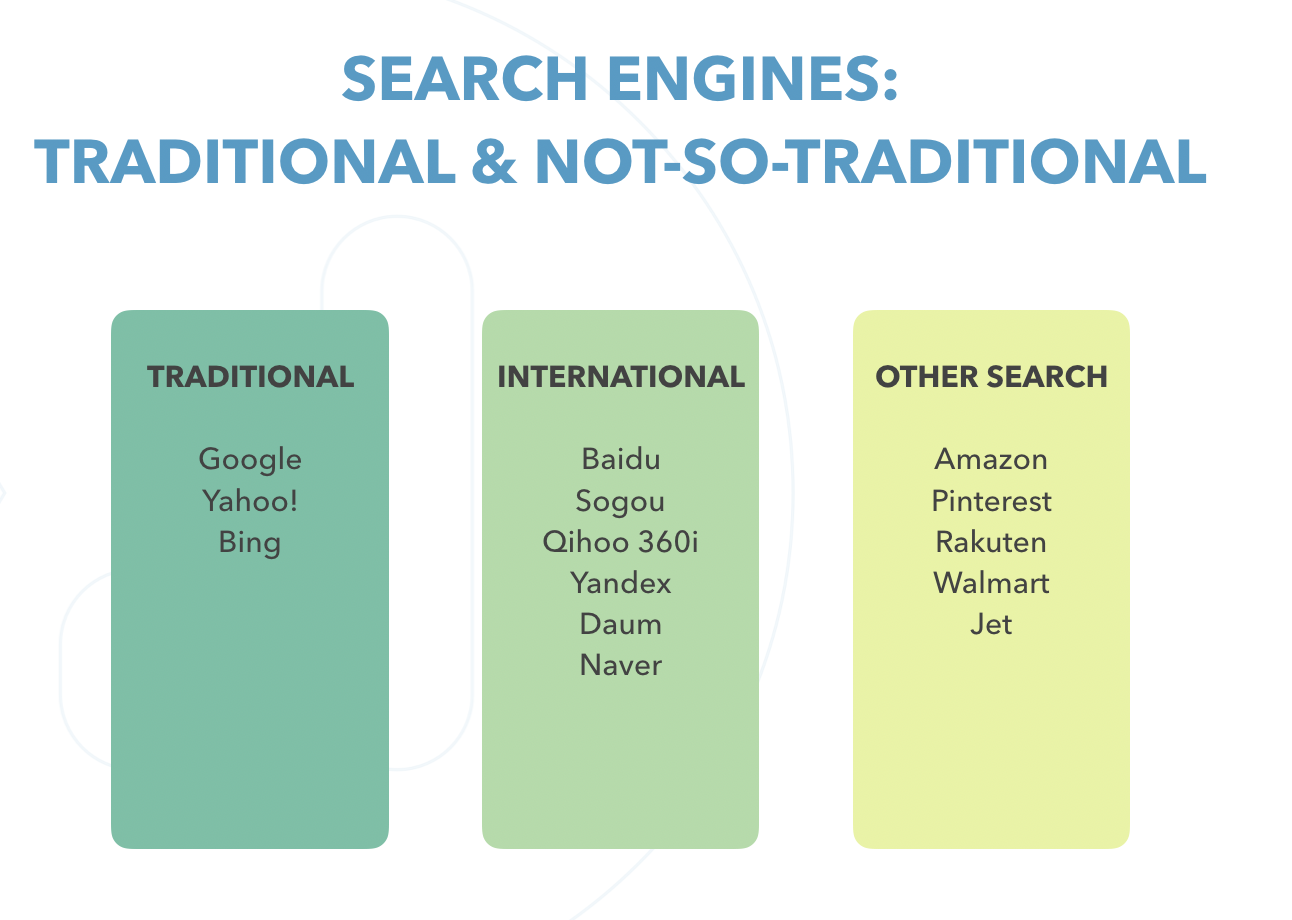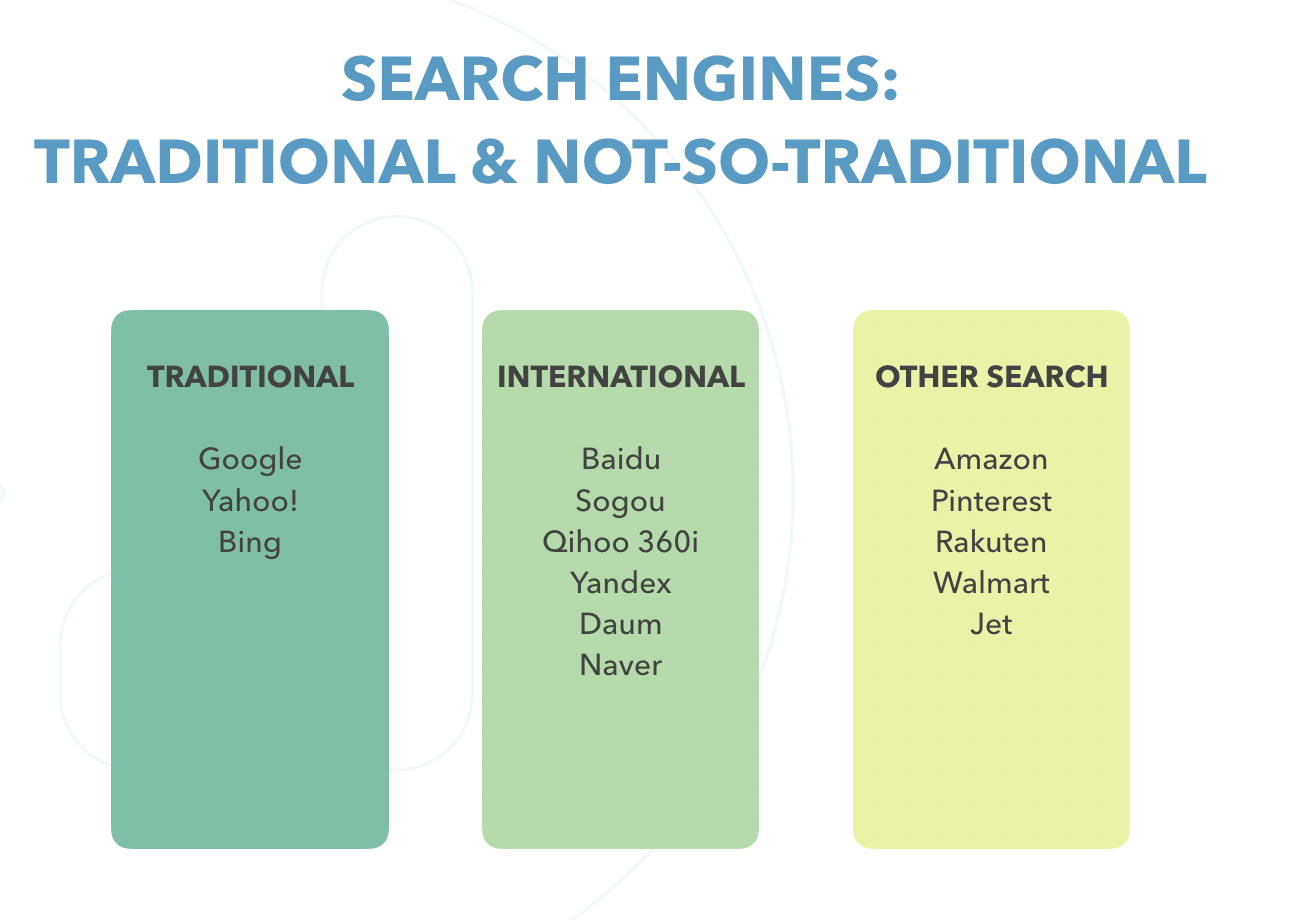 Getting beyond Google may not be necessary for a lot of folks. But it can be a big deal when you need to track every country's instance of Google AND other search engines. Whether it's Yahoo! and Bing, or Baidu, Qihoo360, Yandex, Naver, or other search engines – if you need them, ask for them!
Users
You might be getting a specific number of users and you should determine how many you need or are willing to pay for if that's a factor in pricing. DemandSphere offers unlimited users, and so do some other tools, so be sure you check before assuming anyone can login or that you'll be limited to users.
Competitors monitored
Do you want to see how your content is ranking alongside target competitors? Find out how many competitors you can track in the content and SEO platforms you're considering – and what the cost is for adding more.
Reports and exports
These are often overlooked because plenty of platforms have moved to unlimited reporting (ours included) – but not all content marketing and SEO tools will allow you to access unlimited reports or create your own reports, you have to use their templates. You may end up paying extra to export the information you need even if you found a cheaper tool.
Account management hours and training
Depending on how big of platform and how feature-rich of a tool you're choosing, you may need varying levels of support. The amount of people who will be using it and their experience with content marketing and SEO platforms, is also a key factor in determining how much support you'll need.
Some providers will set things up for you and provide an onboarding program, whether through a knowledge base with videos or articles, or will have an account manager lead you through onboarding specific to your organization. Find out what's included and what costs extra, and if you think you might need more than what's included what it's going to cost.
Also ask about what happens when new team members join – who will train them and what is the expectation?
Features you might want in your content marketing and SEO solution
Beyond the basics of monitoring (which is different from rank tracking — we discuss that in another article), what are some other features to consider when you're searching for SEO platforms and services?
Universal search elements
Probably a good idea to track all the things that are cluttering up search engine result pages on desktop and mobile. Especially because Google changes them faster than you can hit refresh on your analytics platform!
Keyword opportunities
Getting a list of prioritized keywords that you have an opportunity to move into a top rank position may be a feature you're looking for in your platform. Keyword opportunities can help dictate new content to create, optimizations to existing content, and other marketing initiatives. Consider whether or not you'll want, and use, this kind of insight.
Keywords at risk
Similar to looking at opportunities for keywords, knowing when target keywords are at risk or are falling out of top positions can help you get a handle on it before it causes serious traffic issues.
Site health
Speaking of traffic issues – are you looking to monitor your site health with an SEO platform? If so, you'll want to ask what kind of issues they're spotting and how frequently the tool is looking for them. You should also ask what format(s) the issues are delivered in and whether or not they're going to track progress and recurring issues.
Audits
Similar to site health are audit options. Some tools will have teams provide in-depth audits for your site on a periodic basis, or will do a more extensive crawl of your site or your competitors. If you're considering doing site audits, see if the platform you select has a service to do them for you and you may save some money!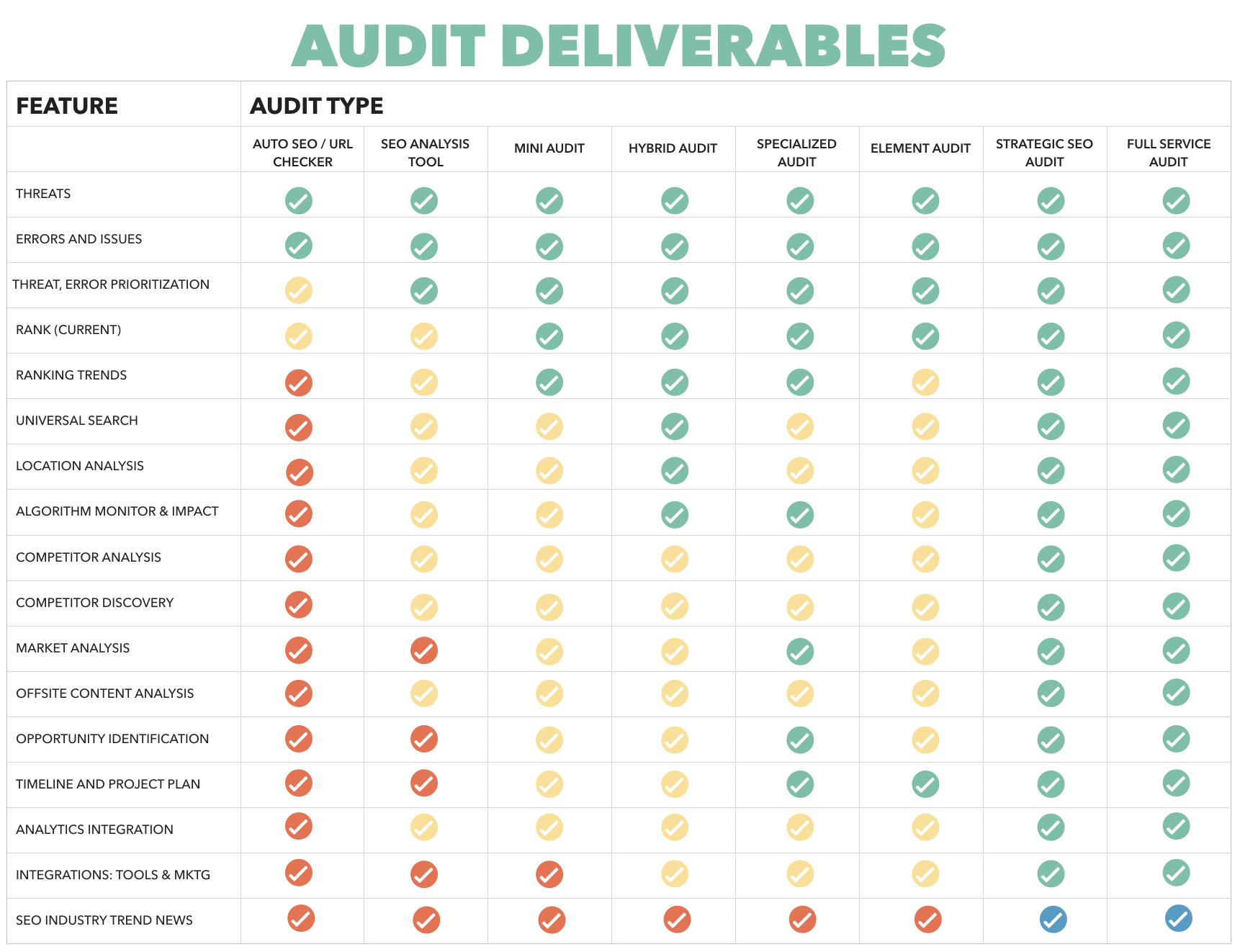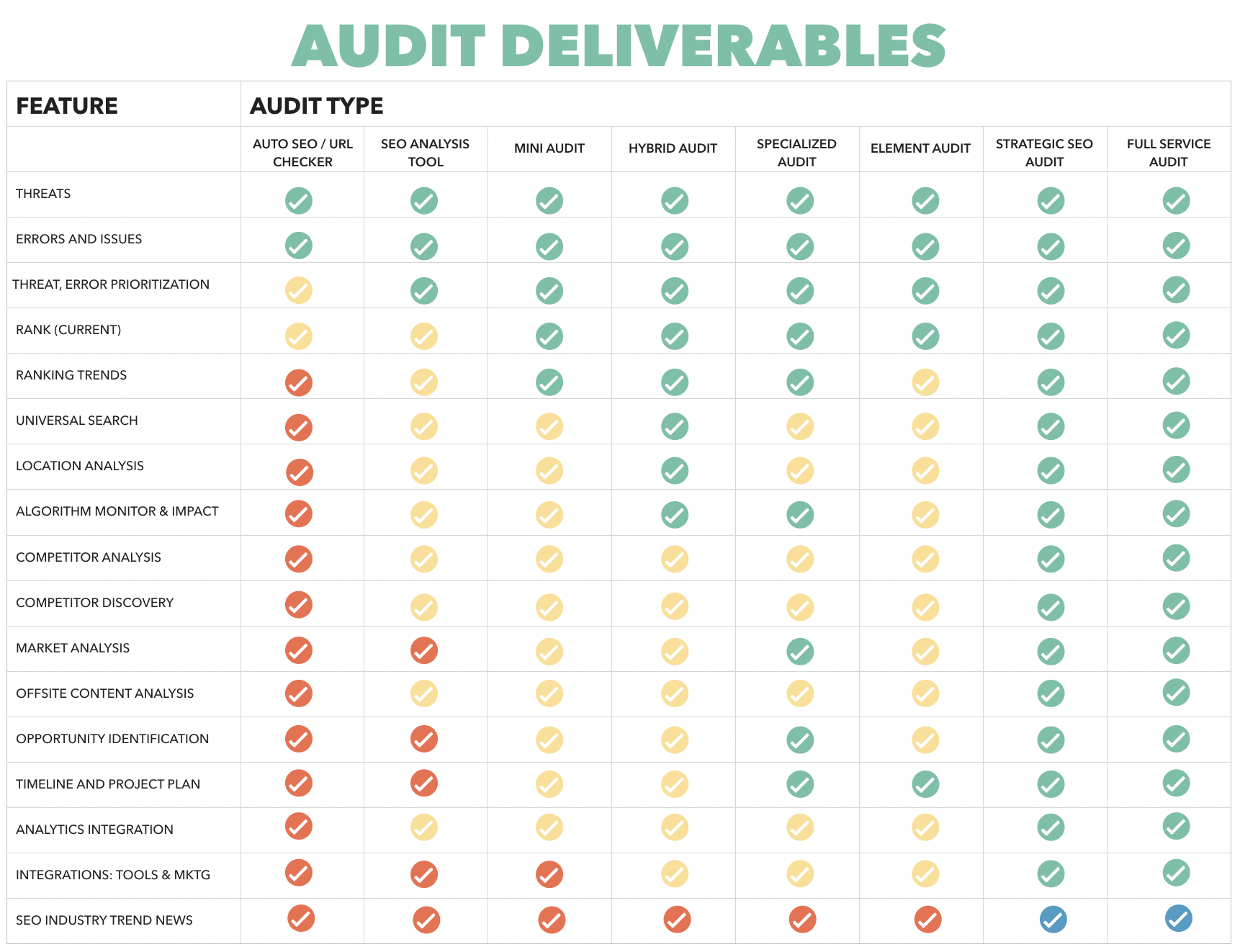 Content and SEO Recommendations
This ties to your site health and audit options, but while some tools may show you there's an issue they may not proactively make recommendations on how to fix them (if applicable). Check to see what kinds of recommendations a platform can make – are they technical crawlability recommendations, do they include content updates like meta descriptions, or image optimization?
White labeling
Do you need to white label dashboards, reports, etc. for clients? Find out if it's possible and if it costs more. We offer free white labeling and a one-time url setup fee but that's not the industry standard. If you need to white label across many clients, find out how easy it will be to add new clients, do you have ask an account manager or can you do it yourself?
Custom dashboards
Like white labeling, the ability to customizing your SEO and content marketing platform is important to how well it will integrate with your team's goals. You'll want to see if you can move modules around, create filters, save views, or ask for new datasets to be integrated.
We also recommend considering creating dashboards based on teams, goals and KPIs, reports, individual user roles, locations, and more. These will all help you access the insights you need a lot faster.
Curated reports
Reporting is one of the biggest elements of any platform. You'll not only want to access reports in the platform itself, but take them with you into other data tools, presentations, and more. Ask about exporting options and how customizable reports are within the platform you're considering.
Some content and SEO platforms include pre-created report templates that you can only alter slightly. Others give you a blank slate to create your own views. There are also those that offer services to create reports for you.
Competitor discovery
You know about the target competitors for your brand(s) that seem the most prominent – but what about emerging brands, new content, influencers, changes in product targeting, and other things that impact your traffic? Getting a platform that includes a competitor discovery aspect can help you get out ahead of new content, emerging products or services, and other content that your audience is finding relevant.
It's also good to see if the competitor discovery tool filters the discovered competitors by the products and services that you offer, specific messaging strategies, target keywords, and other elements relevant to your business.
Keyword research and discovery
Keyword strategy is an ever-evolving part of smart marketing and SEO strategies. Keywords that were the most important for your audience a year ago have updates and opportunities that are different now. If your team is looking for editorial ideas, better optimization within your market, or very specific segmentation for highly competitive or niche markets – a keyword research and discovery feature is an important part of your SEO toolset.
Integrations and API access
If you want to make sure data is standardized and aggregated into a single place it's important to know how your chosen platform will integrate with your existing analytics tools, marketing channels, or allow API access.
Workflow and task management
Most sites have a lot of pages and multiple optimizations or options for each one. That also often means working across teams for technical or template level updates versus editorial changes. If you choose a platform that has workflow and task management your team and organization may be able to get things done faster and more efficiently.
Workflow items may also include adding notes or annotations to your platform, to track algorithm changes or changes that your team may have made to your content.
Resources and onboarding
Does the tool you're looking at provide ongoing resources and education on content marketing, SEO, digital strategy, and other relevant topics? If so, are those resources freely available or part of a subscription service?
Also important is if you add new team members will they be provided onboarding? Is it necessary given the complexity of the tool or are there tutorials they can access? Keep in mind the knowledge level of team members and prior use of similar tools when considering whether or not onboarding and educational materials are necessary for your team.
Availability of services and solutions
Sometimes you'll find that a platform offers a lot of insights and information but your team has constraints and can't act on them in a timely fashion, or doesn't have the expertise to implement. That's where a solutions team being available can be extremely useful. They can do site audits, keyword research, platform setup or onboarding, and other things that your team can take action on quickly.
Choosing the best content marketing and SEO platform: It all comes down to planning
We hope this list is a good starting point for choosing the right resource for your organization. As with any new platform or tool adoption, there are compromises and priorities to consider.
We recommend committing to a new platform for at least a year, which will allow solid integration and adoption. Getting your organization to agree on (or at least discuss) must have features versus nice to haves, budget constraints, team availability, and other considerations will make the process a success.
The above items are available as a checklist form here for your use when evaluating options and our team is always happy to discuss if one of the tools or services from DemandSphere may be a good fit.