If you checked out last week's episode, you'll know that we're on the second installment of a four-part series on search engine optimization audits and their uses. Our first week covers the purpose and value of examining your site's SEO through this type of all-encompassing reporting, talked about the types of audits available to marketers, and looked at the relative timeline of different types of audits. Now we're on to your site audit deliverables, where we'll explore what you can expect from different types of audits and different audit providers.
What type of deliverables should you expect from an SEO audit?
When performing a site audit for SEO and content marketing, you want to collect data that will inform your next move as a marketer. Your deliverables will encapsulate and summarize that data, and make it usable for your team. The package of information created through an SEO audit are determined by audit type, the tool or agency doing that auditing, and the goals you determine at the beginning of the audit.
Last week, we discussed eight generalized types of SEO audits (check out last week's installment for a refresher). In this post, we'll go through the types of deliverables you can expect from each type of SEO audit.
Let's go through a quick refresher on the types we discussed, and how many site audit deliverables you'll get for your buck with each:
An automated SEO / URL checker scans your site or a single URL for obvious errors, without much human review. The timeline for these types of audits in minimal, and the cost is usually minimal. As a result, you'll also get less in-depth research – with this overview-type tool, you'll find obvious threats and errors, but no deep discovery.
An SEO analysis tool or platform will scan your entire site, or a chosen sub-folder, and provide insight into any errors. It's similar to a URL checker, but may scan more pages and provide more insight into prioritizing fixes. You may receive some competitor information, depending on your service provider.
A mini audit quickly gauges a site's overall SEO health without getting into the weeds of individual page specifics. These are great for updating an existing SEO plan – checking the health of the site in terms of search engine SEO, then handling issues and moving on.
A hybrid audit provides a technical scan and tools to access on an ongoing basis, as well as specialized reporting, strategic insights, and possibly some cross-function auditing. This will probably include some competitor information and maybe a list of term rankings.
A specialized audit will include information covering specific audit needs, maybe in the case of an e-commerce migration, or an emergency situation in which you've seen a sharp traffic decrease or Google red flag penalties. It may include relevant information on what's causing your rate decrease, such as competitor information or offsite content analysis.
An element audit will cover one specific SEO element, usually using an automated tool. These are usually small-scale audits with a short timeline, but the timeline may be longer if you are working with an element that exists on every page of a large site.
A strategic SEO audit is an all-encompassing SEO audit. Here, your solution provider checks your site and compiles a report including analysis, recommendations, and a project plan across all SEO elements. You can expect this to be a pricier service, but you can also expect a full buffet of deliverables to choose from!
A full service audit: A full-service audit includes everything provided in strategic SEO audit, as well as help actually carrying out that SEO plan. It will set up a long-term relationship with your service provider wherein they will help monitor your SEO performance, perform keyword research for you, and actually make (or suggest) updates to the site. This is the most intensive, and longest-term, audit.
When you launch your SEO audit with a service provider or tool vendor, we recommend that you work together to name the specific deliverables you need – this will help avoid lost time or added fees later! Your choice of deliverables can help you determine which type of audit in which you need to invest.
In addition, you'll want to think about timeline when determining audit type. As we discussed last week, an automated checker might deliver short, easy-to-find results in minutes; a full strategic plan could take weeks or months. This is all about right-sizing your site audit deliverables: do you want to locate obvious errors and fixes, or are you looking for an in-depth analysis of goals and priorities?
What deliverables might I see as part of my SEO and content marketing plan?
To understand what you're getting with your audit, let's look at the deliverables that may be line items in your service provider's plan (or that you may wish to create yourself, if you're doing this in-house). We'll go through everything, from a simple threat analysis alert, through a full-scale report identifying opportunities for your website. Keep in mind that some service providers may provide different sets of reporting, but we hope you find these generalizations useful.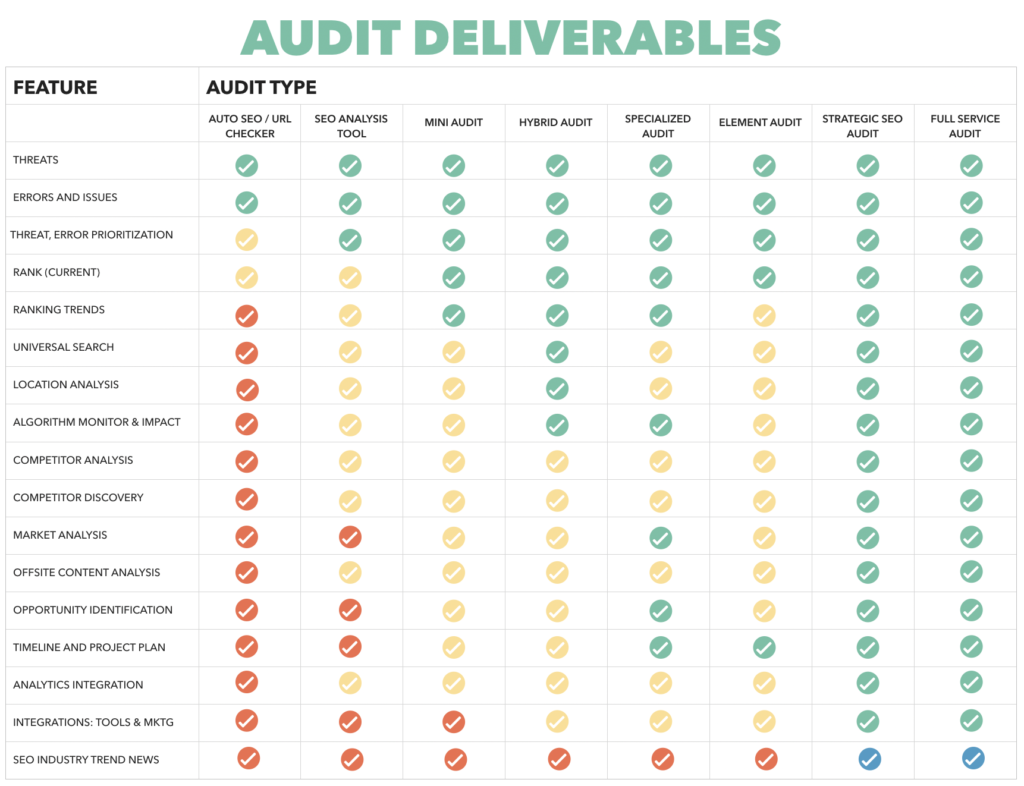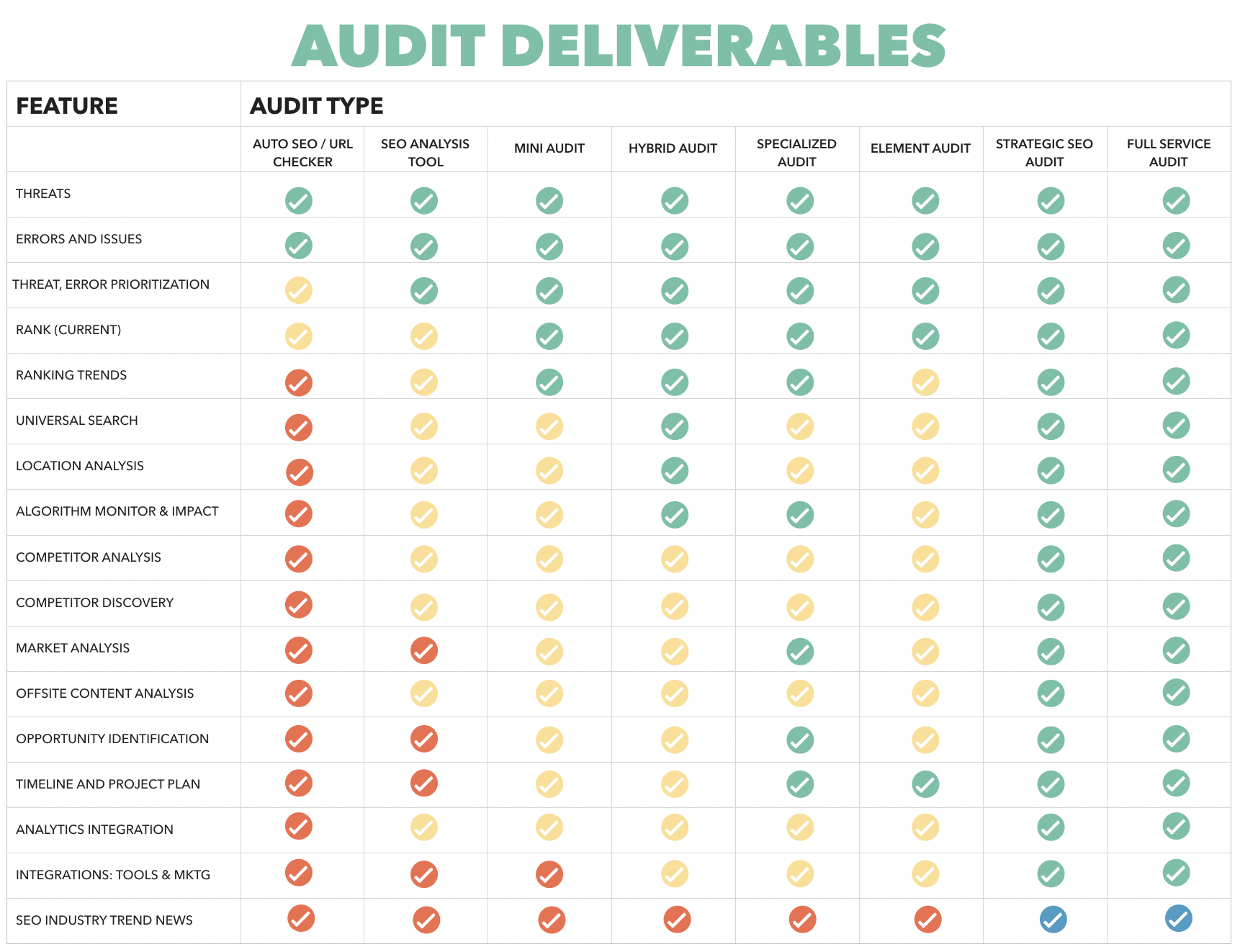 Threats and errors
Any site audit provider should be able to check your site using a list of threats and errors, whether you're using a tool or having an agency do this work for you. Deliverables related to threats and errors might include such items as: a threats check list, a list of errors and issues, and threat and error prioritization.
Threat analysis are a no-brainer for any kind of audit, and your tools or provider should be able to assemble a list of threats and errors. A checklist might include items like "are the tags too long or to short," "is the meta data on this page populated," or "which pages feature 'noindex' tags."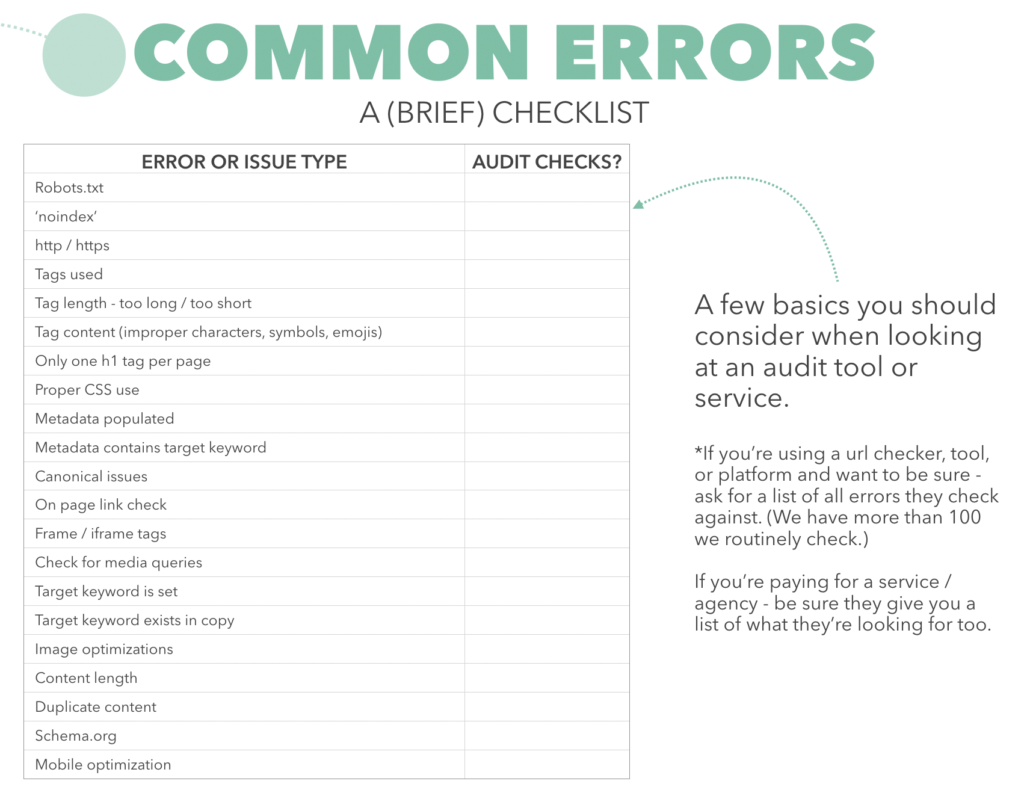 If you're using a URL checker tool or platform, ask for a list of errors that they check against (Demandsphere routinely checks a list of more than 100 errors). If you're using an agency, they should be able to provide a list of what they're checking against. Some of the items are going to be categorical – for example, any tool should check to ensure that your site is secure – while some will go page-level.
When choosing a tool or agency, consider whether the error list will come back to you with prioritization. Can you discuss prioritization internally or with your provider? Do you have specific products or high-traffic pages you want to focus on first? If you get hundreds of possible errors, tackling those items in the correct order may be tricky.
Rank data
Ranking data is the meat and potatoes of any full-look audits, whether you're performing a mini audit or going deeper with a strategic audit. At its core, your rank data should show you what your current position is for targeted keywords, and, potentially, a projected search volume and projected monthly visits. Deliverables may include current rank information, universal search rank, ranking trends, and location analysis.
When choosing a provider, consider whether you want to provide your own list of keywords to track, or whether you want assistance in determining which keywords would be valuable to you. Rank data tools only provide data for keywords you're actively tracking, not for every piece of content on your site. If you don't have a keyword targeted for every page on your site, and they're not targeting every page on your site, you may be missing opportunities.
Ranking data over time may also be included in this deliverable: how rank is changing over time, and how many keywords have each type of ranking across search engine and in comparison to competitors.  This is helpful for seeing improvement over time, as you implement changes to your site.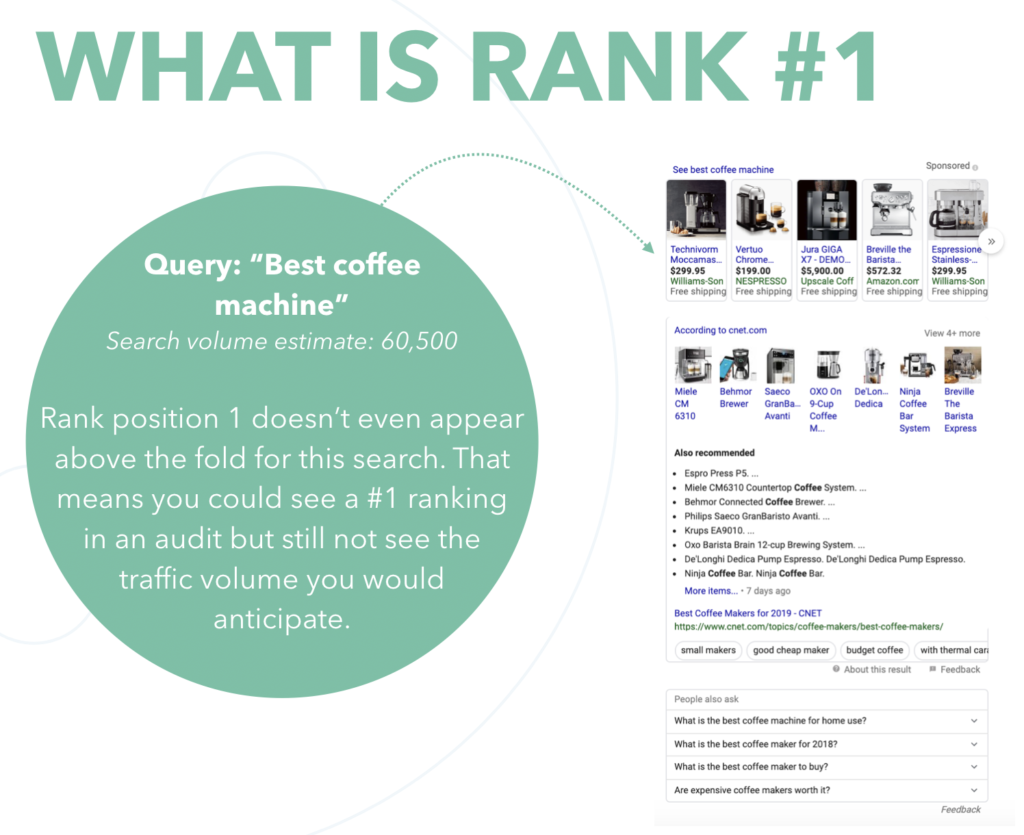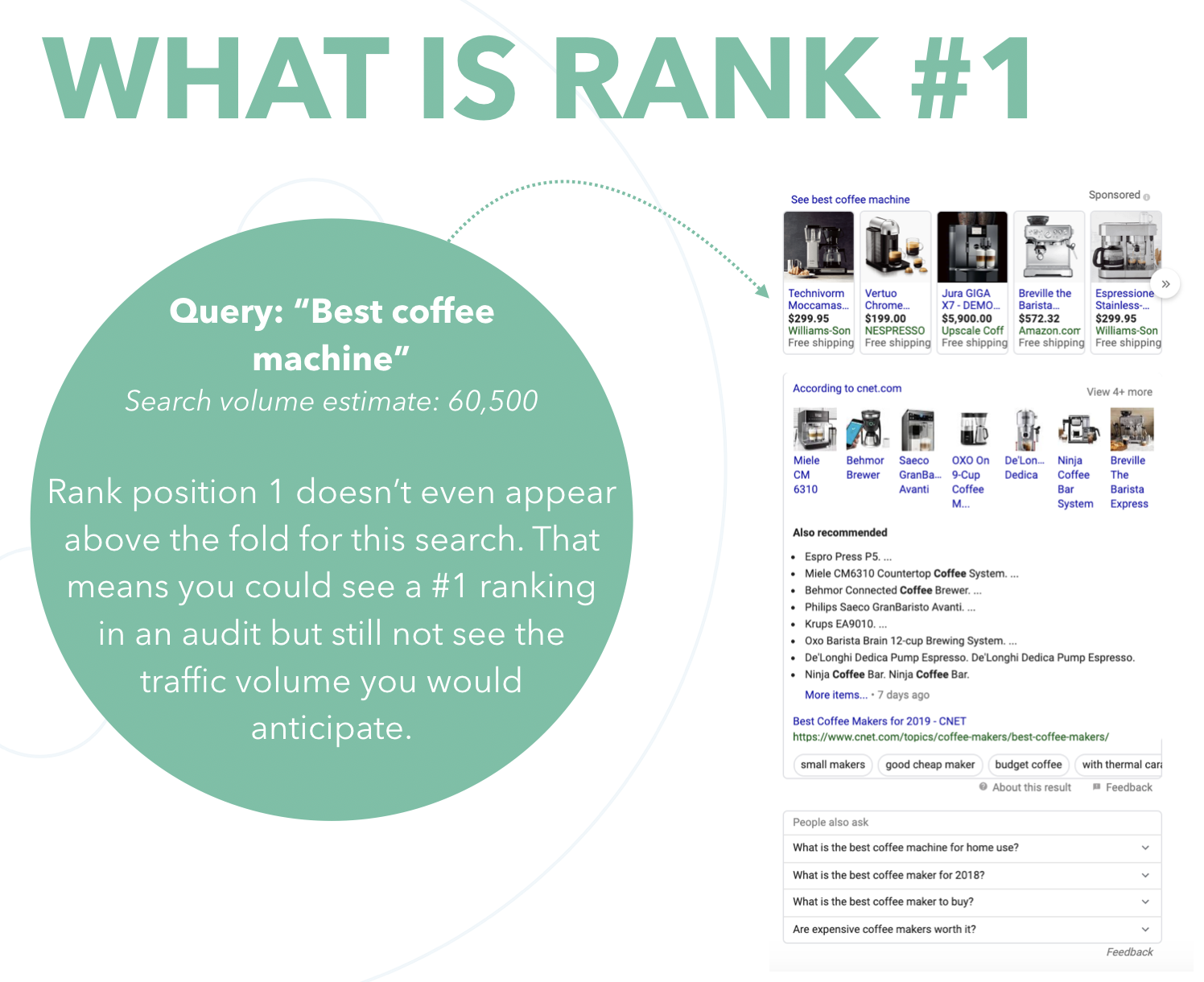 Information on universal search elements should also be a part of your rank data, so be sure to ask whether your provider will include this information. For some search terms, rank position #1 doesn't even appear above the fold – that screen is occupied by Google shopping ads, photos, and other universal search elements. So, you'll want to consider what seeing a #1 ranking for those terms means for your site – you may not see the traffic volume you anticipate. It's important to consider, too, that universal search elements change constantly, and it may be valuable to track those changes' impact on your pages.
Finally, you'll want to consider that big piece of information that a single rank-check might not include: location analysis. SEO tools that check your rank from multiple locations may provide insight into how your brand is performing in certain markets.
Competitive Analysis
SEO is not just about where you are; it's about how your whole ecosystem is performing. If competitor analysis is included in your site package, you may be looking for deliverables like competitor positioning, competitor analysis, competitor discovery, and market analysis.
At its most basic, a site audit should highlight your rank versus competitors' ranks for a single point in time. A more in-depth competition tracker may show your competition's performance over time. A deeper analysis will look at universal search elements as well, and highlight keywords and content where competitors are moving. A strategic audit, and even some hybrid audits, should help you get that "moving picture" of how competition is changing over time – not just a snapshot at the start of your SEO adventure.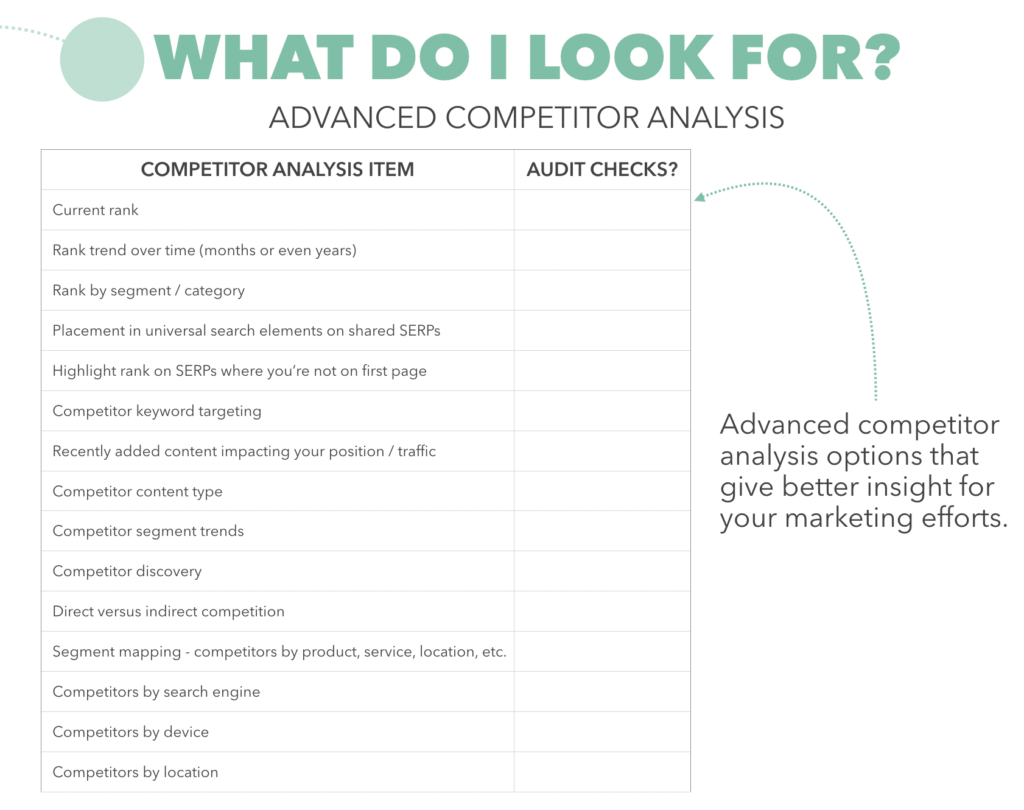 You'll want to see not just who's beating you, but what content they're putting out to beat your content. Demandsphere includes an extensive checklist for its advanced competitor analysis reporting: current rank, rank trend over time, segment trends, and much more. Competitor analysis is also included in this service.
One thing to keep in mind: if there's not a competitor discovery element in your SEO audit, you will need to name the competitors you want to track. So, consider whether you will need help determining which competition to keep an eye on. Competitor discovery is often overlooked by brands who think they know their competition, but, when you consider all types of content – universal search elements, photos, videos – you maybe be surprised by how little you know about who's fighting for the top results slots.
Competitor analysis should show who your competition is not only on Google, but on shopping sites like Amazon or comparison shopping engines. You want to know how you stack up against competitors on mobile versus desktop, and whether you have different competitors in different cities, regions, or countries.
Other SEO and content deliverables
You may see plenty of other deliverables included in your service provider's offerings! Some services help you examine your offsite content, or even look at merchandising opportunities to identify complementary products that your company is not currently selling. Many SEO tools offer analytics integration, which can be useful in identifying how your SEO plan is impacting traffic.  And, if you're working on a full-service contract, you will want to see a timeline and implementation plan to show how your service provider intends to address opportunities for improvement on your site.
Again, we deeply recommend that you talk about the type of deliverables you're looking for when you set up your audit service. Talking through the specifics now will save you time and money later.
What will my site audit deliverables look like?
Your deliverables may be, well, delivered, in a variety of ways. If you're working with an analysis tool, you may see reporting inside an app or platform. Or, you may receive reporting through PDFs, spreadsheets, or in-person presentations.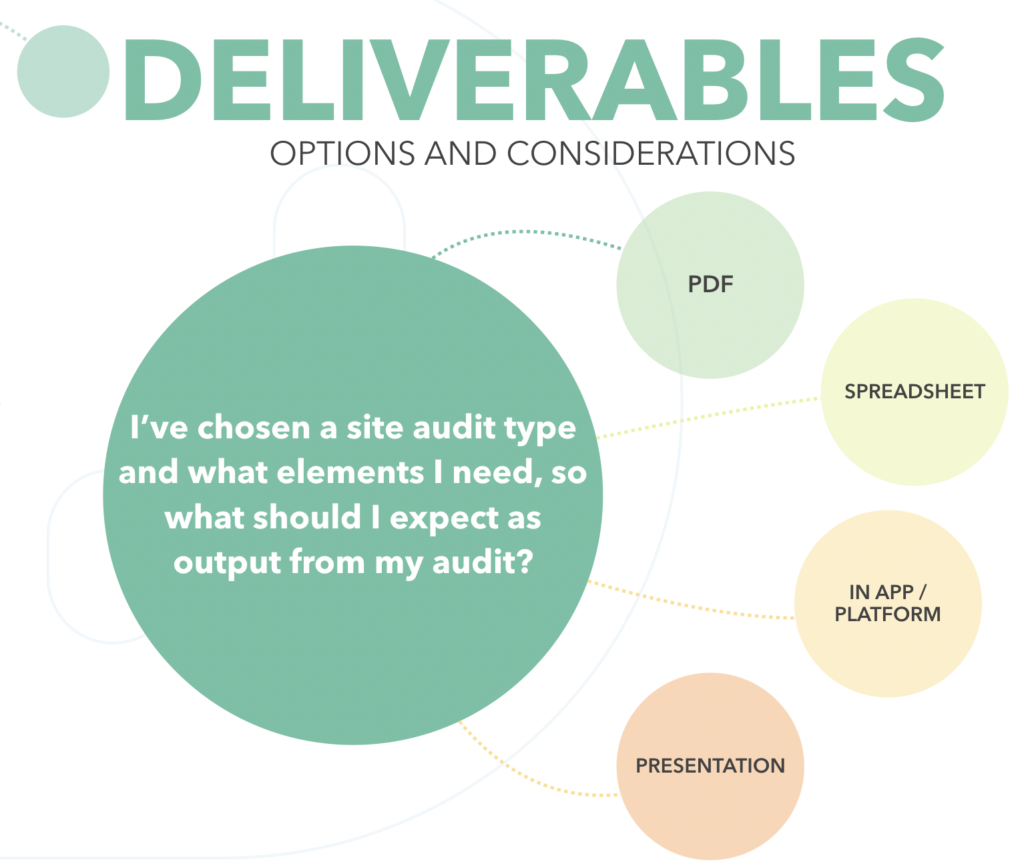 Whether you're working with a service provider or doing an audit internally with the help of SEO tools, you'll want to make a game plan regarding how to compile your data. A few questions to consider:
Who will be reviewing the audit results? Will it be you, a team, multiple teams, an executive, or a client? What format will be friendliest for them?
Will you need multiple formats, such as an executive summary and a to-do list? Think about this ahead of time, so that you're building the audit in a way that will work as you need it.
What are the next steps following the audit, and what format will make them easier? Are you going to do a quick follow-up and review the results through analytics, or are you making a full editorial calendar regarding new content for the site?
Will you need to reference the results later, or are you making quick updates to the site and moving on?
How much insight do you need into audit results and recommendations? Are you looking for a quick checklist and ranking data, or deeper dive into market conditions and competitor information?
Are there follow-up items, such as opportunities or future rank tracking, included in your audit? Does your audit come with access to a rank-tracking tool to provide ongoing opportunities? At Demandsphere, we structure our audits to give thirty-, sixty-, and ninety-day reviews for improvement tracking for both our team and the client.
Much of the decisions you'll make on deliverables will be based on the type of audit you choose, and how deep you want your analysis to go. However, keep in mind that the goal of an audit is not to create a one-time deliverable. You'll want to use your audit to use it in conjunction with your analytics to take action and measure your results.
On the third and fourth installments of this series, we'll dig in a bit to the concept of ongoing auditing and performance measurement. We will review the following:
How frequently SEO audits should be performed
Whether your audit should be done in-house or by a specialist (and, if it's the latter, who you should hire to perform the audit)
Determining how to execute on the deliverables we talked about today
Thanks for joining us on this four-part journey through SEO! We'll look forward to seeing you on the next post.
Check out week one's video here.
See all of our Get Found resource videos here.