If you're a veteran SEO, Google's Search Console (Webmaster Tools if you're in the wayback machine) is probably one of the first tools you encountered — and it's still extremely relevant today. Google Search Console is the direct line between your site and Google!
Michelle Law, Senior Manager of Demand Generation and Analytics at Hileman Group, spoke at Found Conference on the power of the Google Search Console.
Making sense of Search Console for SEOs – Beyond the basics
Search Console has always been the place to submit URL submissions for indexation, manually submit requests to remove penalties, and see web issues and errors caught by Google's web crawlers. In recent years, the console has added some major features. Michelle recommends using Search Console's advanced organic analytics in conjunction with your SEO tools and Google Analytics, in order to get a more complete look at your site's organic performance.
Michelle points out that keyword rankings paint an incomplete picture of site performance. It's highly likely that people aren't coming to your site based on the most obvious-to-you keyword. Users access your site through the long tail! If you're an automaker, it's great to rank for "best new cars" — but is someone performing that search actually ready to buy a new car? You'll also want to rank for local searches, searches tied to your manufacturer, and things like "best new minivan that holds seven people" or "best car with high safety ratings."
Google's Search Console's tools go beyond Google Analytics reporting to show some organic-specific information — information that can help you troubleshoot and solve common content marketing problems. Let's check out some of the best tools in this toolbox.
Mobile Usability Report
The Mobile Usability report shows which pages in your property have usability problems when viewed on mobile devices — and it gives you a list of actionable items to improve mobile friendliness. For example, if your text is too small or your navigation goes into hiding on certain devices, this report tells you exactly that. It's a message coming from Google itself on how to not only improve mobile search rankings, but also improve user experience.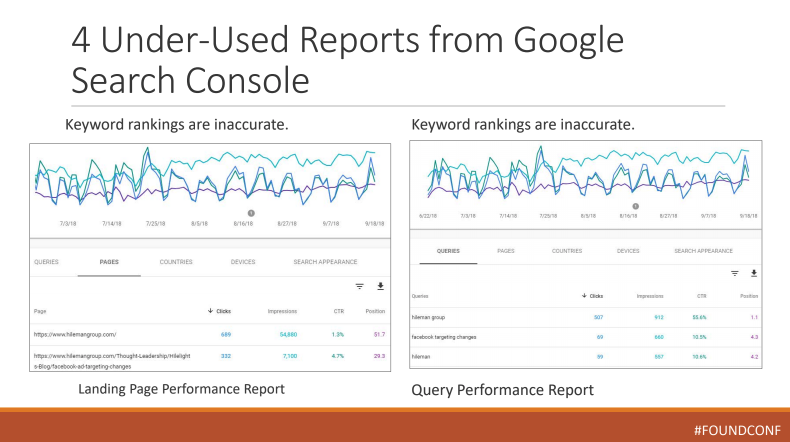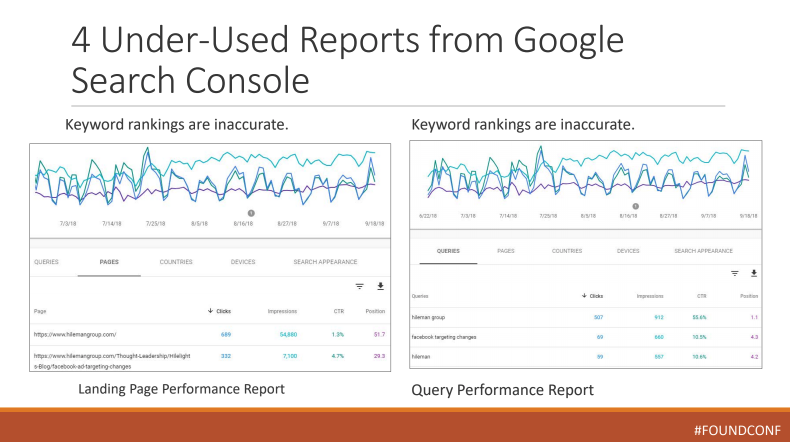 Index Coverage Report
The Index Coverage Report shows you which pages haven't been indexed, and tells you why. It shows the indexing status of all URLs that Google has visited, or tried to visit, in your property. This is great if you're managing a large site and find it difficult to search for all of your own pages on Google. Remember, you don't want all URLs on your site to be indexed — you don't need duplicate, alternate, or custom pages to appear in the index. However, check your canonical URLs, and look into error messages for those. If important URLs aren't indexed, you can troubleshoot those with Google's URL inspection tool — another piece of the Search Console toolkit.

Performance Reports
According to Google, "Performance reports show important metrics about how your site performs in Google Search results: how often it comes up; average position in search results; click through rate; and any special features (such as rich results) associated with your results." Michelle recommends creating at least a handful of performance reports that link together to provide deeper insights into your site's performance. Some of her favorites:
The Landing Page Performance Report – The Landing Page Report lists the landing pages for your site, and includes the Acquisition, Behavior, and Conversion metrics for all of your site's canonical URLs. This report can help you ascertain some to-dos for your landing pages.
The Query Performance Report – The Query report lists some Google Search queries that generated impressions of your website URLs in Google's organic search results. However, remember that Google doesn't share 100 percent of those searches. You can combine the Query Report with the Landing Page report to get some deeper insights on how searchers are coming into your site.
The Search Type Performance Report – The normal Google SERP is no longer ten blue standard links. The Search Type report shows the type of Google search run by the user: web search, image search, and video search. Google Images and YouTube are two of the biggest search engines in the world, and you may want to know how you compare with competitors for these non-text juggernauts.
Working through these reports can feel a little overwhelming. So, how can you make those reports actionable? Here are a few information-to-action ideas.
Keep an eye toward classic search engine optimization
Are you finding landing pages that aren't performing as expected, or search queries you wouldn't have guessed would bring people to your site? Capitalize on that Search Console reporting by tweaking your landing pages. For example:
Pages with a low impression count may need to be better optimized to perform in search. Maybe those pages are missing valuable keywords, or they have slow load times that are being punished in the SERPS.
Pages with a high impression count but low click-through rate may have unappealing meta data. Use that information to comb through meta descriptions and titles to make those pages more appealing.
If you're finding that some of these pages perform well in search results — they have high impressions, clicks, and a good click-through-rate — but have a low number of conversions or pages per session, they might not be meeting user needs. That content might not be relevant to what users had in mind when they started their search, or your site design might be making it difficult for them to convert.
This information from Query reporting may be paired with ranking data from your SEO ranking tool to help you discover keywords.See what people are actually looking for — including all of those long-tail search queries — and use that information to inform your landing page optimization.
Consider content types, but don't reinvent the wheel
If you're facing extremely stiff competition in traditional search, you may benefit from varying content types and reaching customers Google Image or video search engines. Be sure to use image alt tags and relevant video titles.
Vlad Korobov of Tilda.cc shared some thoughts on templatizing to improve the return on your investment in on-site content. Typically, user engagement rises with the length of a piece of content — and, longer content requires more resources to produce. A tweet, for example, is a pretty disposable piece of content, while users spend more time with a lengthy video. However, most social media marketers can quickly compose and fire off multiple tweets per hour, while video can require significant investment from multiple employees.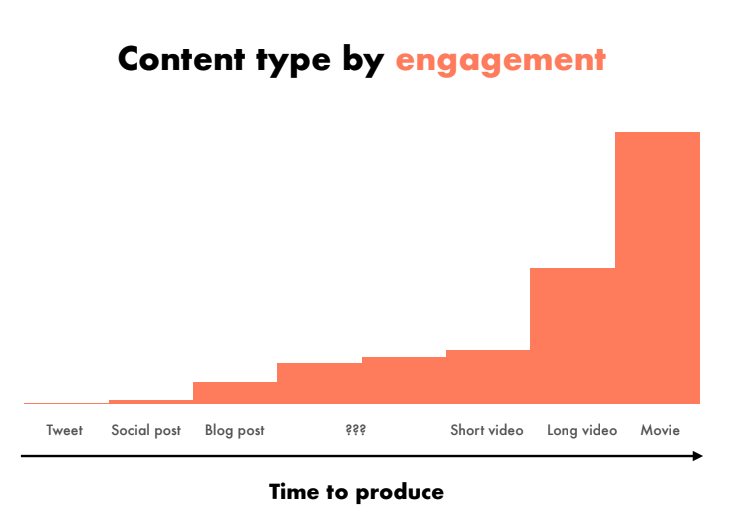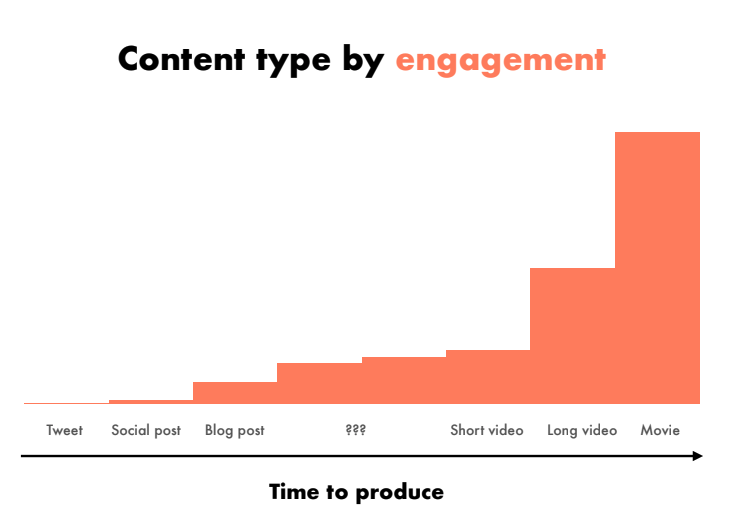 Vlad says that most content is divided into a dichotomy of low-investment / low-engagement or high-investment / high engagement. However, setting yourself up for replication of successful pages or content can decrease the resources needed to create high-engagement content. Visual page builders like SquareSpace, Tilda, Elementor, Webflow, Readymag or Setka are all CMSes that templatize content to help replicate successful pages. Some of these, especially Tilda and Elementor, focus on creating custom illustrations and infographics that perform well across multiple search engines.
No matter where you choose to optimize, Google Search Console provides another set of (free!) resources that help marketers find the mismatch between user expectations and site content. In our world, those insights are beyond valuable.
Integrating Search Console into your SEO dashboard
Did you know you can get Search Console data integrated into your DemandMetrics account? Google Analytics, Moz, Ahrefs, and other tools too – at no cost! If you're looking for an all-in-one platform that doesn't force you into a one size fits all dashboard, give us a try. We do custom dashboards, custom pricing, and flexible account settings to match your changing needs. Schedule a 20 minute discovery call and we'll listen to your goals and challenges and prepare a plan.