Should you be writing for algorithms or eyeballs? Which is more important — keyword-matching and structural SEO, or awesome content? Should you put more effort into optimization or user experience? As we prioritize our marketing needs, many marketers find ourselves in this quagmire of SEO versus content. SEO drives traffic to our site: without traffic, you can't get conversions. But, content drives conversions, and traffic without action gets you nothing. 
Lindsay McGuire, a content marketing manager at Formstack and the producer of the Ripple Effect, Formstack's productivity podcast, stopped by Found Conference to talk through this chicken-and-egg conundrum.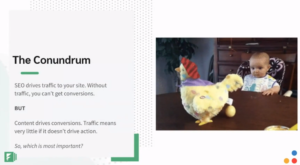 So, which is more important? Where should you allocate more assets and resources: the tech-y, keyword-laden SEO side, or the user-experience content side? To start, let's think about the purpose of SEO, and the purpose of content marketing.
Why is strong SEO important?
In any brand, and on any website, SEO is still a vital part of marketing. Aligning your results to user intent through keywords, usability, and great site structure is among the last remaining ways to bring free traffic to your content.
A few reasons why having a strong SEO strategy still matters:
Optimization brings free traffic to your site. Those who work in social media know how difficult it is to get free click-throughs — social has seen organic numbers plummet in recent years. Organic traffic through SERPs is one of the few remaining ways bring new users onto your site without paying to play. And, as your SEO work yields some resulting traffic, your site will improve in search rankings, and you'll see even more SEO traffic.

Search engine optimization tactics improve your domain authority and the overall strength of your website — and that has an impact on user perceptions. Domain authority and PageRank still indicates, to search engines, the authoritativeness of your site. The stronger your SEO, the higher your site will rank. And, a high ranking in SERPs, as well as on secondary engines like Google Images, indicates to users that your site contains popular and useful content. That authority doesn't only mean a higher page rank, it means a higher click-through rate.

Strong SEO brings a diverse audience to your content. Today, few channels allow you to reach outside your target demographic or area and locate new customers. Organic is one way to break into new markets both geographically and demographically.
Your content — especially your meta content and pre-click SERP content — must balance being appealing to Google and being appealing to humans. And, of course, once users click through to your site, you want to serve them awesome, original, intent-oriented content. So:
Why is strong onsite content important?
Whether you're focusing on blogs, how-to guides, product pages, FAQs, white pages, or infotainment: onsite content is all about user conversion and user retention. After all, content — either in the SERPs or on the page — comprises your actual user experience. Here's why content matters:
Compelling content drives user behavior. If someone gets to your page — whether you're selling a product, an email signup, or any other action — the content will determine the conversion. 

Content, including text, images, videos, and interactives, keeps eyes on the page. SEO means very little if most of your visitors bounce within ten seconds. If your page is a hot mess, you're likely impacting your brand negatively — losing both users and rankings.

Delivering on search intent is important to maintaining strong SEO. When users are searching, they're searching for something specific — Instagram might show that purchase you didn't know you needed to make, but Google shows you the thing you actually need. When users don't find the results they expected on the click-through, your SEO is negatively impacted — and bad SEO performance equals fewer eyeballs.
We're left with something of a chicken-and-egg situation. Without SEO, you're left buying nearly every new visit to your site. Without great content, your traffic (from paid, social, and organic) won't convert. So, who should you try to please: bots or humans?
Most questions about how you should use your resources are answerable with "it depends!" Lindsay say that this is not one of those questions.
You need to write for humans — and let those humans inform algorithms.
Google's algorithms are constantly changing as they adapt to human behavior, evolving to better address the needs of users. Strong content will be rewarded with strong SEO value, and the content that users find valuable is the content that will rank the best.
Google (and nearly every other search engine) is growing up. The tactics marketers deployed ten years ago, like hyperlinks and keyword stuffing, are no longer effective. Therefore, our SEO strategies need to focus on human behavior, not perfecting some secret equation. In fact, so many factors are used to determine both rank and pre-click content, there's no perfect equation any more. In short:
Good SEO and good content will get you ranked.
Compelling SEO and compelling content will win you clicks.
Strong SEO and content gets conversions.
Landing at the top of a SERP won't do anything for you if your page doesn't deliver on the searcher's intention or if it provides a poor user experience. So, what's the recipe for success? Write for the human that Google wants to satisfy.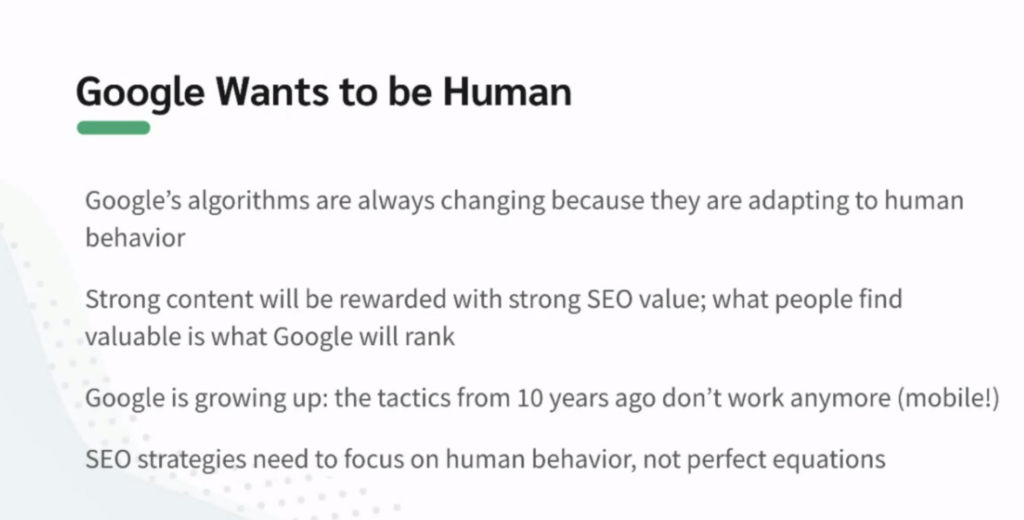 Structured SEO, combined with great content, will land you excellent rankings and awesome conversions.
You want to be able to please search engines, score a high ranking, and also be a good read for real, live people. At the end of the day, you're trying to please users, not machines. Think of ways to infusing your content with humanity:
Make your content worth users' time. Offer content that's unique, informative, and usable!

Create an experience and hold users' attention with images, videos, and design elements that build your brand; don't hit readers with a wall of text.

Speak to your audience, and avoid keyword-stuffing or unnecessary jargon. Your content needs to look and act natural.

Be eye-catching — but don't go full clickbait. Don't pull users onto your site without providing them with the information promised in your meta data. Be sure that your content matches your headline.
So, how can you form a content strategy that drives traffic to your site, and keeps it there?
So, what is "good UX," and how can SEO support it? User experience is, in essence, all of the ways that users interact with your page: from pre-click through the funnel. Lindsay shares some tips to make your content an SEO goldmine without sacrificing user experience:
Keywords are still crucial — so use them wisely. Monitor keyword trends, track the latest terms related to your search, and seek out the new and trending topics related to your content.

Be aware of character limits for meta descriptions and titles, and stay within those limits. Keeping within the limits ensures that important pre-click content isn't lost, especially in mobile-first results. 

Stay on top of structured data like featured snippets, video results, and "people also ask." Structured data is becoming more and more important as zero-click results populate an expanding space in the SERPs. You want your content to appear in that top section of the SERP, even if it doesn't appear as a blue link.

Continually optimize your content and don't let it get stale. Something that ranked three years ago may not rank now — things are always changing.

Pay attention to competitors. Keep an eye for areas where your content may be slacking, and capitalize on those topics and keywords where you find opportunities.

Building your content structure in an SEO-friendly way — by using headlines, subheadings, section division — also makes your content more readable for users.
So, when it comes to SEO versus user experience: remember that you can't have high-performing SEO with sub-par content. Need help kicking your crappy content? Contact DemandSphere here.