We absolutely loved Elizabeth McCumber's Found Conference presentation on better content creation by "taking a content cleanse" – even though we were a little nervous at first!
What is a content cleanse and how will it improve content creation?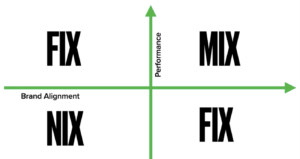 We'll let Elizabeth explain that in her video, and in the recap post, but here is a tip from the presentation: Use the Fix, Nix, Mix principle. It takes the idea of brand alignment and performance and helps you prioritize what content to tackle in terms of SEO, versus getting rid of it or promoting it because it's already working.
For more, check out the video below or more of the resources from Found Conference.