We've probably all seen it… The attention grabbing video and slide shows in our Instagram feed that introduce us to new products and brands that showcase someone achieving incredible results or having a great time. It's hard not to look – and that's the point.
Influencer marketing is rapidly gaining popularity in digital marketing strategies. This increase in popularity is backed by hard data. Average engagement rates for influencer marketing campaigns rose from 1.50% in 2015 to 2.01% in 2016 – a 33% increase over that time period. But then, engagement rates jumped to 8.20% in 2017 – a 4x increase over the previous year! Of all channels involved, we notice Instagram influencers playing a significant role in this growth. Instagram is the top performing channel for driving influencer engagement.
Instagram influencers are gaining popularity in part because of Instagram's leading performance. It's a straightforward platform, relatively inexpensive to run campaigns, and has over 800 million monthly active users. Instagram removes traditional barriers of entry for traditional advertising (like cost and complexity) and introduces your brand to the audience through a trustworthy source. When Instagram influencers recommend a product or service, their audience perceives it much like a personal recommendation from a friend. This is incredibly powerful for consumers.
Instagram also allows you to use the power of individual images, slideshows, or short videos to capture audience attention. These growing options (formerly just a single image) are proving to be great opportunities for brands.
Other channels declining in influencer opportunities
Snapchat, YouTube, and Twitter are losing some traction as influencer marketing platforms. In 2017, 86% of marketers reported using Snapchat less than the prior year, and 92% of marketers plan to use Instagram more than they did a year ago. If your company isn't already using Instagram as a marketing channel, there's never been a better time to consider working it in to you your digital strategy. Leveraging Instagram influencers is a great way to supercharge your marketing performance. Let's take a look at the benefits.
Increase brand awareness (quickly)
Increasing brand awareness is a top priority for every digital marketer. Businesses of all sizes and across most every industry are always searching for ways to get their product or service in front of new audiences. Instagram influencers are a quick and effective way to increase your brand awareness. Working with just a few influencers , you can reach millions of users. You can also target very specific types of audiences by engaging the right influencer(s) for your products or services. Because Instagram has removed many of the traditional barriers to entry, you can launch campaigns and reach your audience quickly.
UK fitness apparel company Gymshark built their brand using Instagram influencers to increase brand awareness. The strategy they used is quite simple. They put their focus on finding athletes with large and loyal followings. After finding the right ones, they sponsored them. In exchange, Gymshark asked the athlete to wear their clothes and publicly post about the brand with a link to the company's website in their bio. This approach has proven to be incredibly effective. The brand started in 2012 and now has customers in 131 countries.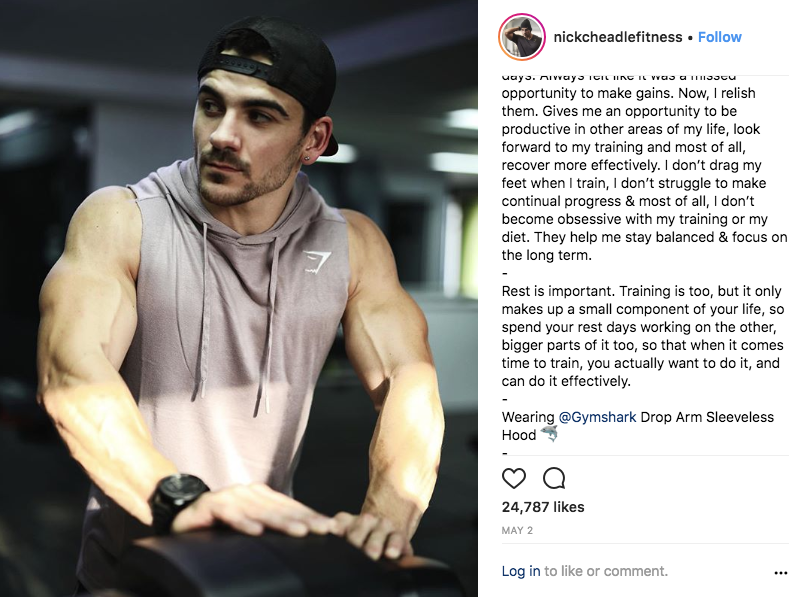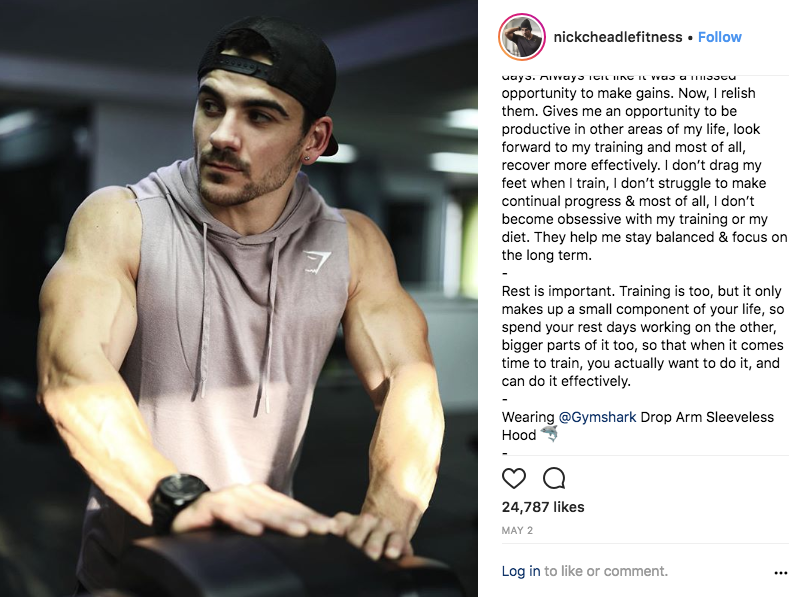 Drive direct sales
Harnessing Instagram influencers is a highly effective tool for driving direct sales. Your product or service is being introduced through a genuine and casual medium by a person your audience trusts. Twitter reports that users trust a recommendation coming from an influencer nearly as much as one from a friend, and I'd argue that in some industries they trust them more. Harnessing this is powerful. It is hard to beat a recommendation from a friend! This strategy can be combined with promotional discount codes. When you create discount codes that are specific to each influencer, you can measure the impact that the person is having on revenue. Making codes valid for a limited time creates a sense of urgency – important in a feed that is quickly cluttered. Trusted recommendations combined with a sense of urgency converts followers into fans and customers.
Watch brand Daniel Wellington has is a great example of how effective Instagram influencers can be. In 4 years, it has reached an annual revenue of $220 million. Founder Filip Tysander rejects traditional advertising and has built his watch empire mainly through Instagram by leveraging influencers. Instead of focusing on raising brand awareness, he used influencers to drive direct sales.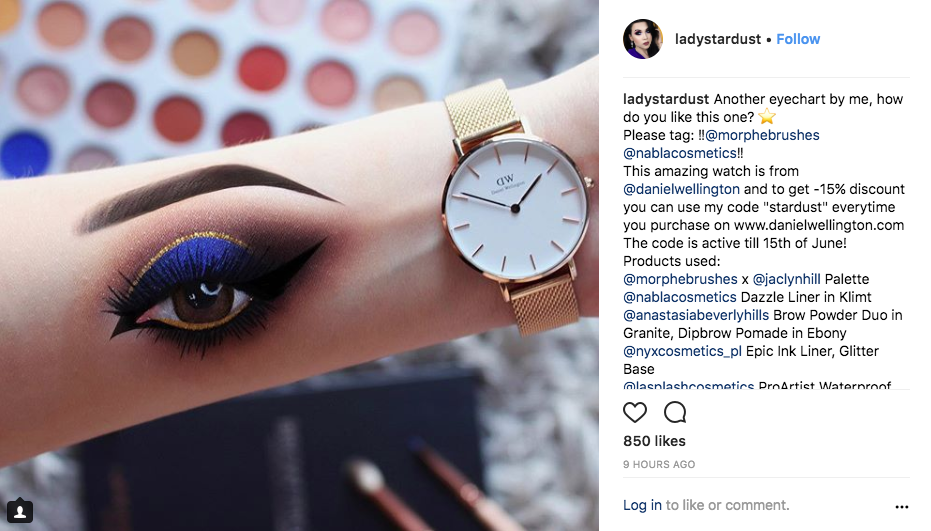 Work around algorithm restrictions
In digital marketing and SEO, we are not strangers to algorithm updates. Instagram has released several changes to its algorithm over the past couple years that have far-reaching impacts on the ecosystem. Users complained when their feeds were no longer chronological. Some businesses expressed concern that their reach was being limited.
Working with Instagram influencers is a great way to work around some of these hurdles. Because they are not a business, influencers aren't subject to restrictions that businesses experience. They have also worked hard to build their large followings. They have grown their audience by posting consistent, relevant, and quality content that is being rewarded by Instagram's algorithm. Partnering with influencers enables you to reach much larger audiences than you would be able to through just your account. This is especially true for smaller businesses that do not have the resources to dedicate to building their own large following on Instagram.
Increase SEO performance
How does an Instagram influencer positively impact your SEO performance? Great question. It's actually pretty straightforward and the positive effects can be pretty dramatic. We know that among many other factors, internal links and external backlinks play an important role in SEO performance. Google considers both the quantity and quality of links to your site. Using lots of low-quality links has not worked for a long time. Securing links from quality sites with lots of authority often proves to be quite difficult.
This is where Instagram influencers come in.
By carefully selecting who you partner with, you will be working with influencers that have a large following. It's likely that Google and other search engines already consider them to be a site with authority. When the influencer links to and from your website, you will be rewarded with a boost in SEO ranking. An additional benefit is that it is likely your content will be exposed to other high authority sites. If they share your content, you will gain even more quality backlinks and your SEO performance will be rewarded.
Find new opportunities
Working with Instagram influencers can help inform your broader content strategy. These partnerships will provide valuable insight into what engages your audience the most. Looking for trends when influencers share your content can uncover opportunities you were not previously aware of. Observing the conversations your audience is having with an influencer will help you better understand what your audience wants.
The influencers themselves often provide valuable insight as well. Influencers tend to know their audience very well. They know what types of content works and what doesn't. They are in tune with the worries and concerns of your target audience. Leveraging these relationships can help you create content where there is a demand.
Not just for B2C – B2B can use Instagram influencers too
While Instagram trends heavily toward the B2C and e-commerce angle with influencers, B2B brands have an opportunity too. Because social media is used by people working in a variety of industries, we're able to target consumers during their "down time" and introduce them to our brand in a less sales-y way.
For instance, we may be able to have a digital marketing influencer show a beautiful data report they made with our analytics platform. Or maybe we have an SEO expert highlight their improved ranking by sharing their latest SERP performance report. Considering the huge number of people using Instagram, there's no reason for B2B to be left behind.
Choosing the right partner
You've seen the various benefits and have decided to work Instagram influencers into your digital marketing strategy. Great! However, finding the right partners seems like a challenge. It doesn't have to be. Before starting any relationship, it's important to define your objectives. Do you want to raise your brand awareness? Focusing on a few influencers with large audiences and a broad reach will be more useful. Maybe you prefer to increase your engagement. Partnering with more, smaller influencers with highly engaged audiences will be a better choice. It's important to set clear goals and expectations with whomever you select to work with. The following are some factors to consider when choosing the right partner.
Engagement
You want any Instagram influencer you partner with to have a good engagement rate. This means their followers are paying attention to their content and taking action. You can judge engagement by comparing the number of followers with the number of likes and comments. Accounts with large amounts of followers that have few likes and comments on their posts have a low user engagement. You'll want to steer clear of these.
This is and especially important consideration if you want to focus on increasing your engagement. In this case, you'll want to focus on partnering with influencers that have the highest engagement rates. They may have smaller followings than bigger accounts, but you can't replace engagement. You may find it necessary to partner with several of these types of influencers to achieve your desired reach. Generally speaking, the larger follower count an account has, the lower the engagement rate will be. Use the picture below as a guideline.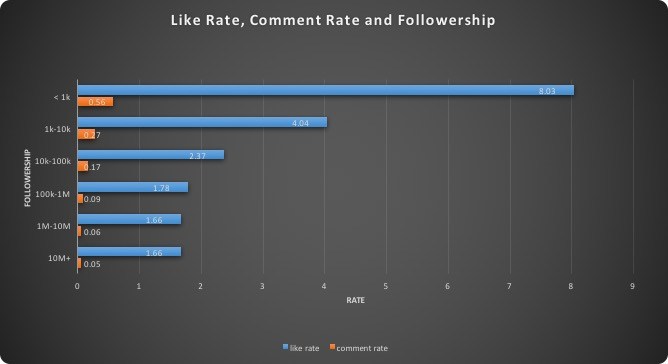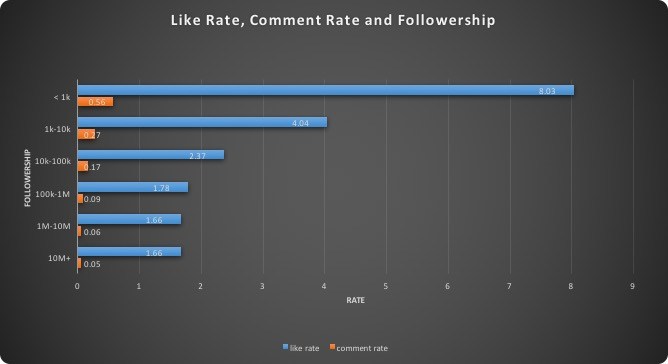 Quality of their followers
You'll want to ensure that the influencer(s) you choose has clout with your target audience. For example, consider a fitness apparel brand. Partnering with fitness instructors and athletes will ensure you are reaching your target audience via someone they trust. It is reasonable to assume followers of these types of influencers will trust what they have to say about fitness apparel.
Another factor about followers to consider is to make sure they are real. Some Instagram users will pad their following with paid accounts in an effort to become an influencer. There are several red flags to look for. Accounts with lots of followers with no photos or posts are suspect. Private accounts with "spammy" names are also questionable. Take a look at their comments. Are they relevant and coherent? If not, they're probably from fake followers. If you're considering partnering with someone with a large follower count, there are several free and paid tools to help you audit followers.
Cost
Even though working with Instagram influencers is generally less expensive than traditional alternatives, it probably will not be free. Rates can vary wildly between influencers. Many influencers are willing to take free products or services in exchange for their services. Others may charge a flat fee. Some influencers charge based on the number of leads or sales they generate. Accounts withl larger follower accounts are going to cost more. Remember, you're looking to enter into partnerships with influencers whose following is valuable to you. It is important to come to an agreement on compensation that works for both parties.
Take the plunge
As you can see, there are many ways businesses can benefit from incorporating Instagram influencers into their digital marketing strategy. Many business have grown to be huge players in their niche by focusing entirely on influencer marketing. Every business has a different strategy for digital marketing. There is no one right answer. However, if you aren't currently using Instagram, it may be a great choice to help you meet your business goals and objectives.