During Found Conference, a panel of content marketing experts talked about one of the biggest issues in content marketing: ownership of the marketing ecosystem. We all know that the days of siloing content into departmental funnels should be over — but that can be hard to execute. How can we create a holistic ecosystem of content when everything on our website — and offsite marketing platforms — is content? 
All content is content, even if it "belongs" to another team
Caroline Lyden of Search Hermit SEO says that technology and user patterns are changing and evolving, and the way we approach the marketing funnel should evolve, too. Users approach the marketing funnel in a non-linear pattern, and the path after conversion isn't linear, either. Caroline suggested we approach marketing not as a funnel, but as an ecosystem. We're talking about an operational paradigm shift away from the linear marketing > sales > support funnel.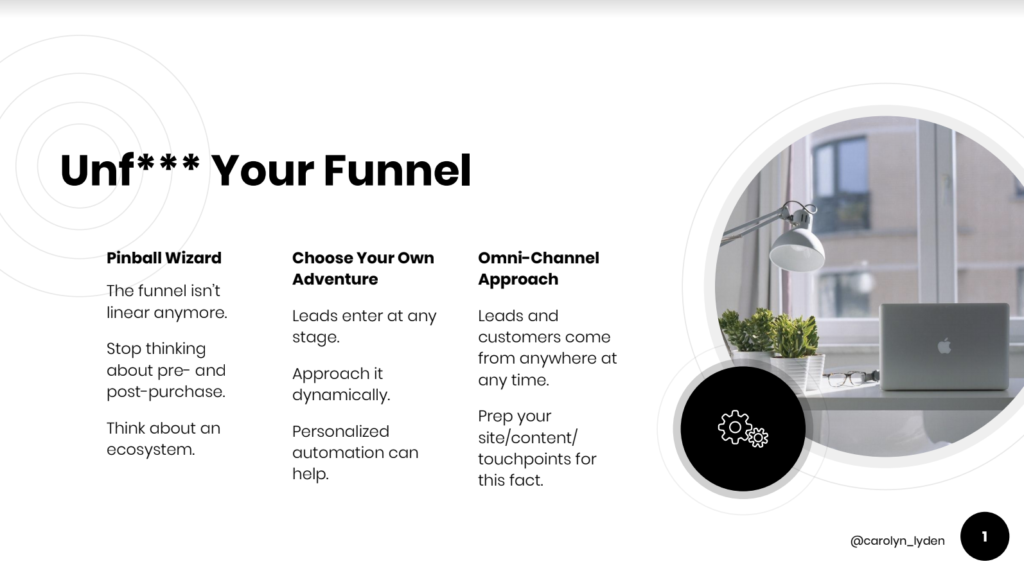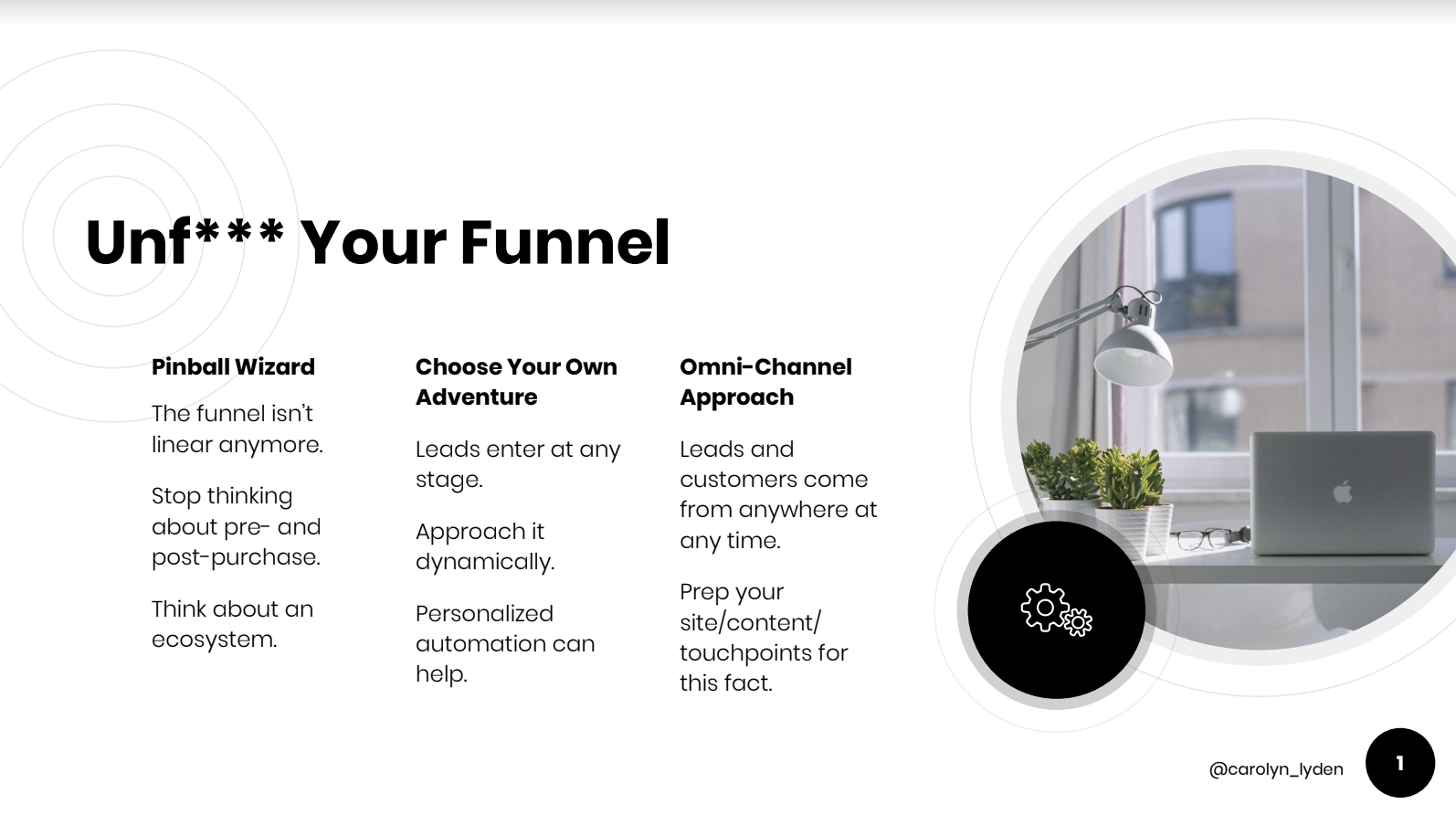 Users can enter at any stage of the funnel, through multiple touchpoints — we know this from our multi-channel attribution analytics. Analytics is, after all, a huge piece of our marketing budgets! One study by Duke University in 2018 found that businesses planned to increase their marketing budget for analytics nearly 200 percent by the early 2020s — and we're getting there.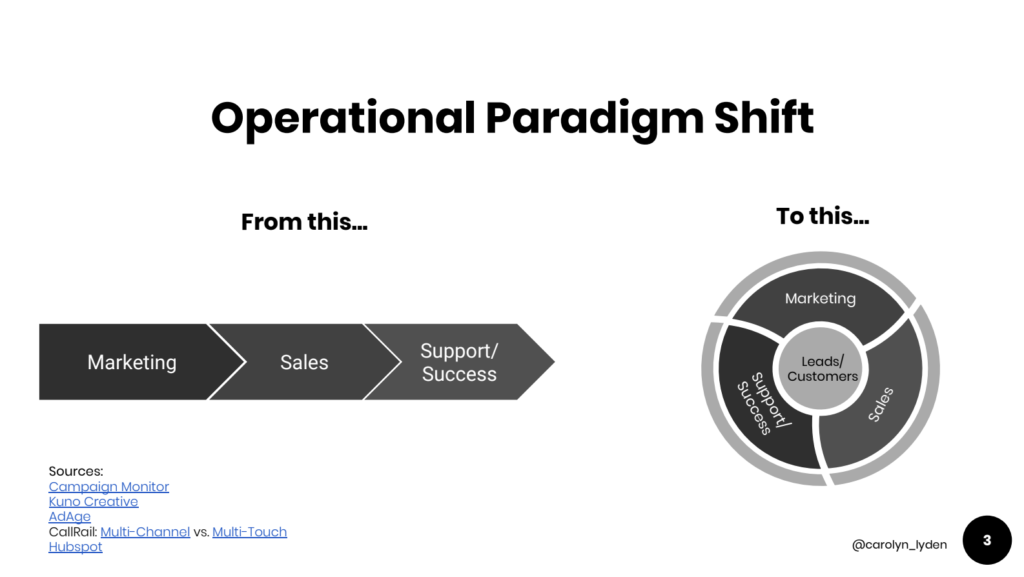 Caroline suggests approaching our touchpoints more organically: by running each of our interactions through this ecosystem model. Personalization is a really big deal — and a great first step. Figuring out what an individual really wants from your marketing "jar of things" is the most important element of creating a conversation.
In a multi-channel attribution model, you're not crediting a single lead source with any conversion. We know that users are accessing many of the different channels at their disposal to inform a purchase decision — especially in high-cost and B2B industries.
Don't "over-funnel" your content
 We can no longer group a channel into the top of the funnel, middle of the funnel, or bottom of the funnel. A Google search might occur early in the sales process — but maybe a user signed up for a demo or received a newsletter before getting deep into their purchasing decision. Some of those activities traditionally designated as functions of the sales department are drawing users closer to a conversion in a more marketing-y fashion. Forget handing off customers to sales or support — and focus on working together as one business.
Studies show that a lot of the best new business comes from existing customers. A delighted customer creates more customers — and that's a really big deal for both small and large businesses. Our jobs as marketing or sales reps isn't done when a prospect gives us a credit card number. Staying involved with customers shows new leads that we stay involved with them through the entire process.
When we execute multiple channels of marketing, we see efficiency gains
You will likely get more for your money by aligning marketing, sales, and support strategies into one large pot than siloing these two areas into "top of the funnel" and "bottom of the funnel." It makes sense — by teaming up with sales and support teams, we marketers can reduce redundancy and plug up some of the "leaks" that occur when users are handed off between teams.
Figure out what questions and issues you aren't solving — for leads and for customers. Listen to your support team's incoming calls. Consider what frequently asked questions could be answered somewhere in the sales and onboarding process, and what issues could be avoided by providing new customers with better intelligence. Are you getting tons of questions from existing customers about a particular dashboard or feature? Try adding that information to onboarding demos and manuals. Are your referred customers asking the same pricing questions? Include some better cost transparency on your website.
No content is too small: the importance of micro-content
Michelle Dupler, a Content Strategist at g2o Marketing, talked about the importance of microcopy at last year's Found Conference. The idea behind microcopy: no piece of content is too small to consider. She started off her presentation with photos of her doormat — a generic "welcome" mat in flowery print — and her neighbor's doormat — which reads, "Leave." Think about those two one-word messages: they each convey a lot of information.
Even one word of copy can influence user experience on your site and other properties. Buttons, link text, navigation labels, headlines, and other tiny pieces of copy guide users through your website. Each of these can have an impact on your site, so a thoughtful copy strategy should be applied to your microcopy! Even one word can impact conversions.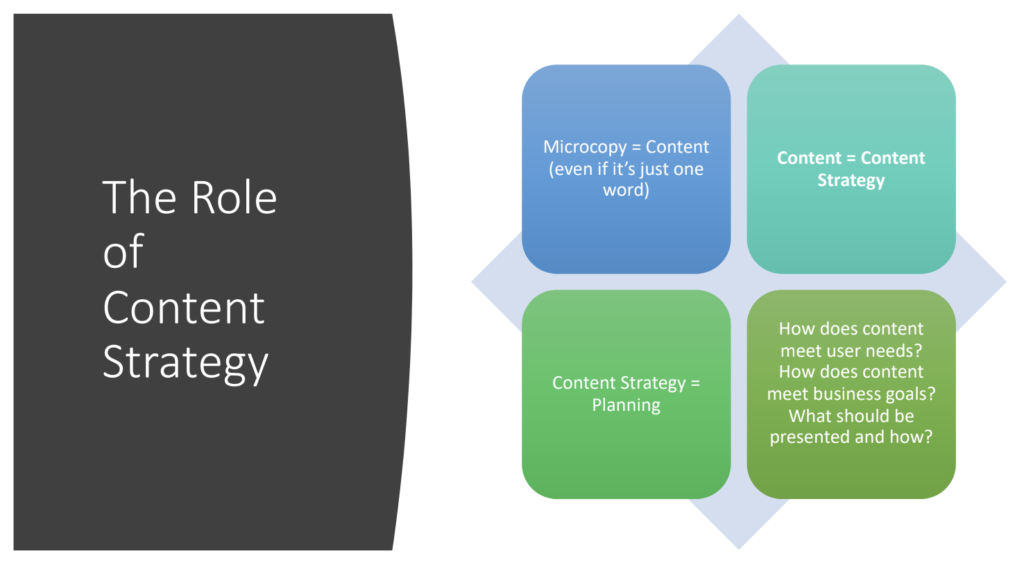 In one example, Michelle talks about a page on a business' site that read "request a quote." Fairly typical, right? However, users were using internal search and search engines to find the word "price" — and no "request a price" page appeared.
After some testing, the business replaced "request a quote" with "request a price" — and saw a 161 percent increase in clicks.
Often, microcopy such as button text ends up assigned to web development. But, when thinking about content strategy, microcopy is clearly a piece of the puzzle. Test your copy by wordings Google Optimize to try multi-variant versions of the same page: try creating different versions of the same link or headline. If you have a content strategist, pull them into the conversation! Consider how things like your internal links and error messages meet user needs, business goals, and your brand requirements — and adjust as needed.
Assigning content: creating deliverables via agile marketing
Bill Cushard of Service Rocket promotes a holistic marketing team process, and that a circular process eliminates bottlenecks in content creation. Bill says we need a process that is customer focused: we create and "ship" content, receive feedback from customers, and incorporate that feedback into the next iteration of content. Or, content may be launched in "versions," allowing marketers to create a refined piece of content through customer feedback and adjustments.
Bill advises using "scrums:" short meetings based on planned work. We've discussed agile marketing on this blog before: agile involves a series of "sprints" — is a time-based period of work based on a defined set of priorities. In most cases, sprints last for one to two weeks. Then, teams stay up-to-date on spring work through scrums, which serve as daily check-ins. At the end of the sprint, there's a wrap-up to discuss how the work was accomplished and whether goals were achieved.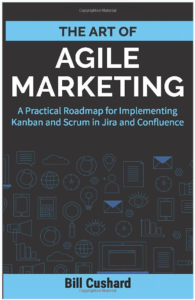 The beauty of agile marketing is in collaboration: members of multiple parts of the marketing ecosystem work together to determine who will accomplish each deliverable, and work together to establish priorities. So often, teams end up with a discombobulated marketing effort due to each part — social, content, sales, support, development — working at its own pace and on its own priorities. Even just a few minutes per day of collaboration, paired with a knowledge of each department's workflow, can make marketing smoother.
By looking beyond what we think of as "SEO content" or even "marketing content," we have the change to improve content across our sites — and to improve conversions, too. The 2020s will be the decade when the marketing funnel all but disappears. In the new marketing ecosystem, users can enter at any touch point and find content that speaks to them.
Working within your organization to make these changes can be a battle – but it's one worth fighting because it's the only way for content to win.
Want some help getting your marketing operations set up for success? Get in touch with DemandSphere with a quick 10 minute discovery call.