Surely you've seen those articles on the bottom of Huffington Post that say, "The Secret to Combat Grey Hair" or "Hot Celeb Dads of 2013." Only after clicking on and reading the article do you realize it's not an article, but an ad. These types of display ads combined with branded content, say the latest studies, are crushing it as content strategy.



These display ads also mean revenue. According to the Branded Content Marketing Association, this tactic regularly increases brand awareness and sales by 25%. It's even higher for those deemed to have a large net worth. Positive views of a brand among this category increase by 67%.
Display Ad Spend Way Up for Branded Content
71% of agencies surveyed say spending is way up for these types of display ads, with 73% saying they plan to increase spending further in the next year!
Brands are commissioning publishers and content producers to now create anything from advertorials to custom video and they're pushing it out beyond their own sites and email lists to news outlets, partner sites and content hubs.
Check out this branded content article from Oscar Meyer, "8 Key Differences Between Father's Day and Mother's Day".
The More Specific to the Audience, the Better
The key to all this brand content magic is that it's written for the individual most likely to click on it. A male reader on Buzzfeed will see something entirely different than a mom in her 30's on Style.com. Even readers on the same site can get brand content that caters to their tastes.  Many news sites allow branded content to target the right audience.
Why no Branded Content on Facebook?
It's actually quite odd the social network behemoth of our day doesn't already build this into their ad creation structure. However, brands may want to consider newsfeed ads. These are ads injected right into the target's newsfeed from a brand they don't even have to "like" in order to see a post from.  Done wrong, this can look spammy. Done right, it sparks conversation right on the post, which can make the target audience feel warm and fuzzy about the brand and more likely to buy. Check out Adobe's newsfeed ad for example: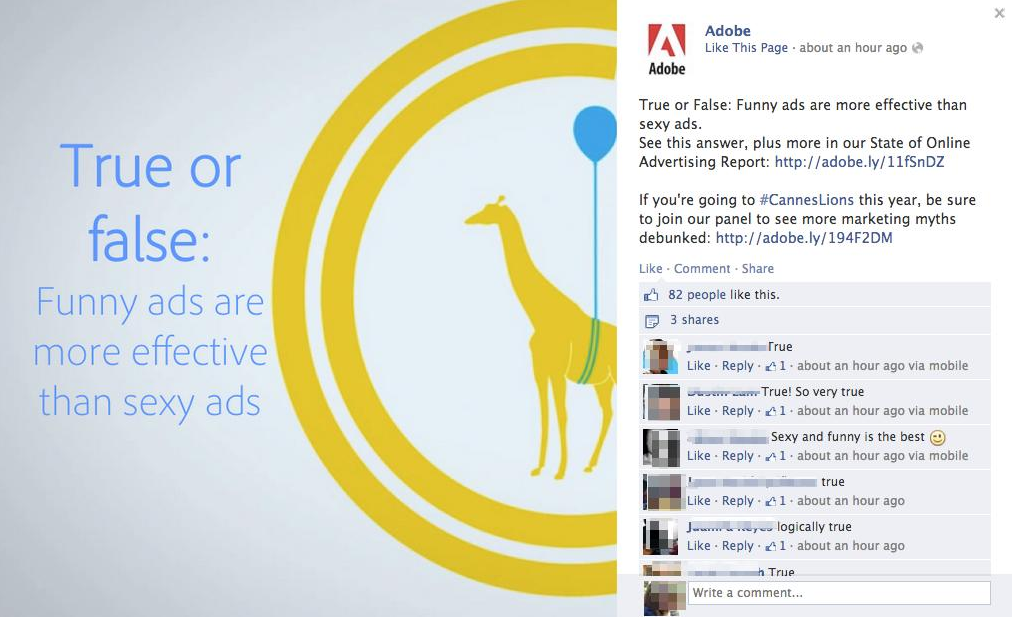 Facebook will hopefully catch on and change the structure of their display ad platform in the near future to allow branded content.
Branded Content, Hand in Hand with SEO and Content Marketing
Search engine optimization once ruled the tough streets of the marketing world, but the changes to Google's algorithm and the prolific use of SEO have made it much harder to stand out using just this one group of techniques. Branded content not only employs elements of SEO, but also makes full use of paid advertising, combined with useful information that attracts readers and social shares. Traditional display and banner ads were once the bread and butter of online news sites. Now, people almost don't even notice them. Here brands have a way of reaching the consumer with someone much different and possibly even more useful to them.
Key Things to Make You a Brand Content Pro:
Write to the audience where you will place your ad

Catchy titles are key to drawing people in.

Set aside a reasonable budget. This is not just writing content. You are going to be using this as brand advertising.

Make sure you have a good writer on staff; one who is familiar with what people generally click on and respond to.  Many people think hiring a journalist is the way to go here. However, you may notice the print industry is dying. This is from lack of clicks, readers and thus advertising. Not every journalist understands this. Social media experts with a strong writing background, possibly in journalism are ideal in this situation.
Sarah Buhr has worked for National Public Radio, KSL News and KBYU. She's currently the Director of Marketing for FlexScore, a financial tech startup in San Francisco. You can reach her at @sarahbuhr.