Marketing is a giant word with huge impact and a mixed bag of budgets, teams, and responsibilities. For some organizations, it includes PR, advertising and corporate communications. For others it's channel management for lead generation. Regardless of where you fall on the continuum, understanding your marketing performance across channels is crucial to continued improvement.
Similar to working on a puzzle, not knowing what the entire marketing picture looks like doesn't make it impossible to be meet your endgame, but it does create unnecessary obstacles in an already challenging process.
So, what are some things you gain by looking at the entire marketing landscape?
Percentage of total content traffic driven by each channel
This is important for a number of reasons. Understanding how each channel contributes to goals and KPIs helps make decisions such as resource management, selection of tools / products, and reporting needs. It also gives you an at-a-glance view of the way your marketing mix interacts together.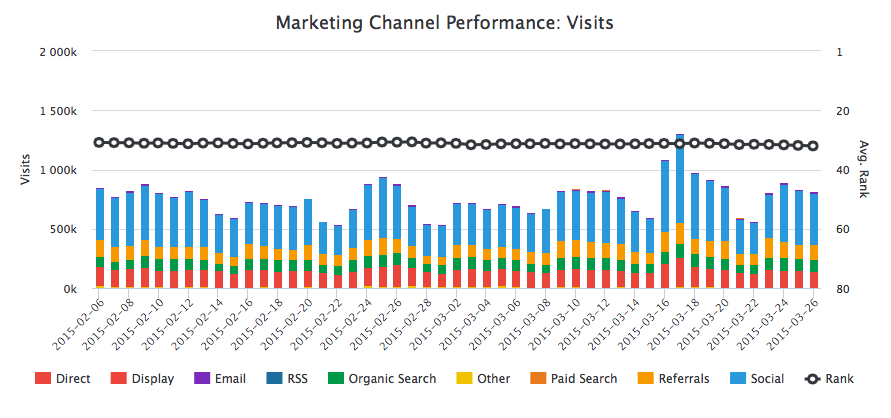 Best practices across channels
The topics and messaging that work well on one channel are often translatable to successes in other channels. For example, if an email marketer shares the top performing subject lines and headers from emails with team members in SEO, the search team can make sure to both track the keywords and phrases from those elements, as well as make content suggestions to other teams.
Another common area people miss out on is utilizing the keywords and topics that are working for their competitors and translating that into content and advertising to maximize visibility into competitive segments.
Mapping social conversations to new content
While conversations on social can be difficult to sort in high volume, key themes and topics often arise. Using this data as the basis for a content strategy can give you a great list of content to create such as FAQs and resources, features lists, how-to guides, and blog posts.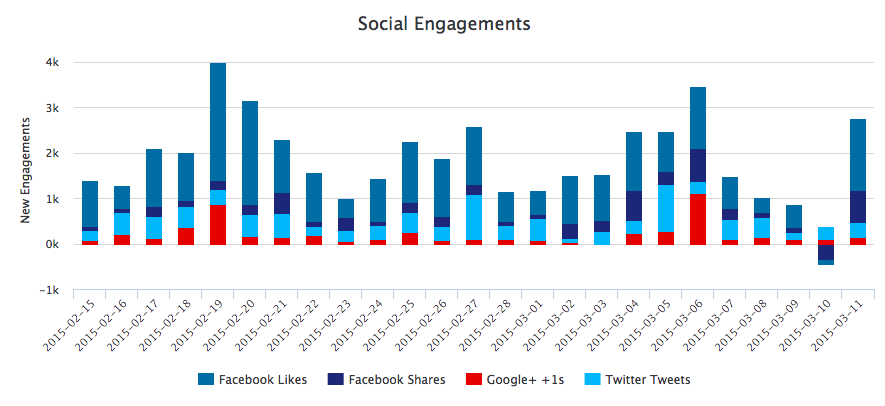 Making it happen
Sharing this information across your marketing team can only improve on the entire organization's actions, ensuring that what's working continues and what needs optimization gets the attention it deserves.
Getting access to how the rest of your marketing channels are performing can be accomplished in a variety of ways.
If your marketing organization does regular reporting, be sure those reports are shared across all groups and team members. Of course, you don't need to share budget numbers, or sensitive information across every facet of the organization, but performance numbers and any best practices or lessons learned are great.  If team members aren't getting access to a summary of the data, best practices, etc., it might be time to ask for it (or if you're a group leader – share it). Keeping information that can benefit the rest of the organization confined to a few people or in one department stunts the growth of goals.
If you have a business intelligence group, or any team that compiles analytics across the organization, you may be able to get some regular reporting sent over. You'll likely want a summary of the data, and the ability to get more granular if needed.
You can also use a marketing technology platform that provides this type of data. If you choose a platform, be sure to select one that will allow you to do more than just monitor channel performance at the surface level. A good tool will allow you to drill down into each channel to see what's working, generate reports, and will likely even make some recommendations as to how to fix it. Another feature of a strong platform is competitor monitoring and analytics, so that, in addition to your own marketing channel performance, you can see how others in the industry are doing as well.
Regardless of the methodology or structure your marketing team uses, enabling an understanding of all channel components will help meet goals and enhance all efforts.