What's the difference between brands that have successful marketing programs and those still struggling to get the results they want? One word, synergy. Instead of focusing on single metrics generated by individual marketing functions, successful marketing teams are synergizing their efforts and unifying their messages to achieve successes that contribute to overall corporate goals. These efforts are unified around one compelling element – search data. Using search data, successful brands are unifying various marketing functions as aspects of a larger, strategic process and placing audience needs at the center.
In the most successful organizations, content marketing, social media marketing, email marketing, paid advertising, and search engine optimization don't compete for resources. Brands that are getting the best results have realized that no single marketing tactic can achieve their desired goals. Instead of competing and comparing results, the marketing and search departments are working together toward a common goal by sharing data and results. Shared data allows these teams to work together effectively and efficiently to unify their messages, improve audience engagement, increase conversions, and impact the bottom line.
Unifying the message with search data
At the heart of these successful efforts is a focus on the audience. Knowing what your audience wants, how they're looking for answers, where they're looking for answers, and what they're finding when they search is central to understanding how to best serve them.
For these brands, audience insights from search data are key to all marketing activities and are at the forefront of strategic planning. Realizing that it's not enough to optimize content after it's been produced or to chase paid promotions to stop a declining traffic pattern on the web site, these strategic plans begin with understanding audiences and their needs and desires. Based on what audiences want and the questions they're asking, marketing activities are designed to deliver the right information to target audiences, answer the questions they're already asking, and provide answers in the formats they're already responding to.
Search data is at the heart of understanding audience intent and should be at the center of every marketing effort. Organizations that are successfully reaching their audiences with engaging messaging realize that there's a lot of information generated from search and organic analytics that can be used for better paid advertising, email outreach, content creation, and social media messaging. Through a successful partnership with the SEO team and the data they can provide, every function can serve their audience with the topics they're interested in. Using search data, the email team gets better open rates with subject lines based on audience interest, the advertising team gets copy that drives the right audiences to the website, and the social media and content teams get the specific words to use in social posts, content assets, and promotions that mirror audience phrasing and intent.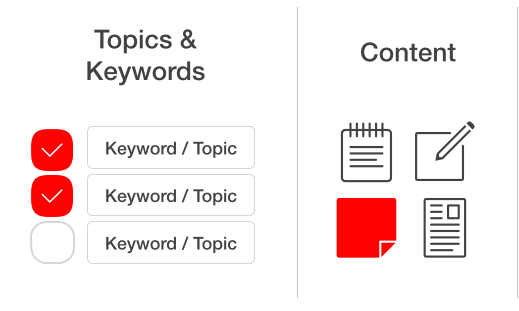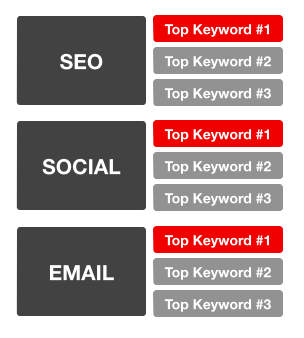 "If I can tell you specifically for a particular feature or product and a specific audience type for a particular location exactly what phrases and topics are most important right now, wouldn't you want your social posts, email subjects, blog posts, and paid advertisements to mirror those subjects and include those words? Search data can tell you how people are natively talking about your industry, where they're searching, and from what exact geographic location. Use the words they're using." recommends Erin Robbins, President of GinzaMetrics.
While data sharing sounds like an easy solution, the challenge for many brands is determining the easiest way to share pertinent information and the most efficient way to get the necessary information into the hands of the people who are creating the messaging. The proliferation of tools for marketing and search has created an atmosphere of data confusion where everyone is getting their information from a different source. The "too many tools" conundrum has contributed to the division of functions, the lack of shared data, and a disjointed messaging process.
The challenge for many organizations is to find an SEO and marketing platform that delivers the deeper analytics and insights the search engine optimization department needs while providing exportable data in a format that an advertising marketer or content creator can use.
Left-brain vs. right-brain – the challenge of data sharing
In the evolution of marketing, most people in the marketing landscape are learning to embrace their analytic side. Still, there are those who feel that the people creating the content and dreaming up the "big ideas" for social promotion are less willing to plug into their scientific, analytical side to dig through data and get the insights they need. Many brands have adjusted for the differences in left-brain and right-brain thinking by setting up a separate SEO department to manage the data and provide the necessary insights.
When search data is the foundation upon which you build your creative campaigns, the greatest challenge is developing a workflow that facilitates communication between the SEO and marketing departments. In an effective workflow, the SEO and content teams communicate a shared understanding of terms and goals and the SEO department is able to automatically deliver actionable data into the hands of the people who will be using it to make decisions and create content. When the workflow breaks down and marketing professionals don't have access to the data themselves, they often resort to acquiring their own tools – once again creating a separation between departments and an atmosphere of conflicting data and differentiated messaging.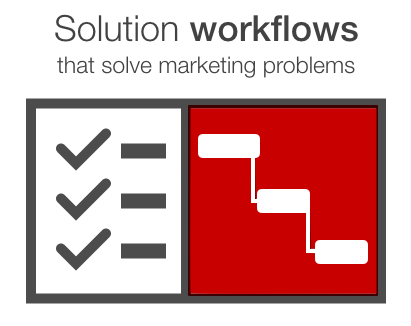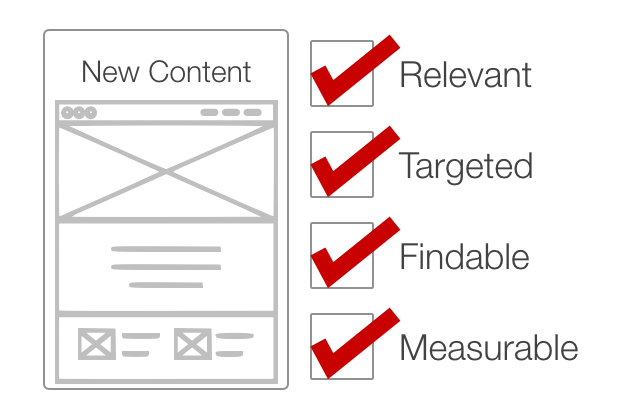 In some cases, brands try to share the same tools between the SEO and marketing teams. But, for people in content production, advertising, and social media, using the analytics tools is not always a natural fit. Unless the tool itself provides a way for marketers to get the insights they need in a way that makes sense for them, it's often too difficult and too time consuming to understand audience intent and measure engagement by sifting through tons of search data. On the other hand, waiting for reports from the SEO department means not responding to the market in a timely manner and not getting the data in real time.
The key to collaboration between the teams within an organization is to first get everyone speaking the same language and to develop a workflow and communication flow that gets everyone on the same page. The challenge is that a lot of times departments and functions don't communicate until there's a problem; traffic has dropped or conversions have slowed. At the point of crisis, the SEO team is called in to create a quick fix. While SEO teams are increasingly being asked to communicate and provide actionable data, the onus is also on marketing departments to make SEO a part of their strategic process.
Erin suggests, "Content teams should go to SEO first. Don't talk to them after you've created content to check on traffic and audience engagement. Don't be like, 'Hey, I created this content. How's it doing?' Come and talk to SEO first."
Some questions to ask your SEO team include:
What's performing well?

What are the competitors creating around this topic?

What are other keywords related to this topic that I should be including?

Are there long tail keywords that could give us better conversions and more traffic?

What else is showing up on the page ahead of organic content for this keyword or topic?
Clarifying the data with keyword and content groups
Beyond keywords and volume, marketers need to understand audience intent and audience preferences in order to translate search data into messaging that matches users needs and contributes positively to the customer journey. Marketers looking to create new campaigns need to know everything that's being talked about around specific topics relevant to the product or service.
Creating keyword and content groups is an elegant solution to the "too much data" problem. Once set-up, keyword and content groups provide insights into trending keywords and topics, competing content, channel performance, campaign performance, and much more. By grouping search data into groups, marketing teams understand what topics, types of content, and marketing channels are working best and can create more effective programs as a result. Given groups of data, marketers can begin to translate data and develop strategies to create messages that are most likely to engage the right audience.


Keyword and content groups can be created around whatever is relevant to the campaign or marketing focus, and can be grouped by:
Location

Audience personas

Feature types

Campaigns

Messaging strategies

Products
"If you set your system up this way, you can give the rest of your marketing organization back a lot more useful information that they're going to be able to understand and use. Search teams should try to match their keyword groups, content groups, and some of their analysis to marketing campaigns specifically. So if you can create measurement that mirrors the measurement and analytics that the rest of the company is doing, you'll be able to speak to them so much better and you'll be able to deliver something that's already analyzed or parsed out at least into buckets that marketers care about, as opposed to delivering them a list of things that don't have to apply to the campaigns or features or messaging strategies that they're doing," recommends Erin.
Breaking down the barriers and unifying SEO and marketing efforts has helped lots of brands show more success for their efforts. Using an SEO and marketing tool that provides the analytics, recommendations, and reports the SEO team needs and the content, keyword, and competitor insights the marketing team needs makes sharing data and unifying messages easier and more effective. If you're interested in seeing an enterprise SEO and marketing platform in action, give us a shout and we'll show you around.
To hear more on this topic, listen to the Edge of the Web podcast, "Connecting SEO and Content Marketing"