We are pleased to announce the release of some powerful new functionality in Ginzametrics: the ability to manage Preferred Landing Pages and track how well your content performs for your high priority keywords.
What Are Preferred Landing Pages (PLPs)?
Preferred Landing Pages (PLPs) are pages that you own (or have control over) and are trying to rank for specific keywords. There are many reasons why you may want to rank landing pages for particular keywords, such as, when you create new content, you can build that content with specific keywords in mind to drive traffic and ensure relevance. But, at times, other URLs may rank higher than your targeted content due to the way your site is currently being optimized or indexed.
The solution to this is to treat this targeted content as a PLP and work on optimizing your PLPs so they properly rank highest for your targeted keywords.
With this release, Ginzametrics provides you with a full suite of tools to manage, monitor and improve your PLPs performance in organic search.
Examples Where PLP Management Really Matters
There are many situations where ensuring that your PLP ranks for its targeted keywords. I'll present a few here now.
Dealing with Outdated Product Listings
A common scenarios, especially for e-commerce sites, is one in which high value keywords such as "nexus cell phone" or "iPad" will map to many different pages on a given site, often representing products that have relatively short or seasonal life cycles and are being replaced often by newer models.
Tracking the latest or correct page as a PLP when mapped to these keywords helps you ensure that your site visitors are not left confused or disappointed by outdated product listings.
Conversion Rate Optimization (CRO)
True SEO professionals understand that SEO encompasses much more than just ranking well in Google. What that means practically is that in order to perform well in organic search, you need to understand the entire search-to-conversion path of your site users. Many companies we see will spend a lot of money on CRO but ignore critical, basic elements such as ensuring that the best converting keywords are the driving traffic to the right landing pages in the first place.
By connecting your CRO campaigns with proper PLP management, you can ensure that you are helping your site visitors through the entirety of their decision-making process.
Discover Keyword Ownership Issues on Large Sites
A problem that owners of large sites have, particularly in large organizations is that of keyword ownership. For example, say you run SEO at a large pharmaceutical company. Your company publishes both research papers about the various drugs it researches and has discovered. Additionally, your company's marketing department is spending millions of dollars on creating content to reach consumers who want to learn more about your product. You will likely run into problems when both your research teams and your marketing teams want to rank for the same keywords.
Proper PLP tracking lets you discover these issues and put policies into place — enforced by your PLP tools — to ensure that the right group within your company has the right to rank for the keywords that are most relevant to their goals.
The PLP Management Toolkit
In this release, we provide a comprehensive set of features to let you plan out your PLP strategy, reduce your workload through as much automation as possible, and deliver reporting tools, with prioritized recommendations for each page, to spot problem areas in your search performance.
Automated Page Discovery and PLP Recommendations
Our first goal is to make the setup and fine-tuning of your PLP strategy as easy as possible. We do this by analyzing all of the keywords we track for you, analyze each of the URLs that appear in the SERPs and then, using our algorithms, recommend a strong candidate for the keyword's PLP. This becomes the default setting that you can use to begin your PLP management, so there is no extra work involved if you're fine with what the system recommends.



This is represented in the UI by a thumbs-up icon, which indicates that out of the URLs that have ranked in the SERPs for the keyword in question, that our algorithm found the page with the thumbs-up to be the most relevant. In the case where there is only one URL (as shown in this screenshot), the selection will default to this URL.
In both cases, this becomes the default PLP for the keyword, which you can further override, as discussed below.
Easy UI Management Tools
There will likely be cases where the default, automatically selected PLP is not want you want. We've made it easy for you to change this. On the same screen as above, there is another column next to the thumbs-up column with a star. If you hover over this column next to the page in question, you will be able to click and star the page, thereby setting this page as the PLP for this keyword. You can change this page selection at any time by de-selecting your current PLP and choosing another one.



The system will continue to automatically recommend PLPs but once you have overridden the PLP selection, it is just there for reference — it is not being used in reporting anymore.
Bulk Editing for Large Numbers of Pages
There will also, of course, likely be times when you want to make many changes at once. This is made possible with our bulk editing tools. This is available on the Settings Tab > Keywords > Bulk Keyword Actions.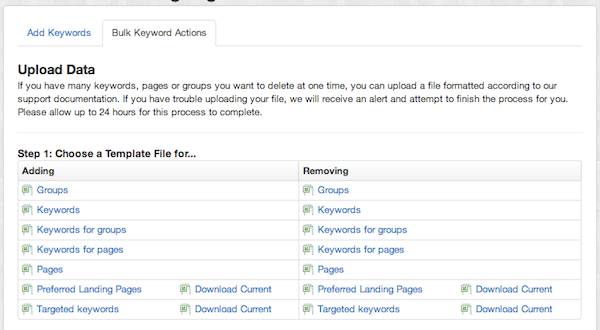 You just download the current list of keywords and PLPs, make any changes you need and re-upload the Excel file. Ginzametrics will take care of the rest.
PLP Reporting Tools
Finally, we include PLP reporting tools that provide insights about your PLP performance. On a daily basis, we show you the keyword, its rank, the ranking URL and whether the ranking URL matches the PLP. If it is a match, you get a green checkmark and if it's not a match you get a red 'X'. The number and percentage of matching URLs is included at the top of the table.



Additionally, if you click on the ranking URL in the table, you will get a popover that shows the system-recommended URL, the actual ranking URL and (if applicable) your set PLP.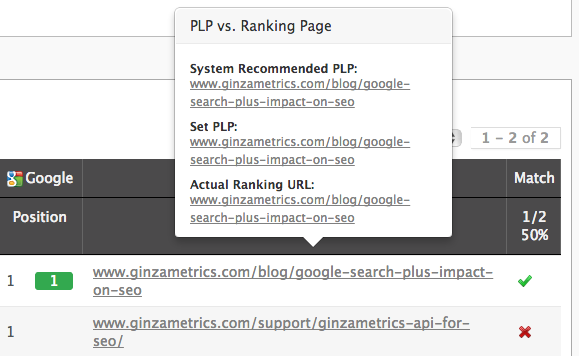 Finally, we've provided some useful filters on this report, so you can easily sort through the data and find the highest priority items to work on: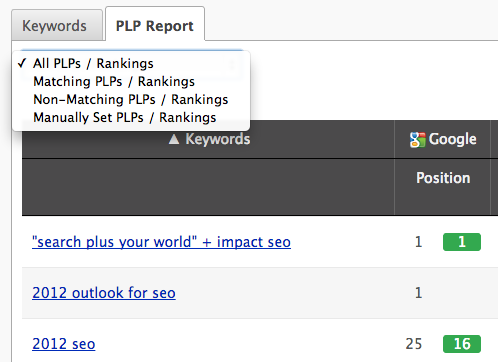 With these filters, you can see all of the PLP data, matching PLPs, non-matching PLPs, and PLPs that you have manually overridden, providing a clean way to find the keywords that you have spent the most time on to date.
That's a quick run through of the new tools. You can read more in our documentation (to be provided soon!) on PLP management and call or email us with any questions. In the next section, we'll talk about some specific things you can do with these tools.
How You Can Use These Tools in Your Company
Now that you have an overview of what the new PLP tools can do, let's talk about some actions you might take and also you can use them to create an effective PLP management policy at your organization.
Optimize PLPs for Highest Priority Keywords
The first and most obvious action you can take as a result of these insights is to optimize your PLPs for the targeted keywords in questions. You can use a variety of means — including reviewing traffic and conversion data, competitive benchmarking and keyword grouping — to prioritize and organize your keywords. Once you have identified the keywords you most care about, you can use our content optimization tools and recommendations to improve how well the page is optimized for the specific, targeted keyword.
Monitor and Report on PLP Matches
The second action you will probably want to take is to include PLP reporting into your daily or weekly KPI monitoring.
Because the report will tell you the percentage of matched PLPs and show you exactly which keywords to focus on, you can either decide to optimize the pages in question (see above) or choose a different PLP for the keywords in order to get more accurate reporting. If you include these reports as part of your core KPIs, you can make big improvements to your site as a whole by ensuring that the right content is optimized for and improving for the right keywords.
De-Optimize Non-Desirable Pages
A third action you might want to consider — and this is somewhat non-intuitive — is to identify pages that you do NOT want to rank for a specific keyword but currently are ranking better than your actual PLP. If your actions to optimize the actual PLP aren't working, then you can take steps to de-optimize the ranking URL for the keyword in question. Specific examples include changing the title text, modifying the body copy, etc. This can have a pretty big impact on your rankings for these pages so be sure you've thought it through. 🙂
For Larger Organizations: Keyword Arbitration and Owner Management
Finally, an action that larger organizations may want or need to take is to begin internal keyword arbitration and owner management discussions with the various teams who have an interest in ranking well for the same keywords. These sorts of processes are notoriously hard to manage without the right technology in place, so using our tools to track all of the sites in question and monitor individual keywords across multiple sites.
Bonus Feature Release: UI Tools for Targeted Keywords for Pages
Finally, although only somewhat related to PLPs, we took this opportunity to provide an update to our tools for managing Targeted Keywords for Pages (TKPs).
When we previously released this feature, the only way to update TKPs was to do it through bulk management tools. Similar to the way you can manage PLPs in the UI, you now have the ability to manage TKPs in the UI as well. It works in a very similar fashion: for each keyword associated with a page, you can hover over the target column for the keyword row and click the target icon in order to set the TKP for that page.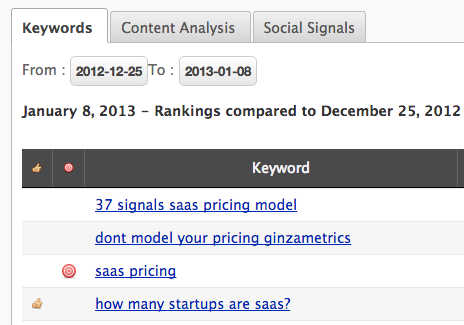 As before, you can set up to three targeted keywords per page, so if you have already used three keywords on a page, you can simply de-select or de-target a keyword first and set a new one.
In Conclusion
We hope you're as excited as we are about this new functionality. The ability to manage PLPs (TKPs for that matter) is a key feature missing in many platforms in the SEO tools market which is one of the reasons we decided to prioritize development on this feature set. We look forward to getting your feedback on this and any other feature and also look forward to continuing to improve the Ginzametrics platform. If you'd like to see all the features of the platform, give us a shout and we'll show you around.