Updates to the DemandSphere platform are here! Announcing our new UI, with an updated look and feel, as well as new features and workflow options. This is the first in a series of new features that improve SEO, content marketing, and competitive intelligence. View changes to the platform in this release as well as a look to the future. If you're looking for an enterprise SEO tool to take upgrade your marketing performance, check out our platform and schedule some time to speak with us today.
New marketing dashboard layout
There are a number of updates to the platform layout designed to make navigating easier. There are also changes to the platform that improve workflows and project management.
Updates to platform navigation
One of the most noticeable changes to the content marketing and SEO dashboard is the move to a side navigation from a top navigation.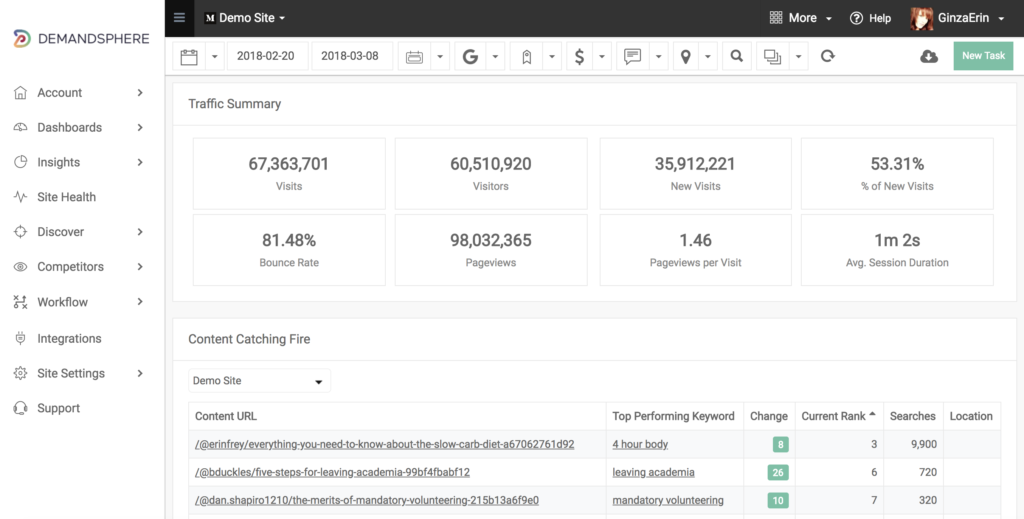 The new navigation includes:
Dashboards – View custom dashboards below the dashboards option at the top of the new navigation. At the bottom of the list you can create a new custom dashboard directly from your main dashboard.
Insights – The insights area still gives you access to website, content, keywords, social and link data. Social data includes the option to add Yelp reviews when enabled for your account. To gain access to Yelp reviews if you don't currently have them, contact us and we can get you started.
Site Health – Recommendations for improving your content live here, along with overall grades of key SEO items. We break out SEO recommendations by keywords and content, page structure, and crawlability. More updates around devices, location, and enhanced content options are coming soon. We provide importance, difficulty, and risk measurements to each recommendation to prioritize action items.
Discovery – Keyword discovery, competitor discovery, and Content Catching Fire are located in this menu. Keyword and competitor discovery have new layouts, detailed in this post. We detail Catching Fire below, which gives you ways to get ahead of the competition.
Competitors – View each competitor in detail from this menu. Add new competitors to track directly from the navigation in the new UI menu.
Workflow – Items in the workflow menu include reports, activity, projects, and annotations available. New the feed are activity and project options, we outline them in the new feature section of this post.
Integrations – Access available integrations and request new ones for your account.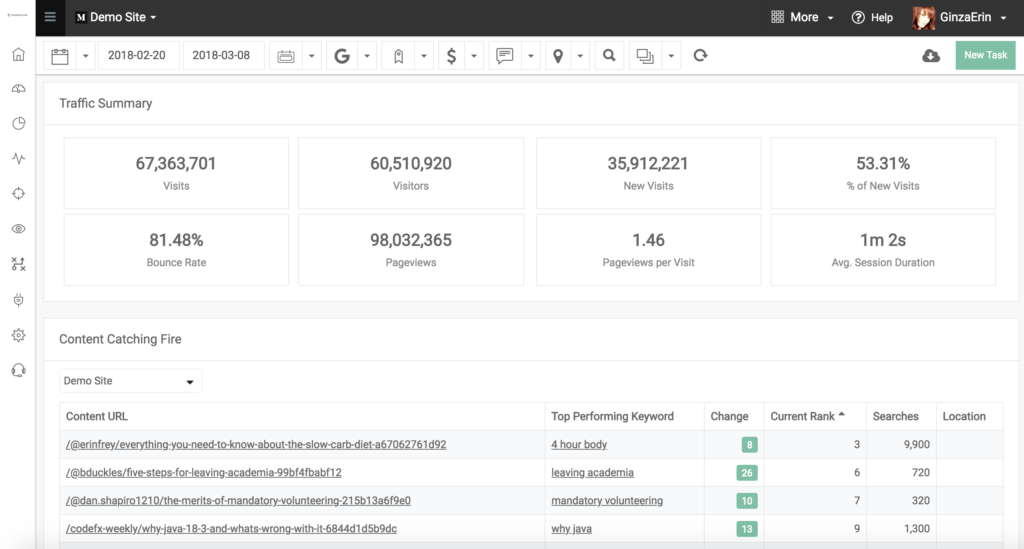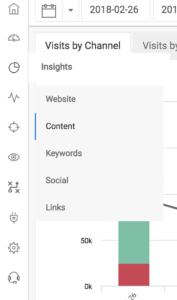 Collapsible Navigation
The newly collapsible navigation gives you the most space for data and insight views in your dashboard. Collapse the navigation and still view menu items by hovering over them.
The new navigation also contains access to your Site Settings, and update search engine and device settings, add and manage keywords and competitors, add content, including offsite content, and more.
Access to support, integrations, and resources
Get help when you need it, whether it's for a technical request, error reporting, integration requests, or to ask about SEO and content marketing strategy. The new UI puts access to your account manager, the support team, and resources at your fingertips.
Access the support team and your account manager from the dashboard directly using the last icon in the menu. Send an email directly to support to report issues or request help.
The support team also onboards new team members and provides information on individual data modules, building custom reports and dashboards, and building Get Found Workflows.
View available integrations and request additional integrations from the dashboard to enhance your data.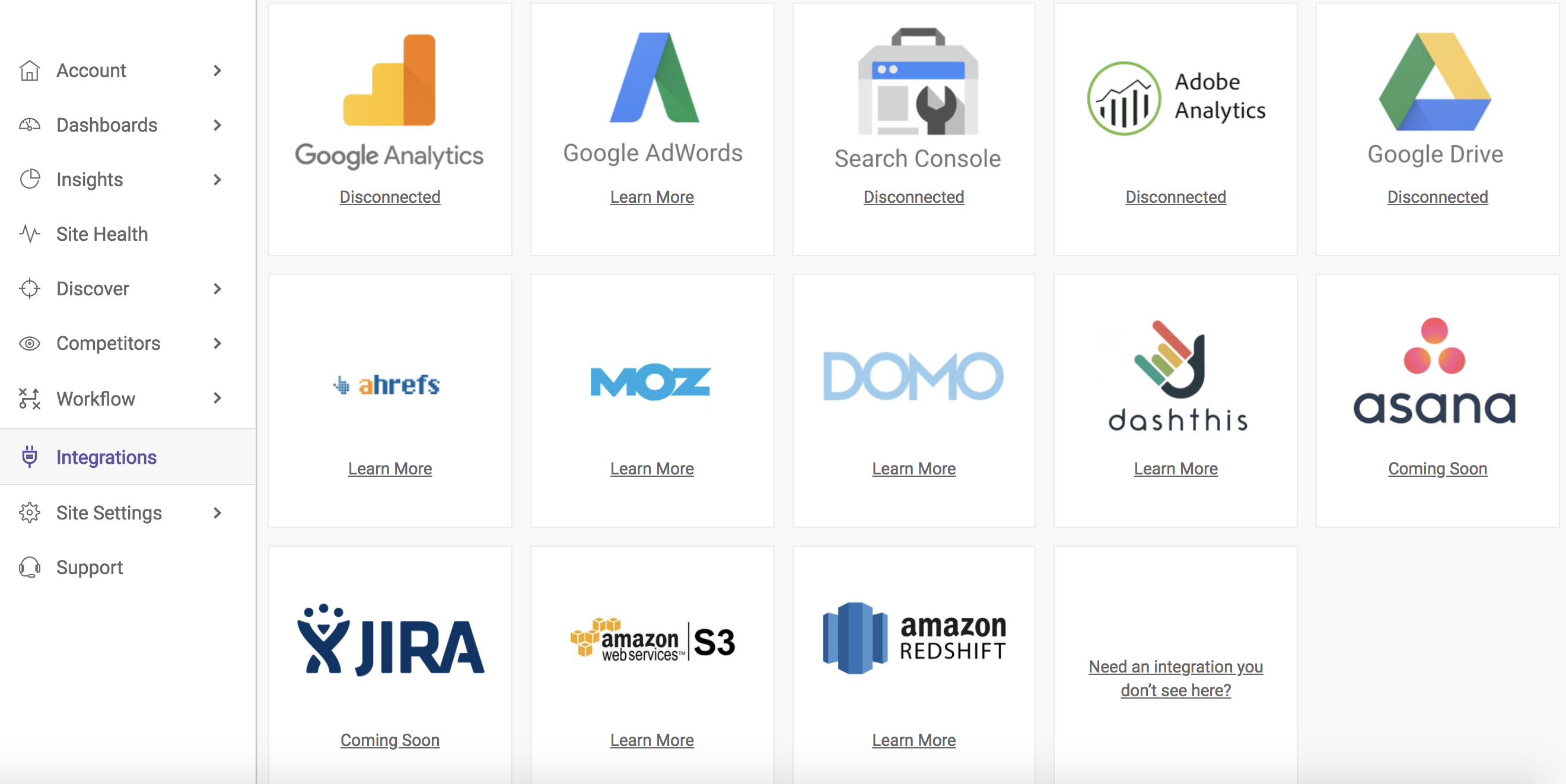 Keyword Discovery tool update
The latest keyword discovery tool update includes not only discovered keywords for your SEO and content marketing efforts, but also difficulty scores, monthly search volume trends and real time SERP data.
View which keywords you're already tracking alongside newly discovered keywords, and add them directly to your platform using the "Track" option. Add them to a keyword group or segment using the "Add to list" button.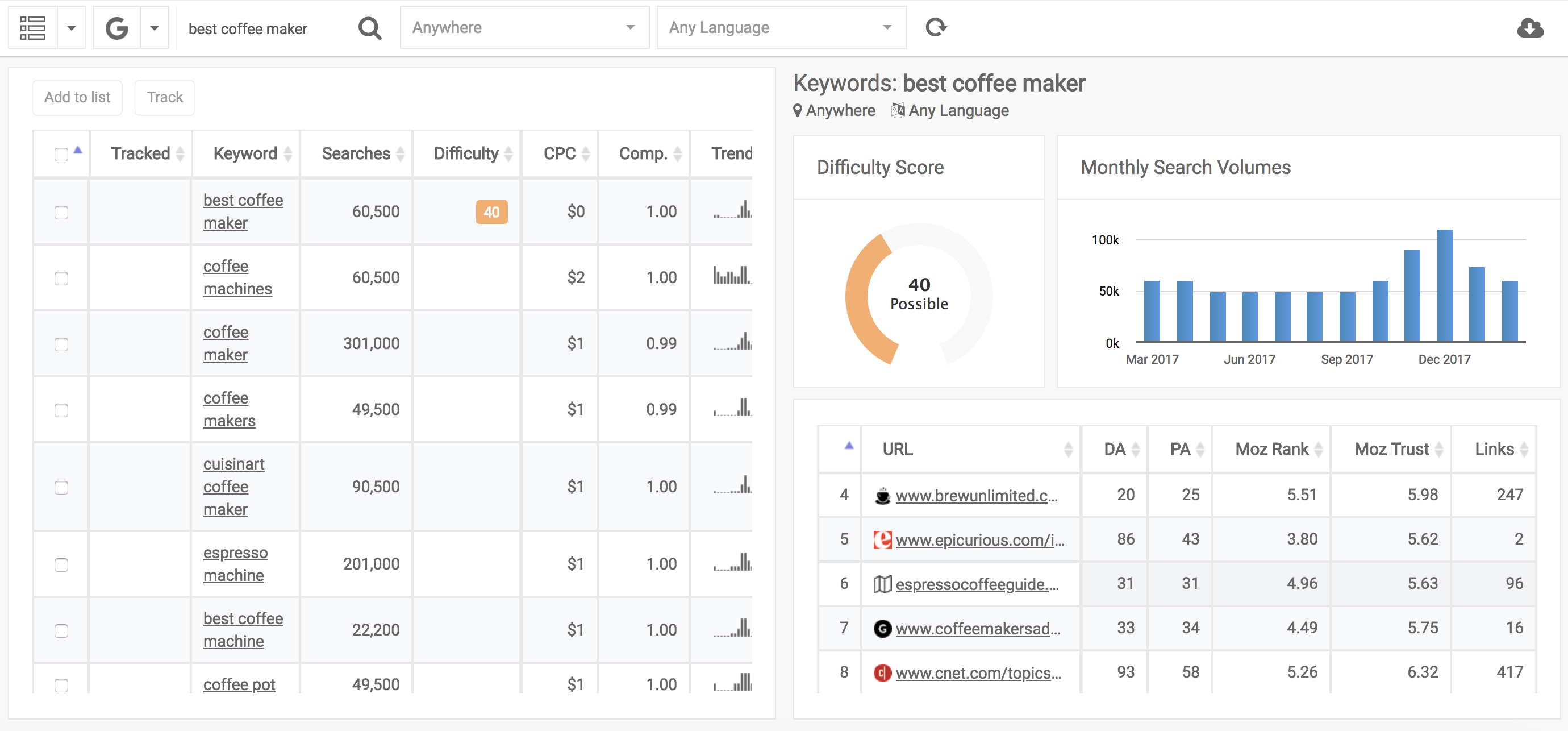 The platform will also allow you to discover keywords by location and language specifications as well.
This is the first step in an effort to connect real time keyword data to the content creation process. Additional features coming out in this area continue to push the possibilities forward for marketers and SEOs creating relevant content that converts.
Workflow for marketing teams now includes projects, templates, and activity tracking for agencies
Manage your workflow more easily with the project and task management options available. This update gives you the ability to create projects with tasks that are assigned to team members for tracking and status updates.
Export tasks or add them to the reporting center for an integrated approach to viewing your current to-do list.

The newly released activity tracker lets you know when you or other users make updates in the platform including adding or deleting keywords, creating groups, editing and managing reports, and more.
This feature gives agencies as well as in-house marketing teams a collaborative way to track time and users directly within the dashboard. Workflow is a critical aspect of enterprise SEO. We work closely with our customer teams to ensure they are building a solid, data-driven operation and this new tool makes it even easier to help teams move faster,
DemandSphere knows you may not always have time to implement workflows, create content, as well as conducting analysis yourself. Our team now offers managed services including Segment Map creation, content generation, site audits, custom report and dashboard builds, and more.
Amazon SEO and Keyword Research Tool
Welcome to our Amazon Enterprise SEO offering, leveraging our Segment Mapping technology as well as DemandCrawl technology.
Understanding how Amazon's A9 algorithm works to rank products is only half the battle, since keeping up with it is a daily and sometimes hourly task.
Interested in learning more about Amazon Enterprise Search? Let us know here and we'll get back to you ASAP.