What is an enterprise SEO platform? Simply stated, it's a way to make sure all the pieces of your inbound and outbound efforts are working together for a common goal. Using the latest technology in the science of findability, a good SEO platform will provide you with everything you need to optimize your website and improve content rankings. It will also make sure you're providing a good user experience and attracting the right audiences, not just search engine bots.
Why do you need an enterprise SEO platform? Because you want your digital marketing and SEO efforts to contribute to the bottom line. Don't you? If you're still not sure why you would need an enterprise SEO platform, here are seven more good reasons.
1. Algorithm changes can impact your site in one day
If you're not using an SEO platform that gives you daily insights into your individual marketing channels and overall website traffic, rankings, and findability; you may not know why your website or content performance has dropped. Without the right data, you may come to the wrong conclusion and end up wasting your time on fixes or making the wrong strategic decisions.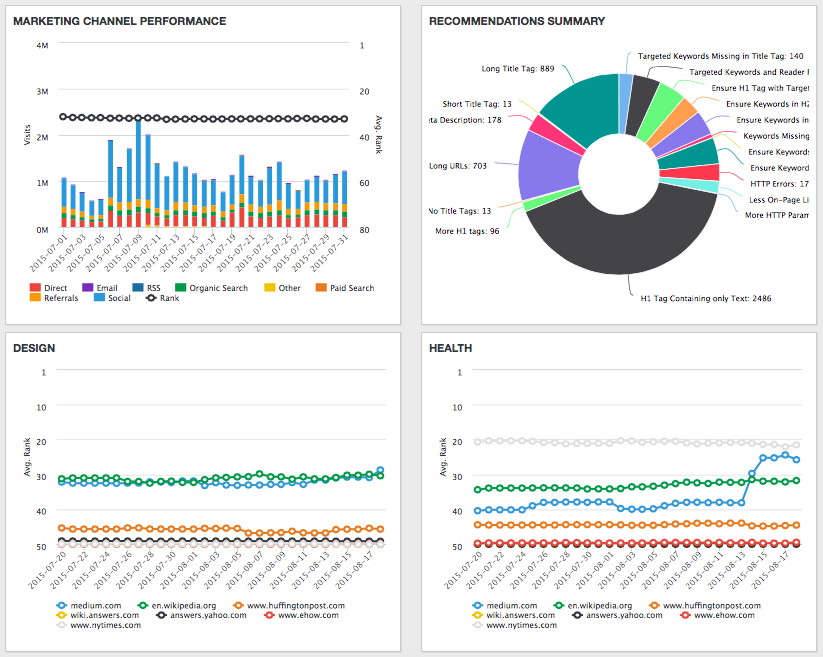 At the very least, you need to know when minor, or major, search engine algorithm changes have occurred and watch the effect on your search engine ranking positions versus your competitors at the keyword, content, and page level.
Annotations within the SEO platform will alert you to the exact day and date where algorithm changes took place so you can compare ranking performance before and after that date. Sometimes it takes a few days for algorithm changes to fully take effect. During these periods, you'll want to be checking your dashboard more often and comparing performance against previous benchmarks.
You can also add annotations of your own to track the changes you make to your website and content including:
Major SEO fixes to content, page structure, or crawlability

New campaign launch dates

New product introductions

Website updates

Any significant event that might affect rank
If SEO fixes are required, you'll want a list of exactly which pages need attention. You'll also want an SEO platform that sorts those recommendations by importance, difficulty, and risk as well as grouping them by keyword and content, page structure, and crawlability issues.
Getting all your data and your recommendations from a single software platform gives you the flexibility to see what you want to see in the way you want to see it without cobbling together tools from various platforms and hoping the data matches up enough to give you the insights you need.
2. Your content needs to be findable and relevant
Does the content you create answer searcher's questions? If you're not sure, an SEO platform can help you determine how well your content matches the keywords your audiences are using while helping you discover the keywords that you're not, but should be, creating content around.
The right platform will make it easy for you to create keyword and content groups to view your search results and get insights into performance by:
Campaign

Geography

Persona

Product or Service

Type of content

Topics and keywords
Looking at your content as a whole allows you to understand what your audience is responding to and what needs to change. Instead of making changes based on single keyword or content performance, understand how different messages or mediums are resonating and make adjustments to meet your audiences with the content they're already looking for in the format they prefer.
If your competitors are stealing your audience, you'll what to know who is outranking you, and specifically, what content is winning in the SERPs (Search Engine Ranking Pages). Comparing your competitor's findability to your own, and knowing what content they're using to beat you in the rankings, gives you the ability to compete with them more effectively.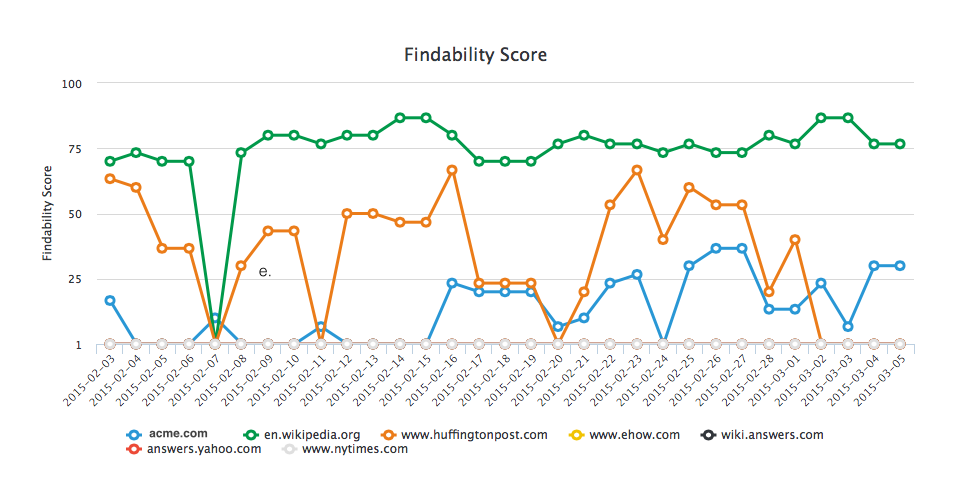 In addition to the brands that are competing with you for sales, you need to know exactly who is competing with you for page rank and what content they're creating that's winning your audience. An enterprise SEO platform should provide a tool to discover the competitors you aren't already tracking, but are taking your audience from you and give you insight into anyone who is creating content that competes with you for audience share.
3. The least expensive (and most effective) way to get found
Search is still the least expensive and most effective way to get found. While paid media efforts can be effective at increasing website traffic in the short term, long term engagement requires a good user experience on your website after they've clicked on your ad. Landing pages that provide quality, relevant content hosted on an easy to use, visually appealing website keep audiences from bouncing and move them along the path to conversion.
Although content marketing efforts can take a while to take hold and build an audience, paid media efforts are only effective as long as you pay. As soon as you turn off the revenue, the traffic stops as well. Your SEO platform will help you watch your successes over time and allow you to look at trends year-to-year, month-to-month, or day-to-day. A simple chart that tracks your overall findability in comparison to your competitors will help you see who is winning audience share. Looking at specific content in relation to conversions gives you the information you need to know what content to promote and what content isn't meeting audience expectations.
While inbound links are not as easy to get as they once were and spammy linking schemes are sure to get you penalized by the search engines, links are still the best way to pass "authority" to your domain and individual pages. A good SEO platform will help you keep track of all your inbound links and to make sure those links remain healthy.
4. Your competition is doing it
The worst reason to do anything is because someone else is doing it. However, if you're not continually optimizing your website and content, someone else will find a way to consistently outrank you, take your audiences, and ultimately take your sales. So, when it comes to SEO, you better keep up or you'll get left behind.
An enterprise SEO platform will give you all the insights you need to beat the competition, including:
Keyword and topic analytics and discovery

Content and page metrics and insights

Social media intelligence

Competitor insights and discovery

Marketing channel performance summary

Customizable reporting and dashboards

White label options

Workflow and task management

Local insights

Mobile insights

Scalable solutions

API

Support and onboarding help
The best reason to get an SEO platform is to have all these data points and the insights they provide at your fingertips in an easy to view and use interface. Using a single software platform also gives you the ability to share data between departments to keep the entire organization unified and working toward common goals with consistent messaging.
5. Your users expect a positive experience on your website
Without the help of an SEO tool, your users may not be having the experience you want them to have when they interact with our website. Keeping an eye on user flow and bounce rates can tell you whether or not you've created a logical flow or if your users experience a disconnect at some point in their journey.
As part of your website traffic strategy, you'll want to match the language you use in blog titles, landing pages, and offsite content to the words and phrases your audiences are using organically. Your SEO platform is a website optimization tool that allows you to use a data-driven approach to improve your customer experiences and, ultimately, your conversion rates.
Website visitors can get discouraged easily if the links they follow end in 404 errors or poor content. Keep your site free of broken links or redirects and fix them to continue fulfilling the promise you made when you attracted visitors to your website.
Keep your website content ranking with the search engines and attractive to audiences with optimization recommendations, including:
Keyword and content recommendations

H1, H2, H3 

Body copy 

Meta tag 

Keyword optimization

Page structure recommendations

Crawlability recommendations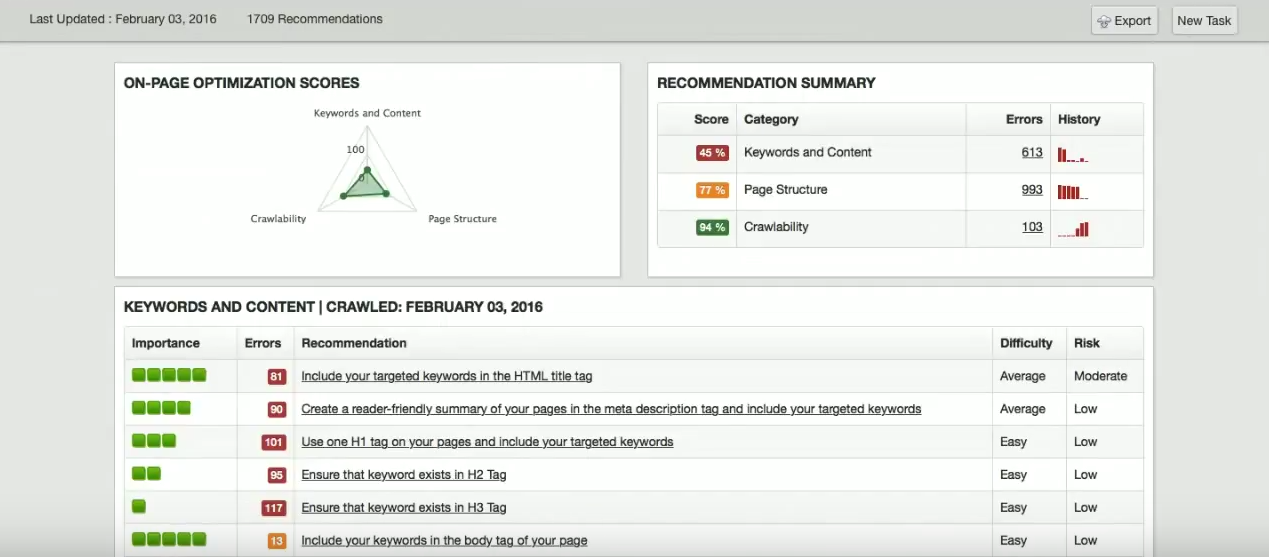 6. You need to know what's working and what isn't
Measuring content marketing effectiveness and tying efforts to the bottom line continue to be two of the biggest challenges for SEO and marketing departments across a variety of industries and company sizes. Not only does an SEO platform provide information about site, traffic, and content performance at any given point in time, it also provides a way to set a baseline to measure against at any point in the future.
If you're not driving enough traffic or the traffic you're getting isn't converting, an SEO platform is a great way to get an initial content and SEO audit to discover a new way of looking at your marketing mix.
You'll be able to:
Identify site improvements

Determine content that needs updating

Discover new competitors

Identify new topics

Recognize industry trends
Knowing what's working and what isn't working will give you the information you need to form future strategies and to create the best possible content that attracts the right audience on the right channels using the best mediums to achieve higher ROI.
7. You need to know all the factors impacting your findability
In addition to knowing what content audiences are finding and which keywords are popular, an integrated SEO platform will also provide you with answers to the how and where of findability. You'll be able to compare content and website performance by search engine and at the device level to see how your audiences are searching for, and finding you, on mobile or desktop devices.
Once you know how audiences are finding you, structure your content to fit the devices they use most. Track visitors by individual search engines and by the specific devices they use, including:
iPhone
iPad
Android phone
Android tablet
Your SEO platform can help you address the needs of each of your audience personas and provide data for additional persona development. Knowing where your audiences are located can help you to target them using the geographical differences you discover in speech patterns and terms. Local search results will tell you exactly where audiences are finding your content and what terms and phrases they're using when they search for your solution. You'll be able to monitor your ranking results on all your content by location and determine where changes need to be made to reach your audiences in the searches they're already making.
Recent changes in the search engine results pages layouts have many brands wondering where their top ranking content is actually appearing on the page. Even if you have pages or posts that are ranking in the number one spot for organic results, those pages may not be showing up above the fold, or even on the first page. With up to 4 ads on top, a local 3-pack, shopping options, and a knowledge panel in play, organic search results have moved down the page for many keyword searches. Some SEO platforms, such as GinzaMetrics, will show you the true rank of every piece of content and show you what else is appearing for the same search results ahead of, beside, and under your ranking content. Knowing exactly what is appearing on the page along with your content will help marketers and SEOs to determine where to spend their efforts and avoid cannibalizing their own content.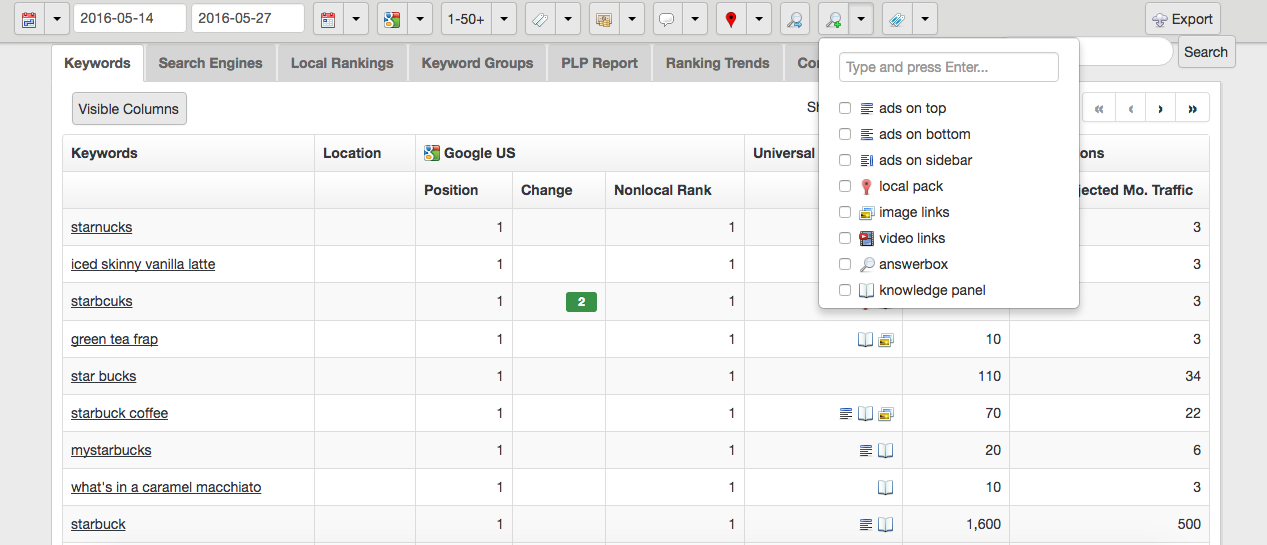 Besides the reasons listed here, there are lots of good reasons to have your own SEO and marketing intelligence platform. Having all the data you need inside one platform will increase department and organizational efficiency and productivity while reducing errors and time lost putting efforts into the wrong areas. Most importantly, optimizing your website and content for maximum findability will improve conversions and contribute to the bottom line. Do you need a better reason than that?